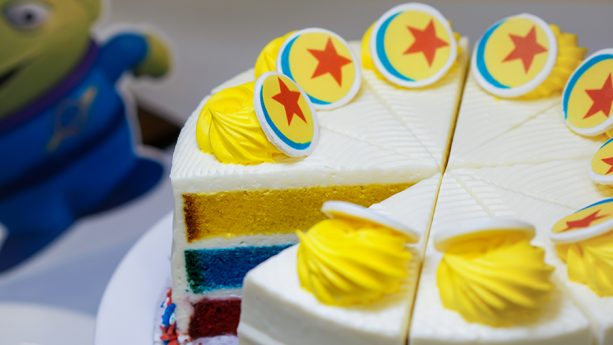 This post contains affiliate links and our team will be compensated if you make a purchase after clicking on the links.

Pixar fans rejoice as Pixar Fest kicks off today at the Disneyland Resort, filled with entertainment, limited time magic, and plenty of food. Disney is going all out with this event, including a huge assortment of foods that can be purchased resort wide. No matter where you go, there is bound to be a tasty treat waiting around the corner.
Check out some of the great food coming your way during Pixar Fest below!
Disneyland Park Offerings
Main Street will be your first stop, with Up inspired items that include a really cool sounding "Frozen Grape Soda slushy". There will also be donuts that will be decorated with Carl's balloons and Russell's Wilderness Explorer Sash. You can find these item at the Main Street Coffee Cart. Gibson Girl Ice Cream will host a salted caramel butter peacan sundae that will have salted caramel sauce, whipped cream, and candied pecans. If you love caramel, this will definitely hit the sweet spot.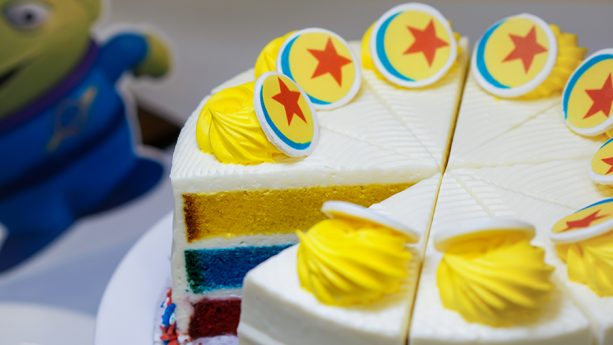 Plaza Inn will join the fun with pieces of "Pixar Lemon-Raspberry Cake". The cake will give you a sweet fix with layers of lemon, blue vanilla, and red velvet sponge cakes with raspberry puree and cream cheese frosting. This will be finished off with a chocolate half dome topping featuring the Luxo Ball that we all know and love. Pacific Wharf Cafe and Paradise Garden Grill will also have the cake if you venture over to Disney California Adventure to catch Paint the Night!
Mary Poppins' Jolly Holiday will also have chocolate hazelnut pastries and eclairs, all with decorative pieces honoring both Carl and Russell. Coke Corner will have a new hot dog, featuring pastrami, sauerkraut, special sauce, pickle spear, and chives.
Carnation will stick with the Up theme as well, featuring Carl's fried bologna sandwiches. There will also be a pork chop dinner that will be served on a classic "TV Tray" that includes spiced apple pork chop, peas and carrots, corn muffin, mashed potatoes, and a super chocolately molten lava cake.
Woody will be setting up station in Frontierland, as a new funnel cake will be available at the Stage Door Cafe. The funnel cake is topped with plenty of blueberries, strawberries, chocolate cookie crumbles, white chocolate, crème anglaise, and gold dusted whipped cream. Buttercup from Toy Story 3 will also get his own funnel cake over at Hungry Bear. The dessert will have total strawberry as it features strawberry cherry topping, strawberry butter, and streusel with a spice syrup drizzle.
Coco will make its home at Rancho Del Zocalo with a special Al Pastor Huarache. It will come with refried beans, al pastor-marinated pork, pineapple slaw, pasilla pepper crema, Mexican crema, and queso fresco. The dish will come with pickled carrots to share with your favorite spirit guardian as well as a friend serrano chili. Dessert will feature a Mexican Chocolate Pot de Crème.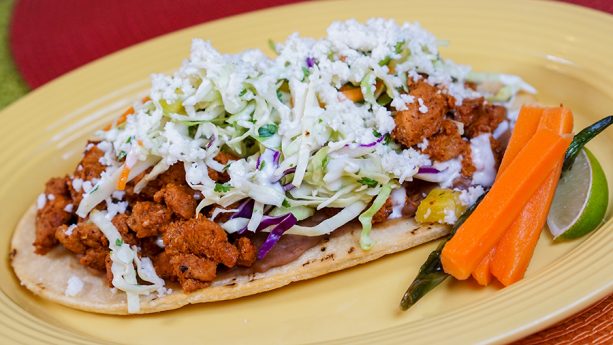 Transitioning to New Orlean's Square, Cafe Orleans will host a three course meal honoring Pixar's Ratatouille. The first course will come with unique cheese flight that has three specialty cheeses, dried fruit, and honeycomb. The second course will be Remy's "Shrimp Ratatouille Byaldi" which will be layered with roasted zucchini, yellow squash, eggplant, and fresh tomato. For dessert, berry stuffed beignets a la Mode will be served along with a a sweet brie drizzle and mascarpone. If you are looking for a quick fix, the Royal Street Veranda, you'll find a delicious Potato-Leek Soup.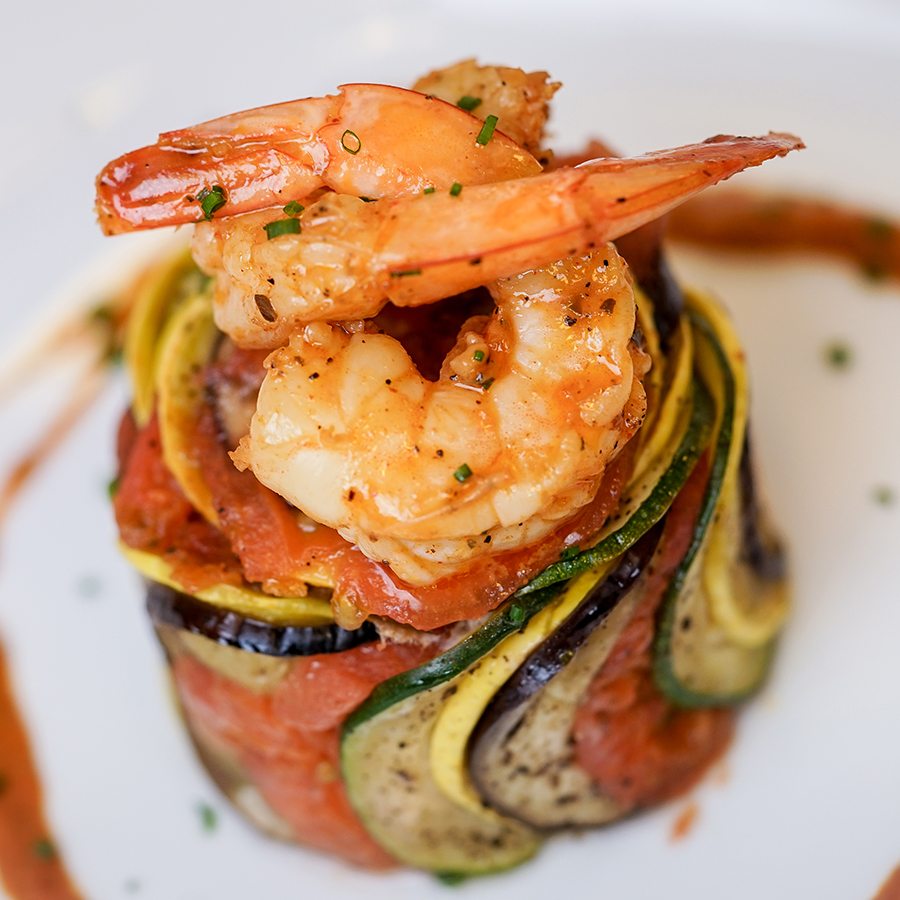 Venturing over into Tomorrowland, the Alien Pizza Planet is sure to be a big hit. As previously teased, two new pizzas will be on the menu that include a cheeseburger pizza along with the green alien specialty pizza from their home planet. You can read all about those and be tempted to grab a slice by clicking here.
Pizza won't be the only thing these little guys will be serving up, as there will be three types of salad. You can grab a chicken caesar salad, antipasto salad, and edamame noodle salad.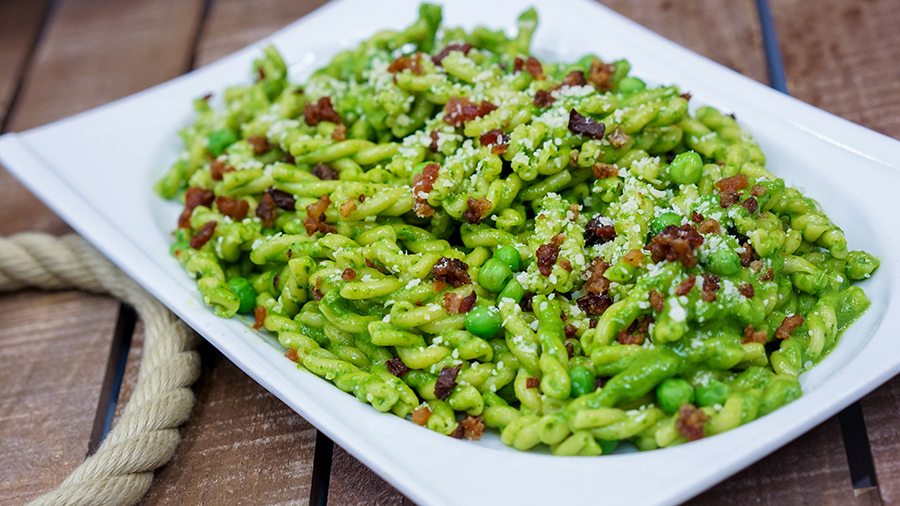 If you would like to take a look at the pasta, there will be a pesto pasta option, featuring gemelli pasta tossed in a spinach and miso pesto with smoky bacon, sweet peas, and Parmesan. The dishes can also come with a side salad or bread sticks. For dessert, two slushy drinks will be available that include strawberry and sour apple. They can be paired with a special Pixar themed macaron or blackberry lime parfait.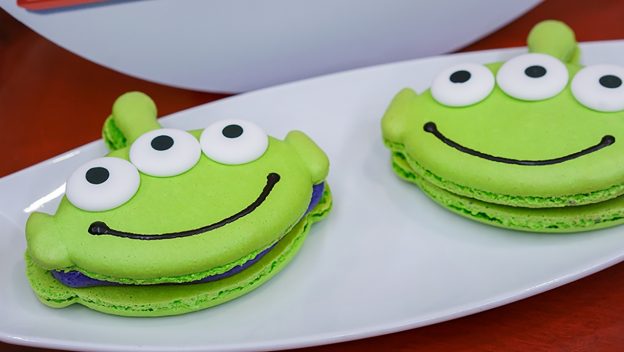 Last but not least, churros can be found all over Disneyland, take a look at the full list of locations by visiting the Disney Parks blog feature!
Disney California Adventure Park Offerings
For those venturing over to the other side of the resort, there will be themed treats and surprises. In Hollywood Land, Schmoozies will be serving up some "monstrously" good eats featuring the characters from Monsters, Inc. These offerings will include whoopie pies, marshmallow filled donuts, as well as a mint chip shake.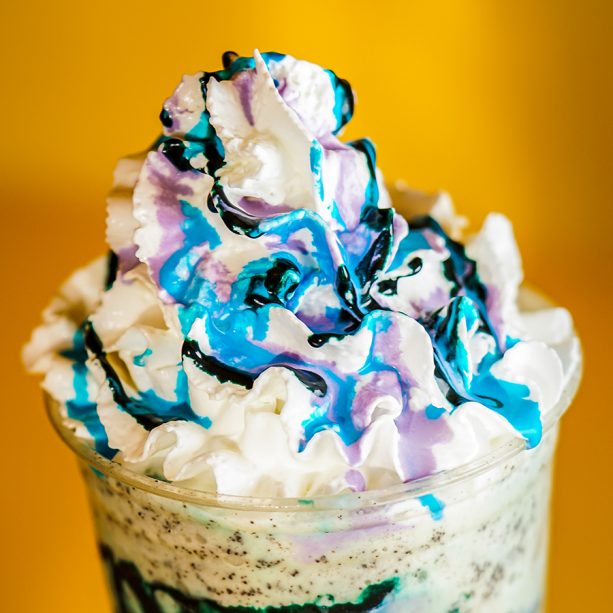 Award Wieners will be serving up some funnel cake fries topped with fruity cereal and whipped cream. If you rather stick to something on the main menu, a new pulled pork dog will be available, topped with plenty of pulled pork, spicy teriyaki sauce, and fresh pineapple salsa.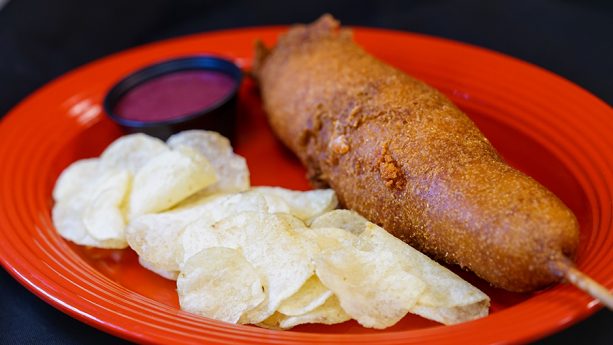 The dogs don't stop there, as you make your way to Corn Dog Castle. The new "Incredible" spicy corn dog will feature a meld of two different sausages (hot link and Cajun chicken) that will have a pepper jack cheese infusion. This "hot" addition will be served with a blackberry-serrano chile sauce with choice of chips or apples. Just in time for this summer's release of Pixar's Incredibles 2.
For you bread fans, a Mike Wazowski shaped sourdough will be available at Fairfax Market and Boudin's. Lucky Noodle will be joining in the fun, serving up a "Chilled Noodle Salad".  This treat will have chilled iridescent noodles come with herbaceous preserved plants, sweet and spicy vinaigrette, crushed and toasted peanuts, mint, Thai basil, shredded daikon, and carrots. If you would like a sweet ending to that meal, Cocina Cucamonga will have a tres leches parfait. It will have layers of vanilla cake, sweet caramel cream, and rum.
Though, one place not to forget is Cars Land. Race on over to the Cozy Cone for special churros. They are inspired and themed around the racers from the latest picture, Cars 3. You can choose from three colored sugars (Red- Lightning McQueen, Blue- Jackson Storm, Yellow- Cruz Ramirez. A "Champions Corn Cup" will also be available that will have fresh corn, flavored mayonnaise, cotija cheese, chili-lime spice, and lime.
If you want a little more kick, a habanero meatball cone will be waiting in the pits. The cone will have turkey meatballs in a habanero derby sauce with a cheese crisp and spiral pasta "smoke stacks." If you make your way over to your local ice cream cone, you can add road gravel to your soft serve that will give it a nice cookie crunch.
When you are done there, you can go pay your respects to Bugs Land and their iced specialty churro. Just a reminder, The Bug's Land Churro Cart is one of the most popular churro locations in the resort. This churro is a must try with drizzles of donut icing and cocoa cereal.
While you are waiting for Pixar Pier to open, Paradise Garden Grill will be keeping your appetites in feast mode with Coco inspired offerings. There will be Yucatan-Inspired Vaporcitos – chicken tamales steamed in banana leaves with ranchero salsa, golden rice, and black beans. A personal favorite, Chicken Mole, will be made available that features a verde sauce, golden rice, black beans, and corn tortillas.
There will also be Tortitas de Papa con Queso (crispy potato cakes with Oaxaca Cheese, ranchero salsa, golden rice, and pickled onion salad), Tacos de Estilo Callejero (trio of sirloin beef tacos with pickled vegetables, golden rice, and black beans), and Ensalada de Frutas (jicama, watermelon, cucumber, pineapple, and mango with chili-lime salt and chamoy). All plenty of tasty options that are filled with flavor.
To wrap things up in Disney California Adventure, the location will have their own tres leches parfait tiat will feature Dante from Coco. The dessert will be served with rum, vanilla bean Chantilly, and dulce de leche. For drinks, tehre will be a special Agua de Jamaica Slush and traditional Mexican hot chocolate.
As you can see, there will be plenty of foods to taste, sample, and buy over and over throughout the event. Pixar Fest will be running this weekend through September 3rd.
Have a great time at Pixar Fest!