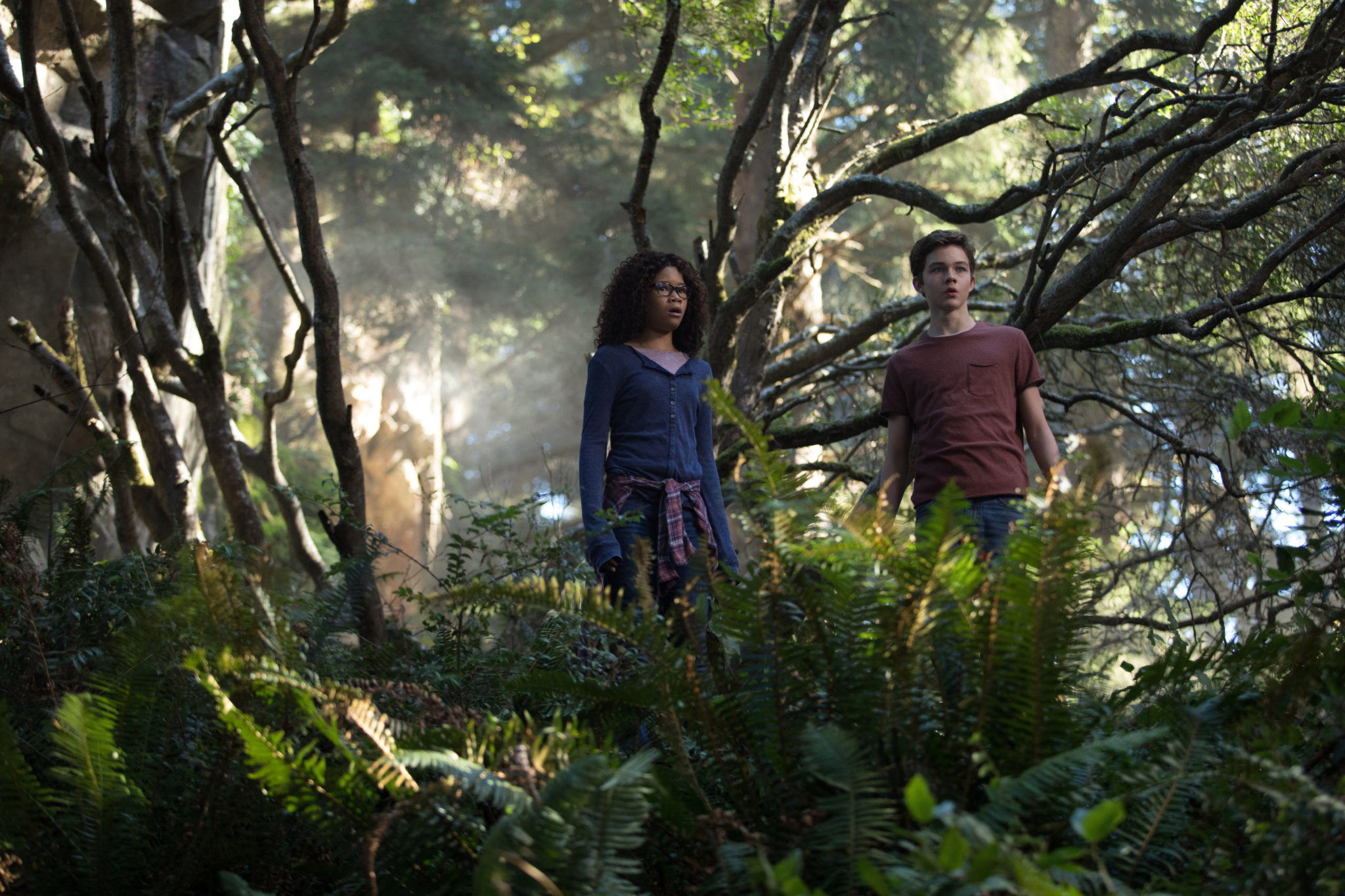 This post contains affiliate links and our team will be compensated if you make a purchase after clicking on the links.

"Be a Warrior"
Disney's latest live action film, A Wrinkle in Time, is a non-stop visual spectacle that will challenge your idea of the modern narrative. Adapted from the 1962 novel by Madeleine L'Engle, it follows the story of a young girl's cross dimensional quest to find her missing father with the help of her brother, friend, and three magical beings known as Mrs. Who, Mrs. Whatsit, and Mrs. Which. From start to finish, Meg, who is played by actress Storm Reid, is challenged to question her reality and learn to accept who she is to become a warrior that can help defend the world from an ever growing darkness.
In simplistic terms, it sounds just like a hero's journey narrative, and one we are all too familiar with. Surprisingly, it isn't that straightforward. A Wrinkle In Time is not a traditional tale, and just like the original story, the film pushes the boundaries on that structure in a way that makes you think beyond standard cinematic convention. Director, Ava DuVernay, deconstructs and stylizes the film in a way that is best described as dreamlike. Each sequence is intense, jaw dropping, and beautifully pleasing. The film's visuals are vast and really draw you in, keeping you engaged playfully from moment to moment. DuVernay and her entire visual effects team deserve praise for their work, as it will be hard to argue that they are anything but top notch.
Yet, with those visuals, the narrative may not feel as in sync for viewers. This poses real hesitation, as the story is pushed along at a quick pace and the expected backstory and development feels shallow. From the first introduction of the mysterious women, Mrs. Which (Oprah Winfrey), Mrs. Whatsit (Reese Witherspoon), and Mrs. Who (Mindy Kaling), the audience is left to wonder what's going on and may feel a little disoriented.
The first reaction is that the movie is failing to present the narrative clearly. With so many modern films following the same conventions in storytelling, it is easy to judge and make assumptions when a film does not meet that criteria. Yet, the trick for A Wrinkle In Time is to let go of those assumptions. That feeling of confusion and the quick pace are intentional. For those who haven't read the original novel, this may not make a whole lot of sense. Yet, even if you were to gaze at the summary of the original story, you can see that the idea was not as concrete and tangible as we see in other children's stories. As previously stated, the idea is to generate a realistic feeling of a dream and is more abstract.
The reason comes down to the central character of the story, Meg. Meg feels at odds with herself at the start of the movie, is struggling with the disappearance of her father, is being bullied by her classmates, and isn't able to shake the feeling that something isn't right with the world around her. That uncertainty is being presented to us directly on screen through the plot and presentation of the story.
Because Meg is confused, the depiction on screen presents that confusion to the rest of us visually. The story is splintered when Meg's confidence is splintered. We are following Meg's internal struggle, and that's a huge factor into whether or not the movie will work for audiences. It is not as easy of a story to comprehend, but that hurdle comes directly from the original story and is a daunting challenge for any filmmaker to adapt.
It is safe to say, the style will find resistance with older viewers, who will want a more traditional story. DuVernay has reminded the media that this is a film for children and the young at heart, which she has promoted heavily along with her cast leading up to the film's release. Kids don't usually ask for thorough backstories, kids don't need a fully enveloped story to have fun. Children will take the film at face value and just enjoy the ride.
The film asks you to interpret openly, rather than have it served directly to you. The basic structure is there, with a beginning, middle, and end, but the rest is fluid and very seldom in perfect harmony. Will it make sense for everyone? Not likely.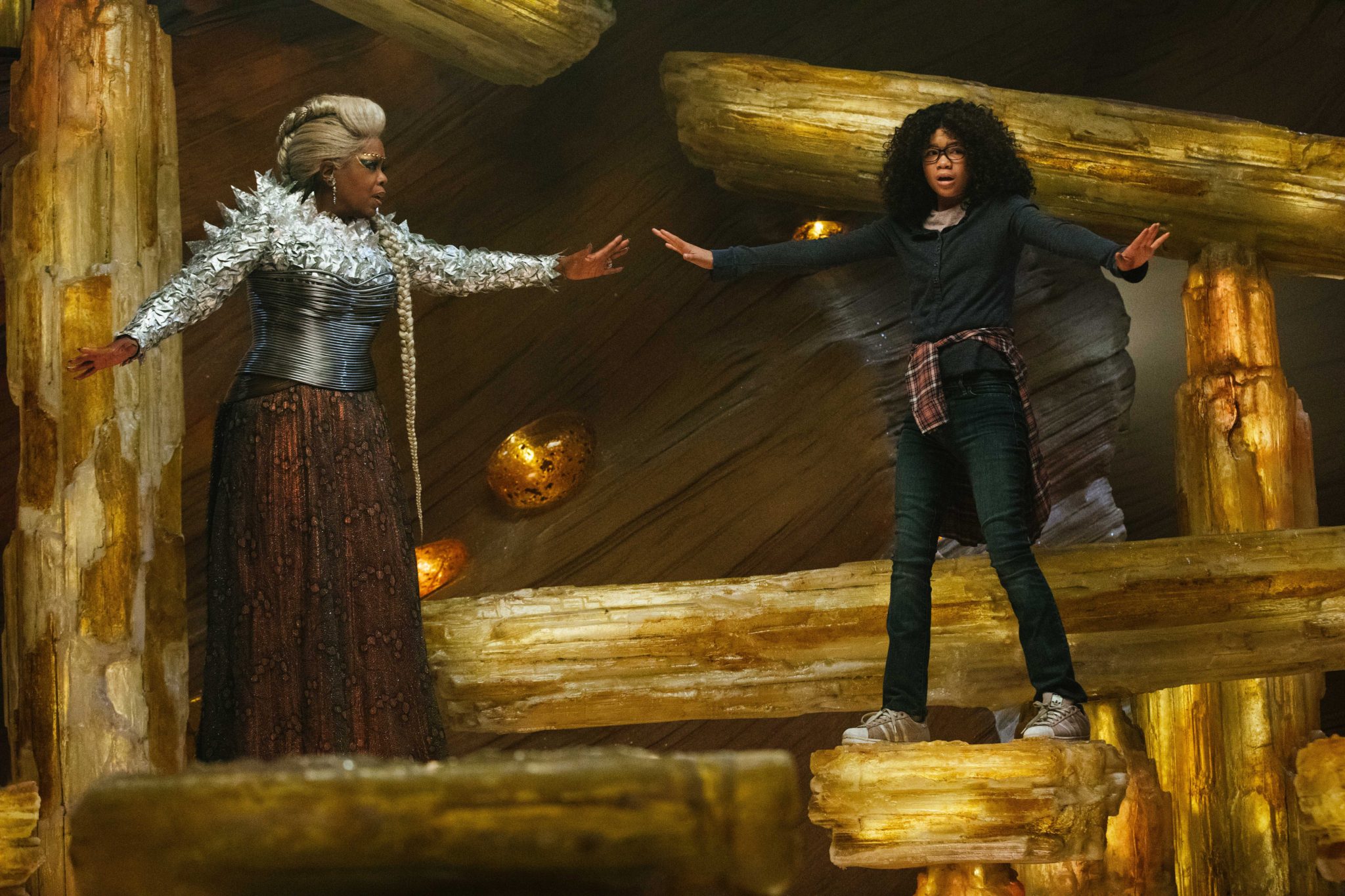 Thankfully, this film doesn't need to do that to give you the main themes and goals the film tries to achieve. The fun and heart are definitely felt in this picture, and the divide will most likely be between younger children and adults.
As expected, Oprah Winfrey, Reese Witherspoon, and Mindy Kaling provide solid performances. There are plenty of laughs, smiles, and inspirational moments between them. The only fallback is that their characters are not the forefront of the story. They appear to be more subtle guides than actual players in the turnout of the narrative. The same can be said with the entire adult ensemble for this picture. With big names like Chris Pine, Gugu Mbatha-Raw, and Zach Galifianakis, you would expect them to stand out prominently. Instead, these big players are there to compliment the performances of their younger counterparts. The focus of the film falls to Storm Reid and the rest of the younger talent.
Reid provides a great complexity that really draws you into Meg's strength and intelligence. Meg has a very scientific and analytic background, she questions everything and is hesitant. All the while, she has heart and lets that shine brightly. As the story grows, she grows, and it's a nice balance given Reid's performance.
That is strongly supported by Deric McCabe's character, Charles Wallace. As her adopted younger brother, he is both her inspiration and optimism. As McCabe's first role, he stands out brilliantly, giving a refreshing, warm , and passionate take both parents and children will enjoy.
Other supporting roles come from Girl Meets World alum, Rowan Blanchard, as well as Aussie teen, Levi Miller. Blanchard plays Meg's Bully, Veronica, who may have something more going on than meets the eye. Miller plays Meg's new found friend, Calvin, who reverses the gender roles as the supportive counterpart for Reid. He doesn't overpower her presence, and relies on her to make it through the adventure. It's a unique element to say the least. Overall, what stands out with this picture is the risk taking Disney has taken with the project. It's a difficult adaptation that uses a story not everyone is familiar with. Even Oprah had not heard of the story until she was approached to take part in the film.
It's important that Disney took the chance on DuVernay to make this film a reality. Risks are needed to keep the hope of artistic originality alive. Especially at a time where remakes and reboots are a dime a dozen. It also generates more opportunity for filmmakers to provide a chance for stronger diversity and empowerment to creators. This film features an African American woman as director, an African American lead actress and one of the most diverse casts of any major science fiction release in recent memory. This is a huge step forward in a medium desperate for change and fresh perspective.
Regardless, it's still a huge gamble. Disney's previous gambles came from films like Tomorrowland and John Carter. These are stories that were original and different than the standard Disney slate. Yet, both films fell short and failed to bring in interest. Critics weren't impressed and fans didn't provide the following needed to keep them alive.
The difference this time around boils down to the push for diversity and representation. Many will go out and see this film for that reason alone.  That will provide a significant boost that may be the greatest hope this film will have at impressing a conventional audience. Whether or not the bet will pay off for A Wrinkle In Time, is yet to be seen. One thing is certain, it's an artistic and cultural achievement.