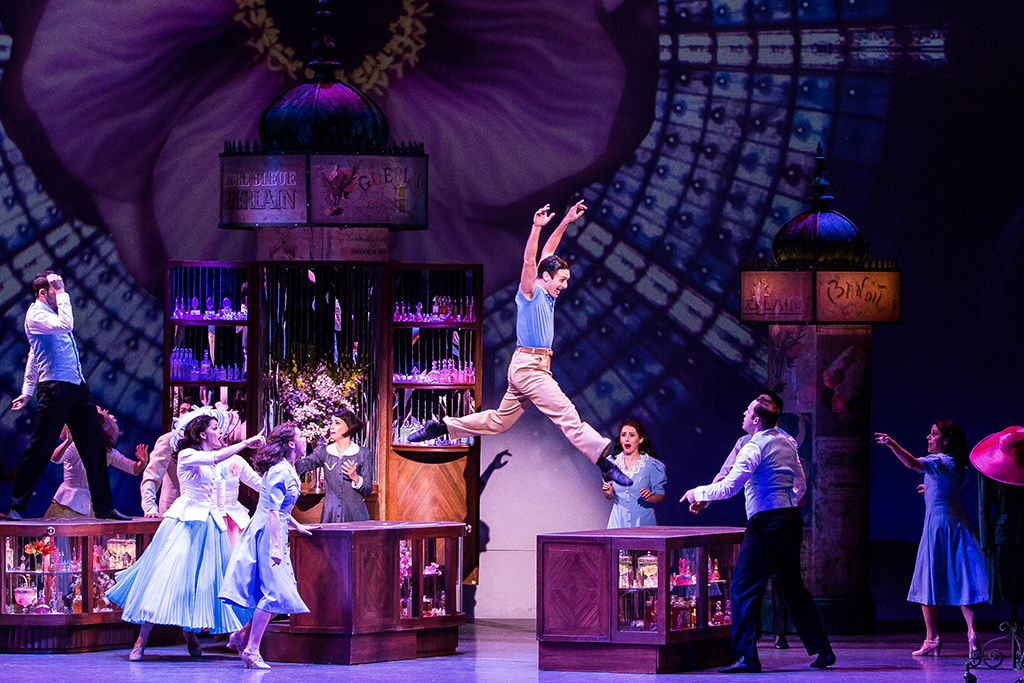 This post contains affiliate links and our team will be compensated if you make a purchase after clicking on the links.

The 2015 Tony Award®-winning musical AN AMERICAN IN PARIS lands at Segerstrom Center for the Arts in Costa Mesa and is surely not to be missed!  Based on the Gene Kelly and Leslie Caron's 1951 classic film by the same name, AN AMERICAN IN PARIS lives up to the romanticism of its film counterpart and the popularity of now pop-culture phenomenon La La Land. This new onstage musical cherishes the artistic, abstract vision from musical films golden-age beefing it up with a score that is nothing short of enlivening, and majestic award-winning choreography that will have everyone fluttering to their cars with joy.  AN AMERICAN IN PARIS will wow you in every aspect imaginable and remind you of the glory that is onstage live musicals. Simple put – it's wonderful, it's marvelous, it's perfect!
The show opens in Paris at the end of Wold War II and introduced by a semi-corky American veteran, Adam Hochberg (ETAI BENSION), that has stayed in the City of Lights pursuing a career in composing his own shows.  After some cleverly orchestrated montages and illustrated set transformations, the audience is met with another American soldier, Jerry Mulligan (McGEE MADDOX and alternate RYAN STEELE), that decides to stick around after the war. Jerry later runs into Adam at a cafe who introduces him into his life as a composer. It's here when the two are met with the girl of the story; a stunning, beautifully talented French ballerina with that goes by the name Lise Dassin (SARA ESTY).
The two men quickly fall head over heals for Lise with Jerry practically chasing after her with a Gene Kelly-like confidence and overdone wooing. Both fail to really leave their mark. As the story progresses the audience is introduced to gentlemen number three, Henri Baurel (NICK SPANGLER), the son of wealthy French industrialists who secretly desires to be an entertainer against his parents wishes. Henri is quickly discovered to be Lise's boyfriend, but perhaps not the one for her.  The three continue their campaign to court the young lady unbeknownst to each others desires for the same woman.  With many obstacles in the way including another woman interested in Jerry, the three musketeers battle it out in their own way discovering their own passions and what's really important life.
Audiences on opening night were treated to RYAN STEELE in the role of Jerry Mulligan. Steele has been apart of Newsies, Matilda, West Side Story, and Billy Elliot on Broadway… and while his vocal performance is on par and energy at an eleven, it's his dance-work that will astound you. His demeanor has a bit of flamboyance that may seem a bit off keen for the role, but it truly comes down to his footwork and energetic ballet medleys that sets this show above all the rest.
AN AMERICAN IN PARIS is a fitting introduction to the world of ballet as for myself being less than interested in most ballets found myself in shear awe of the pure magic from each dance number.  There are plenty of highlights from each characters performance as well within most of the music numbers, but it's a 13-minute ballet ballad between Jerry and Lise that will win over any theatergoer.  There is no better moment had onstage than seeing these two in this near-interpretive dance that reminds us of those random film stage sequences of iconic MGM musicals. This captivating piece is performed with such grace and style alongside a masterfully orchestrated number that serenades the audience into amazement and warrants its very own standing ovation.
George and Ira Gershwin's music and lyrics combined with brilliant orchestrations are instrumental to the success for this musical, pun intended.  The show thrives from nostalgic pieces that are reminiscent of musicals of yesteryear revitalizing that little feeling inside which for moment… for just that brief moment, makes you forget of all your worries and troubles.  This right here is the essence of the entire musical.
Much of Adam's challenges in his song writing within the show come from his inability to understand the meaning behind much of the pomp and circumstance within the music of the era. The show tunes of those times and nightclub entertainment numbers are all there to brighten everyones day helping them forget about of the aforementioned problems.  This realization helps Adam create his own musical masterpiece.
As wonderful as it is to hear some of the well-known songs from the movie counterpart such as "I Got Rhythm" and some instrumental preludes, the show has some of the most creative, intricate set designs I've ever seen. While most projection based backdrops are known to irritate me, Bob Crowley's set design is nothing short from spectacular. Simplistic at times to whimsical, grand and unique in others, Crowley was able to create a living, breathing set design with an abstract flair that never feels to be lacking from detail. It's quite fun to watch each scene transform yet allow the choreography and music help tell the story.
AN AMERICAN IN PARIS falls nothing short of astonishing. While the footwork remains the star, every element of the show was melded well with each other lending to a near flawless, unique and ultimately refreshing musical. The music, dancing and vocal styling remain to feel so familiar yet so new, and while it pains me to make a comparison to this, it's what has lead to much of the success of La La Land. It's no wonder that one of the most popular movies of 2016 was sparked so from this musical, singing around a park bench and all. AN AMERICAN IN PARIS comes with a longer runtime but is something I never wanted to end. This mesmerizing production is simply wonderful. C'est merveilleux.
AN AMERICAN IN PARIS is now playing at Segerstrom Center for the Arts until May 7th.
Visit SCFTA.org for more information.