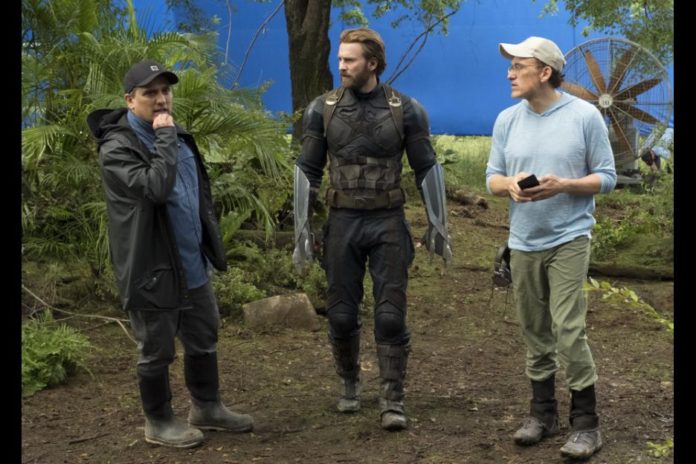 This post contains affiliate links and our team will be compensated if you make a purchase after clicking on the links.

Paul Bettany joked during the press day for Avengers: Infinity War that, "snitches get stitches," when it came to spoilers and talking about the film. Well, nothing could be closer to the truth during the press junket for Marvel Studio's nineteenth — and possibly most important — film in their ever expanding cinematic universe. Hosted by none other than the Grandmaster himself, Jeff Goldblum, we were treated to an hour long conversation with the cast and directors that was both wildly entertaining, while also being incredibly secretive.
Here's a few standout take aways from the event:
While the Marvel Cinematic Universe has always had huge action pieces and moments of spectacle, the most important thing has always been the characters. The same is true for Avengers: Infinity War, because without those journeys and characters, you won't care about what's happening on screen.
Marvel Studios has a room where they are always plastering pages and panels from their comics to draw inspiration, and sometimes even lines of dialogue, for each of their films. Avengers: Infinity War was no different, as they kept going back to the omnibus of Jim Starling's Infinity Gauntlet storyline to pull from for scenes, especially when it came to Thanos. They wanted Starling's work to inform and inspire what they were doing with the character.
When asked if Avengers: Infinity War was essentially Black Panther 1.5, Chadwick Boseman said the film is first and foremost an Avengers film, and while Wakanda — as well as many of the characters from the film — play a large part, this is not their film. Something that Boseman actually felt a sigh of relief on, as he didn't have to carry the film on his shoulders this time around.
Anthony Russo, one of the co-directors of the Russo Bros. directing duo, said that when the film's development started, they had a room where they spent a lot of their time figuring out exactly what each character would do through the film. They had a wall with pictures of every character in the Marvel Cinematic Universe and plotted out their potential arcs, and figuring out how their personal journey had gotten them here, and what potential stories it would give them after. This was a months long process to make sure that every character had a fleshed out story before diving into the film.
When asked if Thanos was impressed with any of the Avengers, Josh Brolin said if the character seems impressed by them, he hasn't done his job. Instead, he's hoping that you fear him, and he just seems them as insects in his way. He then joked that he wanted people to be so intimated by Thanos, he walked around set naked to show how powerful Thanos really was.
Elizabeth Olsen joked that she and Paul Bettany want to do an indie movie version of the House of M storyline, with Scarlett Witch and Vision living together in a house. But following that, she did say that she doesn't expect a solo film, but the House of M storyline would be one she'd love to actually tackle in the Marvel Cinematic Universe, as it's the story arc in the comics that really made her love Scarlett Witch.
When asked what it was like to wear the Iron Spider suit, Tom Holland actually surprised a few saying that he actually didn't get to wear the suit, and it's actually a mocap performance. He joked that he got to join Mark Ruffalo as one of the people who was on set wearing pajamas while everyone else had costumes.
Sebastian Stan said that while Bucky finally gets to smile in this film, showing signs of the character we knew in the first film, he's still weary of the Avengers team as a whole, because he isn't sure where he fits into. But more importantly, the real question Bucky faces is who can he trust?
Chris Hemsworth said that his first day on set of Avengers: Infinity War was actually his scene with the Guardians that we see in the trailer. He said that it felt like he was the new kid in class because he was playing in their world, not his, and they all knew each either while he didn't. This lead to him being pretty nervous, giving him butterflies, making it feel a bit like the first time he'd played the character, but Pratt came over and made him feel more at ease, making Hemsworth sink back into the character easier.
All the actors said that they didn't really seem to read the entire script, or while they may have, they don't know what the final film actually looks like, as the studio has been trying to keep the film under lock in key as not to let spoilers leak. Benedict Cumberbatch in particular joked that he had read a script, but maybe not this script, following up then saying that many films find themselves in post, so even if you've read the script, it's not the film you thought you were making.
When asked how Peter Quill felt about meeting humans for the first time in almost thirty years, Chris Pratt wasn't sure what he could say, deciding instead to talk about bass fishing season. He then said he obviously couldn't answer that question, and instead it would be better for the audience to experience the film instead of him just telling us.
While much of the cast remain tight lipped on the film, one thing was incredibly clear during the press day for Avengers: Infinity War: this cast had a blast working together to make this film, and they think they've made something truly special. This film is the culmination of ten years worth of storytelling for the Marvel Cinematic Universe, and it truly felt like an event to be with all these actors who have been a part of this universe for so long. Both newcomers and veterans of the series seemed proud of their work, and they can't wait for audiences to see it.
[videopress PjsHA1Q5]
[videopress QsM0jfhE]
[videopress LPZeKkdt]
[videopress I40fPRF9]