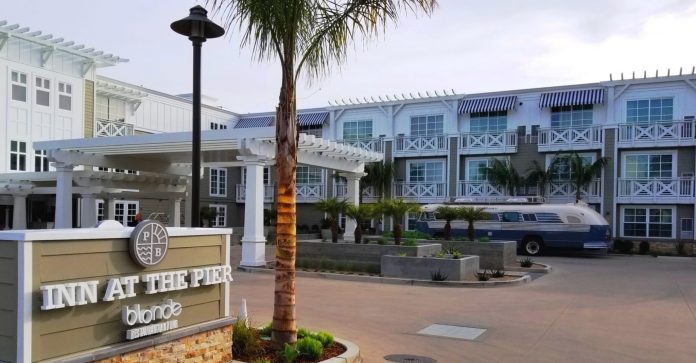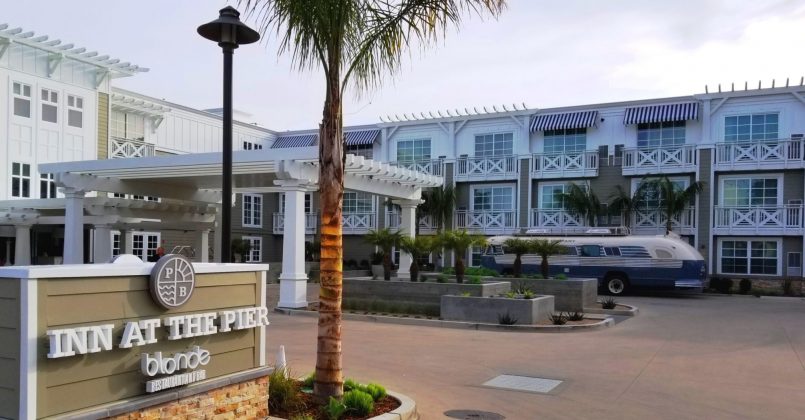 This post contains affiliate links and our team will be compensated if you make a purchase after clicking on the links.

Pismo Beach is one of my favorite Central California locations. Set on the ocean, with perfect weather, miles of sandy beaches, an historic pier, unique shops and dining, nearby wineries and tons of classic vibe, the city has everything I look for in a weekend getaway.
So when I heard about an exciting, new, boutique hotel that recently came to town, I knew I had to investigate. Called Inn at the Pier, the property is aptly named. It is located directly in front of the 94 year-old Pismo Pier, mere steps from the beach.
My getaway to the Inn at the Pier began when a friend and I checked into an incredible suite, overlooking the Pacific Ocean and Pismo pier. Covering more than 800 luxurious square-feet, the room was highlighted by mesmerizing ocean and pier views from two separate balconies: one off the living room and one off of the separate bedroom.
The views from rooms at Inn at the Pier are memorable 
Other suite amenities included a spacious living area with an L-shaped couch; 55-inch LCD TV; office work desk with chair and high-speed Wi-Fi; and a kitchen with sink, refrigerator, microwave, espresso machine and dining bar with chairs. There was also a huge bathroom with double vanities, walk-in shower and separate toilet area; not to mention the two aforementioned balconies overlooking the gorgeous Pismo coastline.
After unpacking, we walked about 100 yards from the hotel to the sand, where we laid out a blanket and relaxed, watching surfers ride waves and seagulls perch on the historic pier. Currently undergoing a nearly $9-million renovation, the pier was originally constructed in 1924. Since then it has suffered damage during several storms and a partial collapse in 1983.
The pier is currently getting a structural upgrade, with a new electrical system, water lines, lighting, benches, tables, public art and other public amenities. When complete in fall of 2019, the Pismo Pier will have the look and feel of "Classic California" with a traditional wooden decking and outdoor recreational space.
The Rooftop Bar offers incredible views and delicious cuisine (photo by Greg Aragon)
After lounging on the beach and shopping in downtown, we headed back to the Inn at the Pier for dinner at The Rooftop Bar, the hotel's signature restaurant / lookout spot. To get here we walked down the hallway from our 3rd floor suite, past the fitness room to the roof deck. Featuring a small pool, Jacuzzi, deck chairs, couches, fire pits and a bar / dining area, The Rooftop offers memorable coastal views and seasonally-inspired small plates, signature cocktails and local craft brews.
Our dinner at Rooftop began with an heirloom beet salad with watercress, grapefruit, pistachio, goat cheese, radishes and lemon-sage vinaigrette. We then had a bowl of tasty Pismo Beach clam chowder, with local clams, smoked bacon, potatoes and croutons. For the main course I devoured king salmon with carrot, radish, fennel heirloom potatoes, and lemon fennel cream. My friend experienced Wagyu flat iron steak with kalbi marinade, ginger-soba noodle cake, charred broccolini and  kimchi, miso butter. While dining we watched the sun fall into the ocean behind San Luis Obispo.
Pismo Preserve is a natural wonderland meandering above the sea (photo by Greg Aragon) 
The next morning I worked out at the hotel's modern fitness room, then had breakfast at Blonde, the hotel's contemporary restaurant, located next to the lobby. From here, I drove a mile to Pismo Preserve (https://lcslo.org/) where I toured the 900-acre natural wonderland, overlooking the ocean.
Offering diverse docent-led recreational opportunities for outdoor enthusiasts, the preserve boasts more than 10 miles of rugged and beautiful trails for hiking, mountain biking and horseback riding. The trails traverse serene oak woodlands and coastal ridgelines with stunning panoramic vistas of the Pacific Ocean stretching from the Irish Hills to Point Sal.
Back at the hotel, we made dinner in our suite and dined on our private balcony watching the sunset over Pismo Pier.
The Inn at the Pier is located at 601 Cypress Street, Pismo Beach, CA 93449. For more information on staying at the hotel, call 805-295-5565 or visit: www.theinnatthepier.com. For more information on visiting Pismo Beach, go to: www.classiccalifornia.com/