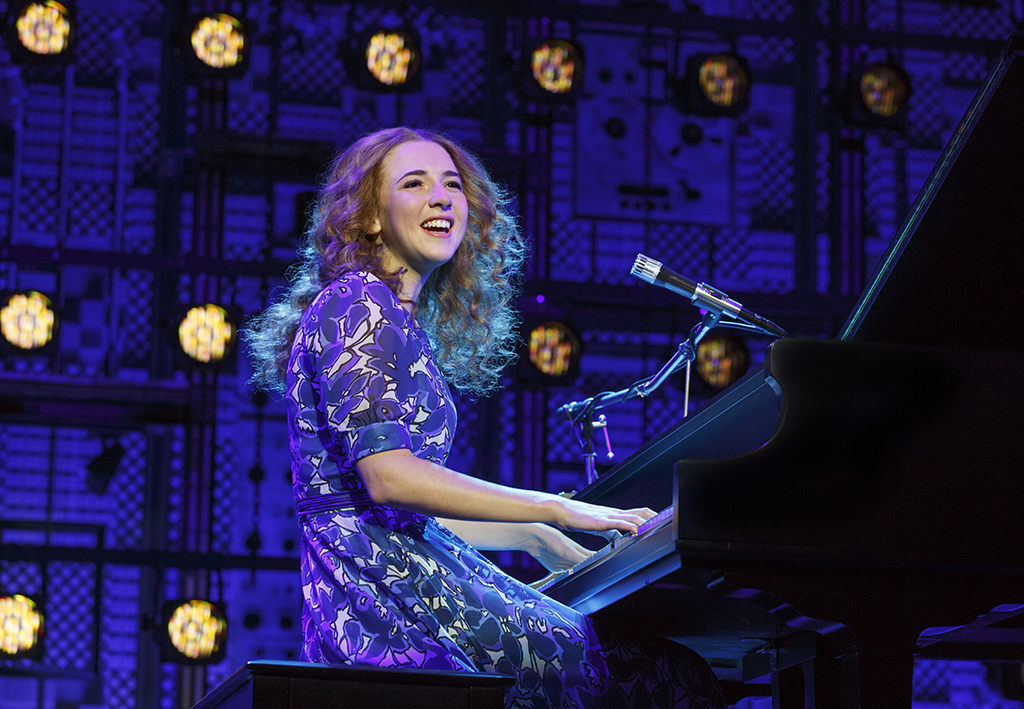 This post contains affiliate links and our team will be compensated if you make a purchase after clicking on the links.

The incredible story of a 16-year-old girl turn multi-hit music legend has made its way full circle and back to California.  Now playing until October 16th at Segerstrom Center for the Arts in Costa Mesa, BEAUTIFUL – THE CAROLE KING MUSICAL is a rocklickin', music-driven, upbeat 'biopicable' dream with one strong number after another.  Every singers performance stays momentous with each chart-topping hit getting bigger until The Bitter End.   Headliner JULIA KNITEL delivers an astonishing portrayal remaining true to the soul of Carole King.  There is no denying that BEAUTIFUL is a musical for all of those that believe in the power of working hard for your dreams and staying true to oneself.
This show won't win anyones hearts with moving one-liners or powerful dialogue, instead the musical focuses on what made Carole the king of the Billboards charts for several decades, her songs.  As for how musical biopics go, BEAUTIFUL lacks in riveting story development but makes up for a sped up Cliff Notes version of Carole's life with an endless number of hit songs.  You won't find the songs helping tell the story as much as help us re-live nostalgic times.  The moments when the music does align with the story, the actors emotions will run through the audience veins.
BEAUTIFUL tells the inspiring true story of the early years of Carole Kings career and her rise to songwriting genius.  She persevered through the stigma of being a female songwriter in the 1950s and gain her stardom through her twenties.  Joining forces with the talented Gerry Goffin, Carole's career took off, but not without a few issues along the way.  The story follows along their lives together as well as fellow songwriters and best friends, Cynthia Weil and Barry Mann.
The story remains compelling and quick-paced enough to carry the song-filled show along a two and half hour running time.   Based around troubled relationships and differentiating life goals, BEAUTIFUL focuses on the ambitions of Carole King and Gerry Goffin to produce number one hit after number one hit, but soon comes to road block when others want more than what any person should ever want.
Every performance feels Broadway worthy with an all around superb performance by Julia Knitel as Carole King.  Performing opposite of Knitel was Liam Tobin, the "itching to get away" love interest and later partner of Carole Kings, who you can't help but love to hate. Erika Olson and Ben Fankhauser play the competing friendly coworkers Cynthia Weil and Barry Mann respectively; each with their own set of impressive catalogues.  The infectious and comedic Erika Olson kept the show witty and light-hearted exactly when the show needed it. Frankhauser had impeccable comedic timing and balanced out the duo.  No actor outperformed another and every cast member mended well with the ensemble.
While the first act remains song-heavy, many of these short songs could benefit from an even shorter rendition such as done in JERSEY BOYS with much of their songs. With a healthy amount of songs, and a number of songs that do nothing to the advancement of the story, several seem to drag on for too long for a song that may not be that impressive to watch live. Afterall, much of these hits from the 60s were simple pop songs.  Carole's early songs are memorable and popular no doubt; meaningful or insightful less-than-likely.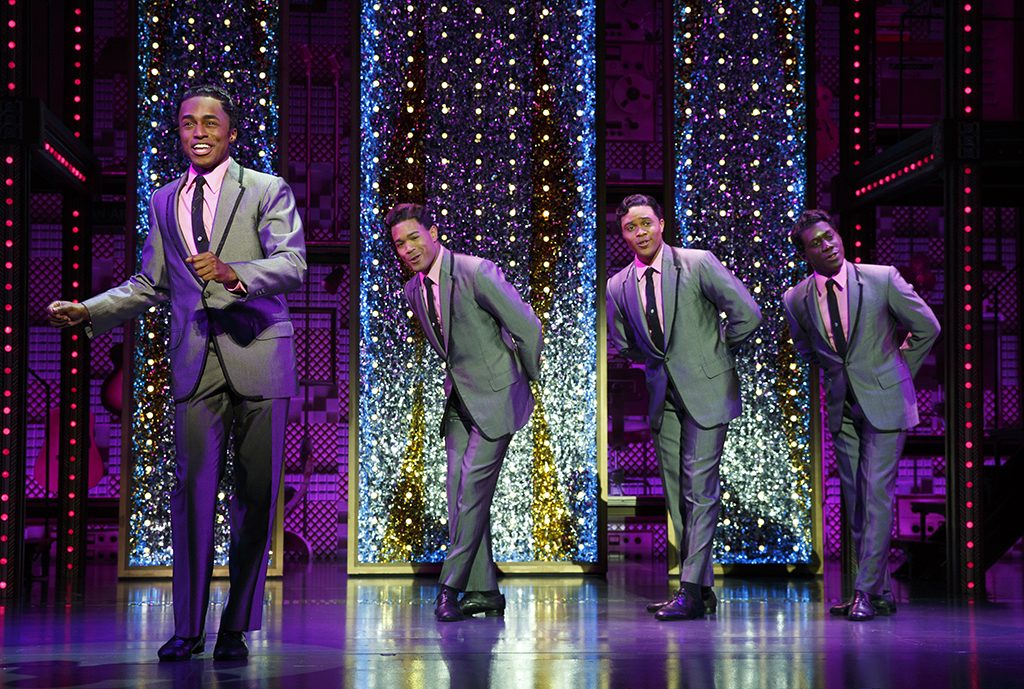 With such an impressive collection of these poppy songs, the production remains light-hearted and peppy even during some more serious scenarios.  This isn't something to find fault in, but rather something worth noting for accurate expectations.  The shows storytelling moves fast and at times seems to jump too quickly, but with so many musical numbers to get through and several decades of story to tell, this year-skipping storytelling is a necessity to get to the end.
Memorable songs include "You've Lost That Lovin' Feeling" thanks to the powerful bass heavy vocals of the faux Righteous Brothers along with "A Natural Woman" because yeah, how could it not be.  Knitel encompasses all that it means to be Carole King in this very moment in the story and sings this powerful song with such genuine passion that one watching cannot stop from becoming overwhelmed with emotion.
When leaving the theater I over heard an adorable elderly couple talk about how they just relived their younger years. I could hear it in their voices and see it in the wife's eyes, they were reminiscent all show long.
BEAUTIFUL – THE CAROLE KING MUSICAL is not to be overlooked if your looking for an energetic, fun night out.  It's a motivational tale that follows appropriate story arching to a formulaic climax and exciting finale.  This life story is without a doubt sensationalized and perhaps unrealistic at times, but there is no denying that I left a little more chipper with a new found respect for the songwriting King, or gender-neutral royalty.
For more information and showtimes, visit SCFTA.org.