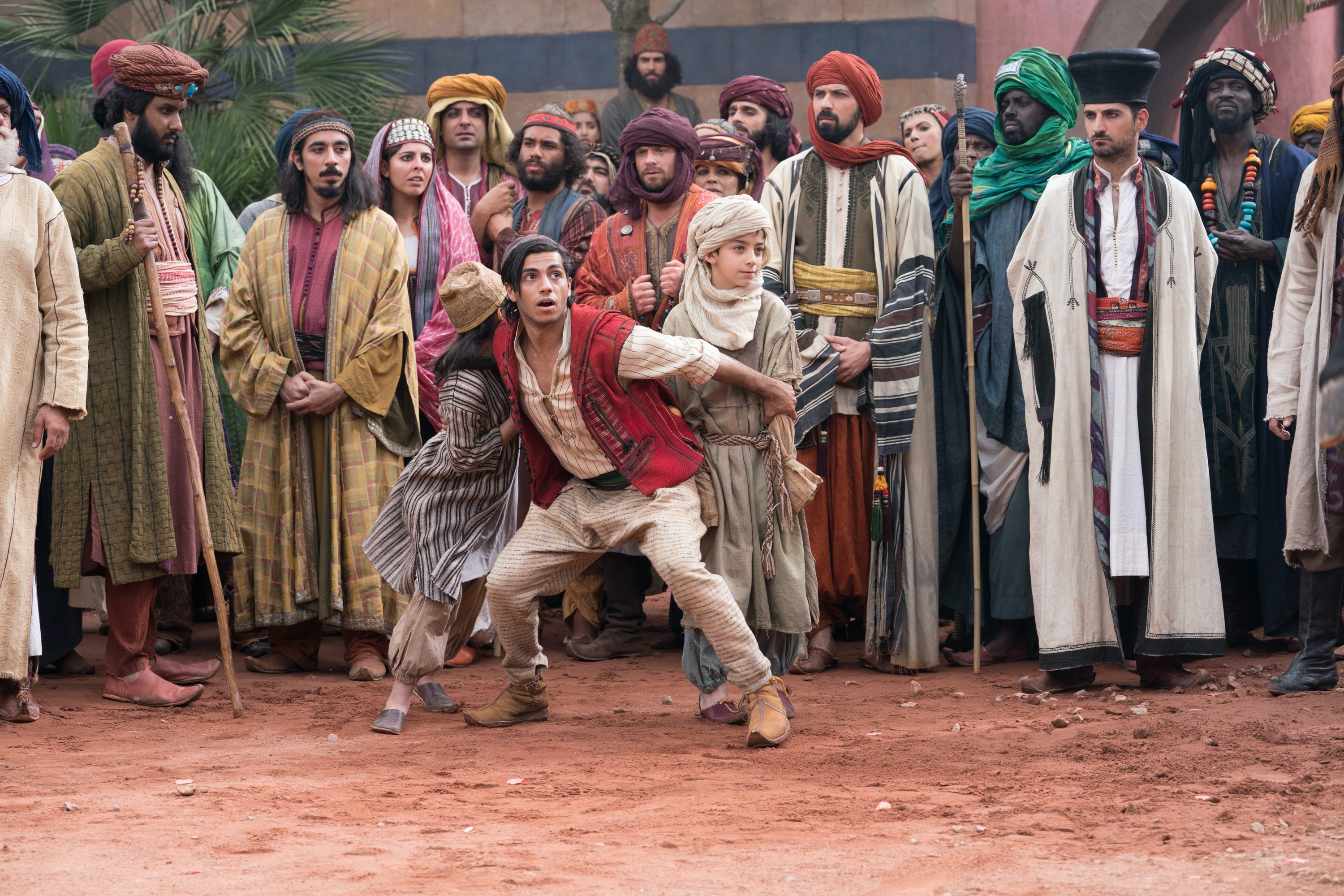 This post contains affiliate links and our team will be compensated if you make a purchase after clicking on the links.

For better or worse, it's impossible to objectively view Disney's live-action remakes without the prism of the original films.  That nostalgia is baked into them from conception and creates a specter hanging over every frame of footage.  Whether too slavish to the original or too far removed, these films can't be viewed on their own terms.  This is something that director Guy Ritchie, along with his co-screenwriter John August, must have been all too aware of when crafting Disney's live-action remake of Aladdin.
From the very beginning, it's obvious that you are expected to be familiar with the original source material.  Ritchie takes the viewer's familiarity and flips it on its head, starting not in the middle of the desert, but on a boat, where Will Smith is introduced singing the classic introduction song to two young children.  This moment sets a tone right from the start where you will almost always know exactly what is happening and where things are going, but everything's just slightly off.  The whole film is played this way, and it's an impressive feat, if not slightly offputting.
As the film progresses, we are quickly introduced to the familiar iconography with barely a passing acknowledgment.  Things are introduced out of necessity, and then we're off to the next location.  By the time we finally get to the Genie, we're not really sure what to expect.  Everyone knows Will Smith is playing the Genie, but how would his performance stand up to the incredible manic energy that Robin Williams brought to the animated role?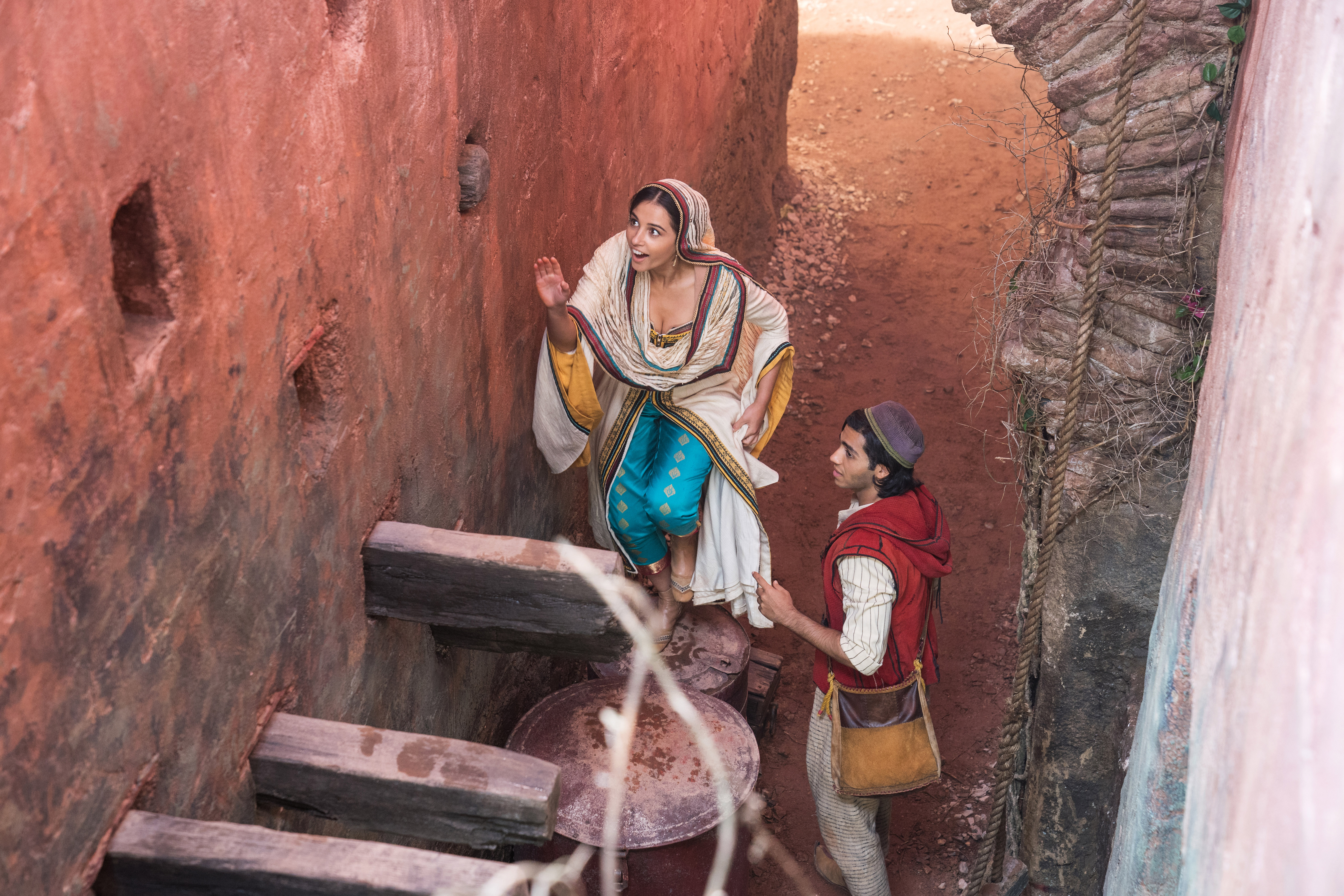 There's no way not to compare the two performances, and while William's is far funnier, and honestly, more entertaining, I have to give credit to Smith for not just mimicking William's approach to the character.  Smith plays the Genie far more laid-back, with actual conversation throughout the film rather than a constant barrage of jokes.  Unfortunately, the jokes the Genie does have seldom land, and the special effects to bring those jokes to life are very hit-and-miss.  Gone are the pop-culture references and celebrity impressions, replaced with generic wordplay and sight gags.  In fact, the only truly laugh-out-loud moments int he films come from Mena Massoud's Aladdin, perfectly encapsulating the awkward transition from "Street Rat" Aladdin, to "Prince" Ali of Ababwa.
One element of the film I was definitely NOT expecting was that of a love interest for the Genie, played in a scene-stealing performance by SNL's Nasim Pedrad.  There seems to be a conscious attempt to humanize the Genie, even so far as the Genie's request not just for freedom, but to be human as well.  It's an interesting decision on the parts of the film-maker and keeps things far more interesting than they could have otherwise.
Unfortunately, the big problem with the film is a strong sense of being over-produced.  Everything is very glossy and stylized in a rather distracting way.  Ritchie's filmography has a relatively distinct, decidedly non-family friendly style, and it's an odd pairing of director and source material.  All of the songs we know and love are here, but they're remixed in such a way to accommodate his visual look, complete with sped-up and slowed-down footage.  The soundtrack still holds up, but it's just not the same as the theatricality of the originals.
However, there is one completely new song, Speechless, expertly performed by Princess Jasmine's Naomi Scott.  It's a fantastic song, and one I'm sure we'll be hearing for a long time.  I just wish the other songs had the same level of care put into them.
Not just in that song, but throughout the film, Scott completely nails her role as Jasmine.  She brings the strong-willed nature of the character to the surface, feeling completely true to her animated counter-part while making the role her own.  With the exception of Marwan Kenzari's completely non-intimidating portrayal of Jafar, the casing is pretty stellar across the board.  Everyone captures the essence of their characters while making them unique to themselves.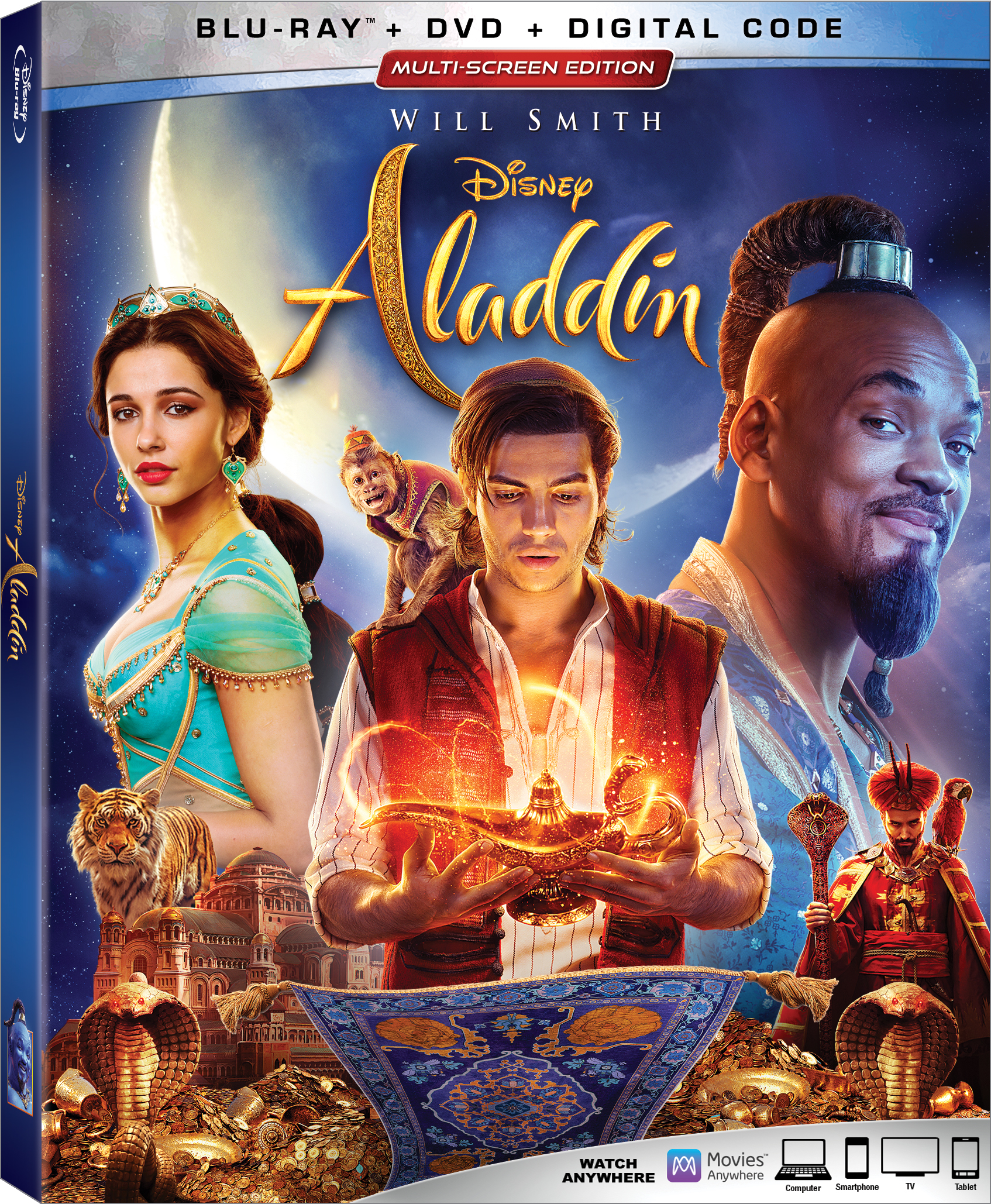 Overall, I was impressed with the duality of the film, making it seem like its own thing, but staying true to the original.  I just wish the end results were more entertaining.  It was a strong effort, but not one I can fully recommend.  There isn't too much to recommend as far as the extras in the newly released Blu-Ray either.  There's some interesting footage of the behind-the-scenes of Prince Ali and Whole New World music numbers, deleted scenes, bloopers, and not much more.  This is one of those releases where every bonus feature just serves to pat the filmmakers on the back, without providing any real insight into the production of the film.
Still, the movie is fun, and I watched it with my 3, 5, and 7-year-old daughters who all loved it (while finding parts a little too scary).  It's a great film to watch together as a family, but preferably only if everyone's seen the original first.
Bonus features include:
DIGITAL EXCLUSIVE BONUS:
"SPEECHLESS": CREATING A NEW SONG FOR JASMINE

– Follow the story of Jasmine's inspirational song "Speechless," written by Alan Menken, Benj Pasek and Justin Paul especially for this version of "Aladdin."
BLU-RAY & DIGITAL BONUS:
ALADDIN'S VIDEO JOURNAL: A NEW FANTASTIC POINT OF VIEW

– Watch behind-the-scenes moments captured by Mena Massoud (Aladdin) in this fun, fast-paced look at his personal journey.

DELETED SONG – "DESERT MOON"

– Experience a moving duet performed by Jasmine and Aladdin, fully shot and edited, with an introduction by Alan Menken.

GUY RITCHIE: A CINEMATIC GENIE

– Discover why director Guy Ritchie was the perfect filmmaker to tackle this exhilarating reimagining of a beloved classic.

A FRIEND LIKE GENIE – Discover how Will Smith brings talent, experience and his own personal magic to the iconic role of Genie.
DELETED SCENES

Falling Petals Into OJ
Jafar's Magic Orrery
Anders' Gift
Wrong Wishes
Silly Old Fool
Post Yam Jam Debrief

BLOOPERS – Laugh along with the cast and crew in this lighthearted collection of outtakes from the set.
MUSIC VIDEOS

"Speechless" – Music video performed by Naomi Scott
"A Whole New World" – Music video performed by ZAYN and Zhavia Ward
" A Whole New World" ("Un Mundo Ideal")

– Music video performed by ZAYN and Becky G.