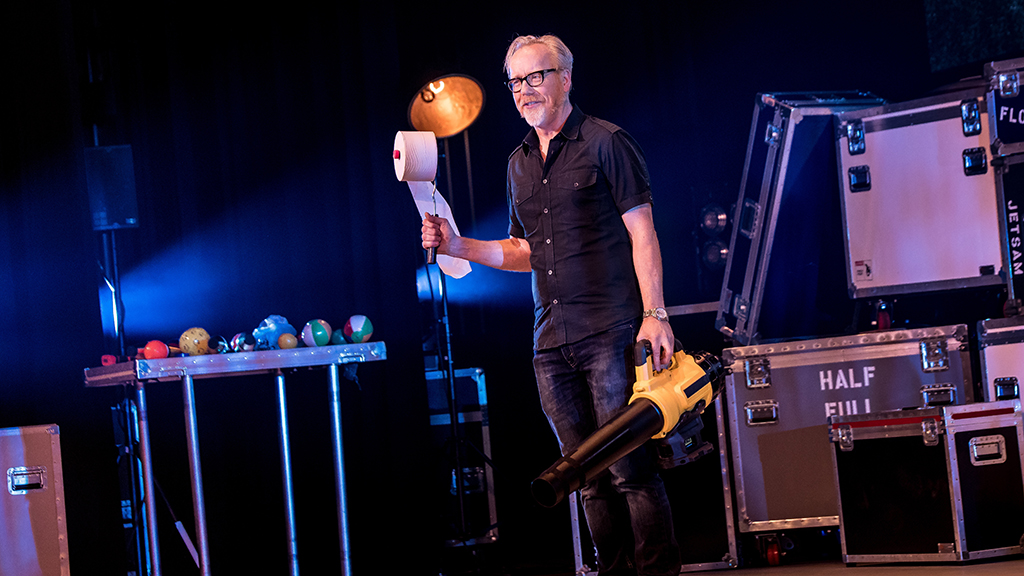 This post contains affiliate links and our team will be compensated if you make a purchase after clicking on the links.

Segerstrom Center for the Arts in Costa Mesa is well known for the world class musicals that play there. There are however many other entertainment options that play throughout the year from live musical acts, classical orchestras to pop superstars, ballets and professional dance performances as well as smaller plays performed within one of their many venues. This week The Center was home to BRAIN CANDY LIVE.
The dynamic duo of Adam Savage, a cherished television host most notable from Mythbusters, and YouTube sensation Michael Stevens have combined their scientific knowledge and fandom of all things experimental to bring to stage a wacky collection of their favorite demonstrations. Billed as a show with crazy toys and mind-blowing experiments like no other, BRAIN CANDY LIVE would be better characterized as "Conversations with Adam and Michael".  With a lackluster of unique demonstrations and even fewer number of actual experiments, BRAIN CANDY LIVE still contains the charisma and passionate minds of Adam and Michael to entertain the audience but will not have much more than that.
Those in love with Adam Savage and his quirkiness as well as Michael Stevens and his incredibly well-articulated explanations of all things science, will find a lot of value in the show but it won't fulfill any explosion enthusiasts fix out there. Instead, BRAIN CANDY LIVE focuses more on the explanation of some the planets biggest mysteries and helps bring understanding to things such as gravity, air flow, and pressure. Yes, that is legitimately the main themes of the show.  Having the proper expectations may help audience member find more joy in the show.
It's a show that could be fascinating for some, but unbelievably dull for others.  I found myself somewhere in the middle; being fascinated by some explanations and rather bored by the extended explanations of others. The second half features a lovely, but rather long segment of the two answering the audiences tweets. While this may be interesting for those that really care about stories from Adam and Michael, the audience may actually be more interested in seeing more demonstrations than hearing about the hosts past.
Ultimately BRAIN CANDY LIVE will appeal to that 8 to 14-year-old range that already have a strong interest in science and how things work. Any younger, and for some even at this age, could become very restless quick. Adults that love the cause and effect reward seen in Mythbusters may a little disappointed with the lack of actual effects. It's a show that they seem to want to continue to build off and make new versions in future years, but for now you may just be better off watching some of the other content they produce online.
This may have just been a one day event at Segerstrom, but there are plenty of other events coming up that may feed your interests. Below is selection of some upcoming shows. Find out more details at SCFTA.org.
ELLIS ISLAND
Pacific Symphony's 2017 American Composers Festival spotlights major works by composers Peter Boyer and John Adams, in celebration of his 70th birthday. "The Dharma at Big Sur," composed in 2003 for the opening of Disney Hall, is actually a concerto for electric violin and orchestra. Adams composed the piece with Tracy Silverman in mind, who performs it with Pacific Symphony. "Ellis Island: The Dream of America" is a work for actors and orchestra with projected images. The Grammy-nominated work presents first-person narrations of seven immigrants who entered the United States through Ellis Island between 1910 and 1940.
Setzer, Finckel, Wu Han – Apr. 8, 2017
Ellis Island: An American Dream – Apr. 9, 2017
Bach's St. John Passion – Apr. 19, 2017
Shen Yun: Connecting Heaven & Earth – Playing Through April 9th
Shen Yun brings the profound spirit of this lost civilization to life on stage with unrivaled artistic mastery. Every dance movement, every musical note, makes this a stunning visual and emotional experience you won't find anywhere else. Banned in communist China today, the non-profit Shen Yun is dedicated to reviving 5,000 years of civilization. Experience art connecting Heaven and Earth! Experience Shen Yun!
Legends – April 15th
Legends Bollywood Dance Championship is the official Bollywood dance championship of Desi Dance Network! Teams at Legends have competed at qualifying competitions from November 2016 to March 2017 for a chance to dance on the grandest stage of them all! Come join us in cheering on the 9 best Bollywood teams from across the nation as they dance off for the title of the first Legends Champion!The show will feature not only the best Bollywood teams in the nation, but also local talent and talent that has grown from our organization! Desi Dance Network continues to set examples across the United States of a large-scale, college-aged, second-generation, Asian American social/cultural movement; Desi dance in America, as it operates on college campuses and beyond, has produced a culture of its own (through its various cultural productions) that critiques the status-quo and mainstream American notions of belonging (and by simply just existing)!
Taj Express – April 21st
Taj Express explodes with the sounds of India and Bollywood, capturing the vibrant, expressive spirit of the world of Bollywood movies that have been entertaining billions of people in India for generations. Through a fusion of film, dance, and music, this dazzling international sensation takes audiences on a live cinematic journey through modern Indian culture and society. The production is a high energy celebration of new India's pop music, Bollywood culture, and deep traditions featuring colorful costumes, joyful dance, and thrilling live music.
Moon Mouse: A Space Odyssey: April 22nd – 23rd
Lightwire Theater is proud to present Moon Mouse, a cosmic adventure about celebrating differences. What Marvin the mouse wants most is to be popular, but the "cool" rats think he's a geek and call him a loser. Join Marvin as he blasts off in a homemade rocket and lands on the moon where he meets strange creatures, learns of infinite peril and experiences awesome beauty. Find out if Marvin's cosmic adventure will ultimately make his dreams of acceptance come true! Combining dance, puppetry and traditional theater, this production features over 40 delightful characters brought to life by electro-luminescent wires to create a dazzling 3D experience.
Hilty & Stokes Mitchell "Smashing Broadway" – April 21st – 22nd
With stunning voices and booming Broadway careers, award-winning Broadway superstars Megan Hilty and Brian Stokes Mitchell bring fresh insight to a program of Broadway hits and unforgettable melodies that have become timeless standards — including music from Cole Porter, Duke Ellington and George Gershwin — all backed by the lush sound of Pacific Symphony! When Megan Hilty and Brian Stokes Mitchell headlined the LA Philharmonic's opening night gala this season with a similar program, they received rave reviews.
Lila Downs with Monsieur Periné – April 23rd
Known for her soaring emotive voice and compelling stage presence, world renown Mexican American singer, Lila Downs' music is highly innovative and distinctive. The multiple Grammy-Award winning artist blends traditional Mexican, Latin, and Mesoamerican music with a broad range of other musical influences to create a vibrant, dramatic, and culturally rich performance.
Steve Tyrell – April 27th – 29th
Steve Tyrell's legendary career has brought him acclaim as a songwriter and a Grammy-winning record producer, but Center audiences know him best as one of today's most uniquely gifted vocalists. Tyrell returns to the Cabaret Series with his acclaimed show, "A New Standard", featuring his iconic performances of classics from the Great American Songbook, including tunes by Burt Bacharach & Hal David, Sammy Cahn, Barry Mann & Cynthia Weil, and many more.
Magic of Chopin – April 27th – 29th
Two of Canada's brightest classical music stars perform a program that celebrates the spirit of France. Mozart composed his Symphony No. 31 specifically to please and impress Parisian audiences. Chopin called "The City of Lights" home for most of his adult life, and Debussy and Ravel are two of France's greatest composers. BBC Music Magazine commented on Louis Lortie's gifts as an interpreter of Chopin: "Lortie is a model Chopinist: eloquent but never sentimental, elegant without ever sounding effete, dramatic but never exaggerated, harmonically luminous, structurally immaculate—and surprising."
—
Needless to say, there is a plethora of unique shows coming to Segerstrom Center for the Arts, and this is just for April. Oh, did I mention An American in Paris is playing later this month too…