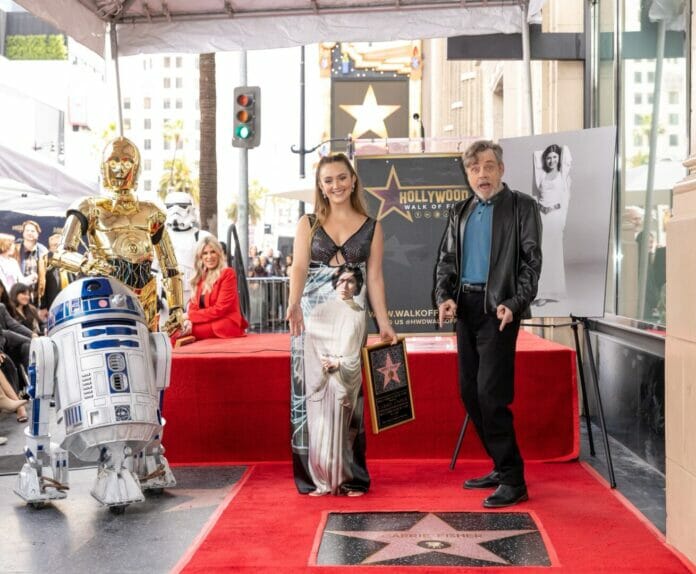 This post contains affiliate links and our team will be compensated if you make a purchase after clicking on the links.

An out-of-this-world celebration was underway on May 4, in Hollywood where friends, family, and fans gathered to witness the unveiling of Carrie Fisher's star on the Hollywood Walk of Fame. In attendance at this Hollywood Chamber of Commerce event were many colleagues from Lucasfilm including, President of Lucasfilm Kathleen Kennedy, Writer and Director of Star Wars: Episodes 7 and 9 J.J. Abrams, The Last Jedi Producer Ram Bergman, and her on-screen brother Luke Skywalker himself Mark Hamill. Hamill and Fisher's daughter Billy Lourde spoke during the ceremonies hosted by radio DJ Ellen K.
Ellen K came out to a crowd of adoring Carrie Fisher fans, who were ready for ceremonies to commence honoring the actress. Known as a princess in A Galaxy Far Far Away, she meant so much to the Star Wars fans who lined up Hollywood Blvd and her family who were there to join daughter Billie in accepting the honor on her mother's behalf. This honor was given to Fisher posthumously who passed away in late 2015.
Both Hamill and Lourde spoke about what Carrie meant to Star Wars fans on and off the screen. The speakers both emphasized how much she loved her fans. Billie recalled her mother's tendency to "be the last one to leave at conventions", her dedication to her fan base was real and authentic.
While Hamill spoke about his relationship with his "sister" and his own adoration of her and their own special bond, it was Lourde who spoke about this amazing woman as only a daughter could.  She recalled how her mom " Growing up like any other kid, I thought my mom was a little bit ok, but a lot embarrassing." She went on time to recall anecdotes about her mother and what it meant to be her daughter, including recalling her first time watching Star Wars which she knew she was in because Fisher would try to get young Billie to watch it several times growing up.
Billie now a "Star Wars" star in her own right (she starred in all three of Disney's era new trilogy of films), touched upon her mother's own words on her more difficult life and times " her candor about her mental illness and drug abuse, has inspired people from around world to speak about their struggles, it's one of the things about her I'm most proud of…One of my favorite quotes from hers is Take your broken heart and make it into art".
Both of these important takeaways from her life, resonate with Star Wars fans everywhere who got to know Fisher better from her convention appearances to her tweets where she shared her honest and humorous anecdotes on life.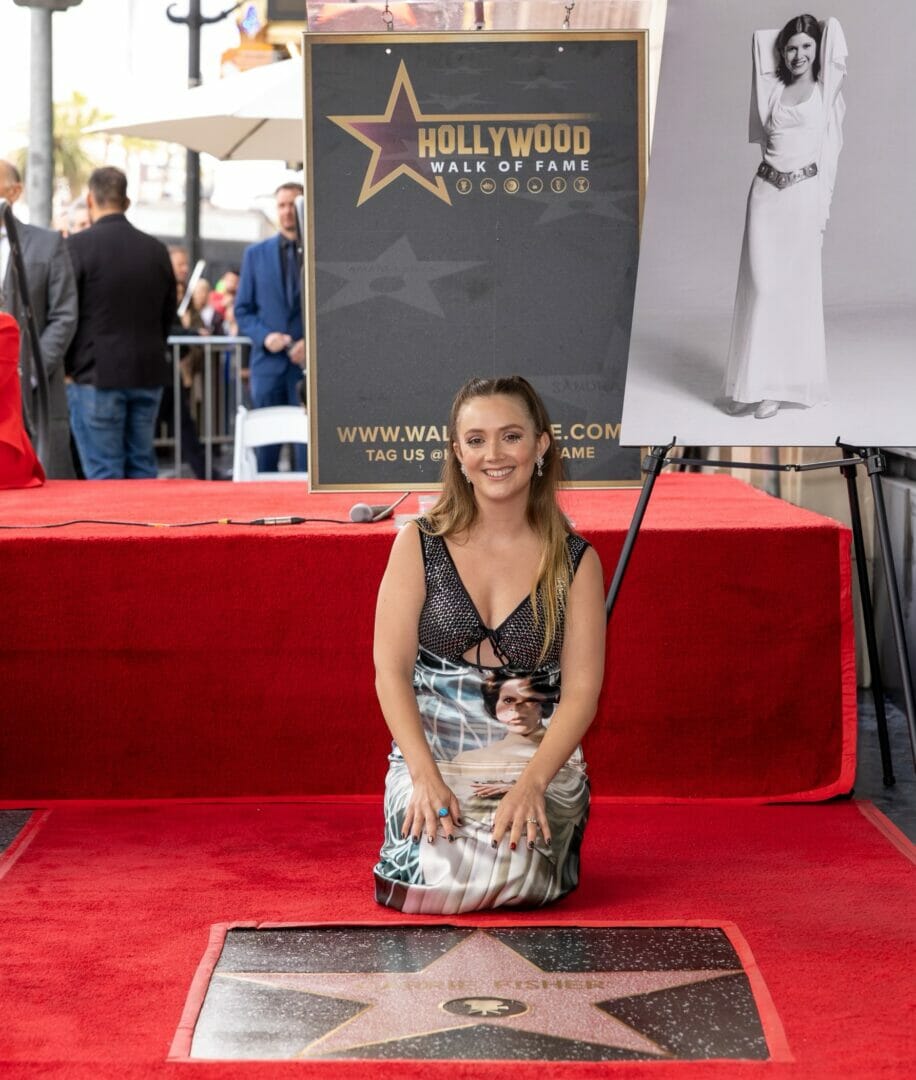 Billie's closing remarks also included a "thank you to the droids" in attendance. C3-PO & R2-D2. The droids poised for pictures with members from past Lucas film projects and members of the Hollywood Chamber of Commerce as the star was unveiled. The star which is just a few feet from the marquee of Disney's own El Captain theater will be there to remind fans of the legacy of Fisher and where so many of her beloved movies year after year.
There was no better way today to celebrate May the 4th than to celebrate the Princess who started it all. She has left a strong Star Wars legacy with her daughter, as well whom Billie thanked for coming out, her beloved Space Uncle, addressing Mark Hamill as her space uncle, she told him at the end of the ceremonies "Thank you so much, I love you so much."
The bond with these people who have brought us a galaxy far far away is real and was celebrated. It is like Luke Skywalker's line in the "Last Jedi" where he tells Leia, "No one is ever really gone." Well Carrie Fisher is not gone, she lives in the hearts and minds of her family and fans. Her legacy is now truly cemented this day on the Hollywood Walk of Fame.