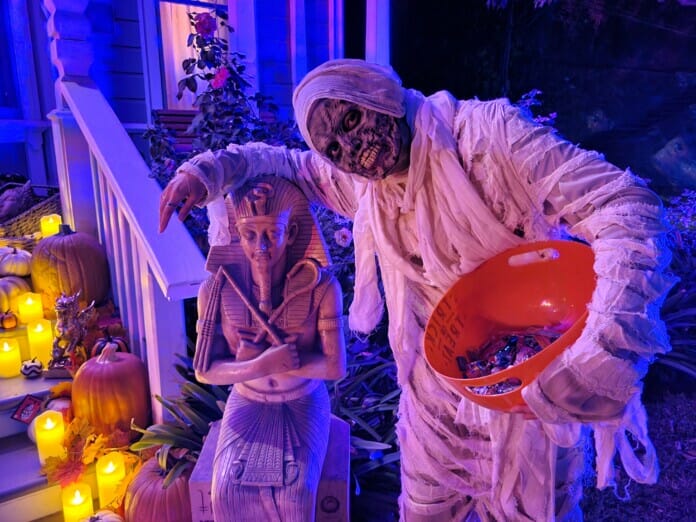 This post contains affiliate links and our team will be compensated if you make a purchase after clicking on the links.

Cemetery Lane shares an open invitation to welcome families and Halloween fanatics to one haunted neighborhood for a fun and friendly trick-or-treating experience. The houses are eerily lit and the vibrant occupants are ready with morsels of candy to hand out and have their photos taken with you decked in your Halloween best. All in attendance are encouraged to arrive in costume as part of the joyous occasion.
A Vampira-type hostess hovers along with the cult classic movie "Plan 9 From Outer Space" playing on a television set in the living room. An archeologist stands guard of his precious artifacts at the doorstep to his home. A walking mummy roams close by. Get ready for your big close-up with a Hitchcock film director and his leading lady in front of a house engulfed by a murder of crows. The striking green and pink color palette of one house with a mad scientist and their beautiful creation invite visitors inside for a glimpse of the living room and kitchen decked in experimental fashion.
Docent tour guides are also available to answer questions about the house. And an excitable duo of 1950s doo-wop girls were a delightful pair considering their octagon-shaped house is full of spider-webs and spiders of various shapes and sizes. What lurks around the dark porch with a flickering light bulb is anyone's guess. The character interactions were truly a delight with engaging conversations from each host. The colorfully lit homes also make a standout backdrop for group costumes like Scooby-Doo and the Mystery, Inc., The Addams Family, Hocus Pocus, and more just to name a few.
There are other small-sized entertainment to be had around Cemetery Lane. The train depot is dressed as a radio station. A hay bale maze keeps the little ones guessing which way to turn while adults can monitor with amusement. Candy surprise awaits at the completion of the attraction. Movie clips play beside a photo-op set up with the event's name can be used to show off your Halloween costume. Everyone is a winner here. Be sure to slow down and admire the spooky pumpkin patch and creepy graveyard. The groundskeeper may have a plot dug up just for you.
Take a closer look at he tombstones as some may have recognizable names attached to the actual hauntings of the residential neighborhood. A mausoleum is home to a hairy-armed creature that just wants to hand out candy. Finally, a local scout troop has set up carnival-style games for a chance to earn more candy. The church has a few vendors inside for your Halloween shopping convenience from local small businesses. Many of which you may have seen at the Halloween convention Midsummer Scream. Food is also available outside with options for Mexican, hot dogs, and ice scream.
Event specific merchandise range from stickers, pins, shirts, and even a commemorative cloth trick-or-treat bag. The design of which is of one of the Heritage Square Museum. Hopefully with the return of Cemetery Lane, perhaps a complete set of all the buildings can continue to be designed by the same artist behind the popular video game "Cuphead".
Activities, Cemetry, and Pumpkin Photo Gallery
North of Downtown Los Angeles, sits ten acres of sanctuary preserved for eight historic Victorian era structures of various states of restoration. Saved from demolition, Heritage Square Museum serves to educate about Southern Californian life from the end of the 19th century and the beginning of the 20th century.
It's no wonder the museum's mission statement is to preserve, collect, and interpret the architecture, physical environment, and culture of Southern California during the first 100 years of statehood, (1850 to 1950). The structures of the museum have been featured in many forms of media including movies and television shows such as Saving Mr. Banks, Legally Blonde, Tales from the Crypt, Drunk History, and It: Chapter Two.
Some of these intricately beautiful mansions are considered to be really haunted and so frightfully and appropriately harness the power of Halloween ever so eloquently in a spirited celebration of the season. Enter Black Cat Orange, the team behind Southern California's premiere Halloween convention, to partner with Heritage Square Museum to bring Cemetery Lane to undead life.
Atmosphere and Merchandise Photo Gallery
Cemetery Lane is a fun, safe, family-friendly Halloween trick-or-treat event set in a neighborhood full of haunted houses. Characters abound that make a delightful, not frightful experience. The noise level is also kept to a minimum not only for the nearby living residents, but also a low stress and low audio-sensory sensitivity factor. This is the best event and best time of the year to take a peek behind the gates of Heritage Square Museum for a closer look at the extraordinary homes of a forgotten past. For more information and to order tickets, visit www.cemeterylane.com.
Event operates on select nights from now until October 30, 2022. Ticket prices range from $27-$32. A portion of each ticket sale will go toward the preservation efforts of Heritage Square Museum. Price includes one plastic trick or treat bag per ticket purchase. Commemorative cloth bags are also available for purchase. Toddlers under two years of age are admitted free with adult paid admission-one child per adult. Costumes are encouraged for all ages. But no prop firearms.
NEW ENTRANCE is located at 3515 Pasadena St. Los Angeles, CA 90031. Limited parking in nearby neighborhoods and across the street at the Heritage Square Metro Gold Line Station parking lot. The majority of Heritage Square pathways are grass, dirt, and gravel and uneven dirt terrain. So plan accordingly when it comes to strollers, wheelchairs, footwear, and costumes that drag on the ground.