This post contains affiliate links and our team will be compensated if you make a purchase after clicking on the links.

The City of Long Beach will once again be overtaken by the holiday spirit when the fifth annual CHILL returns to the majestic Queen Mary ship November 23, 2016 through January 8, 2017. In addition to ice skating, ice tubing, sleigh rides, and visits with Santa, Southern California's coolest holiday adventure will unveil a new interactive and immersive experience,Alice in Winterland.
Light up the night and follow the Queen down the rabbit hole this holiday season with Alice in Winterland. The newest attraction at CHILL brings an inspired re-imagination of the classic Lewis Carroll story to life through the magic of an interactive and digitally immersive 14,000-square foot walk-through experience. Guests can unlock the hidden secrets of the adventure with RIFD technology to make each individual visit truly unforgettable. Alice in Winterland features stunning, larger than life lanterns as you follow Alice and her adventure into the Hall of Doors, the White Rabbit's Kitchen, Mad Hatter's Work Shop, the proverbial Tea Party, the Hedge Maze and visits from the Caterpillar and the new Queen of Diamonds.
The fifth annual CHILL welcomes back Glacier Glide Ice Tubing with six lanes of glistening ice slides standing two stories tall and 100-feet long. Ice skate under the stars on the 6,000 square-foot ice skating rink with the backdrop of the picturesque Queen Mary ship.
Stroll through the North Pole Village and stop by the Queen Mary Village's post office to send a letter to Santa. Take a spin on the Swinging Sleigh Ride, the Giant Rocking Horse or play Prancer's Paintball for holiday thrills.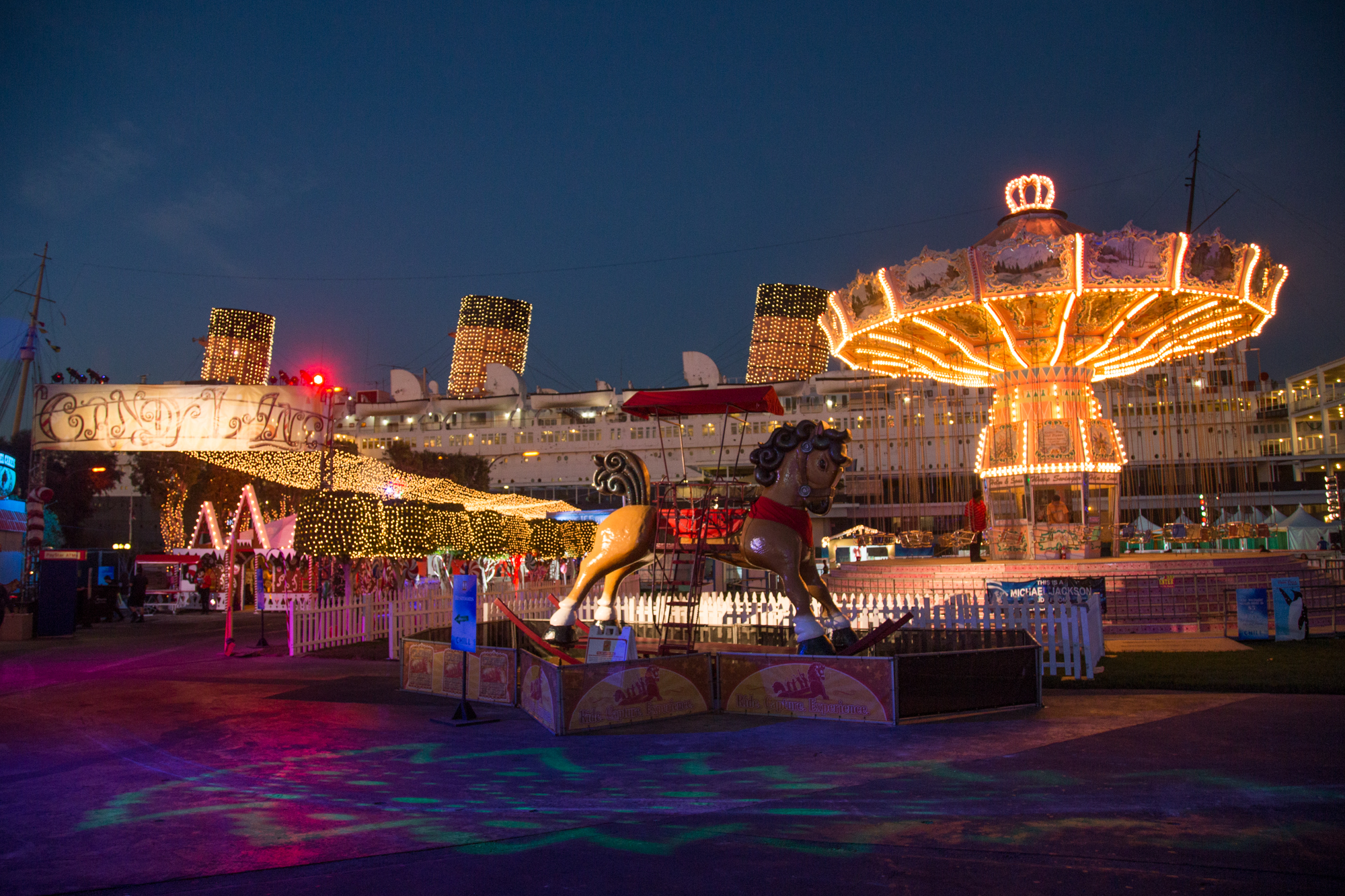 A trip to CHILL is not complete without a stop by the Gingerbread House to make a festive edible creation, and a visit to Santa and Mrs. Claus at the Claus Cottage. The holiday fun is endless.
CHILL pricing starts at $39.99 for adults and $29.99 for kids (ages 4-11). In celebration of CHILL's return, Queen Mary is offering general admission tickets at 50% off Oct. 4-7, now available online. Tickets include entrance to Alice in Winterland, Ice Tubing, CHILL Village and access to the Queen Mary ship. Hotel and VIP packages are also available. CHILL will be open select dates Nov. 23 through Jan. 8. For more information, including hours or to purchase tickets online, visit http://queenmary.com/chill/