This post contains affiliate links and our team will be compensated if you make a purchase after clicking on the links.

I love going to the mountains, but sometimes I don't want to deal with all the narrow, winding roads. For these times I like to visit Wrightwood, a hidden gem in the Swarthout Valley, at the eastern end of the San Gabriel Mountains. Located at an altitude of approximately 6,000 feet, the small town can be reached via the freeway and a couple of highways.
A friend and I recently took a Sunday drive to Wrightwood and experienced cool mountain air, tasty home cooking, a tiny picturesque lake, and lots of incredible scenery.
Our getaway began when we took the 210 Freeway in Pasadena east to Rancho Cucamonga, where we transferred to the I-15 north, to CA-138 and then to CA-2, which led us into the town of Wrightwood. When we got there it was a brisk and sunny 46-degree November morning and the surrounding mountains were a giant postcard speckled with towering pine trees, topped with puffy white clouds.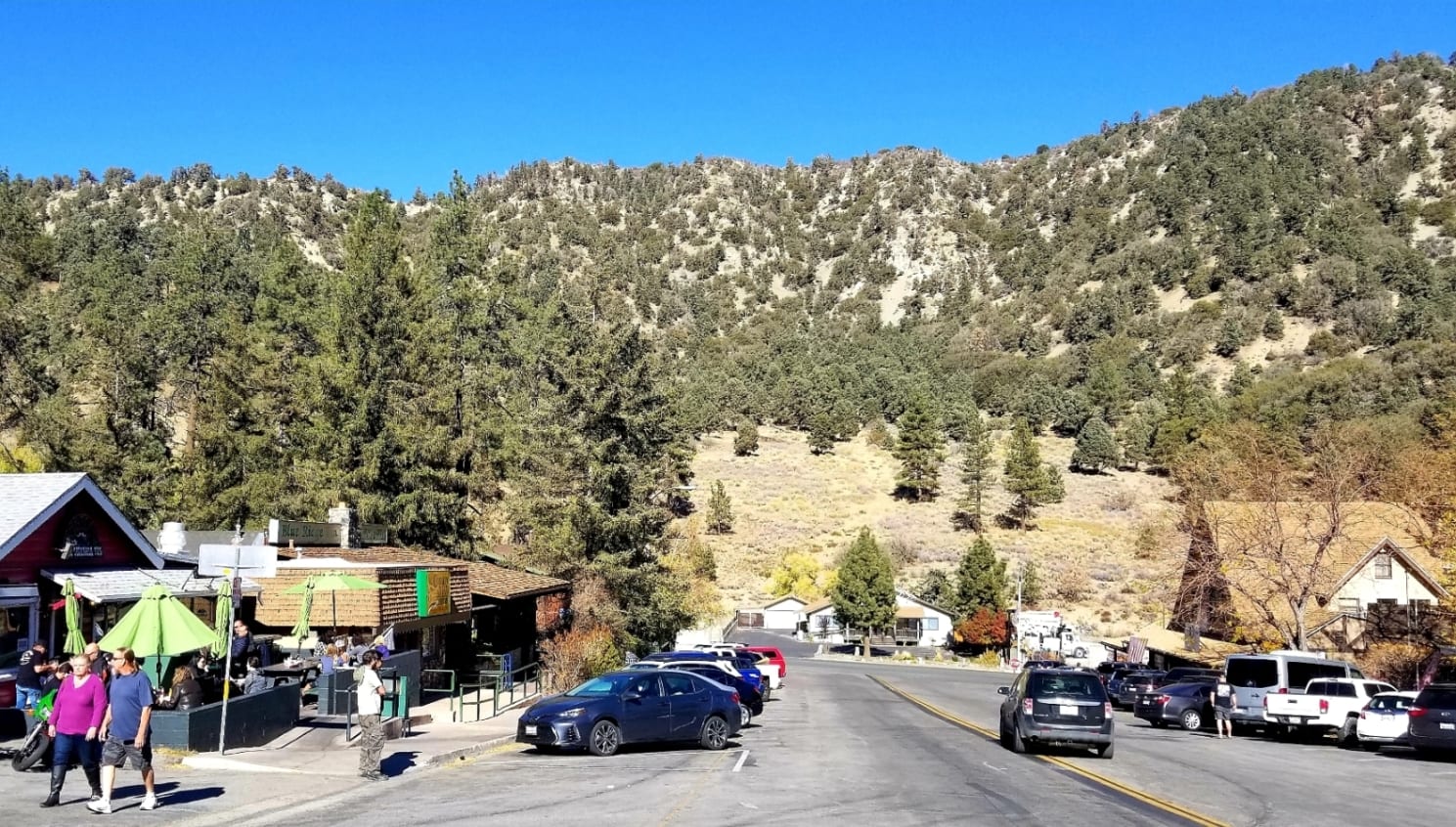 Wrightwood is probably best known for Mountain High, its popular ski resort, but the place is also a charming little town with quaint shops and restaurants and a host of outdoor activities at hand. And no traffic lights!
Once in Wrightwood we drove down Park Drive, the main drag, and walked around town, which was bustling with locals and motorcyclists and day trippers like us. One of the busier places on the street was Zip Lines at Pacific Crest (www.ziplinespc.com). The company offers two different zipline courses that are literally built in the trees, which enables guests to "truly be in the environment, zipping from one platform to the next."
The Canopy Tour is a thrilling zipline course that offers heights of up to 300 feet off the forest floor and lengths of over 1,500 feet. The Mountain View Tour provides another unique zipline experience, featuring a free-fall experience from a tree platform.
Near Zip Lines at Pacific Crest we found Evergreen Café, with smoke floating from the chimney and the aroma of home cooking wafting through the mountain air. We took this as signal to pop in for lunch. We did and were treated to a hearty home-cooked meal of hot chili and chicken-fried steak.
After lunch, we drove up Angeles Crest Highway, which cuts through town. In a few minutes, we came to Mountain High Ski Resort (www.mthigh.com), which is currently making snow and preparing for the upcoming 2018-2019 winter season. "All signs point to cold weather and possibly natural snow starting Sunday, November 18," says the Mountain High website. "We could open the West resort as early as Saturday, November 24th, if everything goes well." Mountain High consists of three separate mountains: Mountain High East, West, and North.
About three miles past Mountain High we found Jackson Lake. Covering roughly seven surface acres, the tiny lake is in Angeles National Forest and surrounded pine forests and oak thickets. Fishing is popular at the lake, as the California Department of Fish and Wildlife stocks it with rainbow trout for summer and spring. There is also a bluegill population swimming year-round in the lake. Because of the lake's altitude and size it can easily freeze in winter, making it a miniature skating rink for ducks and other birds.
When we got to Jackson Lake there was a half dozen people fishing along the shore. There were also families having picnics and barbecuing, and a few hikers taking advantage of the nearby trials. The picnic area offers plenty of parking, tables and barbecue grills, and public restrooms, which are primitive but usable.
For those wanting to stay overnight near the water, there are a couple campsites nearby, including Mountain Oak Campground and Appletree Campground. More information on these campsites can be found at www.recreation.gov.
For hikers, Angeles National Forest boasts hundreds of miles of hiking trails and Jackson Lake isa good place to begin. There is a trailhead at the picnic area which winds about 2.5 miles of through the forest until it connects to the legendary Pacific Crest Trail (www.pcta.org). The Pacific Crest Trail (PCT) follows the Sierra Nevada and Cascade Mountain ranges from Southern California the Canadian border.
For more information on visiting Wrightwood and Jackson Lake and the surrounding area, visit: www.wrightwoodchamber.org