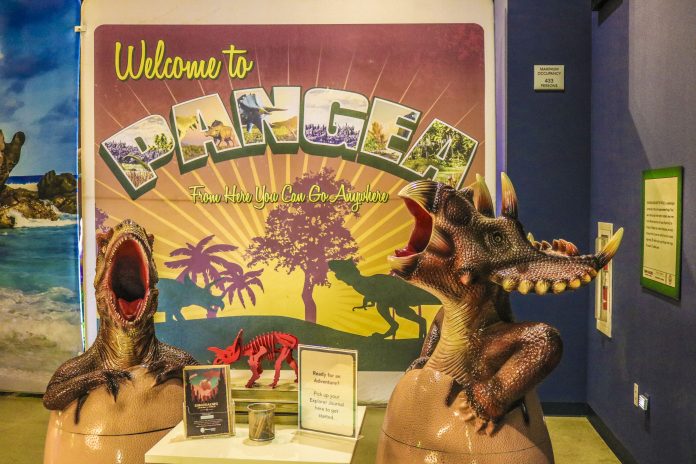 This post contains affiliate links and our team will be compensated if you make a purchase after clicking on the links.

The age of the dinosaurs has returned! Explore everything prehistoric at Discovery Cube's new Orange County and Los Angeles exhibitions, "Dinosaurs Around the World" (Orange County and Los Angeles Locations) and "Sea Monsters" (Newport Beach Location). A whole world of fun awaits adults and children of all ages.
"We are very excited to bring prehistoric adventures to all three of our campuses this summer," said Joe Adams, CEO, Discovery Science Foundation. "For the very first time, we'll be offering a look at life on earth millions of years ago, both on the land and sea, at our Los Angeles and Santa Ana Discovery Cube locations and at Discovery Cube Ocean Quest. We are thrilled to make popular experiences, like our Paleontologist dig pits, available across all locations."
"Dinosaurs Around the World" will take you back in time on a tour of Earth that features creatures, lush landscapes, and continents that are unlike anything on the planet today. Every inch of the tour will have cutting edge animatronics, unique narratives, and authentic glimpses into the world of the dinosaur.
The exhibit features plenty of child friendly activities that are both educational and entertaining, which include a fully interactive stage show, a chance to dig for rare dinosaur fossils, as well as chance to jump into the driver's seat of an exciting dino-filled expedition. Families are also welcome to celebrate their birthdays in dino fashion with a dinosaur themed birthday party where children can make their own dinosaur egg.
In honor of Dino Summer, the Discovery Cube will also be featuring a handful of fully immersive experiences that include: Dino Summer Field Trips, Dino Summer Camps and Dino Sleepovers.
Los Angeles
Dino Adventures (Grades K-2)
June 25, July 16, July 23
Dino Detectives (Grades 3-5)
July 9, July 30, August 6
Orange County
Dino Adventures (Grades K-2)
June 25, July 9, July 29
Dino Detectives (Grades 3-5)
June 25, June 30
The adventure continues in Newport Beach, as families will be given the chance to unravel the mysteries of the deep sea. Voyages are now underway for people of all ages to learn about the history of sea monsters, the science of deep sea exploration, and the real world facts behind some of history's most legendary sea creatures.
For more information on all available exhibits and activities, visit www.discoverycube.org. You can also follow the Los Angeles and Orange County campus on social media (@DiscoveryCubeLA, @DiscoveryCubeOC).
"Dinosaurs Around the World" and "Sea Monsters" are open to all guests now through September 3rd.