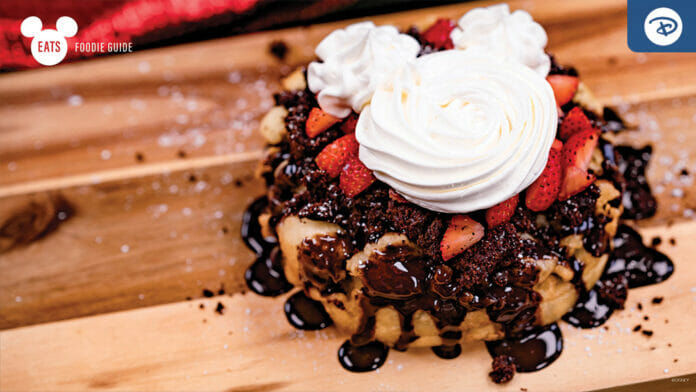 This post contains affiliate links and our team will be compensated if you make a purchase after clicking on the links.

Love is in the air – and Disneyland Resort treats will soon be in everyone's stomachs – because Valentine's Day is nearly here. The Disney chefs and mixologists are concocting love potions of their own this year with delicious flavors that will awaken all hearts and taste buds.
Disneyland Park 
Red Rose Taverne (Available through Feb. 28; mobile order available) 
Love Stuff: Red shortbread cookie, red velvet cake, raspberry, cookies and cream mousse, and heart sprinkles
Stage Door Café (Available through Feb. 28; mobile order available)
Chocolate-Strawberry Funnel Cake: Funnel cake with chocolate drizzle, brownie crumbles, diced strawberries, and whipped topping (New)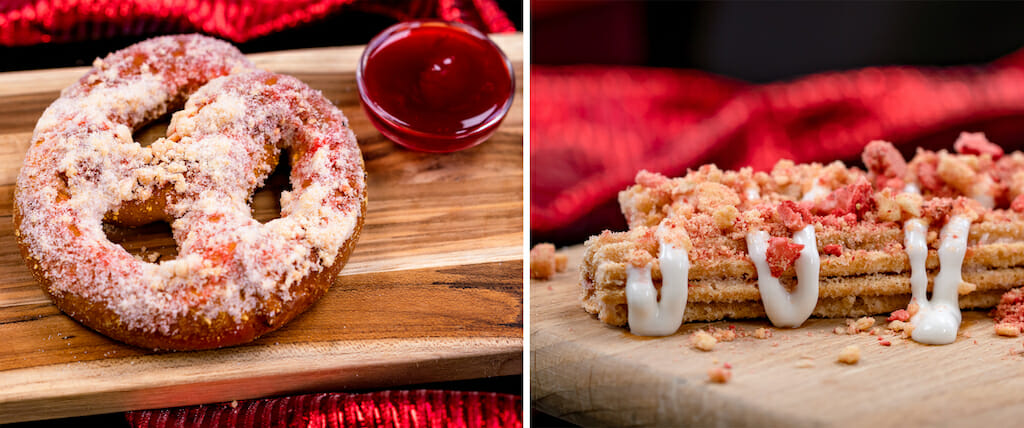 Outdoor Carts in Frontierland (Available through Feb. 28)
Strawberry Cheesecake Pretzel: Strawberry & Graham Cracker-dusted Cream Cheese Pretzel
Strawberry Dipping Sauce
Strawberry Cookies & Crème Churro: Strawberry and Butter Cookie-dusted Churro with Vanilla Buttercream Drizzle and Strawberry Cookie Topping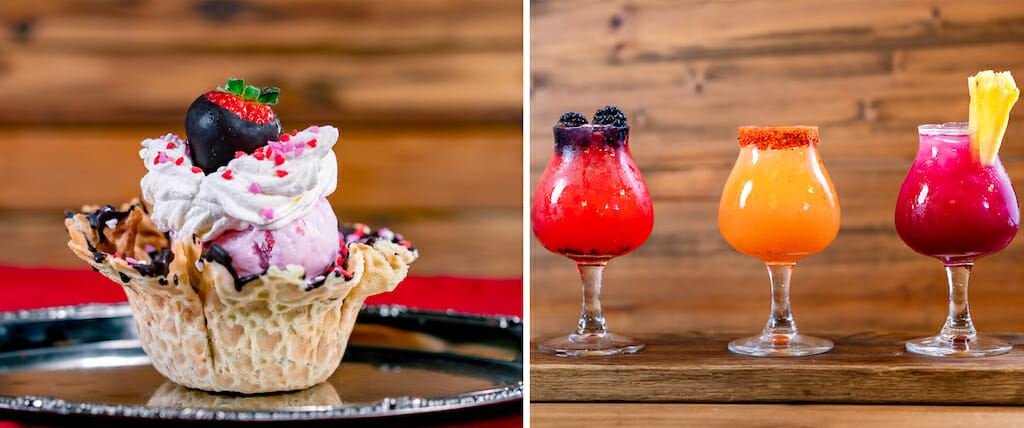 Disney California Adventure Park 
Clarabelle's Hand-Scooped Ice Cream (Available Feb. 10 through 14; mobile order available) 
Sweetheart Sundae: Chocolate and strawberry ice cream topped with strawberry sauce, whipped cream, a chocolate-dipped strawberry, and valentine sprinkles served in a chocolate waffle cup (New)
Valentine's Sprinkles (New) 
Lamplight Lounge and Lamplight Lounge – Boardwalk Dining (Available Feb. 10 through 14) 
A Toast to Love Flight: Three miniature cocktails featuring a spicy cocktail, a bitter cocktail, and a sweet cocktail
The Flame: Bacardi Raspberry Rum, peach schnapps, mango purée, raspberry purée, lime juice, Sprite, and firewater bitters with a chile-lime rim
The Ex: Absolut Citron Vodka, spicy bitters, blackberries, lemonade, agave nectar, and lemon juice
The Love That Lasts a Lifetime: Bacardi Raspberry Rum, St. George, orgeat, raspberry purée, pineapple juice and Sprite
Trolley Treats (Available through Feb. 16)
Oswald Apple: Green Granny Smith apple dipped in chocolate and enrobed in
dark chocolate with two long cereal treat ears dipped in dark chocolate and
embellished with white and red chocolate.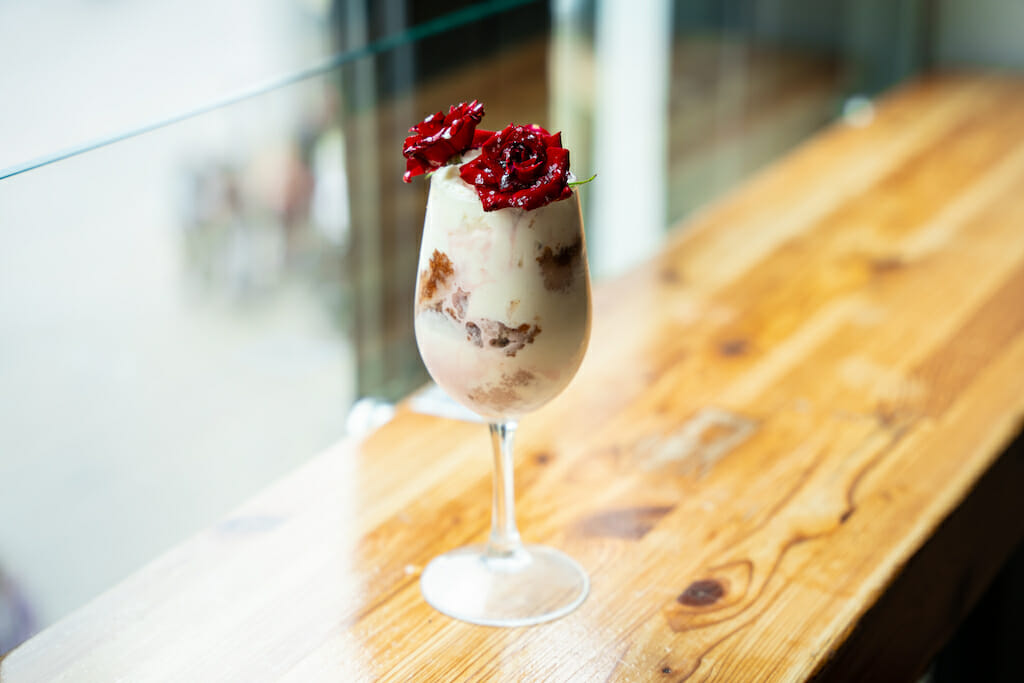 Downtown Disney District 
Ballast Point Brewing Co. (Available Feb. 14 only) 
Tres Leches Rose Water Cake: Rose-milk-soaked shortcake topped with candied rose petal (New)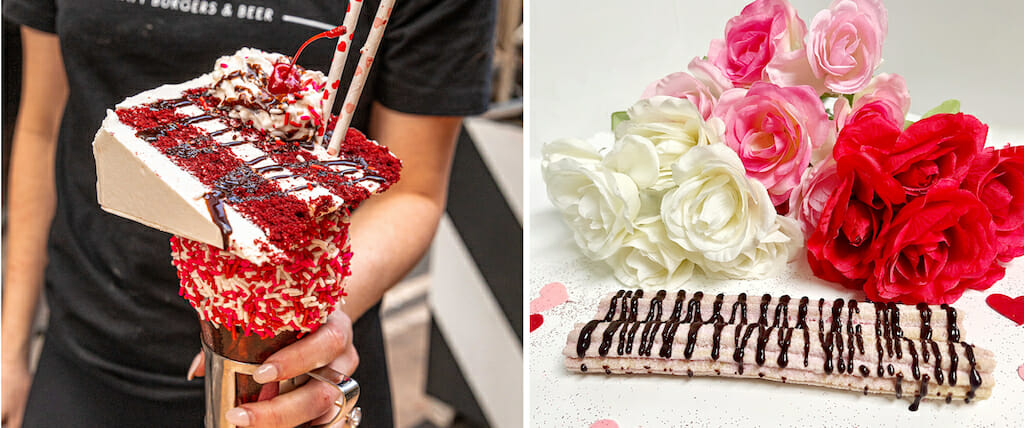 Black Tap Craft Burgers & Shakes (Available Feb. 10 through 14) 
Red Velvet Cake Shake: A red velvet cake batter shake with vanilla frosted rim with red and white sprinkles topped with a slice of red velvet cake, whipped cream, chocolate drizzle, and a cherry
California Churro (Available through Feb. 19) 
Chocolate-covered Strawberry Churro: Churro rolled in strawberry sugar, drizzled with chocolate
Catal Restaurant 
Valentine's Day Pre-Fix Menu: Lobster Bisque followed by choice of Jumbo Scallops or Pork Belly Cassoulet as your main entrée and finished off with a sweet choice of Chocolate Mousse Cake or Cheesecake for dessert (New) (Available Feb. 14 only)
Scarlett Kiss: Raspberry rum, lemon juice, simple, lemonade, soda water, fresh berries, and a splash of raspberry purée (New) (Available through Feb. 28)
Kayla's Cake (Available through Feb. 14) 
Valentine's Day Gift Box: Six pre-selected macaron flavors of rose champagne, raspberry chocolate, strawberry cheesecake, red velvet, sea salt caramel, and Belgian dark chocolate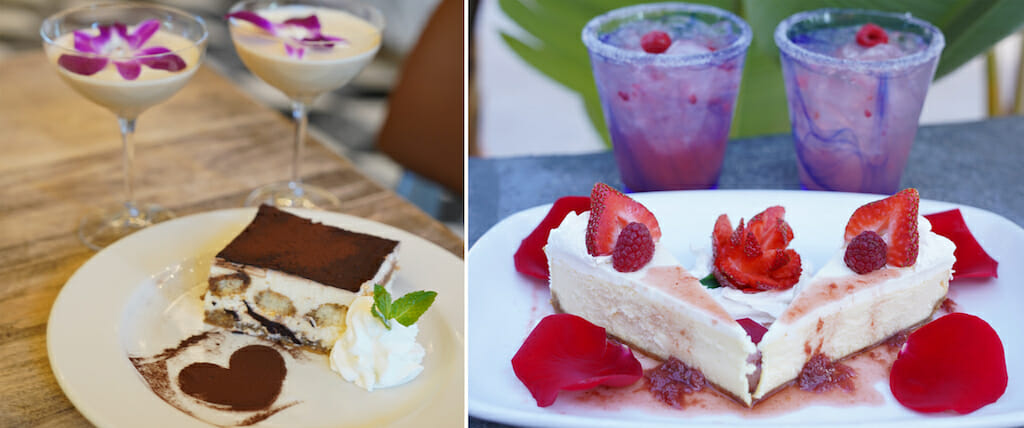 Naples Ristorante e Bar (Available Feb. 11 through 14) 
Two Enchanted Centuria Martini: Tequila blanco, chilled espresso, Irish cream, and vanilla syrup topped with an edible flower and served with a special Valentine's tiramisu dessert to share (New) 
Tortilla Jo's (Available Feb. 11 through 14)
Two Amor-ita Margaritas: Tequila, raspberry liqueur, organic margarita mix, and muddled raspberries served with a raspberry cheesecake to share (New) 
Ralph Brennan's Jazz Kitchen 
Reef & Beef: Grilled jumbo shrimp and braised short ribs with creamy grits, green tomato chow-chow, and chili garlic butter sauce (Available Feb. 14 only) 
Chocolate Strawberry Martini: Strawberry vodka and chocolate liqueur (Available Feb. 6 through 19)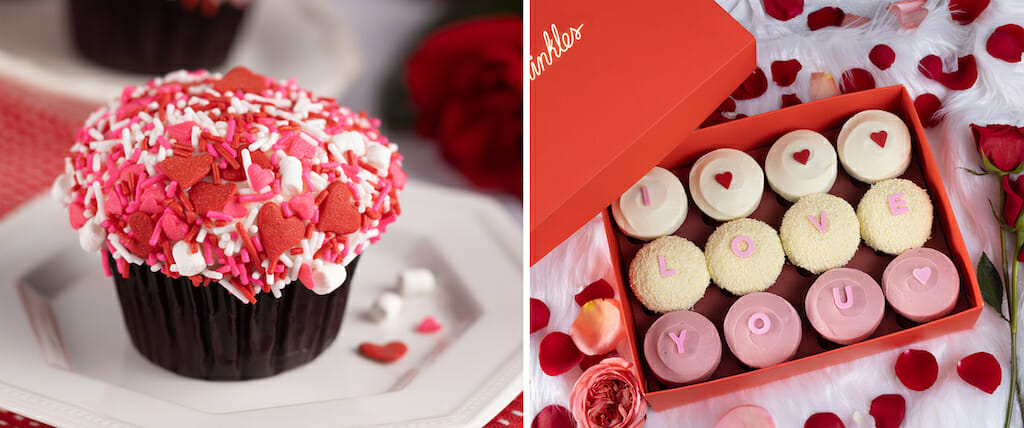 Sprinkles (Available through Feb. 19) 
Raspberry Chocolate Chip Cupcake + Layer Cake: Chocolate chip-studded Belgian dark chocolate cake topped with luscious raspberry frosting
Heartthrob Red Velvet: Red velvet cake topped with cream cheese frosting finished with our exclusive blend from Fancy Sprinkles
I Love You Box: Four red velvet, four vanilla, and four raspberry chocolate chip cupcakes
XOXO Box: Three dark chocolate, three red velvet, three vanilla, and three raspberry chocolate chip cupcakes
Uva Bar & Cafe (Available through Feb. 28) 
Scarlett Kiss: Raspberry rum, lemon juice, simple, lemonade, soda water, fresh berries, and a splash of raspberry purée (New)
Wetzel's Pretzels (Available through Feb. 28) 
Choco Churro Bitz and Frozen Horchata Bundle: Cin-A-Bitz drizzled with dulce de leche and Ghirardelli chocolate sauce paired with frozen horchata topped with cinnamon (New)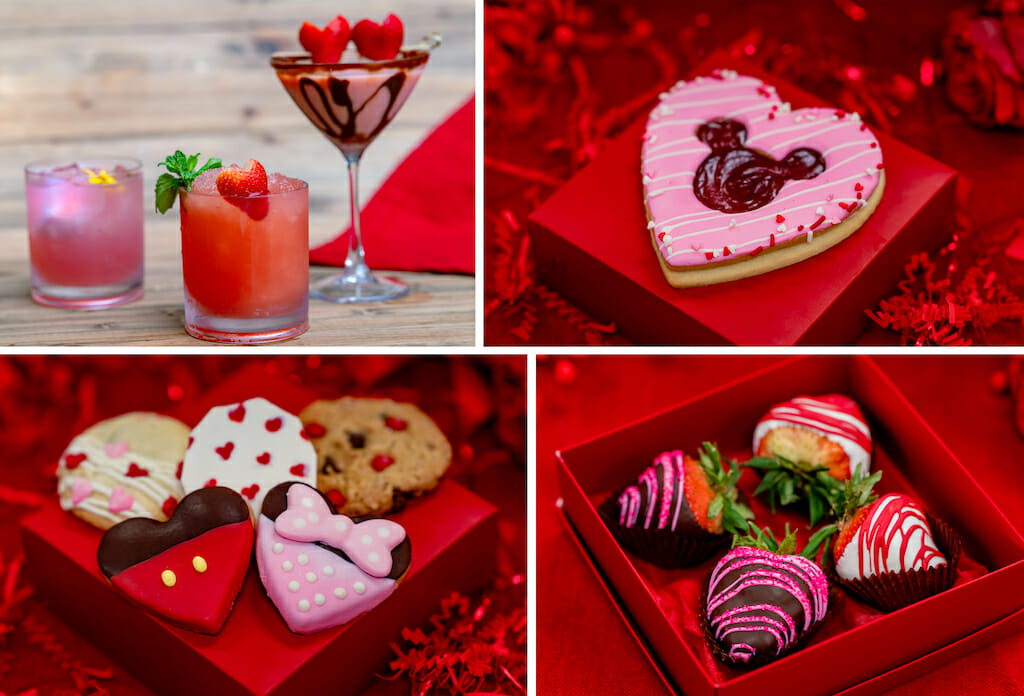 Hotels of Disneyland Resort
Disney's Grand Californian Hotel & Spa
GCH Craftsman Bar (Available through Feb. 26) 
California Crush Cocktail: Crown Royal Regal Apple Whiskey, strawberry purée, lemon, and agave served with a mint sprig and strawberry heart garnish
Tuxedo Strawberry Cocktail: Bacardi Raspberry Rum, dark crème de cacao, strawberry purée, and half & half served "up" in a chocolate-coated martini glass with strawberry garnish
Love's Lantern Cocktail: Skyy Citrus Vodka, Chambord, and lime garnished with edible flowers and a glow cube
Craftsman Grill (Available through Feb. 21; mobile order available) 
Valentine's Day Donuts
Valentine's Day Cupcake
GCH Holiday Cart (Available through Feb. 26)
Heart-shaped Linzer Cookie
Mickey-shaped Valentine Cookie
Valentine Macarons
Assorted Cookie Box
Chocolate-dipped Strawberries
Valentine Crisped Rice Treat: Dark and white chocolate-dipped crisped rice treat
Waffle Shot available with choice of milk, low-fat milk, chocolate milk or strawberry
Hearthstone Lounge (Available Feb. 10 through 20) 
Sparkling Fire: Ketel One Vodka, St-Germain Elderflower Liqueur, Champagne, lemon juice, and raspberry gum syrup garnished with a raspberry and a dried rose petal (New)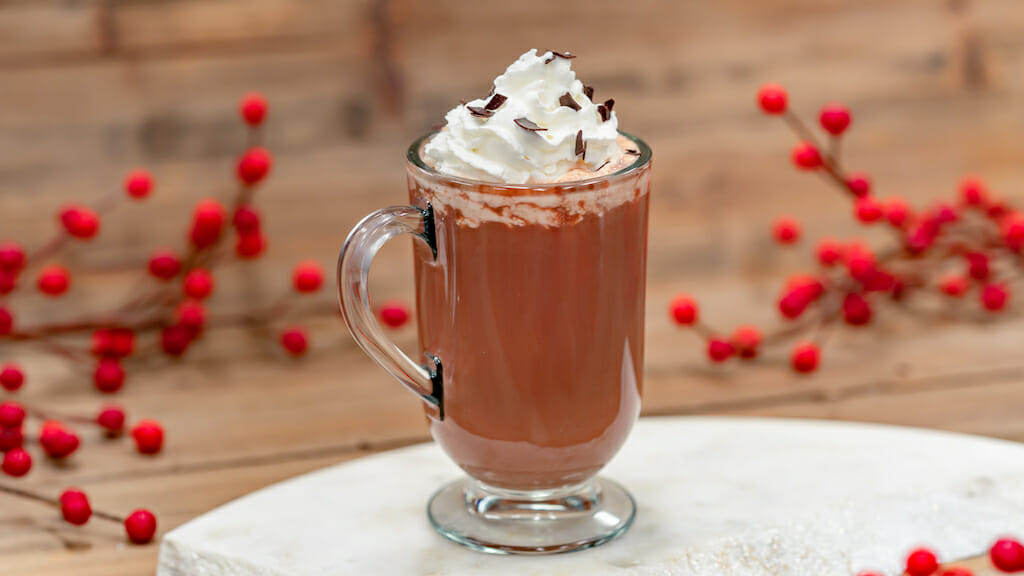 Disneyland Hotel 
Coffee House (Available Feb. 10 through 20; mobile order available) 
Sablé Heart Cookie with Raspberry Filling
Red Velvet Cupcake
Iced Raspberry Mocha
Raspberry Mocha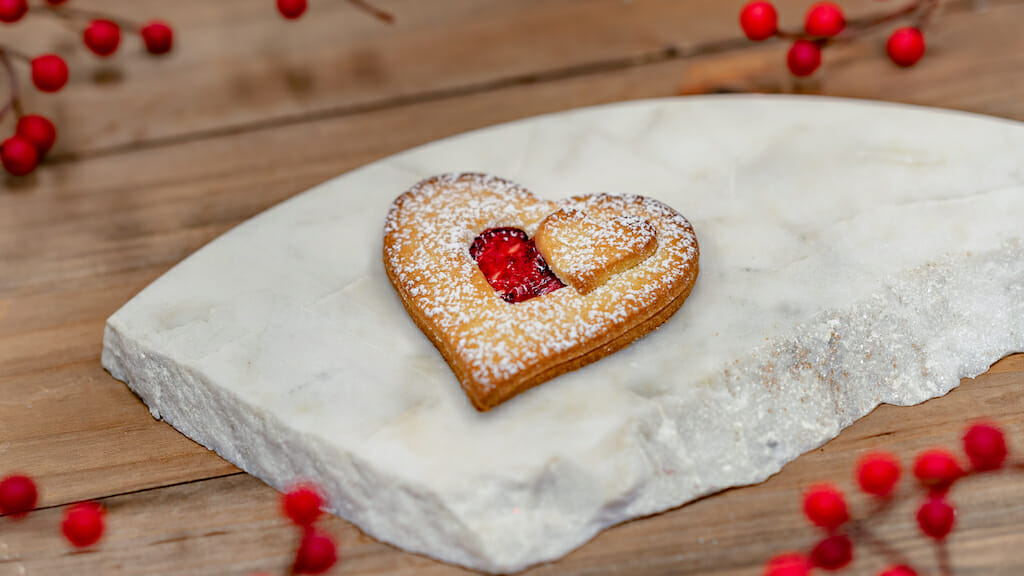 Trader Sam's Enchanted Tiki Bar (Available Feb. 10 through 20) 
Sablé Heart Cookie with Raspberry Filling
Red Velvet Cupcake
(Note: All offerings are subject to change and availability.)