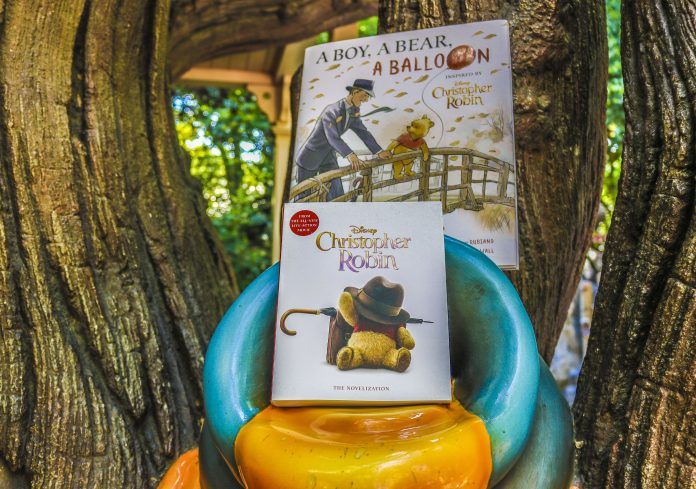 This post contains affiliate links and our team will be compensated if you make a purchase after clicking on the links.

It's time to revisit the Hundred-Acre Wood!
With the release of Disney's Christopher Robin, Disney Press has debuted two books in honor of the new film. Both share in the story for the new adventure while still retaining their own unique elements. The books also target a wider base of age ranges, as one focuses in on the youngest of us while the other casts a wider net for both young and the young at heart.
The first of the bunch is a children's book, titled 'A Boy, A Bear, Balloon'. Filled with wonderful illustrations, it's a perfect glimpse into the larger story of Christopher Robin. Rather than take on the entire narrative, the book condenses the tale into a small smackerel of adventure. The message of the narrative is still there, while the magic of Pooh shines through into a sweet story worthy of a comforting bedtime story for both young and old.
To get the full picture, we turn to the novelization of Christopher Robin. The book follows the film's story almost to the letter, bringing us right into the new turn of events for both Pooh and his friends. Though, like any good novelization, it fills in the gaps, allowing us to see more than the film can with inner dialogues, flashbacks, and more.
The writing style is simple, easily leading you from one chapter to another with relative ease. It's a quick read, and for the hardcore fan, something you can pick up and finish in one sitting, coming in at just over 280 pages. The book does the film and the Winnie the Pooh legacy justice. Though, you can learn more about our opinions on the film by reading our full film review, which will go into more details on the overall plot and execution.
Due to that, it is highly recommended that you see the film first if you want to avoid any spoilers with either book. The plot is clearly laid out, but if you find yourself a fan of the film, both books are excellent companions to add to your collection. Your heart will be warmed, as Pooh and the entire band of friends from the Hundred-Acre Wood do exactly what they need to do and nothing more. Plain and simple fun in a time where we all could use a reminder to slow down and enjoy the little joys in life.
Disney's Christopher Robin releases nationwide on August 3rd.