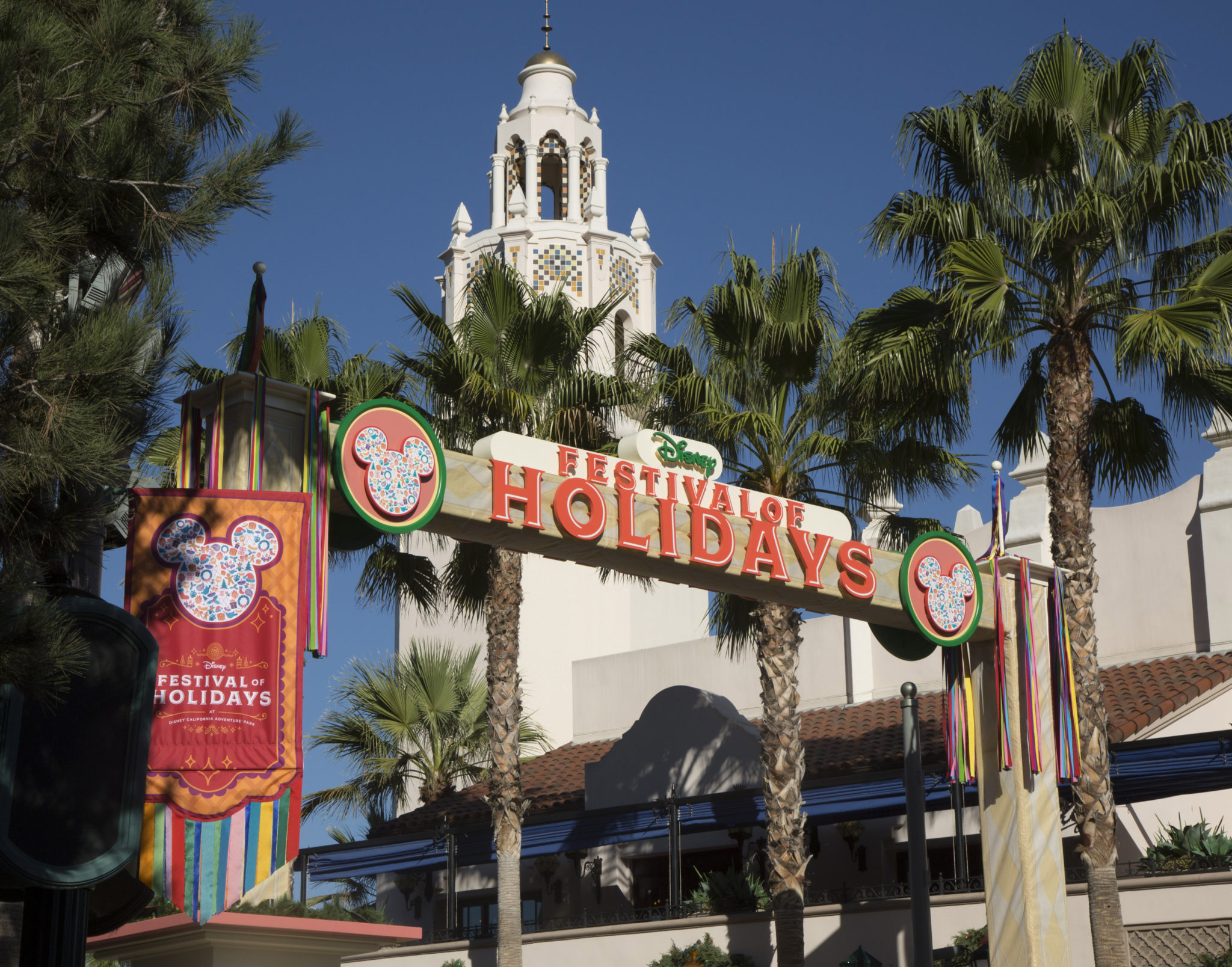 This post contains affiliate links and our team will be compensated if you make a purchase after clicking on the links.

New this year at Disney California Adventure Park, Festival of Holidays will entertain guests with heartwarming holiday festivities inspired by cultural traditions from around the world.
Inspired by and expanding on the warmth and fun of the popular ¡Viva Navidad! celebration, the all-new Festival of Holidays will immerse guests in the diverse celebrations of several holiday seasons. Guests will discover something around every corner, from festive food and beverages in 14 marketplace locations to fun craft-making and the universal languages of music and dance.
The daily lineup of entertainment includes nearly 50 performances of nine unique shows, with more than 100 artists rejoicing in the holiday season. They include special Disney characters, cavalcades and performing ensembles that range from a Klezmer band with a global sound to traditional Indian dancers. Disney ¡Viva Navidad! is part of the fun and Princess Elena, the first Disney Princess inspired by Latin American cultures, makes her Disneyland Resort debut as part of the Festival. Princess Elena stars in the new Disney Channel series "Elena of Avalor."
An all-new holiday spectacular, "World of Color – Season of Light," brightens the night on Paradise Bay during Festival of Holidays.
Learn How to cook the sweet spiced noodle kugel with Chef Amy:

Holidays celebrated throughout the Festival:
Diwali, the Eastern festival of lights
Hanukkah
Christmas/Navidad
Kwanzaa
Three Kings Day/Dia de los Reyes
Festive Foods Marketplace: From chile pozole to adobo pork bao and mini turkey pot pies, the food and drink at 14 marketplace locations will tempt guests along the Disney California Adventure walkway, from Carthay Circle to Paradise Garden. Menu items include:
Heritage Cottage – braised beef short ribs, sausages and sauerkraut, vanilla rice pudding
Making Spirits Bright – wines by the glass and tasting flights, warm holiday spiced wines, sparkling juice
Nosh & Nibbles – brisket potato croquette, sweet spiced noodle kugel, Reuben potato smash
Good Fortune's Feast – adobo pork bao, smoked duck and vegetable spring roll, chilled papaya shrimp salad, winter mint milk tea
Spice Salutations – chicken and potato curry, carrot and chickpea fritters, cardamom and saffron sweet cheese tart, mango lassi
Brews & Bites – local seasonal and international beers and tasting flights, holiday cheese ball with crackers and pretzels
Mistletoe Morsels – holiday Swedish meatballs, classic crab cake, shrimp cocktail martini, holiday eggnog cocktail, merry berry sherbet punch.
Southern Hope Holidays – grilled spicy chicken sausage, mac and cheese, sweet potato pie, hard lemonade, cranberry sweet tea
Winter Sliderland – roasted turkey slider, Kalua pork slider, praline & bourbon whoopee pie, hard cider, sparkling juice
Fiesta en Familia – green chile pozole, red chile pozole, fresh fish ceviche, guava aqua frescha
Yuletide Yummies – mini turkey pot pie, pesto puff pastry twist, gingerbread Bundt cake, eggnog cheesecake, mocha yule log, raspberry Linzer tart, sticky toffee pudding, inspired wines and flavorful beers by glass and flight, frozen chocolate milk, pumpkin spice hot chocolate
Mosaic Delights – roasted lamb, mini falafel donuts, baklava, iced Moroccan mint tea
Abuelita's Kitchen – chicken cilantro tamale, beef and cheese tamale, chorizo bean sopes, spiced peanut brittle, pomegranate margarita
Treats for Santa – cookie decorating, harvest puff pastry, cookies, panettenes, peppermint bark, fudge, warm bourbon cider, white hot chocolate, holiday fruit punch
In addition, Paradise Garden Grill will offer some seasonal specials for Disney ¡Viva Navidad!  including torta al pastor, street style tacos and chicken mole.