This post contains affiliate links and our team will be compensated if you make a purchase after clicking on the links.

One of the all-time musical classics has returned to Segerstrom Center for the Arts in Costa Mesa. This new production of FIDDLER ON THE ROOF is filled with talent, along with updated choreography from Broadway newcomer Hofesh Shechter. Pulling from the original works of Jerome Robbins, the choreography remains fresh and the star of the show. Retaining the bottle balancing wedding dance with some added flair and the inclusion of such staples as "If I Were A Rich Man", "Matchmaker", and the opening act, "Tradition", keeps this production celebrated.  However, those not familiar with the show should be warned of the near 3-hour long runtime and have a little understanding of the music. I'll say it, it's not for everyone and is not something I will find myself listening to later, but it does work for the show.  It's updated from its 1964-self, but is it enough to appeal to a new audience?
Those already in love with FIDDLER ON THE ROOF and familiar with the music will surely find this production satisfying. I, however, have a tough time with its length when there are apparent areas that could easily benefit from slimming. I understand this viewpoint may come across as juvenile, but it's tough to find myself okay with such slowness to a show with a lack of showstoppers.
Yes, I said it. While the voice talent is good and the music… fine, it does not generate any breathtaking moments. This is something expected from an old-school Broadway production that you won't find in FIDDLER ON THE ROOF. There are some beautiful numbers, but I am not leaving the theater talking about amazing "Matchmaker" was sung.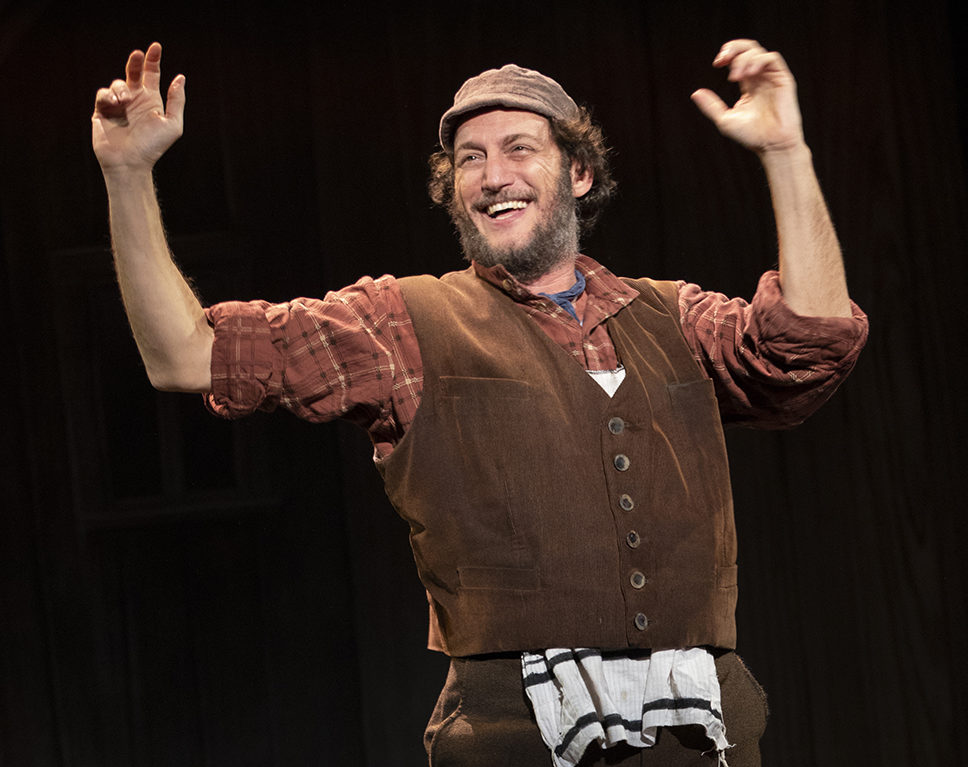 I am however leaving praising the Israeli actor and theatre director, Yehezkel Laraov, who plays Tevye, essentially the lead and main protagonist. His charm is captivating and his story easy to follow. We find him struggling with losing three of his five girls to a decline in traditional marriages, but also find him relatively tolerant and gentle until the line is crossed. It's a story of growth and understanding not only for a traditional Jewish father but also an entire township.
The audience finds themselves toasting "To Life" before finding out the Jews are not welcome within their Russian shtetl of Anatevka in 1905. Grappling to find comfort in the independent choices of his daughters,Tevye also must find what's right for his family, and his community. Whether it's going against the traditions of Yente (Carol Beaugard) the matchmaker, or giving his blessing for a daughter to marry a poor tailor, Motel (Jesse Weil), FIDDLER ON THE ROOF shows the importance of accepting someone's choice even when against tradition.
Laraov along with the singing and the choreography is what keeps FIDDLER ON THE ROOF strong in a today's saturated modern stage-musical climate, BUT its pace and length may still find it challenging to find new love. Perhaps a viewing on Friday night opposed to Tuesday may have helped my droopy eyes for when the intermission came in around 9:30 pm.
The fiddler may be on an unstable roof like Tevye and his communities traditions are, but we all have our support around us to help us see a loving and accepting future. Almost 60 years later and society is still humming to the same tune striving to get through today and to a better tomorrow.
FIDDLER ON THE ROOF is playing through May 19th. Tickets start at $29 and are available for purchase at SCFTA.org.