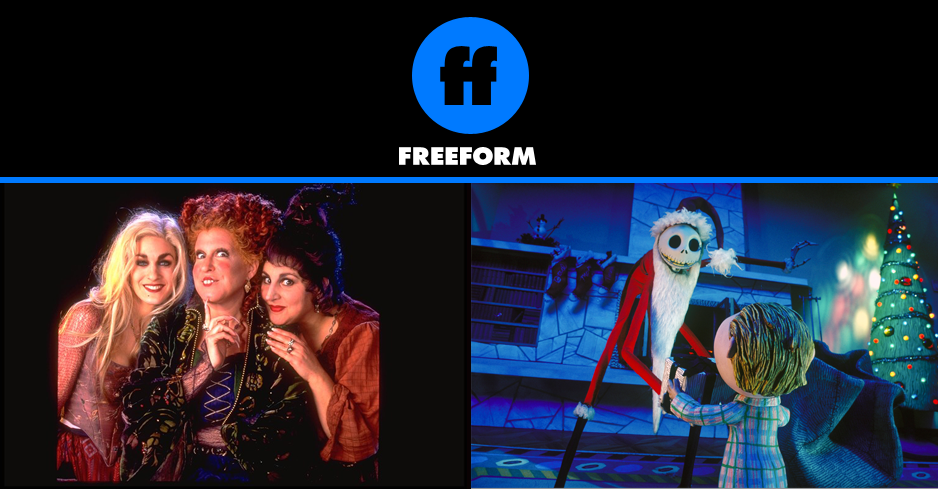 This post contains affiliate links and our team will be compensated if you make a purchase after clicking on the links.

Why celebrate the spookiest time of the year for only 13 nights when you can celebrate for 31!? Freeform has expanded their annual Halloween programming event to "31 Nights of Halloween" bringing more thrills and chills to the entire month. From Oct. 1, the network will be invaded by everyone's favorite witches, a murderous barber, out of control dinosaurs and everything else that goes bump in the night.
This year's event will also be the exclusive television home for the film "Hocus Pocus," which is celebrating its 25 anniversary, and will end with an all-day marathon featuring the hauntingly beautiful Sanderson Sisters. Also marking a huge milestone, "Tim Burton's The Nightmare Before Christmas" will celebrate its 25 anniversary on Oct. 29!
"Decorating Disney: Halloween Magic," premiering Oct. 14, will give audiences a spooky behind the scenes tour on how Halloween "spirits" spread throughout the Disney parks. From the executive producers of the "Disney's Fairy Tale Weddings" series and last year's special "Decorating Disney: Holiday Magic," viewers will learn how the dedicated team of Disney cast members bring Halloween to life with pumpkins, ghosts and ghoulish delights around every corner of these magical destinations.
Below is a night-by-night list of the movies airing during "31 Nights of Halloween":
Monday, Oct. 1
5:00 p.m. – "ParaNorman"
7:10 p.m. – "Tim Burton's The Nightmare Before Christmas"
8:50 p.m. – "Hocus Pocus"
12:00 a.m. – "ParaNorman"
Tuesday, Oct. 2
5:00 p.m. – "Tim Burton's The Nightmare Before Christmas"
6:30 p.m. – "Hocus Pocus"
8:30 p.m. – "Disney – Pixar's Monsters University"
12:00 a.m. – "Willy Wonka & the Chocolate Factory"
Wednesday, Oct. 3
4:00 p.m. – "Willy Wonka & the Chocolate Factory"
6:30 p.m. – "Disney – Pixar's Monsters University"
9:00 p.m. – "Monster House"
12:00 a.m. – "The Final Girls"
Thursday, Oct. 4
5:00 p.m. – "ParaNorman"
7:00 p.m. – "Monster House"
9:00 p.m. – "The Addams Family" (1991)
12:00 a.m. – "Teen Spirit"
Friday, Oct. 5
12:30 p.m. – "The Parent Trap" (1998)
3:30 p.m. – "Charlie and the Chocolate Factory"
6:10 p.m. – "The Addams Family" (1991)
8:20 p.m. – "The Goonies"
12:00 a.m. – "The Breakfast Club"
Saturday, Oct. 6
7:00 a.m. – "The Parent Trap" (1998)
10:10 a.m. – "Monster House"
12:20 p.m. – "Willy Wonka & the Chocolate Factory"
2:50 p.m. – "The Haunted Mansion" (2003)
4:55 p.m. – "The Goonies"
7:35 p.m. – "Hocus Pocus"
9:45 p.m. – "Maleficent" – Freeform Premiere
11:50 p.m. – "Warm Bodies" – Freeform Premiere
Sunday, Oct. 7
7:00 a.m. – "Monster House"
9:10 a.m. – "Willy Wonka & the Chocolate Factory"
11:40 a.m. – "The Haunted Mansion" (2003)
1:50 p.m. – "Alice in Wonderland" (Live Action) (2010)
4:25 p.m. – "Hocus Pocus"
6:35 p.m. – "Maleficent"
8:40 p.m. – "Sweeney Todd: The Demon Barber of Fleet Street" (2007)– Freeform Premiere
11:20 p.m. – "Dark Shadows" (2012)
Monday, Oct. 8
4:00 p.m. – "Sweeney Todd: The Demon Barber of Fleet Street" (2007)
6:30 p.m. – "Dark Shadows" (2012)
9:00 p.m. – "The Addams Family" (1991)
12:00 a.m. – "Clue"
Tuesday, Oct. 9
3:00 p.m. – "Jurassic Park" (1993)
6:00 p.m. – "The Addams Family" (1991)
8:00 p.m. – "Mrs. Doubtfire"
12:00 a.m. – "Warm Bodies"
Wednesday, Oct. 10
3:00 p.m. – "The Lost World: Jurassic Park"
6:00 p.m. – "Mrs. Doubtfire"
9:00 p.m. – "Hocus Pocus"
12:00 a.m. – "ParaNorman"
Thursday, Oct. 11
4:30 p.m. – "ParaNorman"
6:40 p.m. – "Hocus Pocus"
8:50 p.m. – "Despicable Me"
12:00 a.m. – "Boxtrolls"
Friday, Oct. 12
2:00 p.m. – "Boxtrolls"
4:10 p.m. – "Disney's Bolt"
6:20 p.m. – "Despicable Me"
8:30 p.m. – "Disney's Frozen"
12:00 a.m. – "Disney's The Hunchback of Notre Dame"
Saturday, Oct. 13
7:00 a.m. – "ParaNorman"
9:05 a.m. – "Disney's The Hunchback of Notre Dame"
11:10 a.m. – "Disney's Bolt"
1:15 p.m. – "Tim Burton's The Nightmare Before Christmas"
2:50 p.m. – "Hocus Pocus"
5:00 p.m. – "Disney's Frozen"
7:25 p.m. – "Disney-Pixar's Monsters, Inc."
9:30 p.m. – "Disney-Pixar's Monsters University"
12:00 a.m. – "The Addams Family" (1991)
Sunday, Oct. 14
7:00 a.m. – "Sweeney Todd: The Demon Barber of Fleet Street" (2007)
9:30 a.m. – "Tim Burton's The Nightmare Before Christmas"
11:10 a.m. – "The Addams Family" (1991)
1:15 p.m. – "Hocus Pocus"
3:25 p.m. – "Disney-Pixar's Monsters, Inc."
5:30 p.m. – "Disney-Pixar's Monsters University"
8:00 p.m. – "Decorating Disney: Halloween Magic" – Freeform Premiere
9:00 p.m. – "Hotel Transylvania" – Freeform Premiere
11:00 p.m. – "The Parent Trap" (1998)
Monday, Oct. 15
4:00 p.m. – "ParaNorman"
6:00 p.m. – "Hotel Transylvania"
8:00 p.m. – "The Parent Trap" (1998)
12:00 a.m. – "Monster House"
Tuesday, Oct. 16
3:30 p.m. – "Decorating Disney: Halloween Magic"
4:30 p.m. – "Monster House"
6:30 p.m. – "Willy Wonka & the Chocolate Factory"
8:55 p.m. – "Hocus Pocus"
12:00 a.m. – "Disney's Mulan"
Wednesday, Oct. 17
2:00 p.m. – "Willy Wonka & the Chocolate Factory"
4:30 p.m. – "Disney's Mulan"
6:30 p.m. – "Hocus Pocus"
8:30 p.m. – "Sweeney Todd: The Demon Barber of Fleet Street" (2007)
12:00 a.m. – "The Addams Family" (1991)
Thursday, Oct. 18
4:00 p.m. – "Sweeney Todd: The Demon Barber of Fleet Street" (2007)
6:30 p.m. – "Dark Shadows" (2012)
9:00 p.m. – "The Addams Family" (1991)
12:00 a.m. – "Maggie" – Freeform Premiere
Friday, Oct. 19
3:30 p.m. – "Dark Shadows" (2012)
6:10 p.m. – "The Goonies"
8:50 p.m. – "Hotel Transylvania"
12:00 a.m. – "Monster House"
Saturday, Oct. 20
7:00 a.m. – "Monster House"
9:05 a.m. – "ParaNorman"
11:10 a.m. – "Hocus Pocus"
1:20 p.m. – "The Goonies"
4:00 p.m.—"Tim Burton's The Nightmare Before Christmas"
5:35 p.m. – "Hotel Transylvania"
7:40 p.m. – "Hocus Pocus"
9:50 p.m. – "The Addams Family" (1991)
11:55 p.m. – "The Haunted Mansion" (2003)
Sunday, Oct. 21
7:00 a.m. – "ParaNorman"
9:00 a.m. – "Spooky Buddies"
11:05 a.m. – "Hocus Pocus"
1:15 p.m. – "The Haunted Mansion" (2003)
3:20 p.m.—"Tim Burton's The Nightmare Before Christmas"
5:00 p.m. – "The Addams Family" (1991)
7:05 p.m. – "Hocus Pocus"
9:15 p.m. – "Maleficent"
11:20 p.m. – "Sweeney Todd: The Demon Barber of Fleet Street"(2007)
Monday, Oct. 22
4:00 p.m. – "Maleficent"
6:10 p.m. – "Hocus Pocus"
8:20 p.m. – "The Witches of Eastwick" – Freeform Premiere
12:00 a.m. – "Warm Bodies"
Tuesday, Oct. 23
4:00 p.m. – "Hocus Pocus"
6:10 p.m. – "The Witches of Eastwick"
8:50 p.m. – "The Addams Family" (1991)
12:00 a.m. – "Monster House"
Wednesday, Oct. 24
4:00 p.m. – "Decorating Disney: Halloween Magic"
5:00 p.m. – "Monster House"
7:00 p.m. – "The Addams Family" (1991)
9:00 p.m. – "Hotel Transylvania"
12:00 a.m. – "Spooky Buddies"
Thursday, Oct. 25
4:00 p.m. – "Jurassic Park" (1993)
7:00 p.m. – "Hotel Transylvania"
9:00 p.m. – "The Haunted Mansion" (2003)
12:00 a.m. – "The Final Girls"
Friday, Oct. 26
12:30 p.m. – "Jurassic Park" (1993)
3:35 p.m. – "The Lost World: Jurassic Park"
6:40 p.m. – "The Haunted Mansion" (2003)
8:50 p.m. – "Hocus Pocus"
12:00 a.m. – "Teen Spirit"
Saturday, Oct. 27
7:00 a.m. – "Dark Shadows" (2012)
9:40 a.m. – "Charlie and the Chocolate Factory"
12:20 p.m. – "The Addams Family" (1991)
2:30 p.m. – "Hocus Pocus"
4:40 p.m. – Disney-Pixar's Monsters, Inc."
6:50 p.m. – "Disney-Pixar's Monsters University"
9:20 p.m. – "Hotel Transylvania"
11:25 p.m. – "Disney-Pixar's Toy Story of TERROR!"
11:55 p.m. – "ParaNorman"
Sunday, Oct. 28
7:00 a.m. – "Charlie and the Chocolate Factory"
9:40 a.m. – "The Addams Family" (1991)
11:50 a.m. – "Hocus Pocus"
2:00 p.m. – "Disney-Pixar's Toy Story of TERROR!"
2:30 p.m. – Disney-Pixar's Monsters, Inc."
4:35 p.m. – "Disney-Pixar's Monsters University"
7:05 p.m. – "Hotel Transylvania"
9:10 p.m. – "Hocus Pocus"
11:20 p.m. – "The Goonies"
Monday, Oct. 29
4:30 p.m. – "The Goonies"
7:10 p.m. – "Disney's Big Hero 6"
9:20 p.m. – "Tim Burton's The Nightmare Before Christmas" – 25th Anniversary
12:00 a.m. – "The Addams Family" (1991)
Tuesday, Oct. 30
2:30 p.m. – "Disney's Big Hero 6"
4:40 p.m. – "Hocus Pocus"
6:45 p.m. – "Tim Burton's The Nightmare Before Christmas"
8:25 p.m. – "Disney-Pixar's Toy Story of TERROR!"
8:55 p.m. – "The Addams Family" (1991)
12:00 a.m. – "Warm Bodies"
Wednesday, Oct. 31 – Hocus Pocus Marathon!
7:30 a.m. – "Hocus Pocus"
11:00 a.m. – "Disney-Pixar's Toy Story of TERROR!"
11:30 a.m. – "Decorating Disney: Halloween Magic"
12:30 p.m. – "Hocus Pocus"
2:40 p.m. – "Hocus Pocus"
4:45 p.m. – "Hocus Pocus"
6:50 p.m. – "Hocus Pocus"
8:55 p.m. – "Hocus Pocus"
12:00 a.m. – "Hocus Pocus"