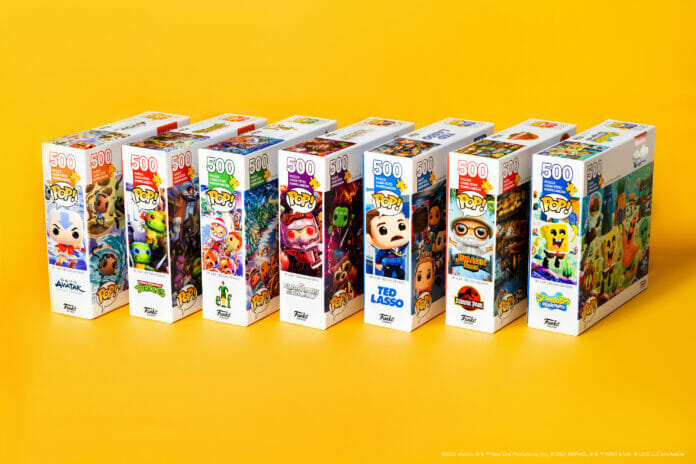 This post contains affiliate links and our team will be compensated if you make a purchase after clicking on the links.

Funko Games has announced the latest assortment of its fandom-inspired Pop! Puzzles featuring beloved pop-culture favorites including SpongeBob SquarePants, Ted Lasso, Marvel's Guardians of the Galaxy and Jurassic Park.
Since the debut of Pop! Puzzles Avatar: The Last Airbender, Teenage Mutant Ninja Turtles, and Elf, Funko Games has contributed to the growing popularity of jigsaw puzzles.
Featuring Funko's signature Pop! Figures, the newest assortment brings fans an immersive pastime experience as they piece together original illustrations inspired by popular films and hit TV shows in pop culture, including Ted Lasso, everyone's favorite square yellow sponge named SpongeBob, Groot and Gamora from Guardians of the Galaxy, and the heroic Alan Grant from Jurassic Park.
Available this Spring 2023 for an MSRP of $14.99, Funko Games' latest assortment of 500-piece, 18" x 24" puzzles include:
Pop! Puzzle – SpongeBob SquarePants
Pop! Puzzle – Ted Lasso
Pop! Puzzle – Marvel's Guardians of the Galaxy
Pop! Puzzle – Jurassic Park
The new Pop! Puzzle art is custom-created for each property and designed to transport puzzlers into vibrant worlds with a style that is whimsical, original, and above all, fun. Celebrating fandoms and puzzling, the new Pop! Puzzles from Funko Games are sure to bring even more people to the table.
For more information on Funko Games' full assortment of Pop! Puzzles and retailer availability, please visit funkogames.com.