This post contains affiliate links and our team will be compensated if you make a purchase after clicking on the links.

Huntington Beach is legendary around the world as one of the best surfing spots. It's waves and beaches are so great, it is also officially known as "Surf City." But as I learned on a recent getaway, the town is more than just tasty swells and beautiful white sand; it also boasts gourmet restaurants, luxury, ocean-front hotels, great shopping, and tons of California coastal charm.
My visit to Huntington Beach began last week when a friend and I checked into the Kimpton Shorebreak Hotel (www.shorebreakhotel.com), a surfer-chic boutique hotel centrally located in the heart of downtown, across from the iconic pier. Featuring four-star touches and ocean view guestrooms with modern furnishings, the Shorebreak makes a perfect beachfront base camp.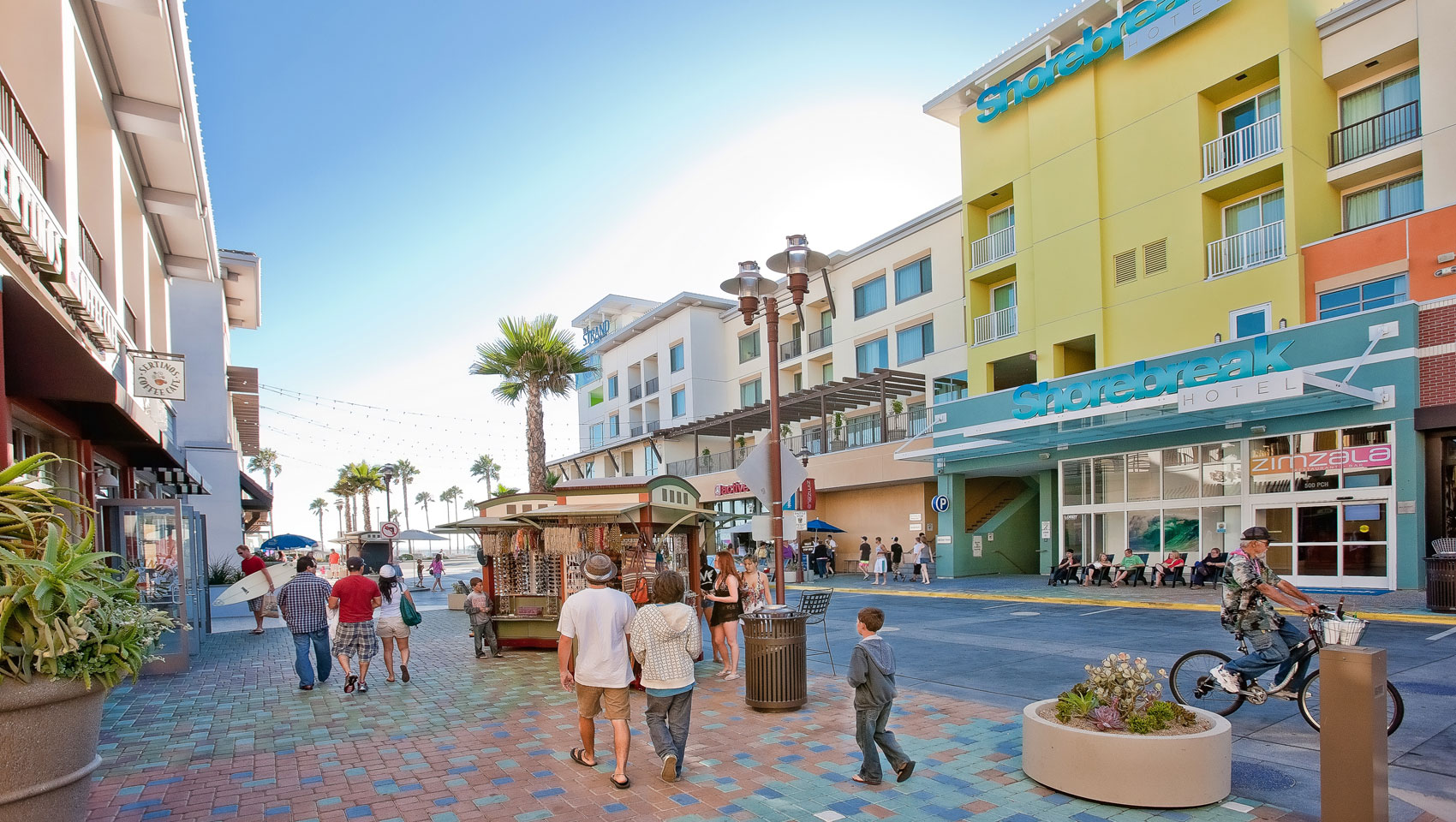 The Kimpton Shorebreak Hotel is a beach-front boutique luxury 
Our fourth floor room came with a colorful beach-inspired décor, two queen beds, large TV with two big comfy chairs, office area with desk, a fridge stocked with goodies for purchase, and a spacious bathroom with a shower big enough to wash your surf board. The highlight of the room was the balcony which overlooked town, the Pacific Ocean and the pier.
Once acquainted with the hotel, we went exploring.  Our first stop was lunch across the street at Sancho's Tacos. Here we filled up on authentic carne asada and chicken tacos, and nachos. We then we walked across Highway 1 (Pacific Coast Hwy) to the pier to check out classic cars at the 17th annual Beach Cruiser Meet.
Located on the Pier and a few nearby streets, the car show was highlighted by incredibly well-maintained "Woodies," those old wood-paneled wagons made for beach postcards and surf songs. The event also brought scores of immaculate convertibles, VW transporters and other classics.
The annual Beach Cruiser Meet brings out some sweet old cars
After drooling over the cars, we walked a block to the International Surfing Museum (www.surfingmuseum.org), where we examined historic surf boards and memorabilia and  learned about some of the most famous surfers of all time such as George Freeth and Eddie Aikau. The museum also has a life-size recreation of the Silver Surfer from Marvel Comics.
The International Surfing Museum offers great surfing history
From the museum we walked across the street to Huntington Beach Surfboard & Bike Rentals (surfboardandbikerentals.com), where I rented a beach cruiser for the afternoon. It was a gorgeous spring day and the weather was perfect for a ride. With the wind at my back I pedaled to the beach and rode the 10-mile-long paved bike path paralleling the sand. During my trek I passed volleyball players, sunbathers, joggers, and a drum circle. I also enjoyed memorable views of Catalina Island and the historic Huntington Beach Pier.
When I returned to the bike rental shop, I met Sugar, a world champion surfing dog, who was rescued a few years ago from the streets of Oakland. Look her up on Youtube to see some of her amazing moves. When Sugar and her owner Ryan aren't surfing, they are at the shop to help customers.
Sugar is a champion surfing dog who also works at Huntington Beach Surfboard & Bike Rentals
Back at the Shorebreak Hotel, we joined other hotel guests for the complimentary Wine Hour. The nightly occasions was started by hotel founder Bill Kimpton, who wanted "a gathering place for guests to feel a sense of community and inclusion, and relax at the end of the day." While sipping local wine, we mingled on the patio and played chess on a giant board.
After Wine Hour we walked a few blocks to Bluegold (dinebluegold.com) for a wonderful dinner, overlooking the ocean. With an open kitchen and an intimate and classy ambiance, the restaurant serves a creative, eclectic mix of California land and sea.
Bluegold serves great champagne and an eclectic mix of California land and sea
Our meal began with warm milk rolls, fresh from the oven, with honey butter and sea salt. With these enjoyed a couple bloody Mary oyster shooters with fried uni chips and a glass of champagne. For the main course I devoured shrimp & crab ravioli with blistered winter beans and brown butter, while my friend had a succulent smoked Kurobuta pork chop with Tokyo turnips and a sweet and spicy tarragon honey sauce. For dessert we split a peanut butter and jelly cheesecake.
In the morning, I walked along the sand until I reached a pedestrian bridge leading to the Hyatt Regency Huntington Beach
(www.huntingtonbeach.regency.hyatt.com). At this Spanish-styled, water-front resort I had an soothing 50-minute massage at the hotel's Pacific Waters Spa. Rated as one of the best spas in Southern California, the 20,000 sq-ft oasis is replete with ponds and trickling fountains. My full-body treatment was rejuvenating and featured a combination of deep and light tissue pressure, along with hot stones.
The Pacific Waters Spa is located in the luxurious Hyatt Regency Resort 
I concluded my visit to Huntington Beach with a memorable dinner at SeaSalt Woodfire Grill (www.seasaltwoodfiregrill.com), where the wood fires of Santa Maria meet the fire pits of Huntington Beach. At this hip restaurant, I enjoyed a succulent Pacific Albacore steak, with a side of Brussels sprouts and bacon. While dining, I sipped a cold beer and admired the rustic, BBQ-inspired decor.
SeaSalt Woodfire specializes in Santa Maria, CA BBQ meats and fresh seafood 
For more information on staying at the Shorebreak Hotel, visit: www.shorebreakhotel.com. For more info on visiting Huntington Beach, go to: www.surfcityusa.com