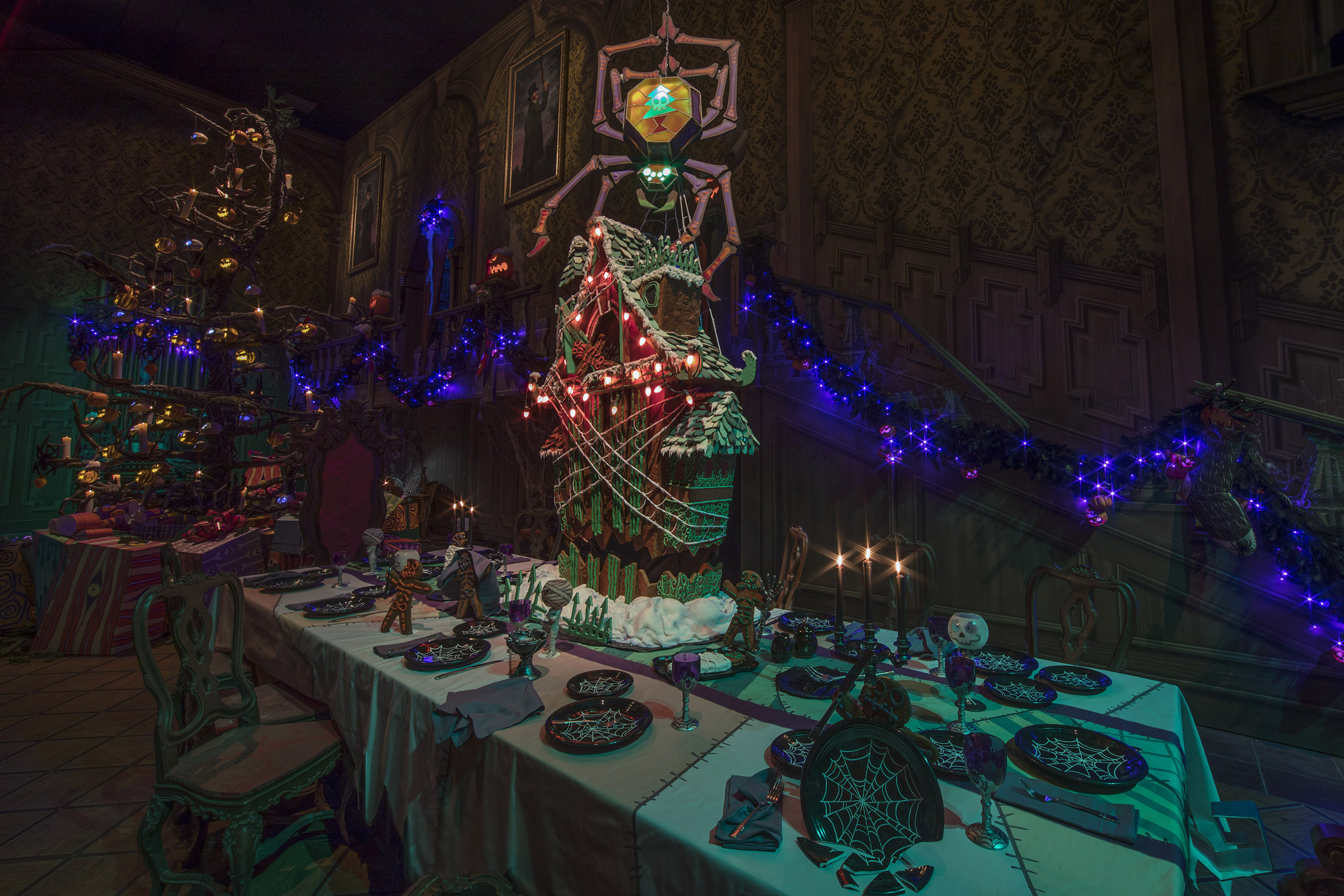 This post contains affiliate links and our team will be compensated if you make a purchase after clicking on the links.

Just in time to celebrate the 25th Anniversary of Tim Burton's The Nightmare Before Christmas, Haunted Mansion Holiday has opened its doors, creating a frenzy with its new gingerbread house. In a recent interview with the Disney Parks Blog, the creative team behind the Disney Parks staple came together to discuss the inspiration for this year's tasty addition.
"We wanted to create a monster movie vibe, and a scary spider is a classic and iconic Halloween image. With that in mind, we designed a giant 5-foot spider with eerie glowing eyes and moving legs and mandibles. This multi-color spider is suspended above the Haunted Mansion's Grand Hall table, attempting to pry the edible mansion from its foundation, revealing candy cane rebar and sparking lights. General chaos ensues as gingerbread zombies watch in astonishment and cocoon-wrapped gingerbread zombies wait to become spider snacks," said Tim Wollweber, associate art director for Disney Parks.  Wollweber is one of many hard working Cast Members that help make the annual tradition so memorable, being attached to Haunted Mansion Holiday since 2001. Check out the recipe and fascinating facts that helped bring the house back to the Haunted Mansion this year!
It takes no less than 12 pastry chefs to create and transform the house each year.
Over 90 pounds of gingerbread were used this year.
30 pounds of confectioners sugar were used for the project.
10 pounds of white chocolate were used.
Over 45 pounds of fondant were used to help create the finishing touches and decorative patterns.
Make sure to check out the gingerbread house yourself when you visit the Disneyland Resort for Halloween Time. This year marks the return of Haunted Mansion Holiday, Space Mountain: Ghost Galaxy, as well as Guardians of the Galaxy: Mission Breakout Monsters After Dark.