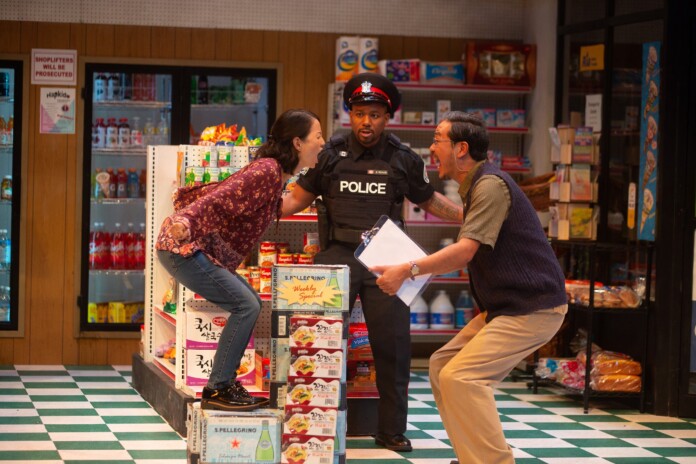 This post contains affiliate links and our team will be compensated if you make a purchase after clicking on the links.

"Kim's Convenience" sweeps up a wholesome wholesale of dramedy with family, life, dreams, and pursuit of happiness. It's finally time to checkout more Asian stories be told on both screen and stage. Any customer of TV's "Fresh Off the Boat" and cinema's "Everything, Everywhere, All at Once", should instantly buy into the market of "Kim's Convenience". The show focuses more on the drama which helps the audience relate to the characters more when the punchlines are given that releases the tension. This timeless and relatable story is worth the full price of admission for any audience with an immigration background.
Laguna Playhouse opens its 2022-2023 season with the California premiere of "Kim's Convenience", written by Ins Choi and directed by Jon Lawrence Rivera. The most successful new Canadian play of the last decade, "Kim's Convenience" is an ode to generations of immigrants set in a family-run Korean convenience store. Mr. Kim is a first-generation Korean immigrant and the proud owner of Kim's Convenience for the past 30 years. He runs the business with his church-going wife.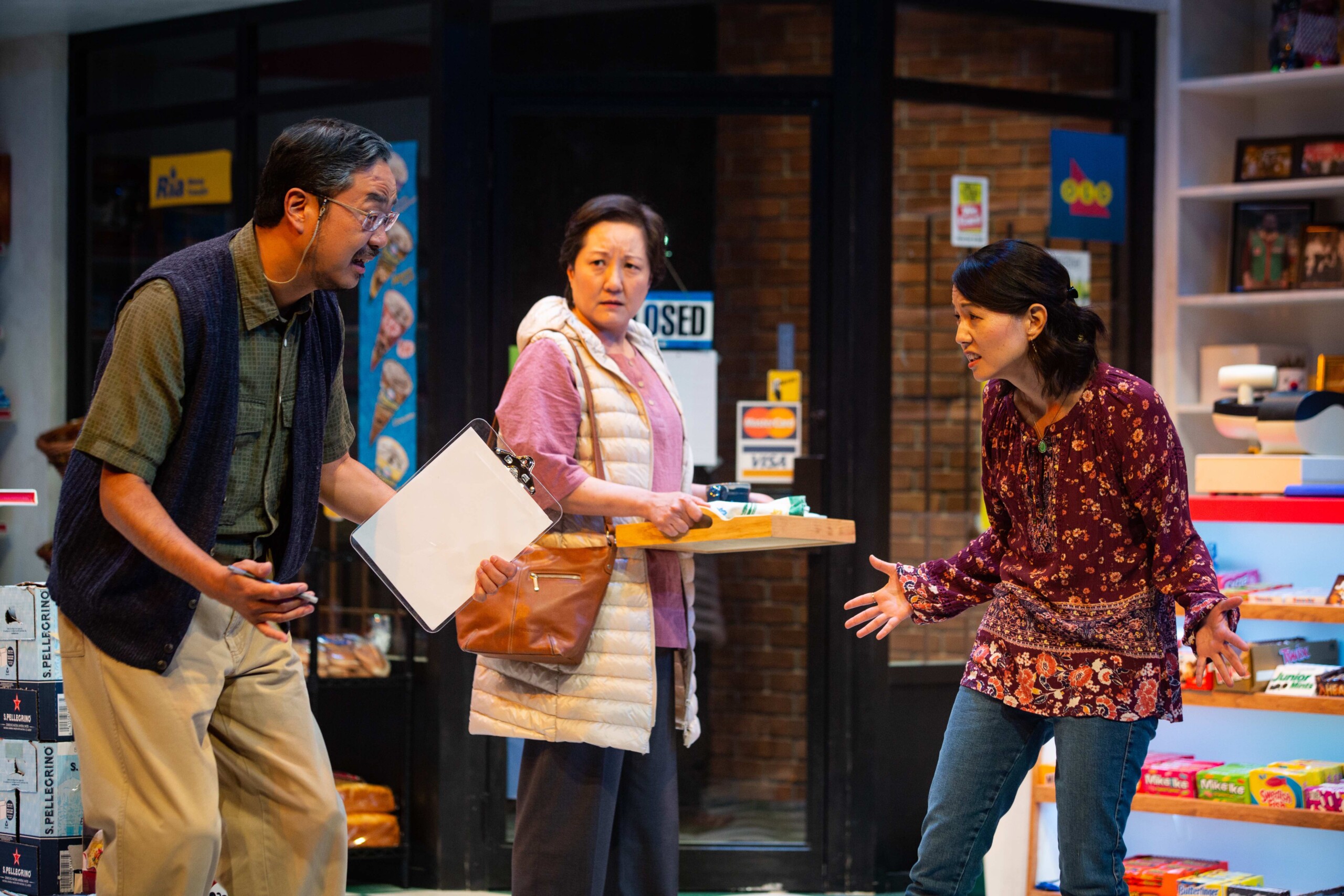 Now he's trying desperately to grapple with both a changing neighborhood landscape and the chasm between him and his second-generation offspring. His daughter, Janet, pursues a career in photography while his estranged son, Jung, is unhappy working at a rental car company. Since its debut in 2011, the play has been a proud recipient of numerous Canadian theatre awards. "Kim's Convenience" latter translated into the hit Canadian TV series and featured on Netflix program of the same name headed by the original writer.
Yong Kim as "Appa" establishes a character dependent on his genuine instincts to survive the real world with stubbornness and pride. Janet Song as "Umma" flowers grace and carries a bridge between father and son. Susane Lee as "Janet" struggles to keep her sanity in the tug of war between generations. Clinton Lowe in multiple roles as "Alex", "Rich", "Mr. Lee", and "Mike" puts on display a rolling range of talent and harmony. And Gavin Kawin Lee as "Jung" respectively.
Mr. Kim receives an offer to buy out his store; enough to retire. He faces the potential of change and searches what actions to take. Options present themselves, but not without their own series of setbacks. The interaction between parent and child show the generational gap that strain relationships. "Appa" is from another country with traditional culture and background. He is superficial when it comes to profiling his customers and neighbors.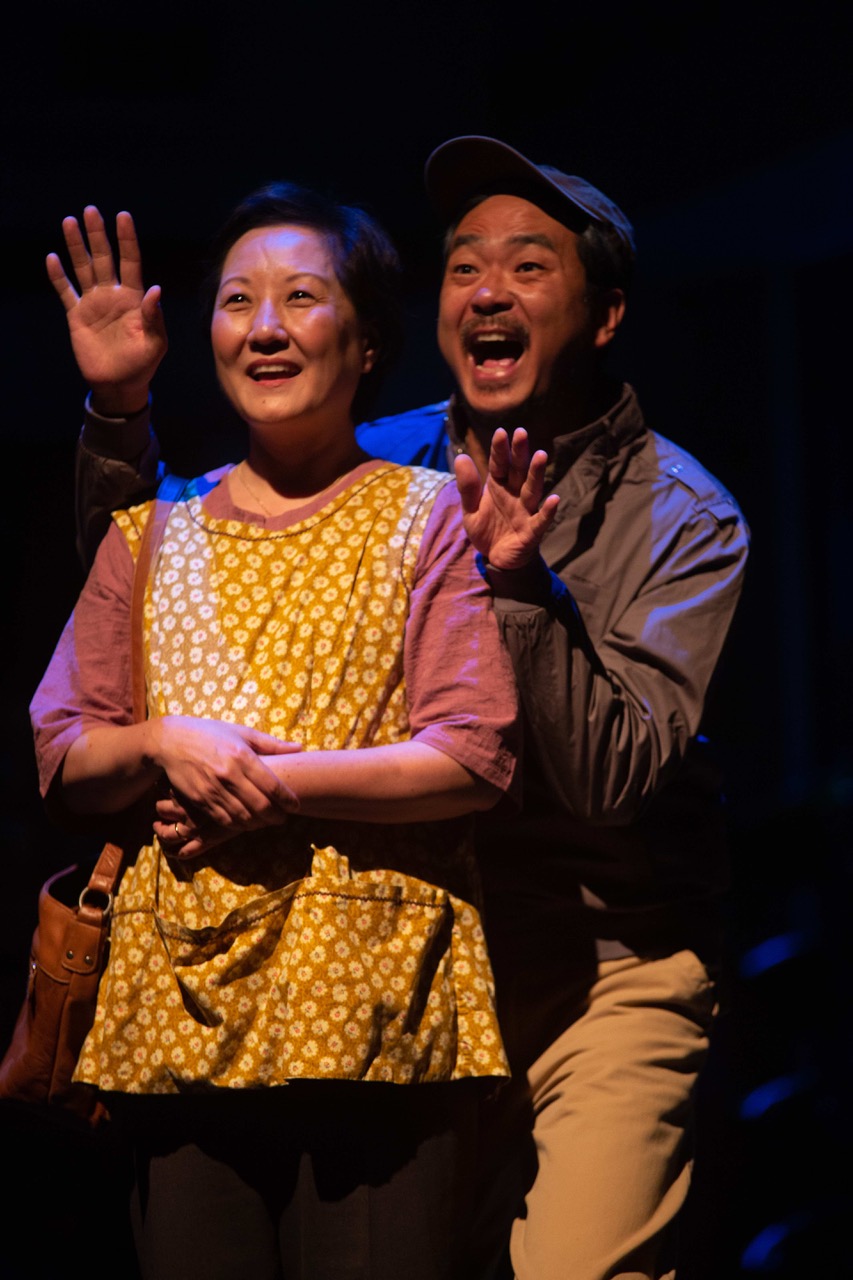 Janet is born and raised Canadian who has a love/hate view of her father. He does not see how mocking her dreams devalues her self-worth. She is reluctant to his advances of teaching her how to run the store. Even when it comes to taking out the trash. It was also a powerful and scary-accurate moment to witness on stage the difficulty a clueless parent has when it comes to exchanging words like "thank you", "sorry", and "I love you" to their child. The conversations with "Umma" is refreshingly spoken in Korean with English subtitles projected on an overhead wall for the audience.
Towards the end, closure takes a forward step with the children. Jung returns to the store after many years away. I thought for a moment the show would end right there, but thankfully there was more. "Appa" had Jung spouting Korean history. I thought maybe one puzzle was to be the year Jung was born, but that was not the case. Perhaps that would have been too cheesy? Janet's story arch felt more wholesome and authentic. Jung's story arch was askew and remains as such in the end.
There wasn't enough draw to pull me in. Maybe I missed the point of Janet's story having an affect on Mr. Kim's attitude toward Jung. The one act stage play is presented with no intermission and runs about an hour and twenty minutes.
Playing now and ready for checkout at your earliest convenience until Sunday, October 9, 2022 at 1 pm at the Laguna Playhouse, 606 Laguna Canyon Drive in Laguna Beach. Performances will be Wednesdays through Fridays at 7:30 pm; Saturdays at 2 pm & 7:30 pm; Sundays at 1 pm & 5:30 pm. There will be added performances on Thursday, September 29 at 2 pm and Tuesday, October 4 at 7:30 pm. There will no performance on Sunday, October 9 at 5:30 pm.
Tickets range from $50 – $75 and can be purchased online at www.lagunaplayhouse.com or by calling (949) 497-ARTS (2787). Group discounts are available by calling 949-497-2787 ext. 229. Prices subject to change.
The box office is open Mondays – Saturdays between 12 pm to 4 pm; Sundays open 2 hours prior to show time until 15 minutes after curtain. Open until showtime on all performance days.