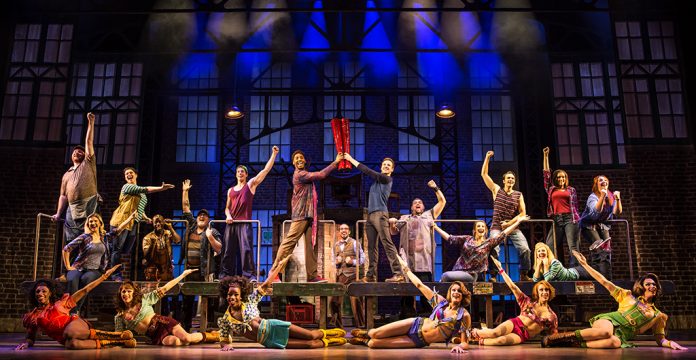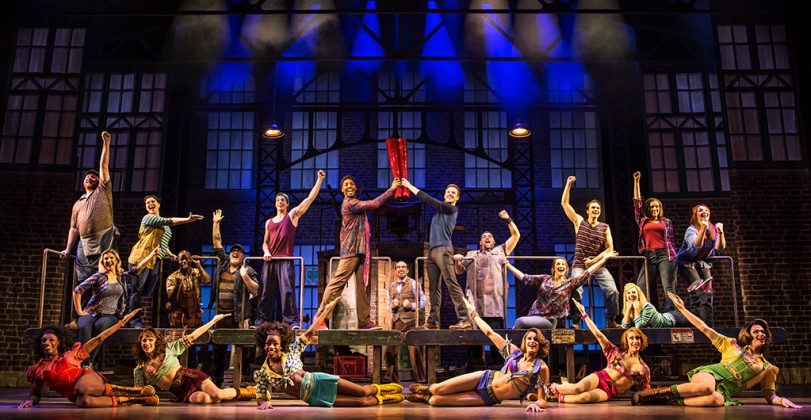 This post contains affiliate links and our team will be compensated if you make a purchase after clicking on the links.

The irresistible, the titillating, the absolutely SENSATIONAL Broadway smash hit that is KINKY BOOTS has runway-walked itself back into Segerstrom Center for the Arts in Costa Mesa.  With its red two and half tall stilettos, this essential musical returns with its high-energy showstoppers and emotional performances! Winner of six Tony Awards including Best Musical, it comes at no surprise that KINKY BOOTS remains a fan favorite. This larger than life show pulls at the heartstrings while keeping it upbeat, ultimately ending in culmination of lessons to learn from that are just as prevalent in todays world as ever before! You'll wind up on your feet cheering, no doubt, but will also leave feeling inspired to make positive change.
Following a similar screenplay to the Miramax movie of the same name, KINKY BOOTS the musical features a golden lineup of songs by Cyndi Lauper. From ballads to glitzy, showy musical numbers, this musical ranges through everything a theatergoer could ever ask for. KINKY BOOTS delivers a nonstop energetic ride with pacing that could keep even the most fidgety person engaged.
As I have mentioned in a previous review, my best way to quickly describe the show is that it's Billy Elliot meets Tommy Boy. Inspired by a true story, KINKY BOOTS tells an emotional story of a man struggling to overcome prejudice and another mans struggle to save his late fathers shoe factory. In an effort to save the factory including everyones job in it, Charlie Price faces a challenge in keeping his girlfriend happy while finding a way to save the company. After running into a cross-dressing entertainer, Lola, with the physique of a boxing champion, Charlie discovers a high-heeled alternative for his business.
Bringing his solution back to his unsupportive girlfriend and even more perplexed employees, Charlie and Lola must work together showing the team that the only way to save the factory is to enter into a whole new world of big, SEXY shoes. Their biggest dilemma however will be accepting one another. KINKY BOOTS strums along following a standard formula, but is supported by a cast of colorful cross-dressers, breathtaking performances, and powerful musical numbers that will have grinning ear to ear. I am not just giving some cliche oneliner, it's the truth!
The show truly triumphs because of its characters, and it takes good actors and performers to pull them off. This production make no exception delivering a mere-perfect representation of world class musical experience. From fantastic staging to powerful vocal performances to hilarious characterization to downright top-notch acting, KINKY BOOTS makes sure to hit you with a one – two – punch and knocks you out by its final curtain call.
Those that are familiar with the show are most likely only read about three things; Charlie, Lola, and Lauren. These three characters are the true heart and soul of the show and requires three strong leading performers to fill those, uh… shoes. While Lola starts off a little off like the show does in general, everything comes together quickly I as I found myself attached to all three halfway through Act I.
I feel KINKY BOOTS, in general, starts off with a lack of compelling story and some rather lyrically silly songs that could have people concerned for whats to come. But fear not! The shows really starts rolling by "Step One", a solo song for Charlie just a few numbers in. The hardcore fans here maybe wondering why I didn't start with Lola introduction, "Land of Lola". Well, lets back up a little.
Charlie is racing through the dark streets of London before getting knocked out, literally, by the infamous Lola. The audience knows what's coming… it's who everyone is really here to see. The lights dim, the sequence shines, and cue that grandiose figure, LOLA! Unfortunately, her song just falls flat for me and made Lola, played by Jos N. Banks, come across as bit of a lackluster of energy. Perhaps his voice wasn't quite there yet, but I ask to give it a couple more songs and you will surely be ALL IN. Banks gave Lola the stage presence she deserves and delivered an incredible performance filled with extravagance and confidence. KINKY BOOTS is nothing with a solid Lola, Jos N. Banks hits the mark and surpasses it.
Lauren, the lovable little quirky shoemaker has a thousand redeemable qualities that requires a certain type of physical humor and voice talent to bring this character to life. A challenge can be that her character is over-the-top to the tenth degree, which at times can come across as taxing. Sydney Patrick that plays this eclectic character of sorts does a great job, but took it into directions that were a bit too much for me at times. Its something a little silly to fault her for as she played the character right. In the end, I was in love with her though. So take it for what it's worth.
Our leading man Charlie is played by Lance Bordelon. He shines during every solo and hits notes in "Soul of a Man" that I don't think I ever heard hit before! I loved his inflection and his acting even more. Great presence with meaningful acting moments that felt raw, even genuine.
The show contains several musical numbers that can rival the best of the best. Its soundtrack does not do this show justice. This is a show that has to be experienced in the theater so you can feel each belting note hit you the chest and leave your arms covered with goosebumps at each crescendoing climax. Not to mention, the class of drag queens in this production were beautiful. No really, gorgeous! It shows they take a lot of pride in their performances and one even does a somersault in high-heels. INSANE!
KINKY BOOTS is a tough show to write about as there is no way to properly explain its impact and its importance to society. While it is easy to say that it reminds us that we must except each other for who they are, it doubles down with it themes and stresses that we can change the world when you change your mind. Perhaps this musical is more important for our leaders to see, but we can still help the change by accepting others and spreading love.
KINKY BOOTS is now playing at Segerstrom Center for the Arts in Costa Mesa until February 11th.
Visit SCFTA.org for more information.