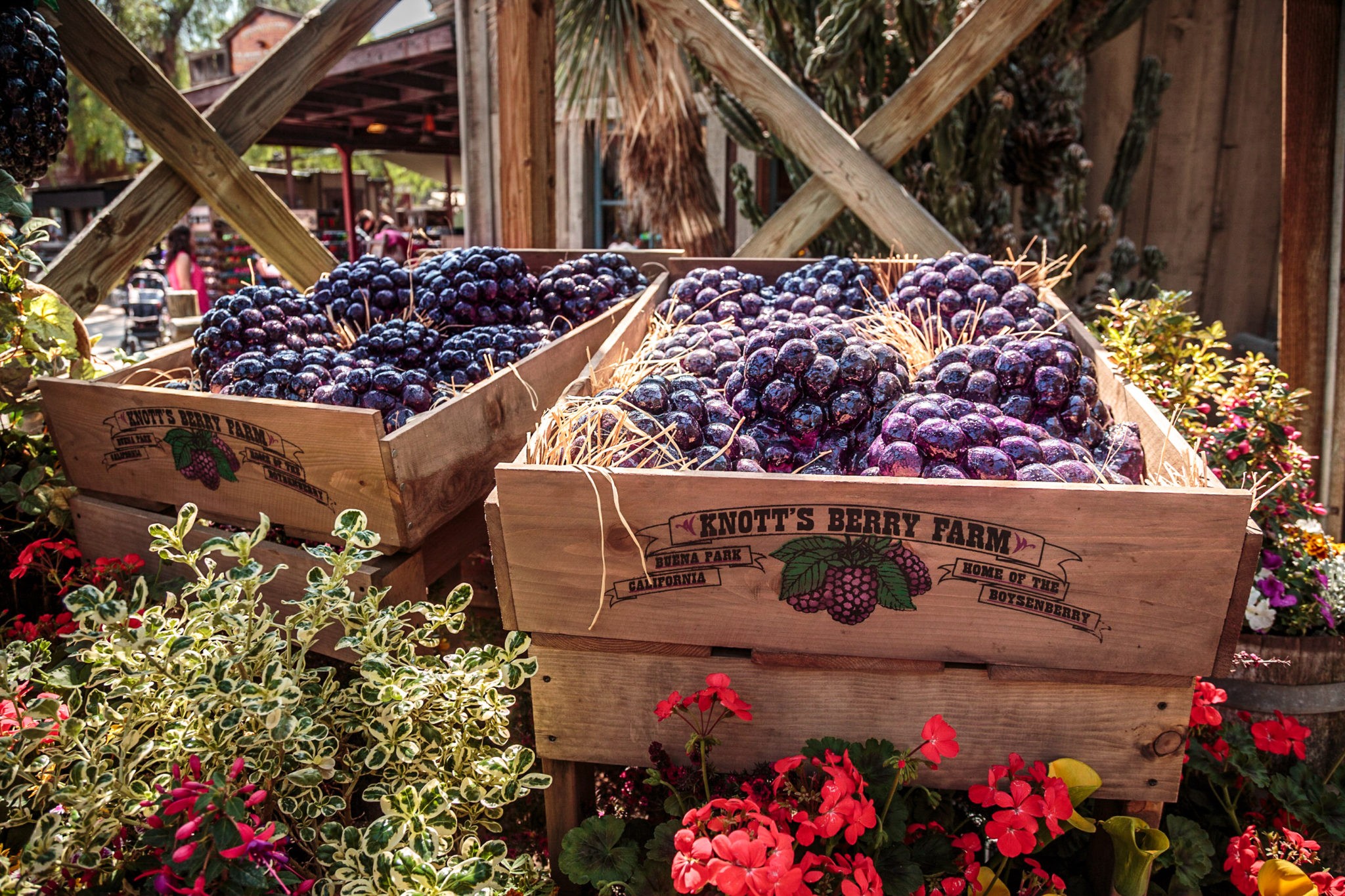 This post contains affiliate links and our team will be compensated if you make a purchase after clicking on the links.

The Knott's Boysenberry Festival is our annual food-inspired event that celebrates the park's historic roots by highlighting the little berry that started it all, the boysenberry. This year's festival will feature over 75 new and returning boysenberry-inspired creations crafted by the Knott's culinary team. Guests will have the opportunity to indulge in a tantalizing line up of dishes ranging from savory foods with a boysenberry twist to refreshingly sweet and tangy drinks and one-of-a-kind specialty desserts that can only be found at Knott's Berry Farm during this time of the year. In addition to the tasty treats, the Knott's Boysenberry Festival offers a wide selection of daily entertainment, live music and fun activities for guests of all ages to enjoy. This year's festival has expanded to 24 days, starting March 16 and running daily through April 8.
The historic boysenberry is a cross between a loganberry, red raspberry and blackberry and is named after its originator Rudolf Boysen. The Knott family was the first to successfully harvest and sell the boysenberry on the land that is now known as Knott's Berry Farm.
Some of the tastiest and most unique food items are rolled out exclusively during the Knott's Boysenberry Festival.
This year's appetizing lineup includes the first ever boysenberry quesadilla made with a boysenberry-infused flour tortilla, paired with boysenberry salsa, boysenberry sour cream, sprinkled with cotija and mozzarella cheese. Plus, the boysenberry pierogies with onions, bacon and boysenberry sour cream will be bursting with a combination of sweet and savory flavors. Other flavorful items that will be prepared and served to perfection include the slow cooked boysenberry short ribs, the juicy meat is smothered in boysenberry hoisin sauce served over butter basmati rice and complete with chopped green onions will leave guests asking for more. The guest favorite and finger-lickin' boysenberry chicken wings will also be available during the festival; the irresistible wings are smothered in the delicious and popular boysenberry BBQ sauce which is made exclusively at the Farm.  The meaty and boysenberry inspired items also include the very filling boysenberry grilled sausage on a fresh roll prepared with a fresh farm-baked roll, topped with boysenberry ketchup, relish and mustard. For guests craving a refreshing drink, Knott's is offering an all-new boysenberry boba tea which consists of boysenberry milk tea and chewy berry-soaked tapioca balls served over ice.  The boysenberry elote is one of the satisfying treats guests will be able to find in the streets of Ghost Town. The lightly grilled corn is smothered in fresh boysenberry butter, mayo and perfectly topped off with cotija cheese. The Festival also offers a variety of sharable snacks for the family including a new vegetarian/vegan option like the highly enjoyable boysenberry hummus served with pita bread and prepared with garden-fresh boysenberries. Sweets and desserts are a key part of the festival and this year the culinary team is introducing the scrumptious, perfectly bite-sized boysenberry coconut macaroons, dipped in a decadent chocolate ganache, which are great to enjoy while strolling through the park. A great option to indulge in a variety of new and returning food items during the festival is by purchasing a tasting card priced at $30 which offers 8 of the new food options per card; guests can select any 8 items of their choice. Returning and other signature boysenberry items will also be available for purchase a la carte during each day of the festival. Tasting cards are available at Knotts.com or in the theme park.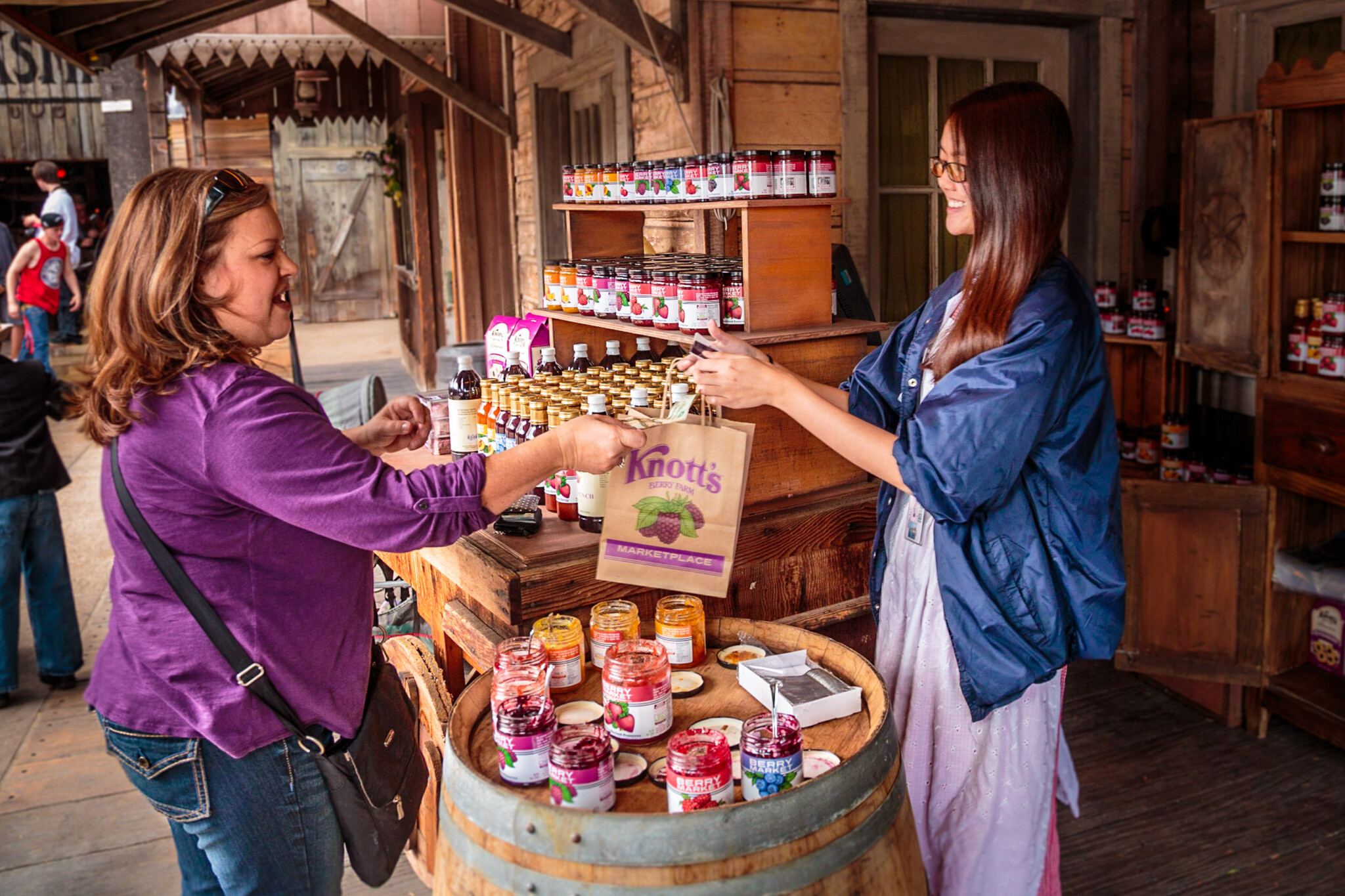 Guest can also take home a taste of the boysenberry festival with limited edition merchandise that can be found throughout the park, such as a new boysenberry bath and body line including soaps, salt soaks, bath bombs, lip balms (introducing three new flavors) and candles. New to the festival this year is Knott's sugar-free boysenberry concentrate, a low calorie, no sugar version of Knott's popular drink, a wide selection of boysenberry chocolates including boysenberry versions of milk chocolate bars, truffles, caramel squares, peanut butter and jelly cups. New and exclusive to Knott's Berry Farm this year is the all-new boysenberry Jelly Belly. The Knott's Berry Market also features signature boysenberry items like the delicious boysenberry BBQ sauce or the classic jams and preserves. Unique boysenberry inspired products with a homemade twist will also be available as the Craft Fair returns offering a variety of products like boysenberry cashew nut brittle, boysenberry pie shaped homemade accessories and more.  
Entertainment:
Knott's Boysenberry Festival offers endless entertainment options for the festival goers who have a hankerin' for some good ol' country fun:
Tied up in Knott's!

– "Tied Up in Knott's!" is a tribute art show to the rich history of Knott's Berry Farm, its beginnings as a farm and its standing as a Southern California institution for millions of visitors during its (almost) 100-year history. More than a dozen artists will be contributing pieces to the show, which pays homage to Knott's Berry Farm's past, present and future in various mediums including: oil paintings, illustrations and digital mixed media. These original pieces will be hung on display at the Wilderness Dance Hall during the duration of the Boysenberry Festival and Guests will have the opportunity to purchase many of the pieces, as well as prints of some of the art.

Snoopy's Boysenberry Jamboree!

– Guests are invited to join Snoopy, Charlie Brown and the entire Peanuts Gang in a show that will have families dancing and playing along at the Calico Mine Stage.

Old Time Melodrama

– Knott's pays tribute to its past at the Legendary Bird Cage Theatre with a special presentation of the musical comedy melodrama with a surprising boysenberry twist!

Krazy Kirk and the Hillbillies

– A group of krazy talented performers will have guests toe tappin', vine dancin' and knee-slappin' to a comedic country music show at the Wagon Camp stage.

Ghost Town Miners

– The joy of scrumptious food and country music encompass guests as the Ghost Town Miners take the stage in a fun musical performance.

Easter Beagle

– Spring has sprung all around the park including in Camp Snoopy where guests can meet everyone's favorite beagle as he celebrates the season.

Ghost Town's Town Hall

– In honor of the famous berry that started it all, guests are invited to learn the history of the boysenberry and how Walter and Cordelia Knott started the Farm.

Old MacDonald Petting Zoo

– Young ones and young at heart are invited to cozy up to the cutest critters on the farm including horses, sheep, goats and other furry friends.
The Boysenberry Festival is included with admission to Knott's Berry Farm.  Additional costs apply for food tasting experiences within the event. Knott's will have extended hours on select days March 16 – April 8, allowing guests extra time to take advantage of all of the limited-time offerings.
The best way to savor every day of the Knott's Boysenberry Festival and all of the other Seasons of Fun is with a 2018 Season Pass. A Regular Season Pass includes unlimited admission in 2018 to Knott's Berry Farm with no blackout dates, and a Gold Season Pass includes unlimited admission in 2018 to both Knott's Berry Farm and the recently expanded Knott's Soak City Waterpark with no blackout dates. Regular passes are just $94 or six easy payments of $15.66 and Gold Passes are $113 or six payments of just $18.83. These offers end April 8, 2018. Applicable taxes and fees apply. Payment plans are only available at knotts.com.