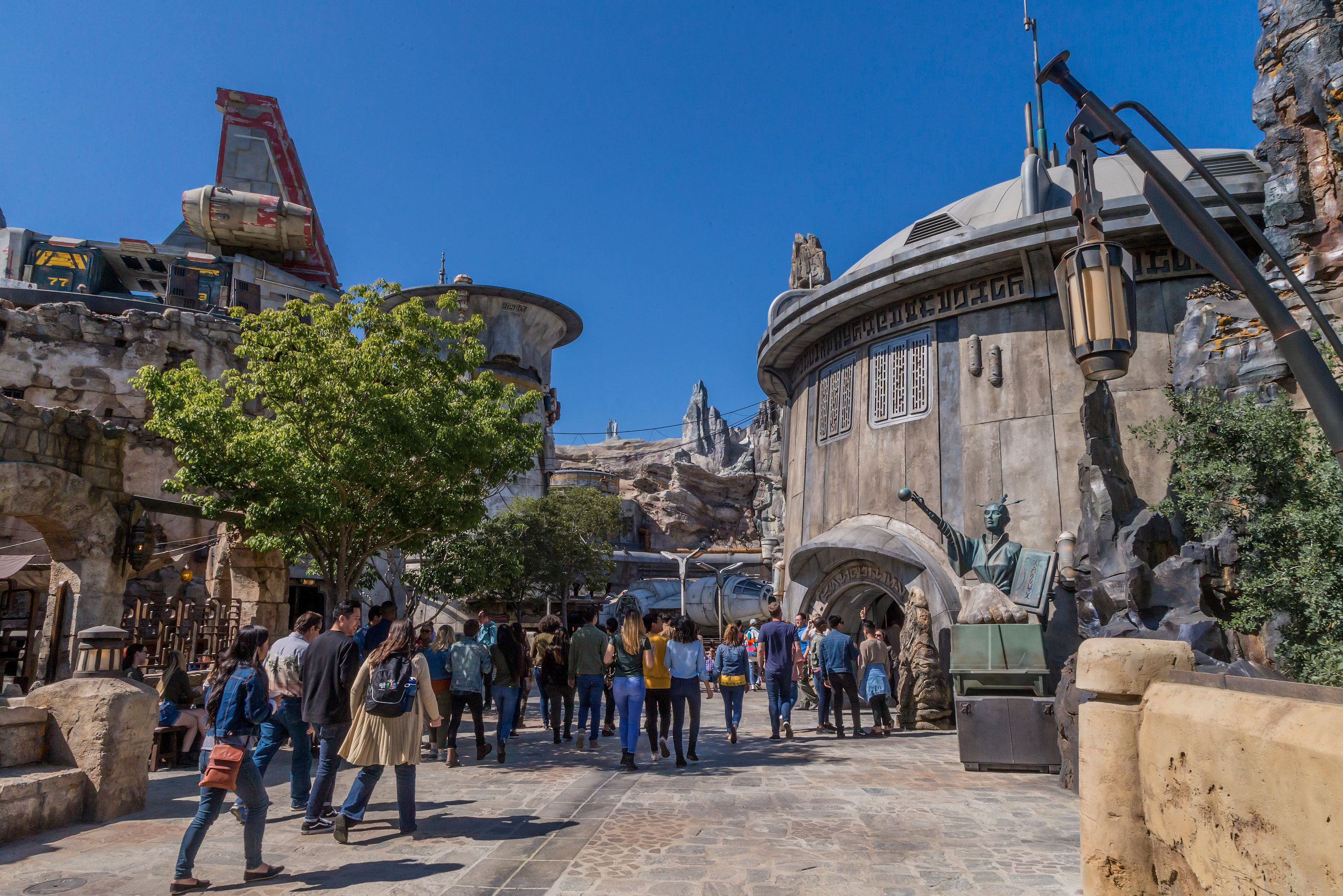 This post contains affiliate links and our team will be compensated if you make a purchase after clicking on the links.

Star Wars: Galaxy's Edge has been sharing the unique sights, sounds, smells and tastes of Batuu with off-worlders with reservations since May 31. As this epic new land opens starting June 24, there is so much to see and do including strolling the Black Spire Outpost Marketplace, tasting blue or green milk and taking the controls of the Millennium Falcon.
Here are some great tips to help plan your visit to the far-flung destination of Batuu, beginning June 24!
Boarding Groups
For guests wishing to live out Star Wars adventures and access Star Wars: Galaxy's Edge beginning June 24, Disneyland Resort may utilize a virtual queuing system, as needed, to help everyone have a great experience. Be sure you download the Disneyland app before arriving and check the app or signage the day of your visit to find out if you will need to be part of a boarding group to visit Star Wars: Galaxy's Edge that day. The boarding group will save you a virtual spot in line so that you can enjoy other experiences while you wait to be notified of a time to enter.*
You may use the Disneyland app to request to be part of a boarding group after entering Disneyland park, if implemented that day. Simply link the theme park tickets of everyone in the party together on the app to request the same boarding group for the entire party. To see which boarding group is currently being admitted to the land, look on the app or digital signage in the park.
If you enable push notifications on your mobile device, you will be notified when it is time to enter the land. If not, you can continue to check the Disneyland app or digital signage in the park, and enjoy other experiences, while awaiting their boarding group. You will have up to two hours to enter the land after your boarding group is called for admission, so there is no rush!
If you are not using the Disneyland app, a boarding group may be obtained with a park admission ticket at some Disney FASTPASS Service locations, such as Haunted Mansion, Indiana Jones Adventure, Space Mountain, Splash Mountain or near the Matterhorn Bobsleds.
Reservations for Savi's Workshop and Oga's Cantina
Beginning June 24, Star Wars: Galaxy's Edge will no longer require a reservation to access the land, although reservations will be required for Savi's Workshop and Oga's Cantina, which have very limited capacities. Guests wishing to book a reservation for these experiences may do so on the same day of their visit, beginning at 7 a.m., with a valid credit card. Reservations for both experiences will allow access into Star Wars: Galaxy's Edge at the time of the reservation, so it will not be necessary to join a boarding group, if applicable, to enter the land to participate in a reserved experience. Please visit Disneyland.com/SavisWorkshop and Disneyland.com/Cantina for important details.
Make the most of your visit to Star Wars: Galaxy's Edge by planning ahead with these new innovative digital planning tools to access Batuu, resulting in more time to enjoy the Disneyland Resort!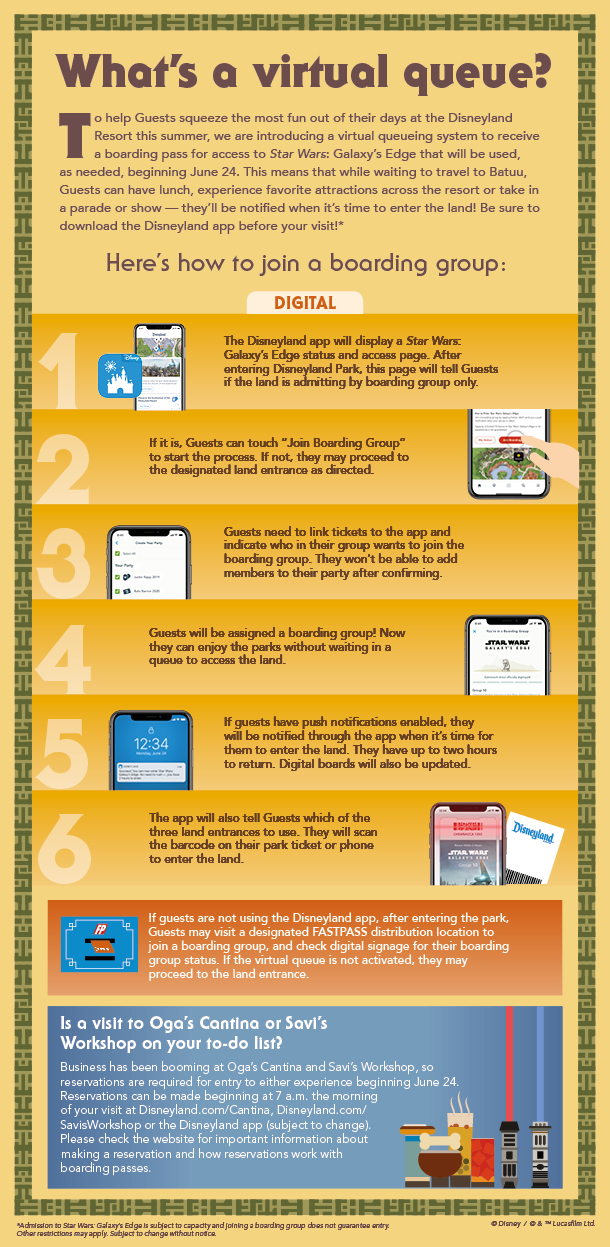 *Admission to Star Wars: Galaxy's Edge is subject to capacity and joining a boarding group does not guarantee entry.
Source: Disney