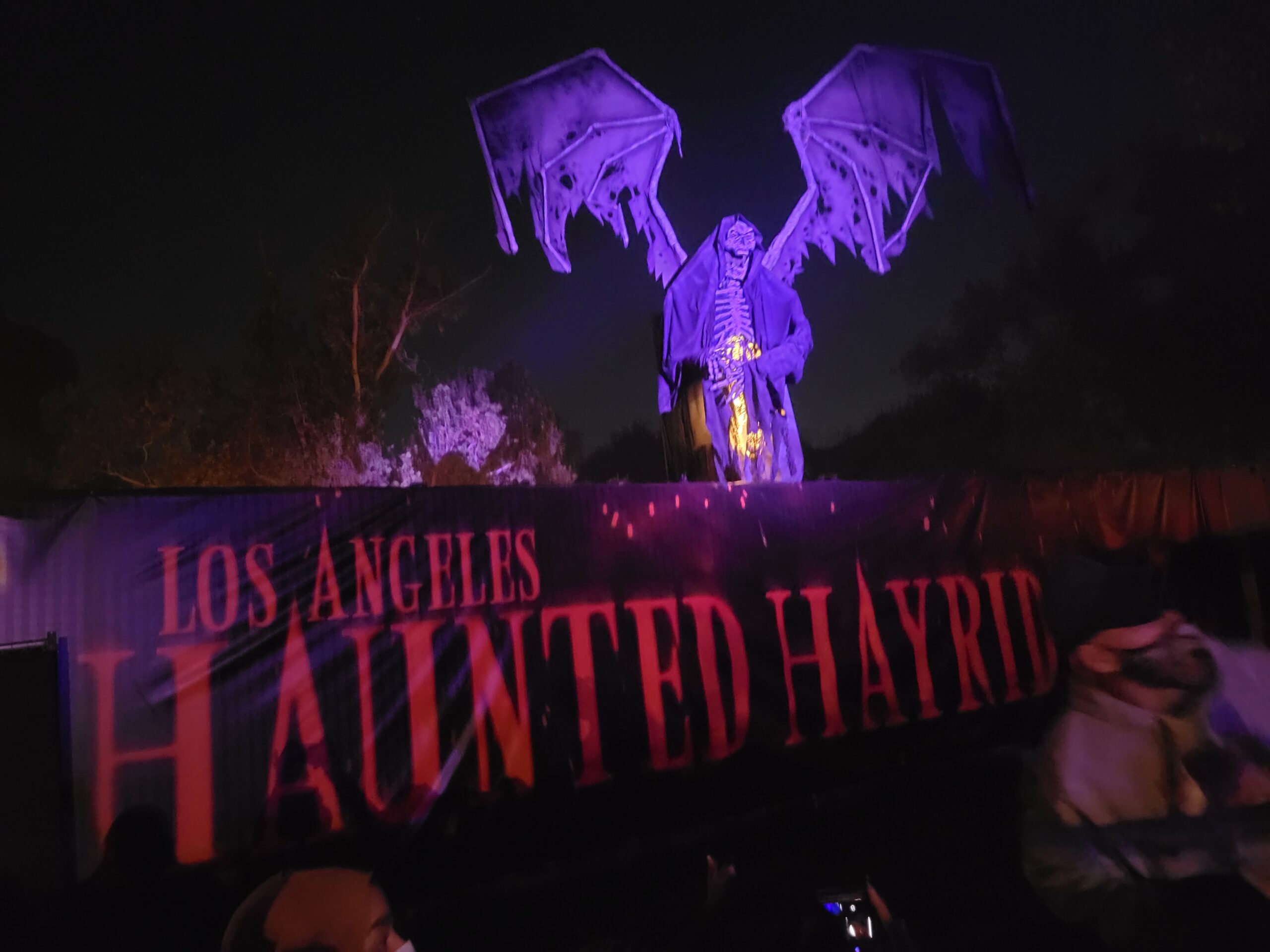 This post contains affiliate links and our team will be compensated if you make a purchase after clicking on the links.

The spooky town of Midnight Falls returns to L.A. Haunted Hayride with new scares in an all-new location. But those who have traveled to the L.A. Haunted Hayride in years past will be glad to know parking is still relatively in the same lot.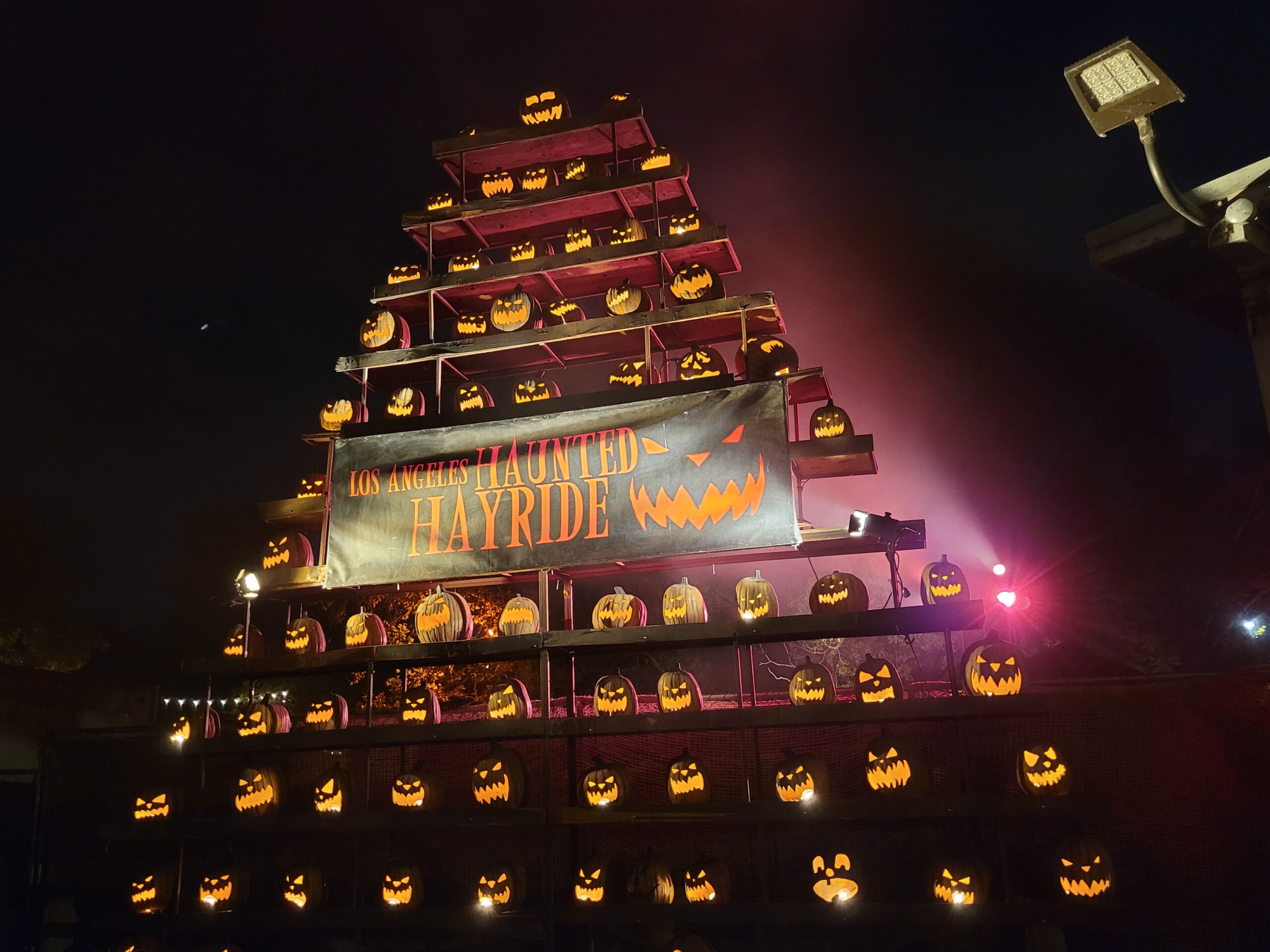 Midnight Falls manifested itself at the bottom of the Griffith Park hill away from the old L.A. Zoo. Additional parking is down the street at L.A. Zoo and thankfully provides regular shuttle service.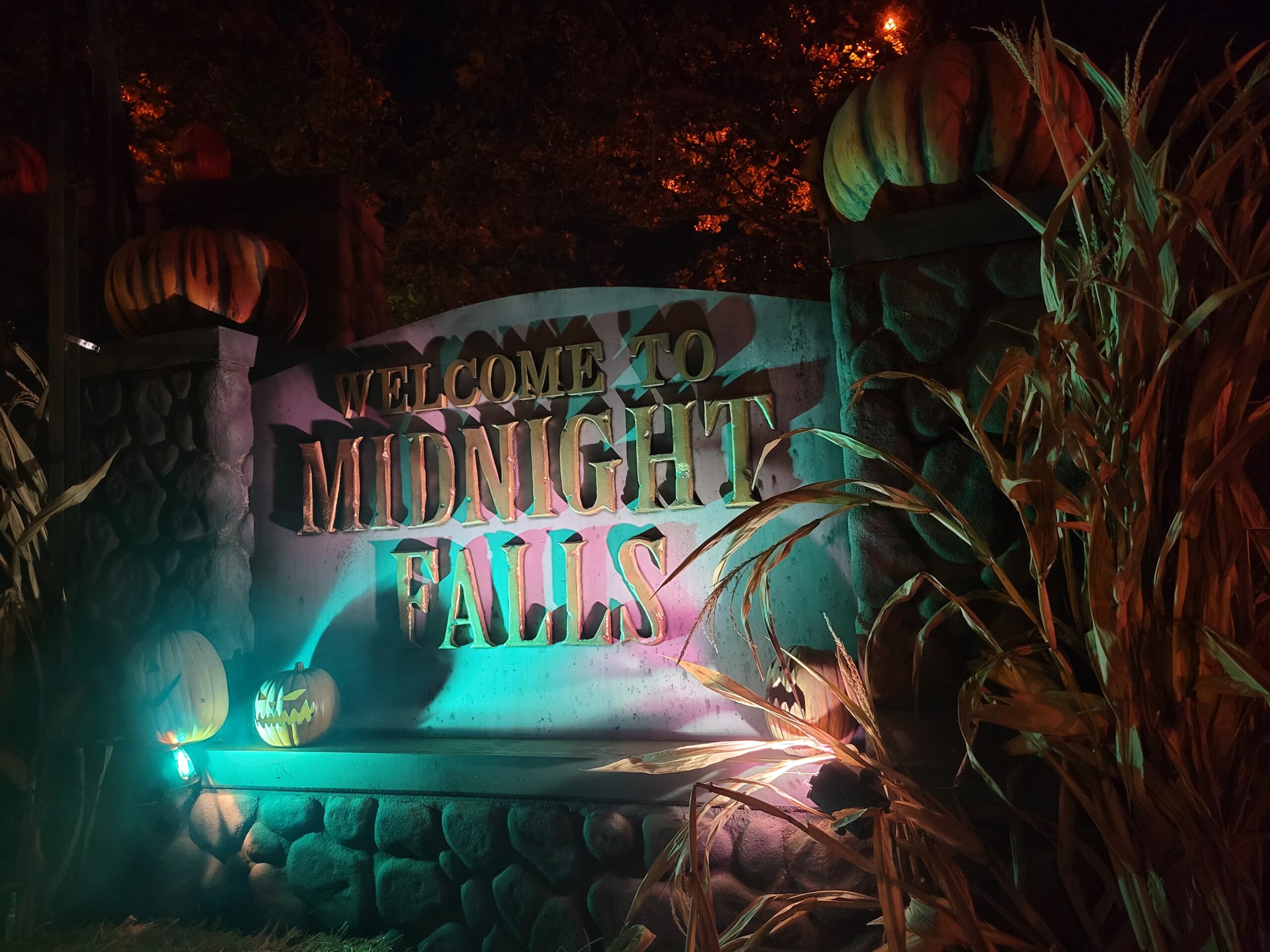 The new location takes full advantage of its new digs. Although still settled in a grass and dirt lot, at least there are more flat surfaces to work with compared to traversing the hills and slopes of the old location. Wide-open spaces to social distance. Plenty of picnic tables to use once you grab a festival snack such as fried shrimp, jalapeno poppers, crepes, pretzels, cinnamon rolls, and more. A large screen plays horror movie trivia for those who are too frightened of the scare mazes. A massive stage to better accommodates the gruesome performances out of Monte Revolta and his Band of the Living Dead. The stage is also conveniently nearby the expansive queue for the hayride so guests in line can still listen in on the rockin' band. The citizens of Midnight Falls also join in the fun as they mingle with guests throughout the grounds.
The fan-favorite Scary-Go-Round with its skeleton horses centers itself between three scare mazes ready to frighten your soul to its rotten core. Midnight Mortuary invites guests to tour the funeral home and its adjoining cemetery. Weave your away past the office, gravesites, and morgue to avoid becoming the next customer. Dead End Diner cooks up a meal at this roadside establishment with juicy meat. Human meat, that is. The townsfolk will chase you from the dark back alley, a maze of chain link fences and haystacks, a fledgling farmhouse, and a creaking barn that is home to demonic livestock. The final scare maze is a returning theme in Trick or Treat. Guests navigate the neighborhood ringing doorbells to find a trick or treat waiting for them around every turn. You never know what the homeowner may have in store. The satanic frat house at the end of the street looks promising.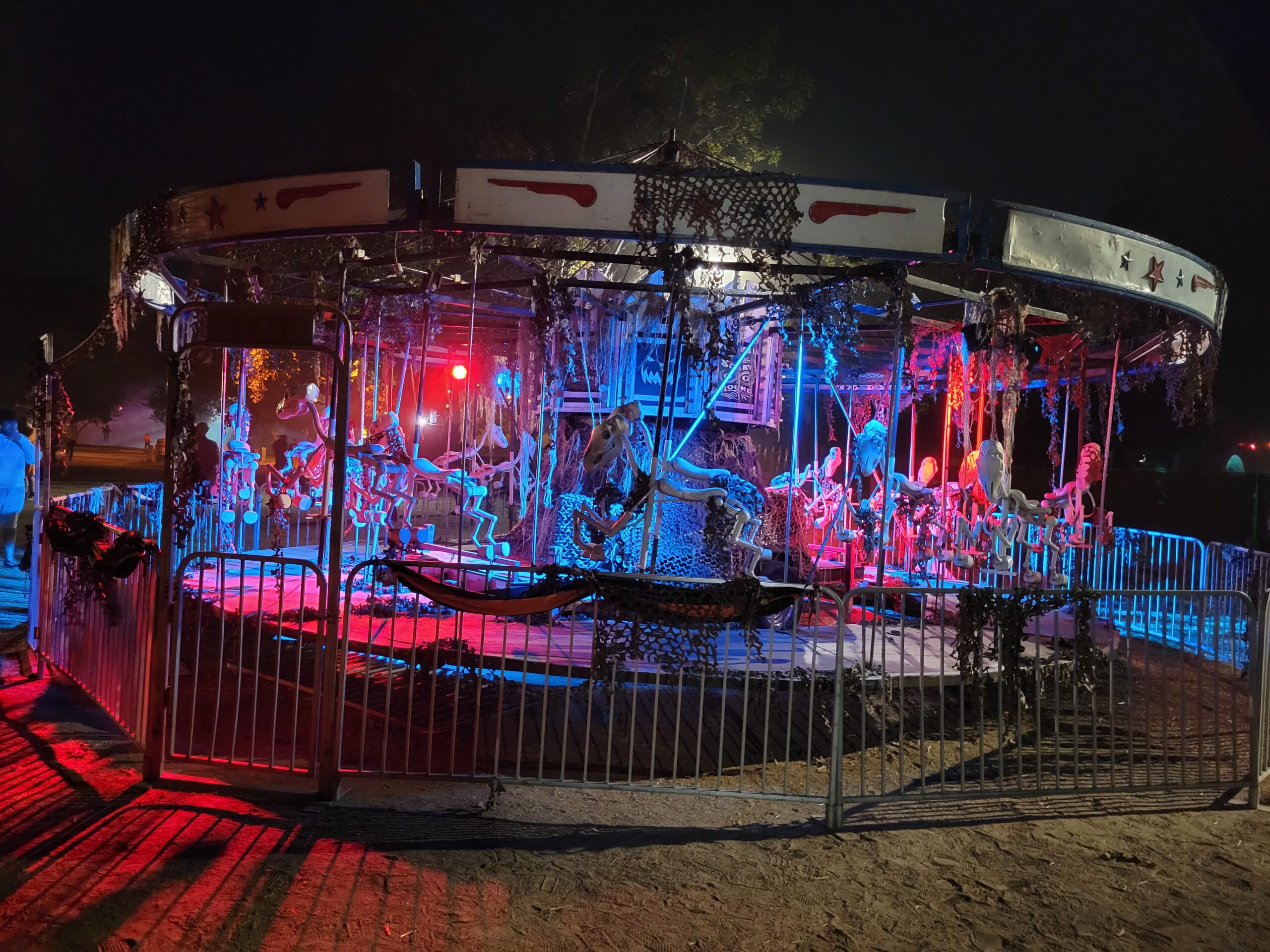 Midnight Mortuary and Dead End Diner are hands down the best scare mazes L.A. Haunted Hayride has produced in years. Perhaps the new owner Thirteenth Floor Entertainment Group is on the right track in returning this popular seasonal offering to his glory nights. Trick or Treat is probably best suited to be less of a scare maze and more of a scare zone. Spreading the houses throughout the property to get the guests to go door to door and ring the doorbell. Or designed to be special photo-ops while waiting for your ride time or band showtime. A supernatural town with scare mazes themed to a mortuary and diner works very well with the overall theme of Midnight Falls. But a new maze for 2022 to retire and repurpose Trick or Treat could really seal the deal.
Of course, we can't forget about the main attraction: The Haunted Hayride. Filled to the brim with thrills, chills, and curiosities. Tractors pull your wagon full of hay past show scenes that both frighten and delight guests. The vehicle of conveyance acts as your portal to a variety of show stops pulling away from a gasoline station. The assortment of scenes has always been a hit or miss with patrons as they do not necessarily tie into one another. But that's part of the fun as the shows unfold to reveal their tactics. There's everything from a mechanical animal band coming to life, a tentacle-filled lake, beheading by guillotine, giant arachnid infestation, cosmic dancing, and a freaky carnival.
The new location is an absolute win for L.A. Haunted Hayride that thankfully shows a large improvement over its decimation in the years since its previous occupation. But that doesn't mean it is totally in the clear as there is still promising room for expansion. The lighting design suffers from patches of areas that were noticeably too dark to light a path, highlight intriguing props and sets, or even just to illuminate the food stands that were open but appeared deserted. The future is still very hopeful as L.A. Haunted Hayride thrives in its new locale.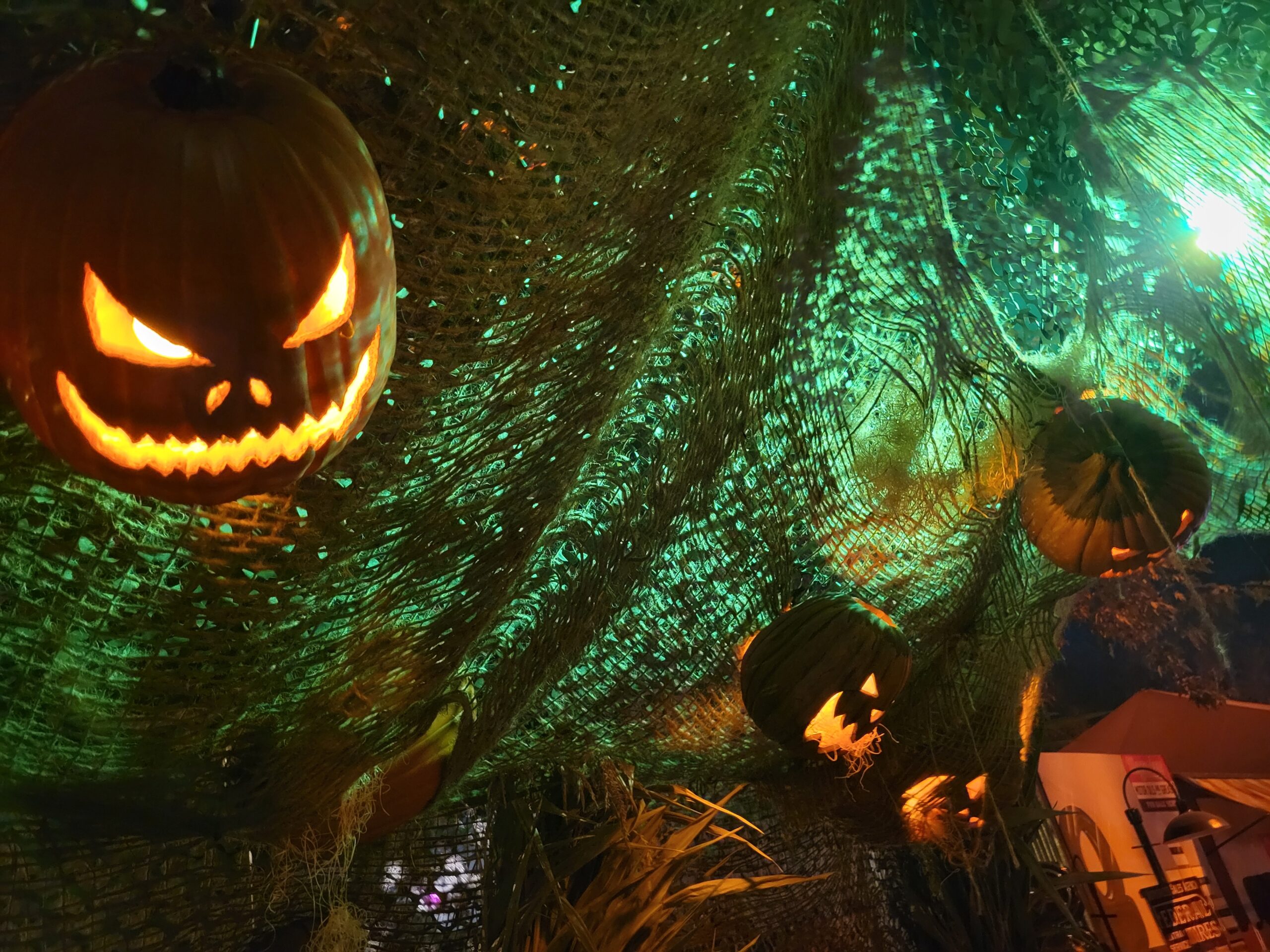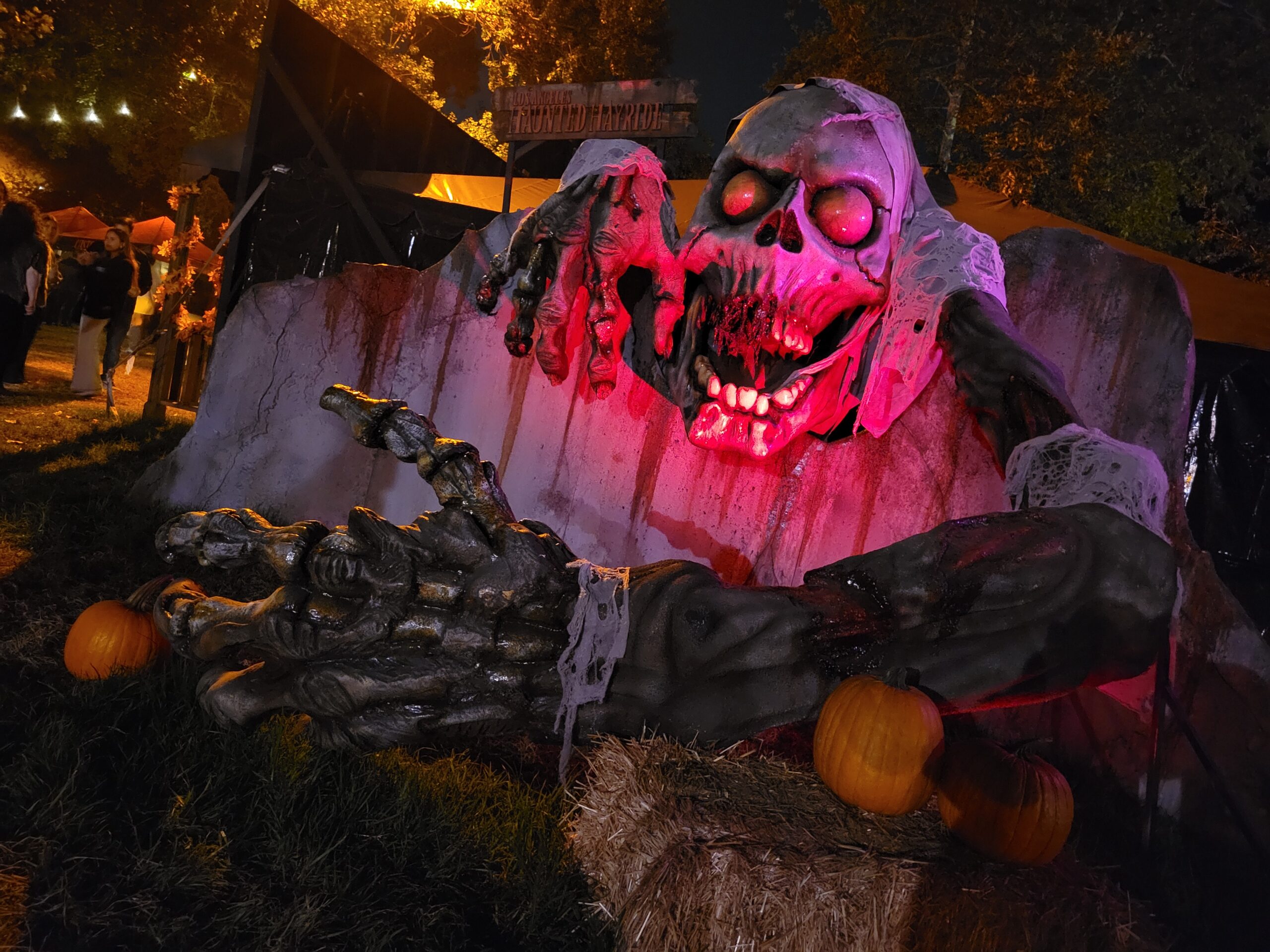 Check the official website for dates and to purchase tickets at www.losangeleshauntedhayride.com