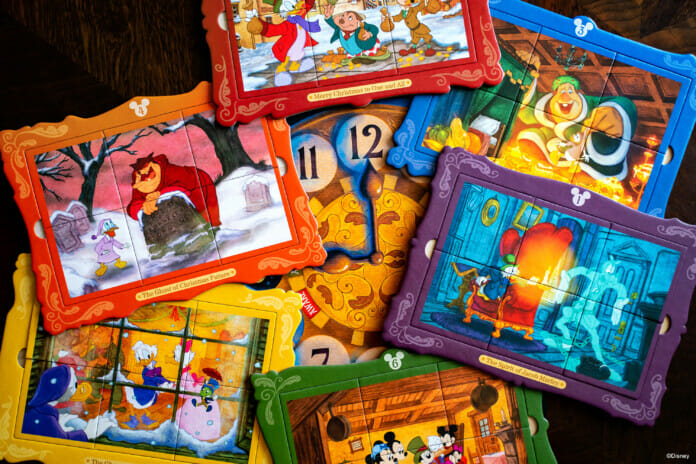 This post contains affiliate links and our team will be compensated if you make a purchase after clicking on the links.

Don't know what to get someone for Christmas? Funko Games has some amazing gifts and stocking stuffers to spread a little extra cheer and keep a little extra change in your pocket.
Just in time for Christmas, three full-sized, festive games that typically retail for almost $20 are now 50% off for a limited time. Available exclusively at Target, Elf – Journey from the North Pole: Collector's Edition, Disney Mickey's Christmas Carol Game and National Lampoon's Christmas Carol Game, are currently just $9.99 each—a great last minute add to any holiday celebration.
Consumers looking to top-off their stockings with something fun can make the visit a one-stop shop by picking up a game or two from the Funko Games line-up of pint-sized presents, also available for under $10. Game prices start at $8.99 and are available for purchase at Target and Amazon.
These sales are available while supplies last.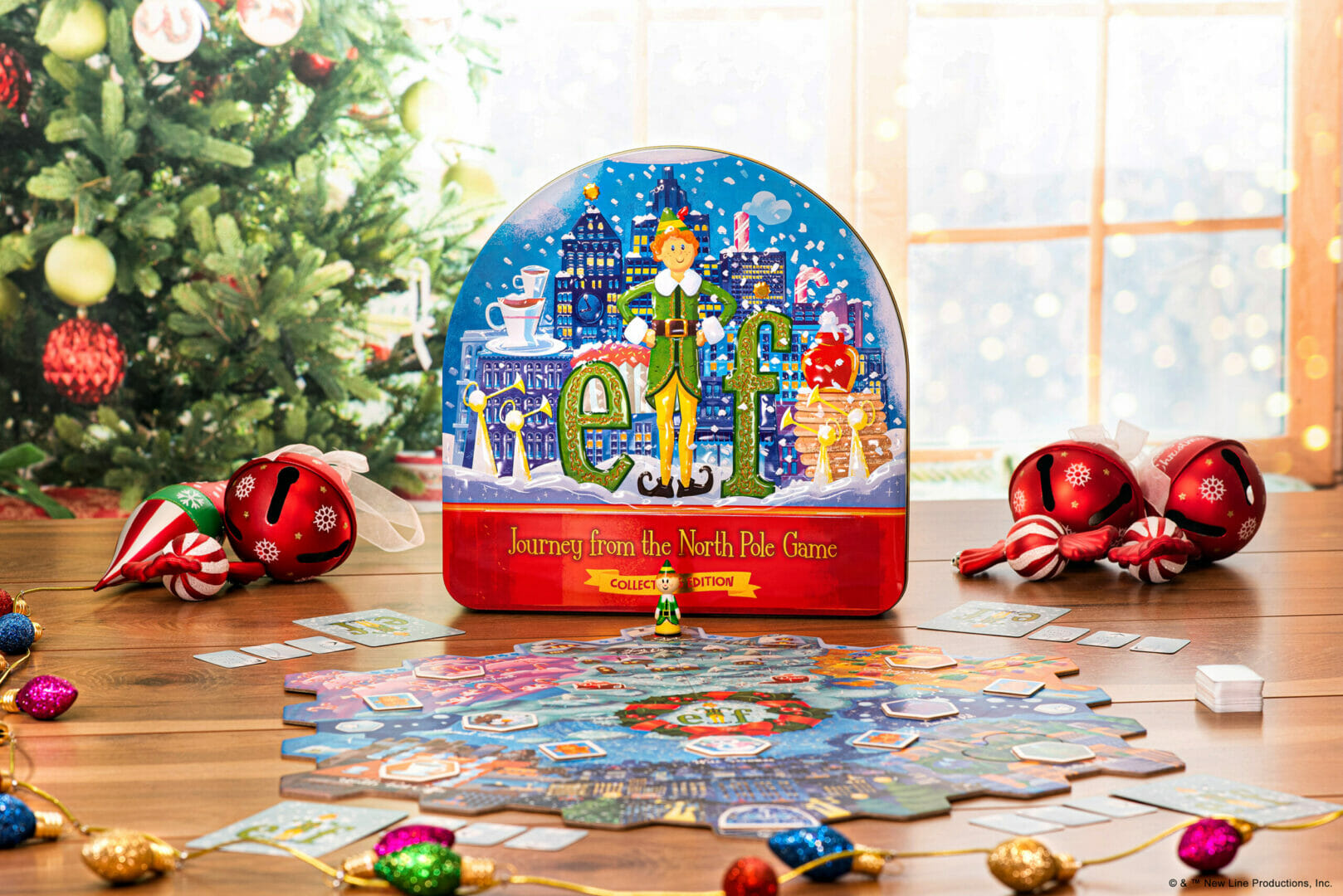 Elf – Journey from the North Pole Game:  Collector's Edition 
Help Buddy the Elf find his dad by laying a loopy route from the North Pole to New York City. Play path cards to the board and move Buddy along its crazy curves. Lead him toward your secret goal landmarks along the way to score points. The player with the most points when Buddy the Elf finds his dad wins! This new, limited-edition collector's edition of Funko Games' classic Elf-inspired board game comes in a beautiful, embossed Collector's Edition tin.
ON SALE for $9.99, MSRP $19.99, Ages 8+, 2-5 Players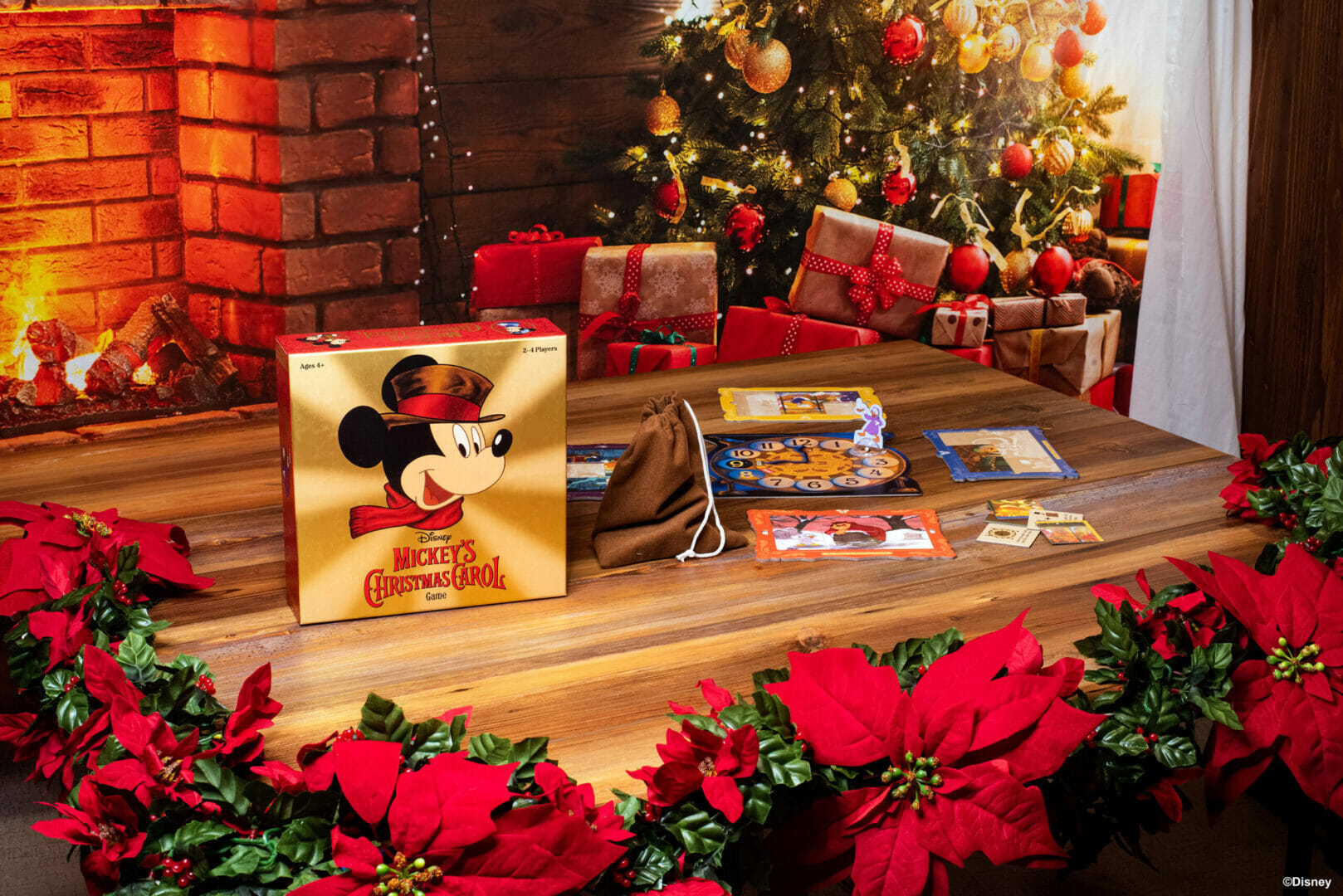 Disney Mickey's Christmas Carol Game
Work together to tell the tale of Ebenezer Scrooge! Draw puzzle pieces from the bag and put together scenes from Disney's holiday classic. But draw too many and the clock may strike! Hurry to finish all the pictures before Scrooge wakes up!
ON SALE for $9.99, MSRP $19.99, Ages 4+, 2-4 Players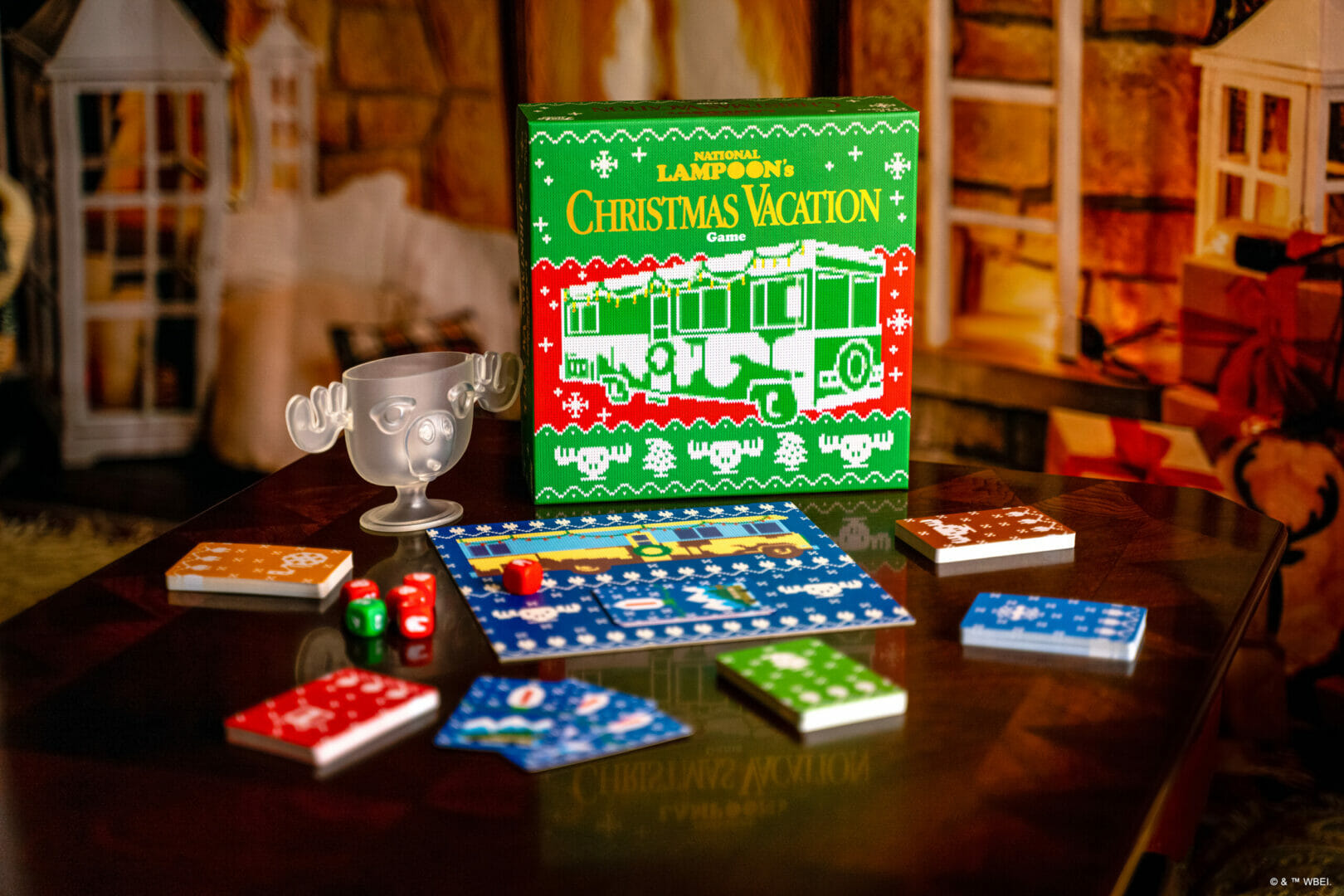 National Lampoon's Christmas Vacation Game 
Gather round for the game of having the hap-hap-happiest Christmas! Roll the dice to dodge holiday havoc, from that sneaky squirrel to the larger-than-life Christmas tree. But with each roll, Cousin Eddie stays another day in the RV. You can risk another roll to avoid the craziest Christmas troubles.
ON SALE for $9.99, MSRP $19.99, Ages 8+, 2-5 Players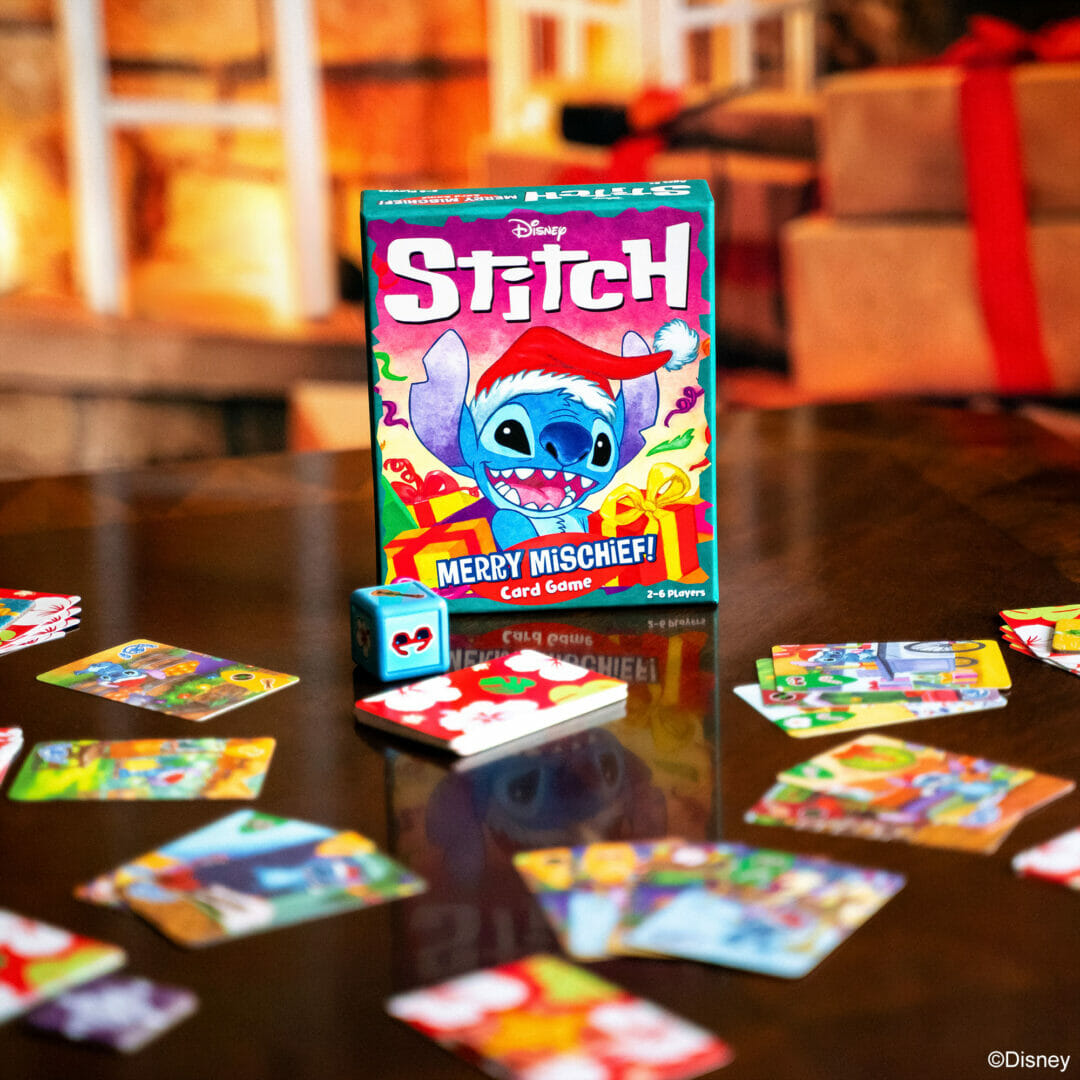 Disney Stitch: Merry Mischief Card Game
Stitch is ready to celebrate Christmas, but he can't contain his excitement. With each uncontrollable outburst, Stitch unwraps more and more presents. Choose which presents to try to sneak past Stitch. Then roll to find out which gifts he unwraps. Save the most presents to win! Who can save the holiday from Stitch's mischief?
MSRP $8.99, Ages 5+, 2-6 Players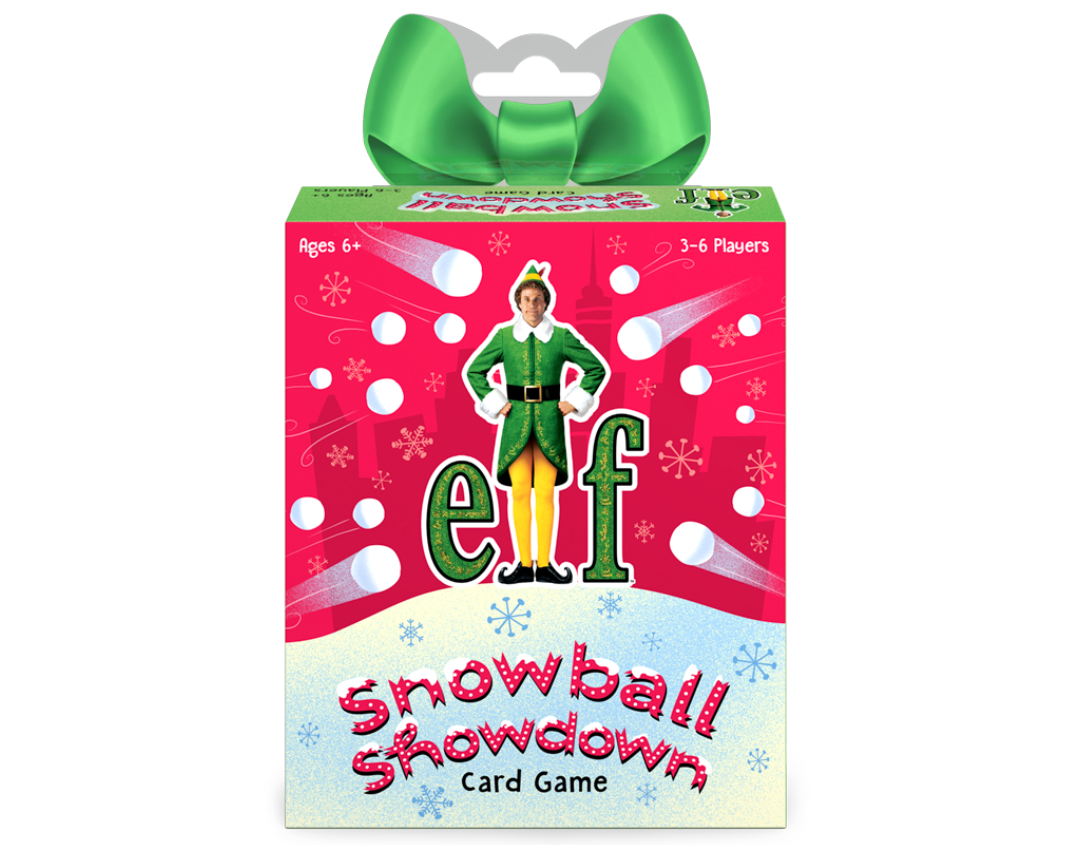 Elf – Snowball Showdown Card Game
Join Buddy the Elf in a surprise snowball fight! "Throw" a set of like­-colored snowball cards at another player and they can return fire!  When you're the target, roll the jumbo snowball dice to dodge the icy barrage. When you get hit, take a snowball "splat" card-three hits and you're out.  In this frigid fight, the last elf standing wins!
MSRP $6.99, Ages 6+, 3-6 Players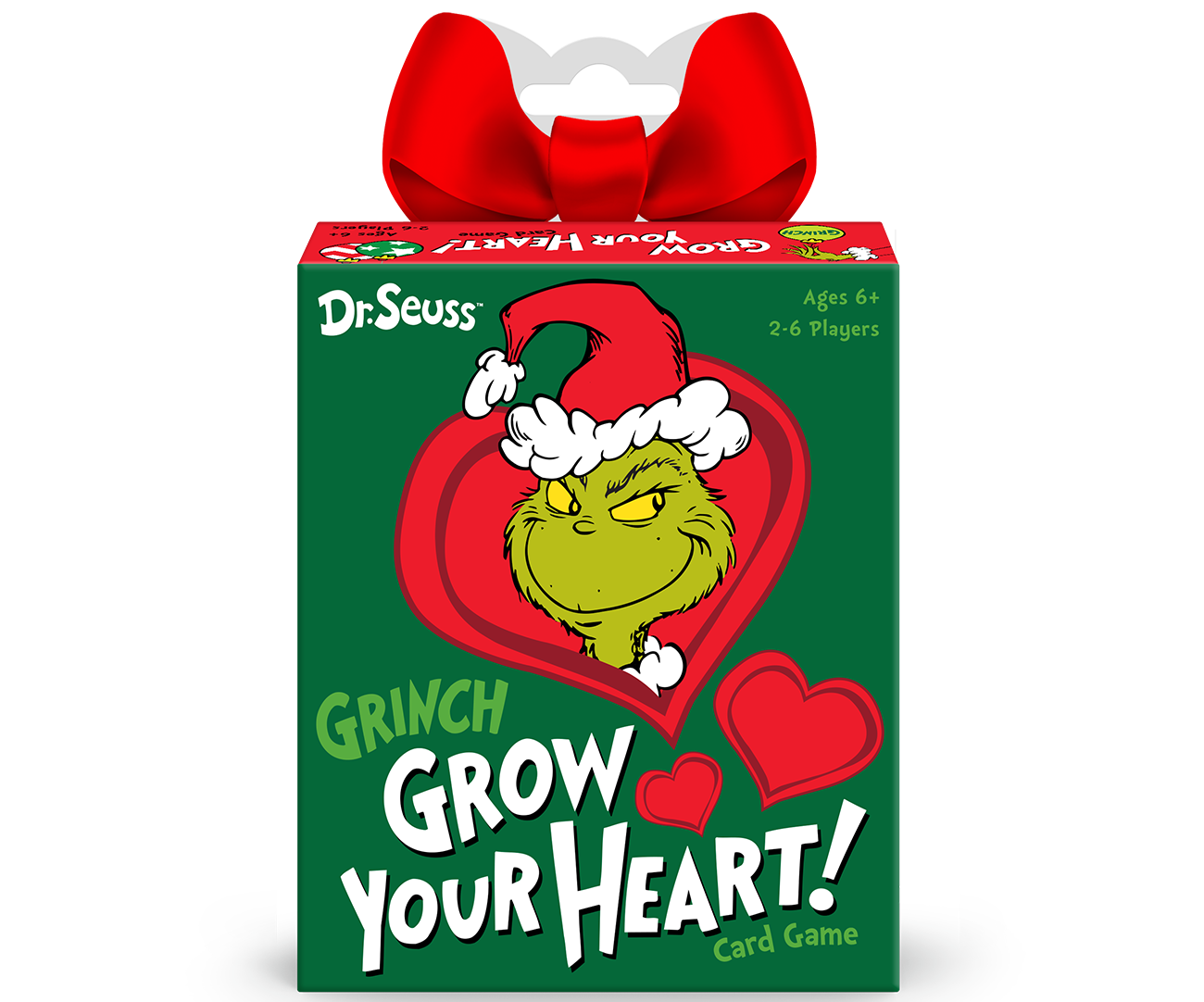 Dr. Seuss – Grinch Grow Your Heart Card Game
It's Christmas in Who-ville! What trimmings will you choose? Oh no— the Grinch is taking the presents, the feast, and even the tree! But when the Whos celebrate anyway, the Grinch's heart grows three sizes. Take turns playing as the Whos or the Grinch. Draw cards and choose which Christmas goodies to keep. The Grinch steals cards away to improve his score, but each turn his heart grows! Collect sets and then score your cards to try to get the most points!
MSRP $6.99, Ages 6+, 3-6 Players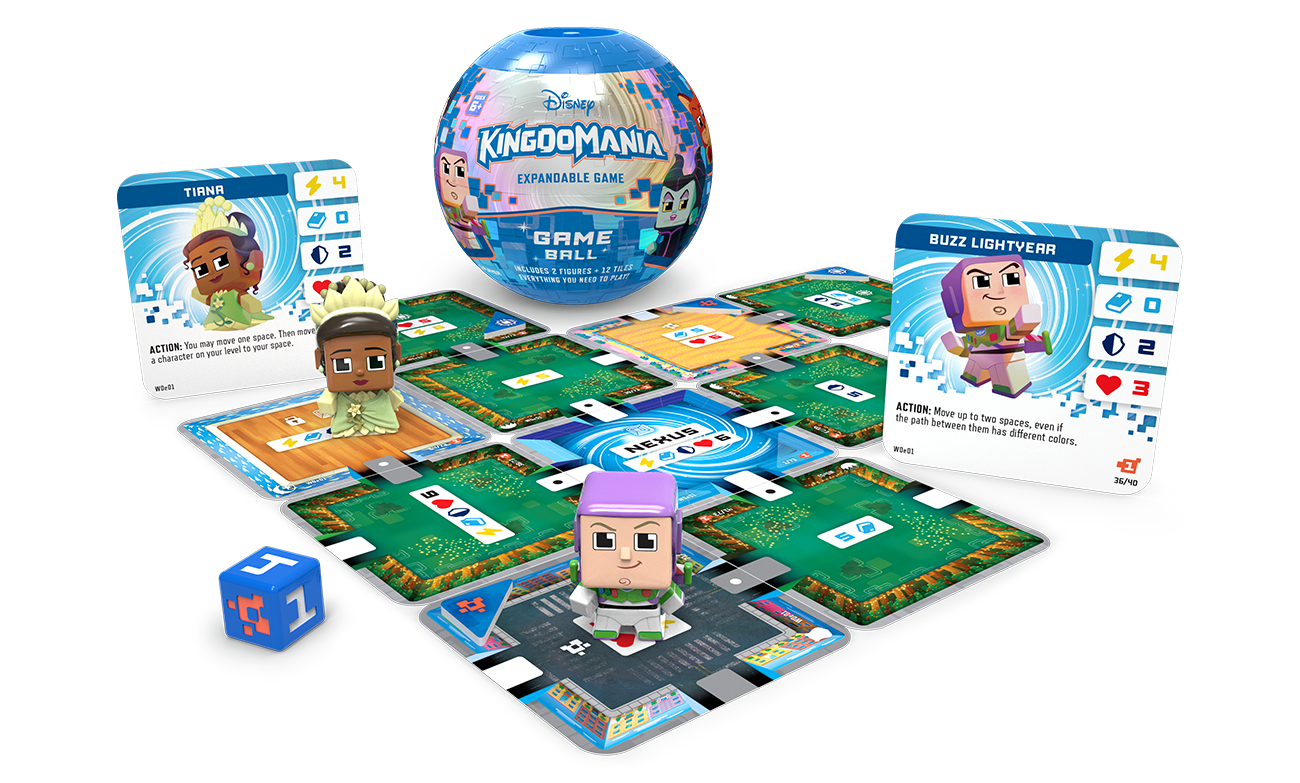 Disney Kingdomania: Series 1 – Game Ball 
Enter the digital game world of Disney Kingdomania! Each level features cherished Disney stories and characters, but troublesome Glitches are causing chaos and mixing up the levels! Patch the problems before they crash the game!
Each Game Ball contains everything you need to play, including two mystery characters and 10 unique level tiles. Combine multiple Game Balls for more players and expand the fun with dozens of figures to collect!
Ages 6+, MSRP $9.99, 1 Player per Ball, 2 Players per Game Pack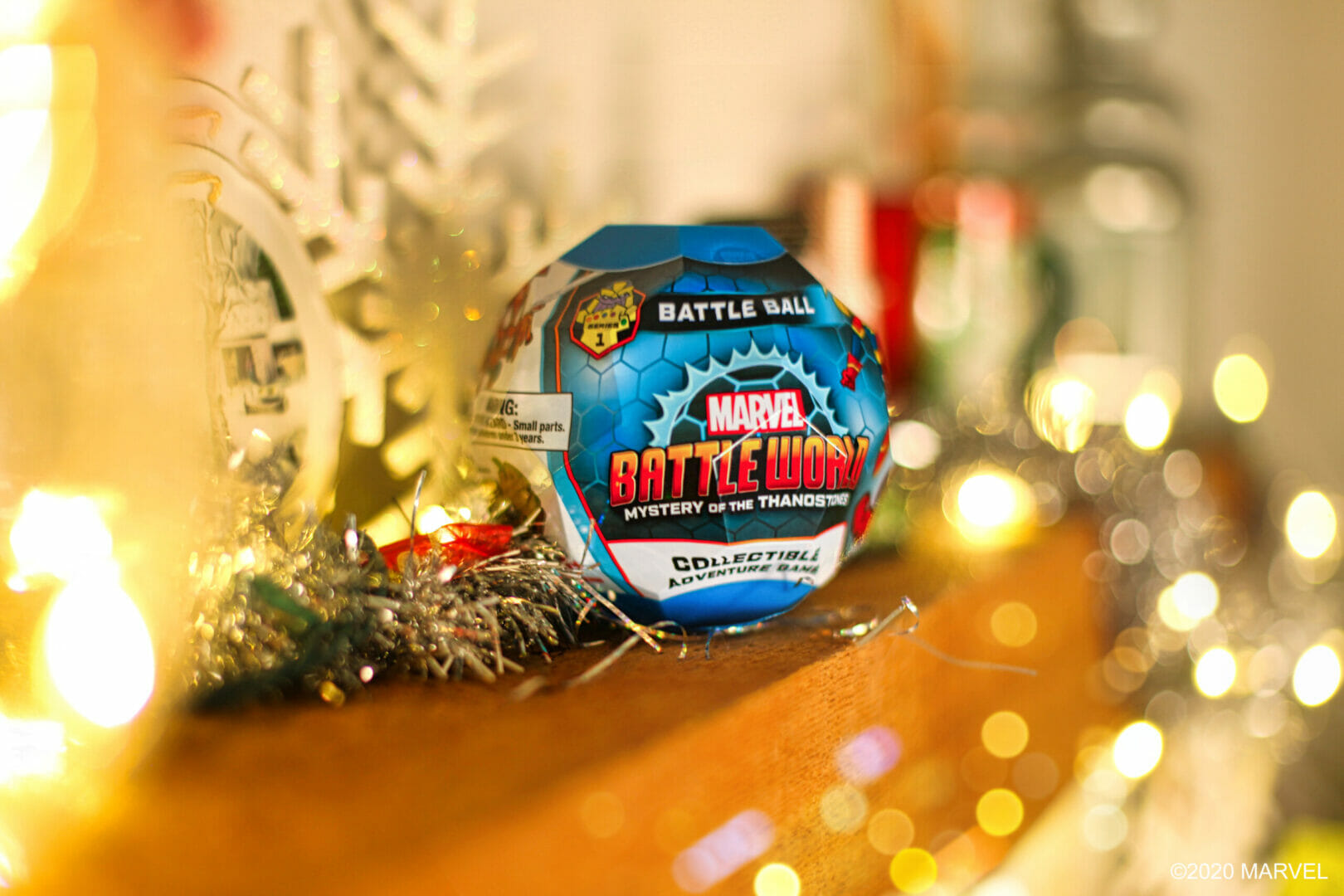 Marvel Battleworld: Series 4 – Rise of the Symbiotes Battle Ball
Pick your favorite Heroes, rescue your friends, and win battles to defeat Thanos! Battleworld is a revolutionary cooperative, expandable, collectible adventure game, featuring dozens of characters from across the Marvel Universe! As you play, crack open mysterious Thanostones to reveal the characters inside. Series 4 introduces brand new locations, battles, and exciting game mechanics that will continue to challenge players and test their strategies!
Ages 6+, $9.99 MSRP, 1-2 Players