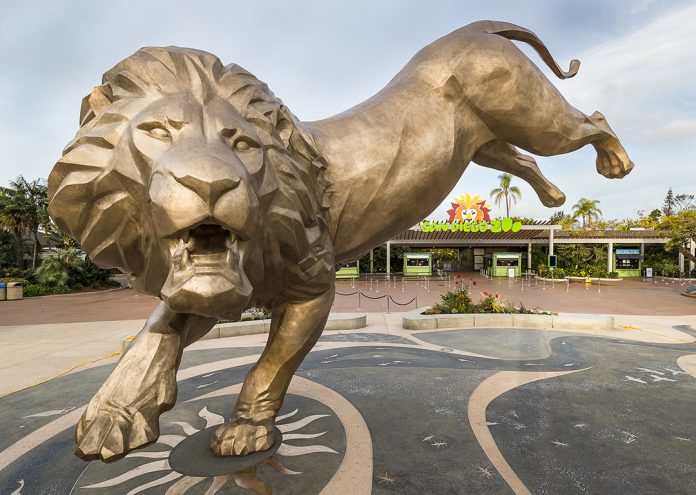 This post contains affiliate links and our team will be compensated if you make a purchase after clicking on the links.

I love zoos. I love the awareness they bring to the plight of animals, and the joy and intrigue they bring to kids of all ages. So when I heard that two of my favorite California zoos recently added a couple of must-see attractions, I knew I had to investigate.
In March, the San Diego Zoo unveiled a massive, 27-ft-tall bronze lion statue at its entryway, and in June, the Oakland Zoo opened the 56-acre California Trail Expansion, featuring a soaring gondola ride over lush, hilltop habitats.
The new landmark lion at San Diego Zoo is known as Rex. The statue was designed in honor of Rex, the lion that inspired the creation of the Zoo in 1916. Legend has it that Rex arrived in San Diego as part of the Panama-California International Exposition. After the Exposition ended, Rex and other animals were left in cages near Balboa Park. One day a man named Dr. Harry Wegeforth and his brother Paul were driving past the area when they heard a loud roar and spotted the lion. It was then that the idea for a zoo in San Diego was born and soon founded by Wegeforth.
Standing nearly 30 ft-tall and weighing more than 20,000 pounds, Rex is the largest cantilever bronze animal statue in the world, according to Artworks Foundry in Berkeley, California, the company that cast him.
The lion's unique pose—standing on a single paw at a 30-degree angle —was accomplished thanks to an impressive feat of engineering by the firm of Thornton Tomasetti. To support the cantilevered structure the engineers and contractors welded a large steel tube to the inside of the lion and attached it to a 50-ton footing built deep into the ground.
It took thousands of hours of craftsmanship to create Rex, based on an original sketch from former San Diego Zoo Global illustrator Tim Reamer. Once recreated, the sketch was turned into a three-dimensional model, which was later enlarged to its current size through a revolutionary 3-D printing process.
"Rex is more than an engineering marvel," said Rick Schwartz, San Diego Zoo Global ambassador. "He's a huge reminder of where we came from a century ago, and a symbol showcasing that Zoo founder Dr. Harry Wegeforth's dream of uniting people with wildlife lives on."
Rex is surrounded by multiple bronze animals such as flamingos, turtles, meerkats, and even an alligator. These animals are embedded in architectural concrete with colorful glass aggregate.
The 100-acre San Diego Zoo is home to more than 3,500 rare and endangered animals representing more than 650 species and subspecies, and a prominent botanical collection with more than 700,000 exotic plants. For more information, visit: www.zoo.sandiegozoo.org
In Northern California, the Oakland Zoo's much-anticipated California Trail opened to the public last month after three years of construction and two decades of planning. The $72-million expansion more than doubles the Zoo's current size from 45 acres to 100 acres and adds six (soon to be eight) new native California animal species in natural habitats, which are among the largest in the world and designed under the collaboration of animal behavior experts, wildlife experts, and notable habitat design experts.
The animals were selected for their historical significance to California and status in the wild. The species are American buffalo, black bears, grizzly bears, brown bears, mountain lions, jaguars, California condors, gray wolves and bald eagles.
Highlighting the California Trail are the open-air gondolas, where were custom-made by Austrian-Swiss Company, Doppelmayer. The, 24 all-electric, aerial trams transport passengers on a four-minute ride up and over the rolling hills of Knowland Park to the California Trail site from the main Zoo. There, at 650 ft above sea-level, the gondolas arrive at the 3-story Kaiser Permanente Visitor Center, which houses The Landing Cafe, a floor-to-ceiling glass-walled, 176-seat restaurant. An observation deck at the restaurant provides panoramic views of six Bay Area counties.
The California Trail also includes the interactive California Conservation Habitarium; the California Wilds! Playground, which is based on California's diverse eco-zones; and an overnight "safari-styled" campground.
The Oakland Zoo is home to more than 700 native and exotic animals and is managed by the Conservation Society of California (CSC). For more information, visit: www.oaklandzoo.org