This post contains affiliate links and our team will be compensated if you make a purchase after clicking on the links.

Celebrating the upcoming release of Disney's live-action movie "Dumbo," Spirit Airlines unveiled its specially-themed Airbus A321 that features a larger-than-life image of the beloved Disney character Dumbo.
Spirit and Disney revealed the new plane with a time-lapse video of the decal-wrapping process which took place at Spirit's state-of-the-art Detroit maintenance hangar. Check it out below:
The plane will join Spirit's growing Fit Fleet of 132 aircraft, one of the youngest and most fuel-efficient in the country. The plane takes off on Wednesday, March 6, 2019 from Detroit Metro Airport (DTW) to Orlando International Airport (MCO). Guests traveling between Detroit, Orlando, San Juan, Fort Lauderdale, and Baltimore/Washington will have the chance to fly with "Dumbo" on the first three days of service.
The aircraft will then travel across the country for the next two months, celebrating the movie's release on March 29, 2019.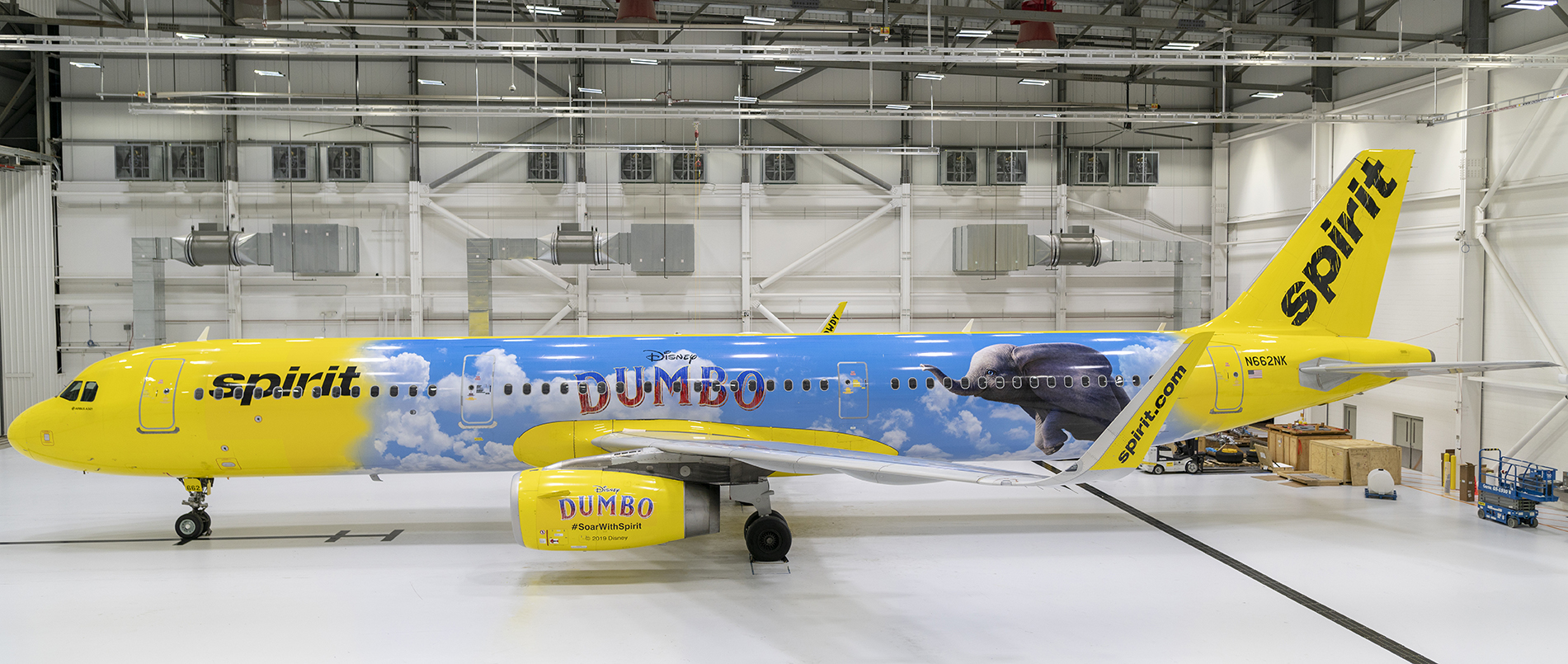 From Disney and visionary director Tim Burton, the all-new grand live-action adventure "Dumbo" expands on the beloved classic story where differences are celebrated, family is cherished and dreams take flight. Circus owner Max Medici (Danny DeVito) enlists former star Holt Farrier (Colin Farrell) and his children Milly (Nico Parker) and Joe (Finley Hobbins) to care for a newborn elephant whose oversized ears make him a laughingstock in an already struggling circus. But when they discover that Dumbo can fly, the circus makes an incredible comeback, attracting persuasive entrepreneur V.A. Vandevere (Michael Keaton), who recruits the peculiar pachyderm for his newest, larger-than-life entertainment venture, Dreamland. Dumbo soars to new heights alongside a charming and spectacular aerial artist, Colette Marchant (Eva Green), until Holt learns that beneath its shiny veneer, Dreamland is full of dark secrets.