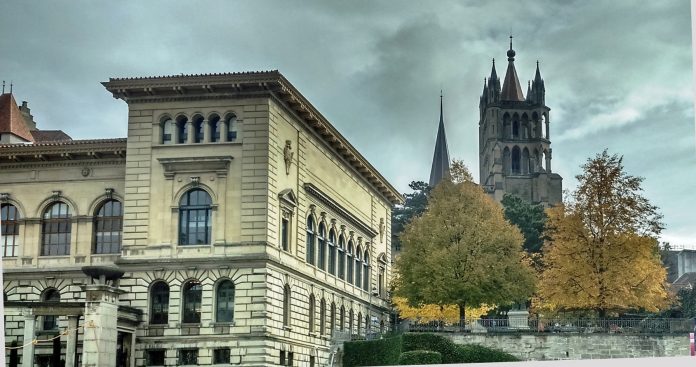 This post contains affiliate links and our team will be compensated if you make a purchase after clicking on the links.

The train ride from Zurich to the French-speaking city of Lausanne is a never-ending postcard of the beautiful Swiss countryside. The journey is filled with green meadows with grazing cows, rolling hills with old farms, ancient cities with historic structures and castles, and stunning views of the country's many waterways.
A friend and I recently took this journey and it is something we will not soon forget. The adventure began when we landed at Zurich Airport and used our Swiss Travel Passes to board the luxury train. The passes (www.swisstravelsystem.com/) are an all-in-one ticket for travel by rail, road and waterway throughout the country. They also get you into hundreds of museums as well as mountain railways and more.
The train ride to Lausanne is full of beauty and adventure
When the train pulled into Lausanne Station, we met local guide Christine Seuret, who showed us to our room at the Royal Savoy Hotel (www.royalsavoy.ch/en).
Dating from 1909, the Royal Savoy is an iconic structure in Lausanne. Overlooking Lake Geneva, the elegant, Art Nouveau-styled hotel has been a hideaway for the rich and famous since its inception. The Spanish royal family lived here in exile, and Thailand's king spent his youth here. I spent one night here and will never forget it.
Our luxurious room at the five-star hotel featured a balcony overlooking the lake and the historic city, a spacious living / sleeping area with king bed, large TV, and office station, free WiFi, mini-bar, hardwood parquet floor, a Nespresso machine, in-room iPad, and a plush bathroom with rain forest shower head.
The Royal Savoy Hotel has been a luxurious, lake-front retreat since 1909
After unpacking, we joined Christine for a walk around town. Lausanne is the second-largest city on Lake Geneva and the capital of the Canton of Vaud. The town is built on three hills, surrounded by vineyard-covered slopes, with Lake Geneva at its feet. Rising impressively from the opposing French lakeshore are the Savoy Alps.
Lausanne's old town is largely car-free, with cobblestone alleyways, sidewalk cafes, and ancient buildings
We began with a stroll through medieval old town, which is largely car-free and is highlighted by small cobblestone alleyways, sidewalk cafes, centuries-old statues and fountains and structures, old arched river bridges, mountain and lake vistas, and the Lausanne Cathedral.
Considered one of Switzerland's most impressive pieces of early Gothic architecture, the giant, stone sanctuary was constructed from 1165 onwards. It is the country's largest cathedral and has one of the finest stained-glass windows in Europe, dating from the 13th century.
The cathedral also boasts a night watchman, who every night since the 1400s has kept an eye on the city and shouted out the times between 10pm and 2am. At the top of each hour, he yells "C'est le guet, il a sonné dix, il a sonné dix…" (This is the night watch, the hour has struck…). I got to meet Simon Bhatt, one of a couple people who serve as "The Watchmen." He took me on a tour of tower and his perch, some 200 ft above the ground.
Lausanne's giant stone Cathedral was built in 1165 and is the country's largest
"I do this because I am from Lausanne and it gives me a chance to carry on this tradition in such an amazing place," says Simon, a part-time college student. "It feels incredible to do something in the exact same place that it has been done for over 600 years."
Before meeting "The Watchman," I met Francois Michel, who works with tourism for the Canton of Vaud. Francois took me to a local restaurant called Cafe du Grutli that is located in a building from the year 1340.
Cafe du Grutli specializes in local favorites such as fresh venison from the Alps
It is hunting season in the Lake Geneva region and fresh deer from the local Alps was on the Cafe du Grutli menu. I had a sampling of a local favorite called Saucisse a rotir de gibier des Grisons selon arrivage. In English this is handmade deer sausage from Grisons with Madiera sauce and cranberry jam. It was comforting and delicious.
After an awesome day in Lausanne, we retired to our room at the Royal Savoy and in the morning enjoyed an incredible buffet breakfast of fresh local fish, meats and cheeses in the hotel's dining room.
The lake views from rooms at Royal Savoy are memorable
In the morning we walked a couple blocks to the world-famous Olympic Museum (www.olympic.org/museum). Sitting on the shore of Lake Geneva, this incredible museum welcomes guests from around the globe who come to see Olympic memorabilia and hands-on exhibits, and learn the history of the Olympic Games, from the first ones in the summer of 1896 in Athens to the present day.
The Olympic Museum sits on Lake Geneva and tells the history of the Olympic Games
For more information visiting Switzerland and the Lake Geneva region, visit: www.myswitzerland.com/ or www.lake-geneva-region.ch For information on flying to Switzerland, visit: www.swiss.com