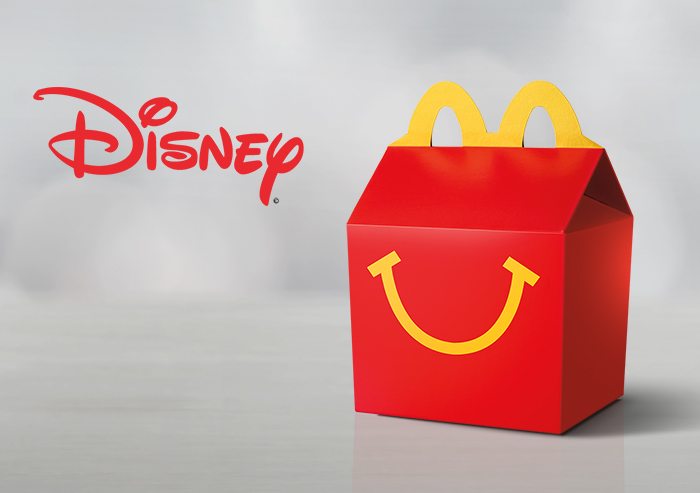 This post contains affiliate links and our team will be compensated if you make a purchase after clicking on the links.

McDonald's USA and The Walt Disney Company has announced a promotional alliance driven by McDonald's commitment to improve the nutritional standards of its Happy Meal menus. With this multi-year, non-exclusive agreement, Disney and McDonald's will collaborate to add more fun to family mealtime with Happy Meal cross-promotional campaigns in the United States for select movies from Walt Disney Animation Studios, Pixar Animation Studios, Disney Live Action, Marvel Studios and Lucasfilm. The promotional alliance will begin in June with Incredibles 2, which arrives in theaters on June 15, followed in the fall by Ralph Breaks the Internet: Wreck-It Ralph 2, which debuts in theaters November 21.
McDonald's recent "Commitment to Families" announcement is the latest in a series of customer-led changes that created new global nutrition criteria for Happy Meals, which will reduce calories, saturated fat, sodium and added sugar in many Happy Meal combinations. In June 2018, all Happy Meals offered on menu boards in the United States will be in line with Disney's industry-leading nutrition guidelines.
"McDonald's and Disney are two beloved family favorites and together with this alliance, we will create memorable moments for families," said Morgan Flatley, McDonald's USA Chief Marketing Officer.  "As we continue to build a better McDonald's, this relationship combines ingenuity in food and entertainment to encourage more balanced meal selections in our Happy Meals and inspire families in fun and innovative ways."
"McDonald's commitment to balanced Happy Meals allows our two companies to collaborate on new ways to bring the magic of Disney to McDonald's consumers," said Tiffany Rende, Senior Vice President, Corporate Alliances, The Walt Disney Company.
In 2006, Disney became the first major media company to establish nutrition criteria, associating its brands and characters with more nutritionally balanced foods. The guidelines, developed with national nutrition authorities and aligned to federal standards, promote the consumption of fruits, vegetables, whole grains, lean protein and low-fat dairy while limiting calories, saturated fats, sugars and sodium. Disney expanded the initiative in 2012 by introducing new standards for food advertising on programming targeted to kids and families. All food and beverage products advertised, sponsored, or promoted on Disney-owned TV channels where more than 25 percent of the audience is ages 12 and younger, and online platforms that are directed to children and families, are required to meet Disney's nutrition guidelines.
In addition to McDonald's recent nutrition enhancements, it has made ingredient improvements to popular children's offerings, including removing artificial preservatives from Chicken McNuggets, serving chicken that is not treated with antibiotics important to human medicine and sourcing milk from cows not treated with rBST for milk jugs.
Several other markets which follow the U.S. Happy Meal program will also participate in the promotional alliance announced today, and will be in line with Disney's nutrition guidelines, including: Puerto Rico, Aruba, Curacao, U.S. Virgin Islands (St. Thomas and St. Croix), Samoa, Suriname, and the Caribbean Islands (Dominican Republic and Trinidad).