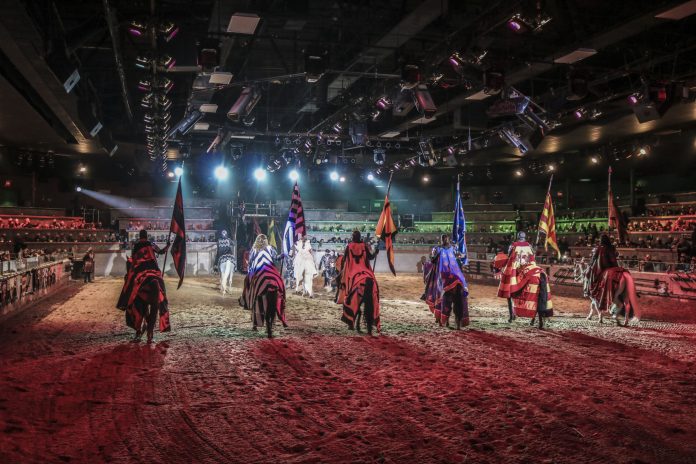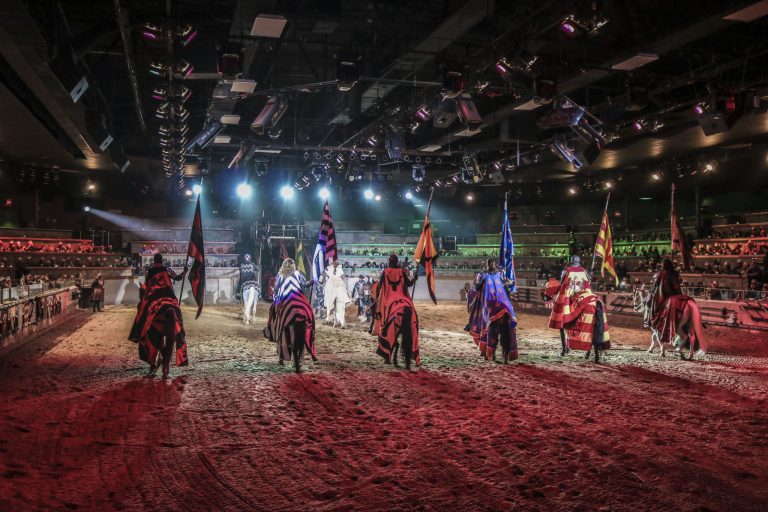 This post contains affiliate links and our team will be compensated if you make a purchase after clicking on the links.

Long live the queen!
Medieval Times has a new ruler, and she is taking the reigns in a big way to usher in a one of a kind experience fit for a new generation of royalty. The popular dinner show, set in the time of knights, chivalry, and glorious battle, has long been a staple and fan favorite. Founded in 1977, Medieval Times has entertained over 65 million guests across multiple continents and has featured intense battles, amazing stunts, and one of a kind performances that have kept people coming back for more for over three decades.
Going into a new era, the story of the show surrounds the former princess, now crowned queen. Taking the kingdom over from her now passed father, she must uphold the honor and legacy of her kingdom while keeping her provinces and knights in line. Coming together in a ceremony of pageantry and battle, each knight tests his might to have the honor of being the queen's protector and leading the kingdom's army.
The show creates unique challenges and an opportunity for women to take center stage in a genre that is traditionally male dominant. Jon Speirer, Medieval Times Senior VP stated, "We are now showing a woman fully in charge, a woman whose authority is sometimes challenged, but she quickly rises to the occasion as a strong leader, squelching opposition."
Set in Spain, a country famously known for powerful queens and female leadership, the story creates modern progression while still holding onto the historical accuracy and traditional storytelling needed to make the show a success.
It has been a painstaking process for the company to bring this new chapter to life, creating over 700 new costumes for the various castles around the world. Every horse, creature, and knight was adorned with new garb. Along with those costumes, 200 suits of armor, shields, and helmets were fabricated and made by hand for the new show. Preparing for the new stunts and performances, each team member went through three months of training and rehearsals.
While the troupe trained, a new score was composed by Doctor Daniel May. With previous work including "Everest" as well as partnerships with Sting and The Moody Blues, May completed the show's musical accompaniment with the help of lyricist Solomia Gorokhivska and the National Symphony Orchestra of Ukrraine. To go with the music, the effects department programmed over 300 new music cues, 500 lighting cues, and installed an impressive 256 color light system.
Every element of this new show was crafted from the ground up, giving a fresh perspective that is sure to impress. Take a look at some of the images of the new show below. There's plenty of excitement packed into each show. Whether it is your first visit or your 100th trip to the castle, there's definitely something new for everyone. Come take a look for yourself!
To learn more about the new show, ticket prices, and special offers, please visit http://www.medievaltimes.com/