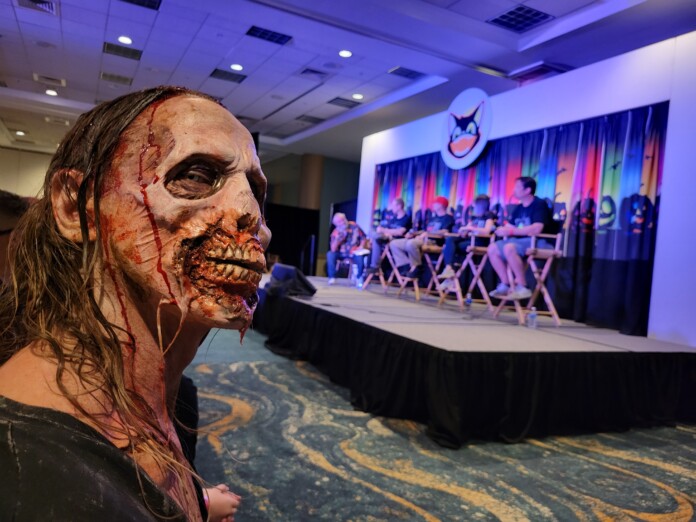 This post contains affiliate links and our team will be compensated if you make a purchase after clicking on the links.

Midsummer Scream has risen with vengeance to the Long Beach Convention Center dragging with it an onslaught of treats. Basking in the gory of horror decor of mementos, haunts, fashion, make-up appliances, booze, parties, art, and special announcements, this bigger-than-afterlife Halloween convention celebrates all manners of the spooky season in the middle of a sweltering July summer. And the fanatics couldn't be happier.
Exhibitors plotted their graves with everything from stickers, patches, banners, figurines, masks, clothing, planters, skulls, pumpkins, collectibles, and meet and greets with favorite film/TV actors and music composers.
The art gallery hung with despair original creations and throwback to a bygone but nostalgic era. Cosplayers put on their best for the special occasion. Specialty stages were constructed for fashion shows, puppeteers, balloon artists, storytellers, and more.
Art Gallery, Cosplays, and Shows Photo Gallery
The Hall of Shadows conjured up the supernatural in a dark and foggy realm of displays and condensed scare mazes to whet your appetite of sinister mayhem. Clever mashups such as "Trick 'r Treat" and "Halloween III" abound.
Hall of Shadows Photo Gallery
Universal Studios Hollywood returns with new announcements for the Halloween Horror Nights 2022. An exclusive first look premiere that attracts the most crowds for this popular panel. A reimagining of an Orlando haunted house, this new and original scare maze takes inspiration from the The Dust Bowl during the Great Depression of the 1930s. A mysterious force transforms anyone still left behind in a rundown community of lowly farmers into scarecrows.
John Murdy, Creative Director of the event, was especially keen on sharing a room designed with bird droppings in mind to scare the pants off guests. A tease for a new maze based on Hollywood glitz and galmor was hinted with a series of newspaper headlines. A Halloween Horror Nights panel would not be complete without a special guest, that being lead guitarist Slash of American hard rock band Guns N' Roses. John and Slash spoke about their collaboration of Slash providing original music for original Universal Studios Hollywood scare mazes from Clowns 3D and classic Universal monsters.
All in attendance were also treated to listening to sound baits of music soundtracks from those previous mazes. 2022 will be no exception as Slash's music style will be incorporated into Universal Monsters: Legends Collide. The story brings together for the first time Dracula, The Mummy, and the Wolf Man in a battle to end their respective curses. The feud is huge that it will span between Orlando and Hollywood Halloween Horror Nights. Orlando will design their setting in Egypt while Hollywood will take place in London.
Attention to detail can be observed with glowing amulets, box chests, beating hearts, and hidden surprises and nods to the creative team of the monster world. We're especially looking forward to the silt-walking Egyptian god Anubis with a wolf man head in place of a jackal. John Murdy also noted that many of the original Egyptian set pieces from the The Mummy movie film franchise will be reutilized for Universal Monsters: Legends Collide!
13th Floor Entertainment Group returns with announcements for three of their upcoming immersive projects for the Halloween season. Delusion will provide their signature experience that has grown a cult following since its debut. And continues to grow with each passing year.
Los Angeles Haunted Hayride cordially invites one and all to the town of Midnight Falls, circa 1985. Live performance from fan favorite Monte Revolta and his Band of the Living Dead rock out in the cemetery with their brand of undead humor and mischief.
The Trick-or-Treat scare maze returns permitting out-of-towners to ring the door bells of each monster house for a special trick or treat surprise. Bring out your dead as Midnight Mortuary: Evil Earth also returns awaiting another corpse. Replacing the roadside diner theme from the previous season, Laughter-house can't wait to tear you from limb to limb.
Perhaps the most perplexing of the company's lineup Shaqtoberfest. This all-new Halloween event takes over the former location of Queen Mary Dark Harbor. With it comes a family-friendly event during the day, but come night fall, the lights flicker on and the sounds turn eerie as scare actors roam free through the trick-or-treat trails transforming into an adult event.
Retired professional basketball player Shaquille O'Neal is said to make appearances on most nights, is heavily involved with development, have play-on words with his name, and be video projected and playing audio recordings of himself throughout the event.
17th Door is known throughout as the scare maze so terrifying, that all in attendance has to sign a release form before entering the experience. And for good reason. Electric shocks, shaving heads, crawling through tunnels filling with water, surrounded by hissing cockroaches, suffocation via plastic bag and vacuum, and near misses from a speeding vehicle. Many will ask if they have gone too far. And yet at the same time, did it go far enough and still have a fun time.
After a brief conversation with a local news crew that was doing a story on their scare experience, an idea sparked to reluctantly create their own reality TV show that reflected the unique practice of scarring. Not only does 17th Door have their own brand and style, but they could also translate that to a reality TV show under their control. And that's exactly what they did. Weaving through 6,500 hours of video footage, more than 6 months of hard work to plan, build, test, and operate a Halloween season, this low-budget production was able to complete a 14 episode season.
Each episode running 45-55 minutes. The team did it on their own with no professional video production background. Get a behind-the-scenes look at the creation of the 17th Door scare maze when Spook Show 17 airs September 28, 2022 on multiple platforms such as Amazon, Roku, iTunes, PlutoTV, TubiTV, and more.
Saturday night was capped off with an After Party in the Grand Ballroom. The dance floor was open with a live DJ playing favorite tunes, bars were open for drink orders, and games such as ping pong, air hockey, bean bag toss, and giant jenga were at the ready. A well attended social gathering.
To conclude the weekend event, the last major panel invited all your favorite music composers on stage to discuss their Halloween season stories and their experience creating horror for your ears. John Carpenter collaborator, Alan Howarth, gave a stunning live concert on the electric keyboard for those lucky enough to be in attendance. He was later joined by such other living legends like John Massari (Killwer Klownz from Outer Space), Richard Band (Re-Animator), and Chris Young (Hellraiser).
17th Door, Composers, and After Party Photo Gallery
If you missed out on all the fun, no worries, you don't have to wait another year to participate. From the team that brought you Midsummer Scream comes a new event later this winter. Season's Screamings will be held December 2-4, 2022 at the Pasadena Convention Center. Let the frights commence!