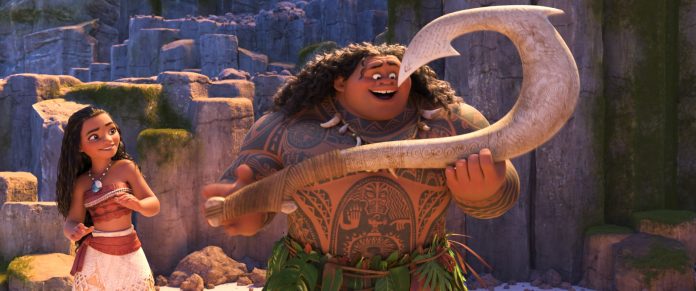 This post contains affiliate links and our team will be compensated if you make a purchase after clicking on the links.

The newest animated feature from Walt Disney Animation Studios is definitely making an island-sized splash and will surely be one of the biggest movies of the holidays.  MOANA is masterfully crafted from truly stunning imagery, an incredibly culture-filled score, to a strong message for any young child to look up to. It should be highly successful while hopefully not becoming as overly saturated in our society as its Frozen counterpart. An all-star, near legendary, line-up of writers and directors have teamed to bring to fruition a memorable Disney animated epic that will no doubt live-on in families homes for generations to come!
For those that know me, know that it was going to take a lot to win me over with this newest Disney tale.  I am an avid Polynesian tiki pop-culture enthusiasts, and while I am not hardcore in my fandom of all things Hawaiian, I sure couldn't help but "fangirl" when I heard a future Disney film was going to be based on Hawaii gods and culture. This knowest to me created some concerns that Disney could miss the mark here, but fortunately I was proven wrong 100 times over.
MOANA embodies the spirit of Hawai'i and the culture of its people. There is no love story, no damsel in distress, no… instead we are casted sail with a strong young woman named Moana (voiced by Auli'i Cravalho) that must seek a demigod Maui (Dwayne Johnson) in order to gain the help needed to save her village. This mythological, stouthearted journey not only packs an action-filled adventure through some wonderful new Disney music, but also seeks heart and ultimately the heroins identity.
Directed by the renowned filmmaking team of Ron Clements and John Musker ("The Little Mermaid," "Aladdin," "The Princess & the Frog"), and joined by the likes of Disney mainstays like Don Hall and Chris Williams, MOANA packs a strong crew yet still able to feature music by Lin-Manuel Miranda, Mark Mancina and Opetaia Foa'i.
Those fearing too much of a Hamilton influence from the now wildly successful Lin-Manuel Miranda, don't be. While the musical numbers are unmistakably filled with Lin-Manuel's brand of rhythmic lyrics and sound, there are only a couple of In The Heights/Hamilton branded raps, and they are most welcomed! Dwayne Johnson's solo "You're Welcome" starts cringeworthy but turns into a catchy tune with a solid Lin-Manuel-ified rap that I am sure we'll be hearing for the rest of our lives.
Being thrown into the Disney animated musical genre, the movie is light on songs but heavy on a big Hawaiian influenced score. There's still the out-of-place bizarro song, "Shiny", and the abstract-styled happy-go-lucky song to stay true to successful formulaic 90s Disney film. However, the big takeaway song of movie that shares the aspirations of hero, "How Far I'll Go" is truly breathtaking and could compete with the best of the 'Disney Decade' or even… "Let It Go".
Apart from the music, the film is absolutely gorgeous from each and every scene. It seems to be another CGI feat, but then again, every animated film seems to keep topping itself. The intense wild seas adventure is second to none.  They really outdid themselves here technologically. Some may not come to notice the "cinematography" and direction, but every shot and angle are well-orchestrated with a momentum soundtrack helping make this film larger than life.
Spending much of the movie solely with Moana and Maui, these two had to hold strong with long interactions along with a little help from a possibly overused sidekick chicken.  Much of the humor is held a little dependent on this character, Heihei, but he definitely has his moments. Dwayne Johnson has several great oneliners, even though the writers insisted on a terrible Twitter joke that you may cringe, but I dare you to hold back a chuckle.
It's all about Moana though, right?  A little stubborn, a little afraid, but a whole lot of heart for her people, Moana is one of the strongest "Disney Princes", ever.  Her strong-willed personality and desire to continue to do what's right all while not in search of some Prince creates a perfect role model for the millions of young girls, and boys, that will being see this moving for many years to come.
MOANA is solid, well-paced, and most importantly, attention-grabber for your little ones through its entirety.  It's exciting to see Disney continuing in the right direction. The success of their recent animated films and clear passion of their filmmakers should help create a new Disney Decade or perhaps, a dynasty.  Be happy we are living in it! I hope you get to share this new classic with friends and family this holiday season. Keep our "island" in your mind.