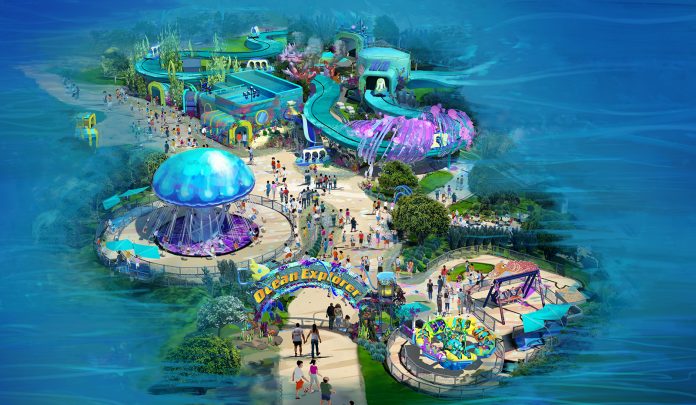 This post contains affiliate links and our team will be compensated if you make a purchase after clicking on the links.

The next generation sea-life experience arrives for this generation at SeaWorld San Diego.
Forging a futuristic vision for animal lovers to experience the dazzling world of creatures beneath the waves that few can ever witness – SeaWorld San Diego will unveil the largest attractions' debut in its history.
And millions the world over who ponder the ever-changing and largely unexplored underwater universe that envelopes more than 70 percent of the earth, won't be disappointed.
"What we've done is gather some of the world's most distinctive aquariums, ocean exhibits, and oceanographic exploration experiences and fused them with the latest advances in technology," said Brian Morrow, SeaWorld's vice president of theme park experience and design. "The result is what we think is the most unique way to experience the mysterious creatures that dwell in a submerged universe most will never see."
The three attractions debuting this summer represent the highest level of investment since the world-renowned park's opening more than half a century ago.
Ocean Explorer will immerse families in an underwater world of deep-sea discovery. This extraordinary new attraction will combine multiple aquariums, exciting rides and digital technologies designed to engage park guests in an experience centered on exploration and adventure.
Check-Out this teaser Video:

Submarine Quest, the attraction's signature ride, is an interactive adventure intended to encourage guests to explore and act to protect wildlife in the future. This three-minute, digitally enhanced experience boasts the world's first use of "smart-play" technology enabling riders to guide their mission of oceanic exploration.
Climbing out of their specially designed exploration mini subs, guests will then roam one-of-a-kind aquariums, some featuring 360-degree viewing experiences enabling younger guests to enter a splendid saltwater world without getting wet while being awed by many of the mightiest marine animals on earth. Among those are the rarely seen giant Japanese spider crab, the world's largest arthropod; dozens of slithering eels lurking in the shadows; and imposing giant Pacific octopuses spying with black-sapphire eyes from their rock-encrusted caves.
Also debuting this summer is the all-new, inspiring Orca Encounter. It represents an important evolution of how SeaWorld guests will experience killer whales. Presented in a documentary-style format featuring a three-story, first-of-its-kind infinity screen, Orca Encounter features state-of-the-art integration of verbal and visual storytelling.
"We are fortunate to be able to share these magnificent creatures," said Morrow, "their social structures and communication, their physical attributes and hunting skills, and their unique relationship with mankind."
Orca Encounter combines a live orca presentation in a most natural setting complete with a rugged coastline backdrop featuring towering pines and picturesque waterfalls with an extraordinarily enhanced and augmented digital environment. The result is an astonishing learning experience that will engage guests on an unprecedented educational and inspirational level seen nowhere else in the world.
Capping off SeaWorld San Diego's spectacular new attractions will be Electric Ocean, the only nighttime experience of its type in the United States. Electric Ocean will transform the entire above-the-ground park to the look of the deep bioluminescent ocean below.
"When the sun goes down, the vibrant colors of the world's oceans are going to come up," Morrow said. "Big time." The entire SeaWorld park under the nighttime stars will be re-imagined as a place where guests will feel like they are actually walking through moving currents of the undulating ocean.
New entertainment showcased in ways never before seen will surround the guests—ranging from a school of neon-like fish passing by as guests stroll through the park to a dance club seemingly pulsating in the midst of life-like florescent coral reefs to exotic shopping opportunities to cirque-like performers in specially outfitted LED suits, to acrobats, to gravity-defying aerialists and futuristic power glide stilt walkers mimicking the movement of darting denizens of the deep.
Marilyn Hannes, SeaWorld San Diego's park president said, "We are incredibly excited about bringing our amazing visions of the future to our guests today.
"These extraordinary new attractions not only ratchet up the fun and exciting atmosphere our guests have come to love and expect at SeaWorld, but maintain our company's focus on animals," she continued. "We are thrilled to entertain and also inspire current and future generations of people to take action to help protect wild animals and wild places.