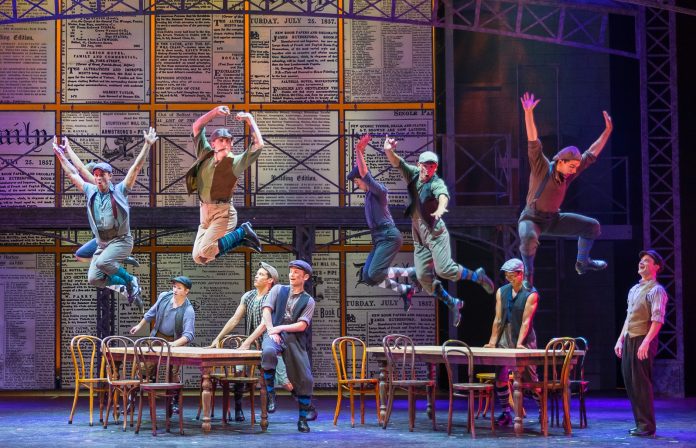 This post contains affiliate links and our team will be compensated if you make a purchase after clicking on the links.

"Seize the Day!"
Disney's musical smash hit, Newsies, has kicked off at the La Mirada Theatre for the Performing Arts, bringing the excitement and spectacle of Broadway to Southern California in a unique, small town setting. The popular stage adaptation of the 1992 film is the latest in a series of traveling shows being hosted by the local venue.
The play features Alex Prakken as "Jack Kelly," Beth Stafford Laird as "Katherine," Josey Montana McCoy as "Davey," Austyn Myers as "Crutchie," Paul Schoeffler as "Joseph Pulitzer," Daebreon Poiema as "Medda Larkin," and Travis Burnett as "Les." The Ensemble will feature (in alphabetical order); Steven Adam Agdeppa, Tatiana Monique Alvarez, Zach Bez, Michael Brian, Doug Carfrae, Patrick Cragin, Steve Gagliastro, Marc Ginsburg, Kyle Goleman, Jesse Graham, Brandon Halvorsen, Michael James, John Massey, Andre Darnell
Myers, Nate Odell, Katie Perry, Tanner Richins, Samuel Shea, David Smith, Vinnie
Smith and Chris Villain.
Every moment of Newsies is breathtaking, wildly entertaining, and sensational. Alex Prakken's performance is gold, deserving the highest possible praise for his portrayal as Jack. The rest of the ensemble steps up to the challenge, bringing the best that Broadway has to offer to Orange County with fun dance numbers, witty one liners, and plenty of personality. Alan Menken's legendary music is brought to life with a full orchestra that holds nothing back, bringing every audience member right into the fold of each and every note. For those who haven't seen the show before, this is a fantastic opportunity. It's top notch showmanship and spectacle that will not disappoint.
The venue will also be special showings that will feature open captions, ASL interpreters, and special cast talkback sessions. The open captioned performance will be on Saturday, June 16th at 2:00 PM while the ASL interpreted performance will be held on Saturday, June 23rd at 2:00 PM. Talkback sessions will be held on Wednesday June 6th, and Wednesday June 20th. For anyone interested in spending sometime with the cast and creative team behind Newsies, this is a one of a kind offering that shouldn't be missed.
Newsies runs through Sunday, June 24, 2018 with performances from Wednesday through Sunday. Here's a look at the full schedule below!
Wednesdays/Thursdays: 7:30 PM
Fridays: 8:00 PM
Saturdays/Sundays: 2:00 PM and 8:00 PM.
Special Additional Performance on Friday, June 22nd at 1:00 PM.
Ticket prices will range from $20-$84, ensuring everyone can experience the Broadway hit with flexible options. Tickets can be purchased at the theater's website, official box office, or by calling (562) 944-9801/(714) 994-6310. Student, Senior, and group discounts will be available, with prices subject to change for the entirety of the performance.
In addition to the theater's regular show season, the theater produces a wide range of children's series, live concerts, and other special events throughout the year.
Make sure to seize your chance to see Newsies!