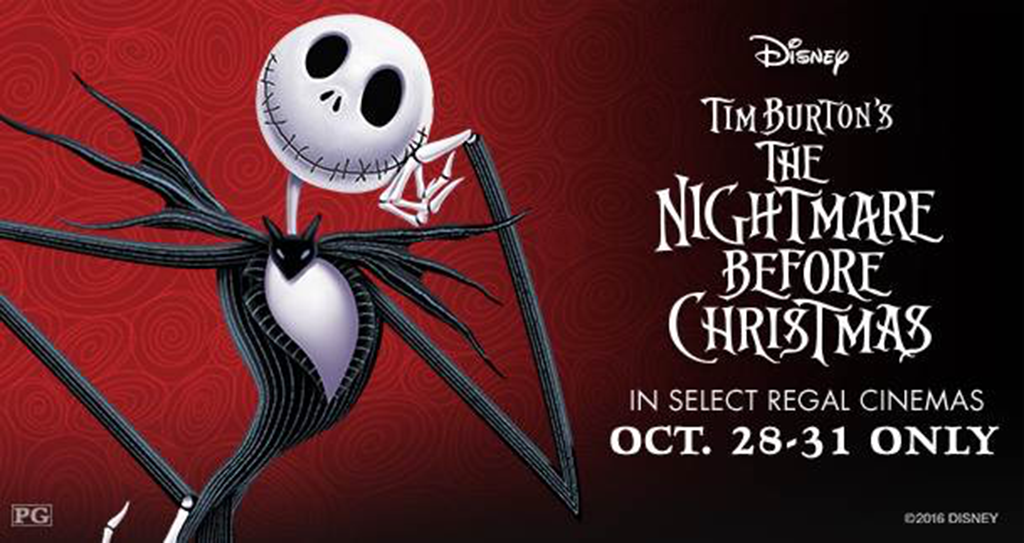 This post contains affiliate links and our team will be compensated if you make a purchase after clicking on the links.

This Halloween weekend, Celebrate with Jack Skellington, Sally, Oogie Boogie and more as Disney's beloved classic THE NIGHTMARE BEFORE CHRISTMAS returns for a limited engagement exclusively in over 200 Regal cinemas locations nationwide! Now is your chance to see this Classic Disney movie Friday, October 28th – Monday, October 31st.
The film follows the misadventures of Jack Skellington, Halloweentown's beloved pumpkin king, who has become bored with the same annual routine of frightening people in the "real world." When Jack accidentally stumbles on Christmastown, all bright colors and warm spirits, he gets a new lease on life – he plots to bring Christmas under his control by kidnapping Santa Claus and taking over the role. But Jack soon discovers even the best-laid plans of mice and skeleton men can go seriously awry.
Tickets are now on sale at select Regal theaters. Participating theaters include locations in Alaska, Arkansas, Arizona, California, Colorado, Delaware, Florida, Georgia, Hawaii, Idaho, Illinois, Indiana, Kansas, Kentucky, Louisiana, Massachusetts, Maryland, Minnesota, Missouri, New Hampshire, New Jersey, New Mexico, Nevada, New York, North Carolina, Ohio, Oklahoma, Oregon, Pennsylvania, South Carolina, Tennessee, Texas, Virginia and Washington. For tickets and information, visit: http://regmovi.es/tnbc2016.