This post contains affiliate links and our team will be compensated if you make a purchase after clicking on the links.

Oceanside is more than a classic California beach town with a groovy surf vibe and a walkable downtown. The city is also full of history and fascinating architecture, while also boasting eclectic restaurants, boutique hotels, exciting waterfront adventures and more.
I took a recent trip to the city and had the opportunity to see it from different angles and speeds. My adventure included a walking tour, a moonlit kayak paddle, a cruise in a Batman-type car, and fat tire electric scooter.
My getaway began at the newest, yet oldest hotel in town, The Fin (www.thefinhotel.com). Located on Coast Hwy, near the iconic Oceanside Pier, the property originally opened in 1927 as the Keisker and was one of the first hotels in Oceanside. In May 2018 it reopened as The Fin, a boutique hotel blending Oceanside history with modern surf culture. The 27-room property retains much of the building's original character including multi-colored, mosaic tile flooring in the lobby, a grand wooden-railed staircase, elegant Tiffany window, and a distinctive, 1920s architectural profile.
My standard King Room at The Fin was modern and efficient, with a 49-inch HDTV, free Wi-Fi, Keurig coffee maker, microwave, minifridge, separate toilet and shower, occupancy sensor lighting, alarm clock with Bluetooth speaker and a partial ocean view.
Once unpacked, I joined friends for lunch at Saint Tropez Bistro (www.sttbistro.com). Set in a 130-year-old, yellow Victorian house that has become an Oceanside landmark, the eatery serves up Euro-California cuisine in a charming, intimate setting, with creaky hardwood floors and tales of ghosts.
Our lunch included delicious veggie ratatouille with zucchini, eggplant, red bell pepper, and red onion in tomato sauce; baked quiche with spinach; and smoked salmon with goat cheese, pesto, and red onion. While eating, we met Rocio the manager, who told about all about the interesting history of the house/restaurant.
After lunch, we explored the town on foot. Part modern, part retro, Oceanside boasts an exciting and walkable downtown lined with historic structures housing eclectic shops, restaurants, museums, breweries, barbershops, and one of California's most beautiful civic centers. The latter, designed by Architect Charles Moore, is a group of white buildings with arches and courtyards, surrounded by fountains.
A highlight of the town is the "Top Gun" house, the cottage made famous in Tom Cruise's 1986 fighter pilot movie. The Queen Anne Victorian residence was built in 1887 and is one of the oldest houses still standing in Oceanside. It located across from the 1,942 ft-long Oceanside Pier, one of the longest wooden piers on the West Coast.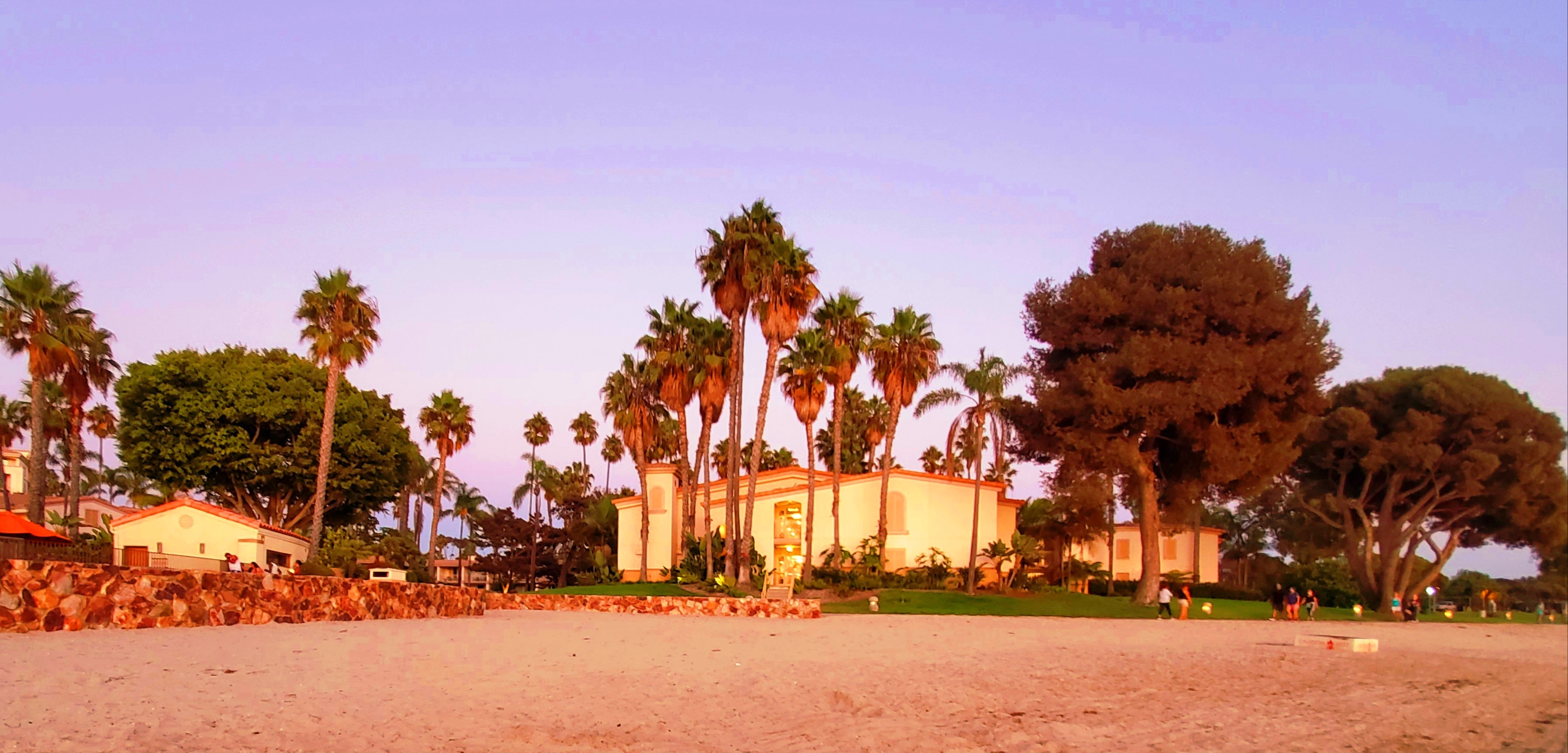 My next stop was the California Surf Museum (www.surfmuseum.org). Celebrating the history and lifestyle of surfing, the museum showcases exhibits such as "Courageous Inspiration," which profiles surfer Bethany Hamilton; and "China Beach," which highlights surfing during the Vietnam War. The place also displays numerous popular surfers and the boards that made them famous, including Bethany Hamilton's shark-bitten board.
Back at The Fin Hotel, I relaxed before walking across the street for dinner with friends at Masters Kitchen & Cocktail Restaurant (www.mastersoceanside.com). Located in a reinvented, industrial-inspired space once used as an auto drag racing shop, the restaurant serves craft cocktails and exciting, unique food. Here we met Chef Darrell Campbell and sampled some of his creative and tasty dishes.
Our culinary journey featured specialty cocktails, incredible vegan cheeses, homemade pickled vegetables, Scottish Salmon, Italian speck prosciutto, Calabrese spicy salami, black truffle salami, and beef bresaola. For dessert, we devoured flourless chocolate cake, with blood orange creme fraiche and Cyclops Farms sstrawberries
After dinner, we drove to Oceanside Harbor (www.oceansideharborvillage.com) and embarked on a guided full moon Kayak tour. The nocturnal paddling sessions take place on full moon weekends during warmer months and allow visitors to revel in the beauty and romance of Oceanside's quaint harbor under a moonlit sky. Tours include kayak, paddle, life jacket, headlamp and a knowledgeable guide who will prepare newbies and experienced kayakers.
Our paddle was a wonderful, serene trip across calm, moonlit water, that took us past a herd of barking seals and sloops filled with million-dollar yachts, old junkets and the twinkling lights of the Harbor Village.
The next morning I drove to Oceanside Municipal Airport, where I Kurt, founder and owner of Waverider Helicopter Tours. A Coast Guard veteran and a dual-rated commercial pilot in helicopters and airplanes, Kurt loves to show people Oceanside by land and air. His company specializes in helicopter tours of the beautiful beaches and captivating backcountry of San Diego County, coastal Orange County, and Temecula Wine Country. Tours range from 10 minutes to over an hour. The Robinson R44 helicopter seats four and each passenger gets a Bose noise-canceling headset to listen to the pilot and talk while flying.
The company is now taking reservations for its Holiday Light Tours, which offer a bird's eye view of San Diego's coastal light displays along the coast from Oceanside to Del Mar. The 30-minute light tours run December 8 through January 1. For more info call (760) 691-9144 or visit: www.waveriderhelicoptertours.com
Waverider also rents futuristic three-wheeled cars called Polaris Slingshots. During my ride in the space age convertible, I and Kurt cruised down Coast Hwy by the beach and pier, listening to the Beach Boys and turning heads. If you like flashy cars, with high-powered engines and jet-like feel, this is a great way to see Oceanside.
The last adventure on my tour of Oceanside was a ride to Mission San Luis Rey in an electric, Fat Tire scooter provided by Ride O'side (www.rideoside.com). The 2018 scooter models, like the one I rented, have a 20Ah battery and a top speed of 20 miles per hour. It includes Bluetooth for listening to cell phone music, boasts 18"x 9.5" fat tires for added stability, and a front hydraulic shock that yields an unbelievably smooth ride.
My 13.9-mile ride to Mission San Luis Rey began near Oceanside Pier, where I picked up the San Luis Rey Bike Trail, a Class 1 bicycle trail completely isolated from motorized traffic. Along the way, I past memorable natural scenery and a variety of bird species while following the San Luis Rey River. At the Mission, I opened my sack lunch and read about its history.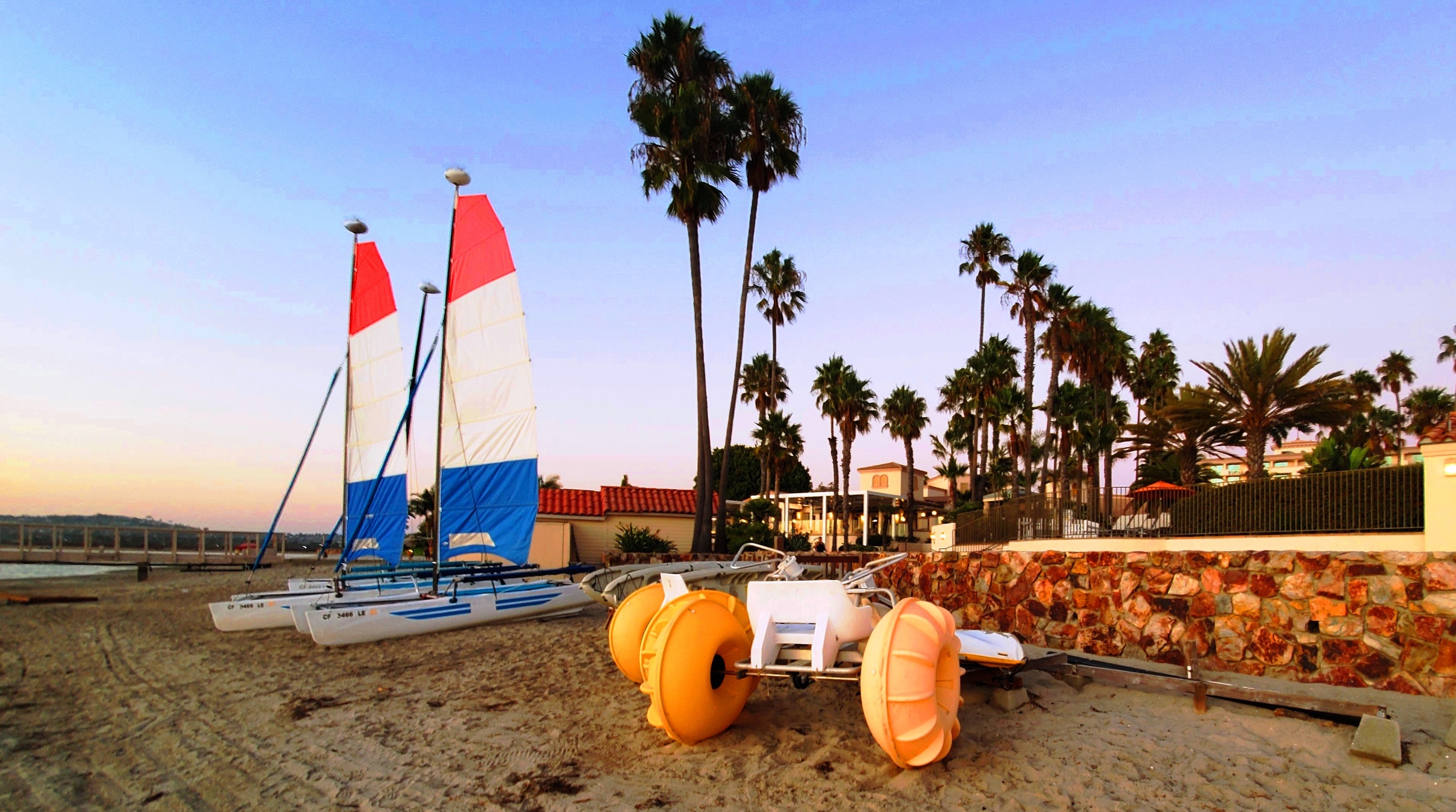 The largest of the 21 California Missions, Mission San Luis Rey was built in 1789. Its grounds feature hand-carved wooden doors, bright and colorful hand-painted walls and murals, and a mixture of the Classical and Baroque reredos.
For more information on visiting Oceanside, visit www.visitoceanside.org. For more information on staying at The Fin Hotel, go to: www.thefinhotel.com