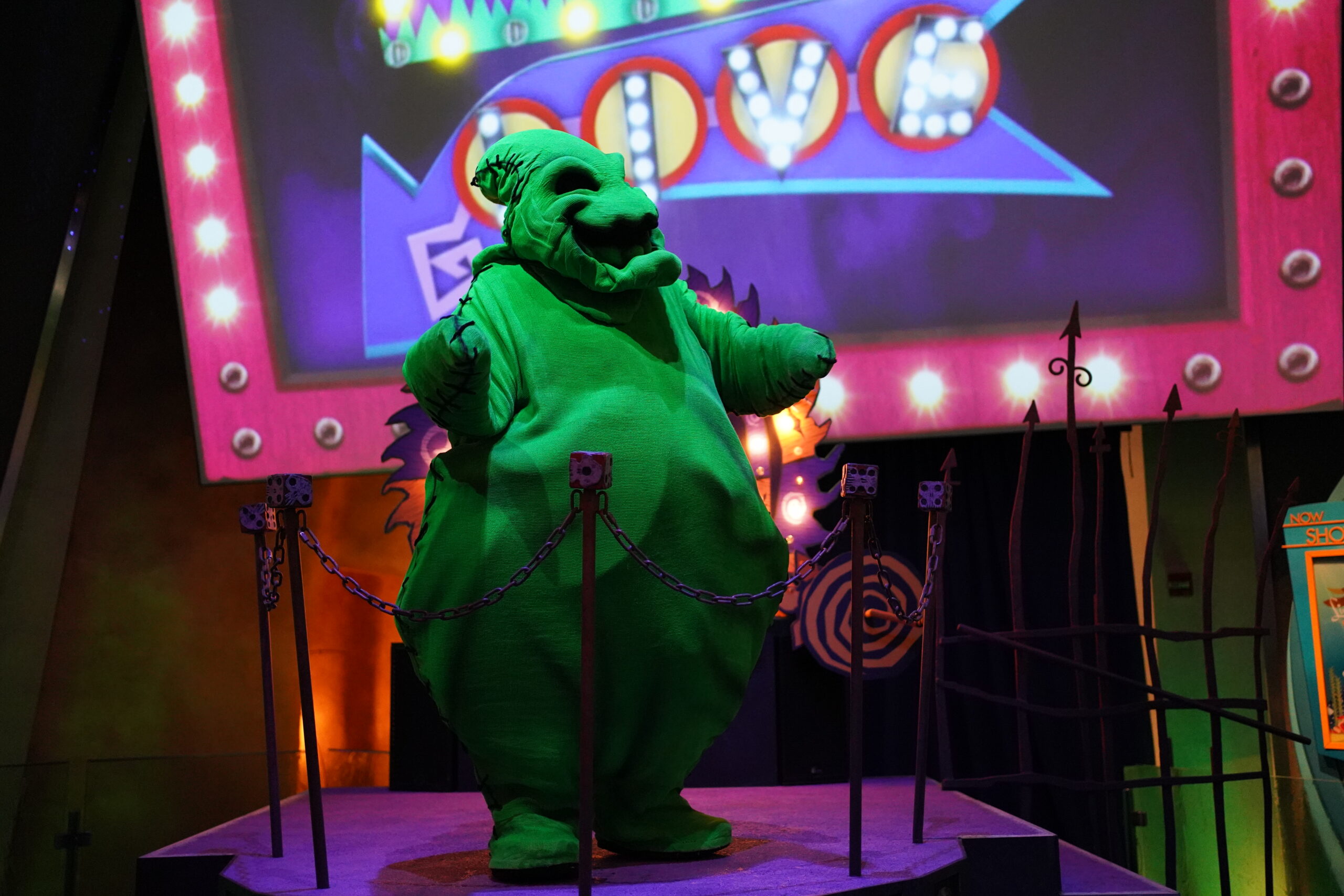 This post contains affiliate links and our team will be compensated if you make a purchase after clicking on the links.

The Oogie Boogie Bash has returned to Disney California Adventure after taking a year off for reasons we don't need to explain. This reincarnation of the amazing Halloween party has so much to offer – your night will be filled to the brim with spooky happenings!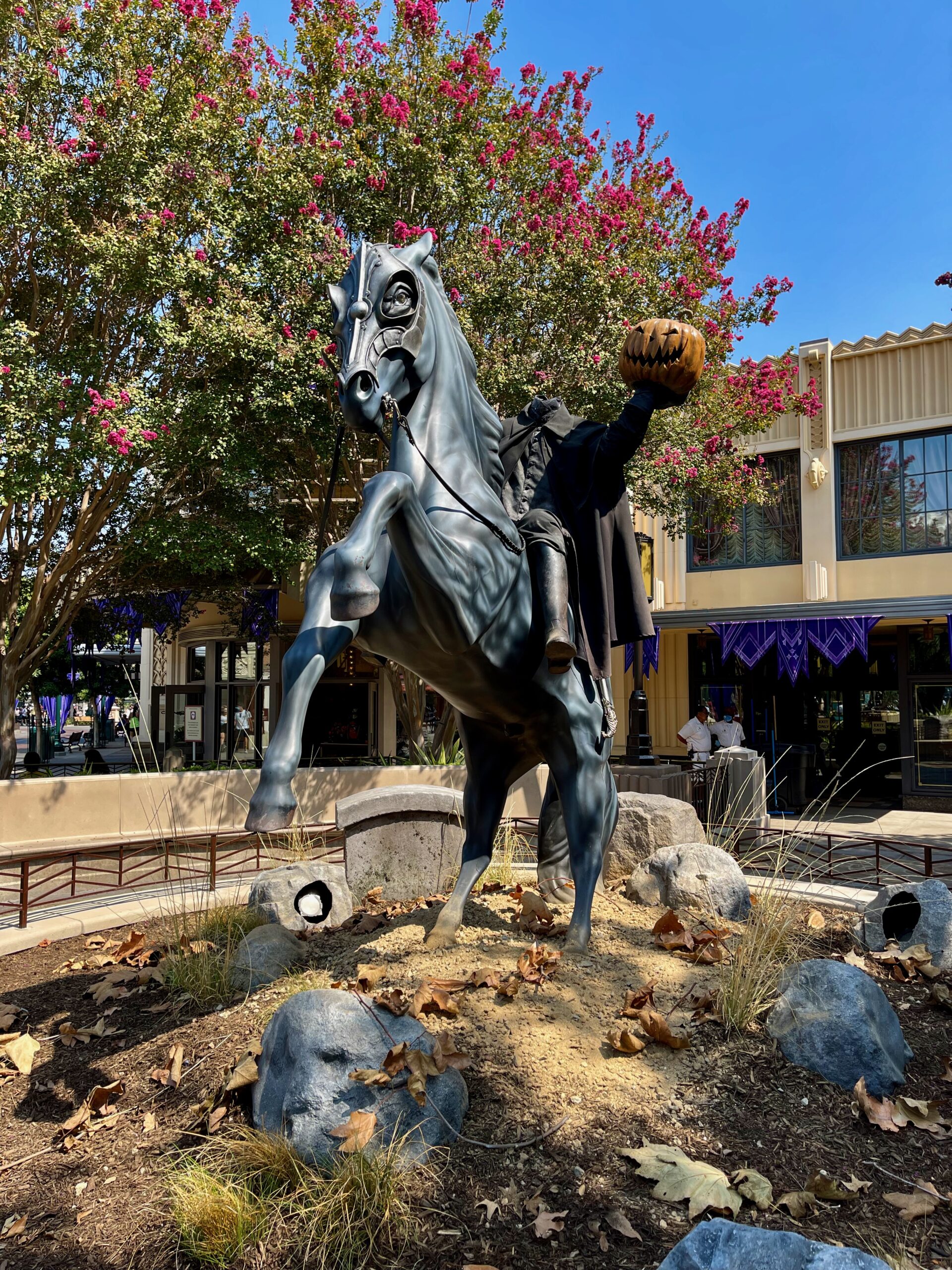 Arriving at the Halloween After Hours Party early is recommended as your ticket to the event will allow early access to the park at 3 pm while the real festivities will not occur until 6 pm. This will allow you to grab a bite to eat or experience an attraction or two before the villains take over the park. This separately ticketed event lasts until 11 pm allowing you plenty of time to explore all of the offerings and walk away with copious amounts of candy!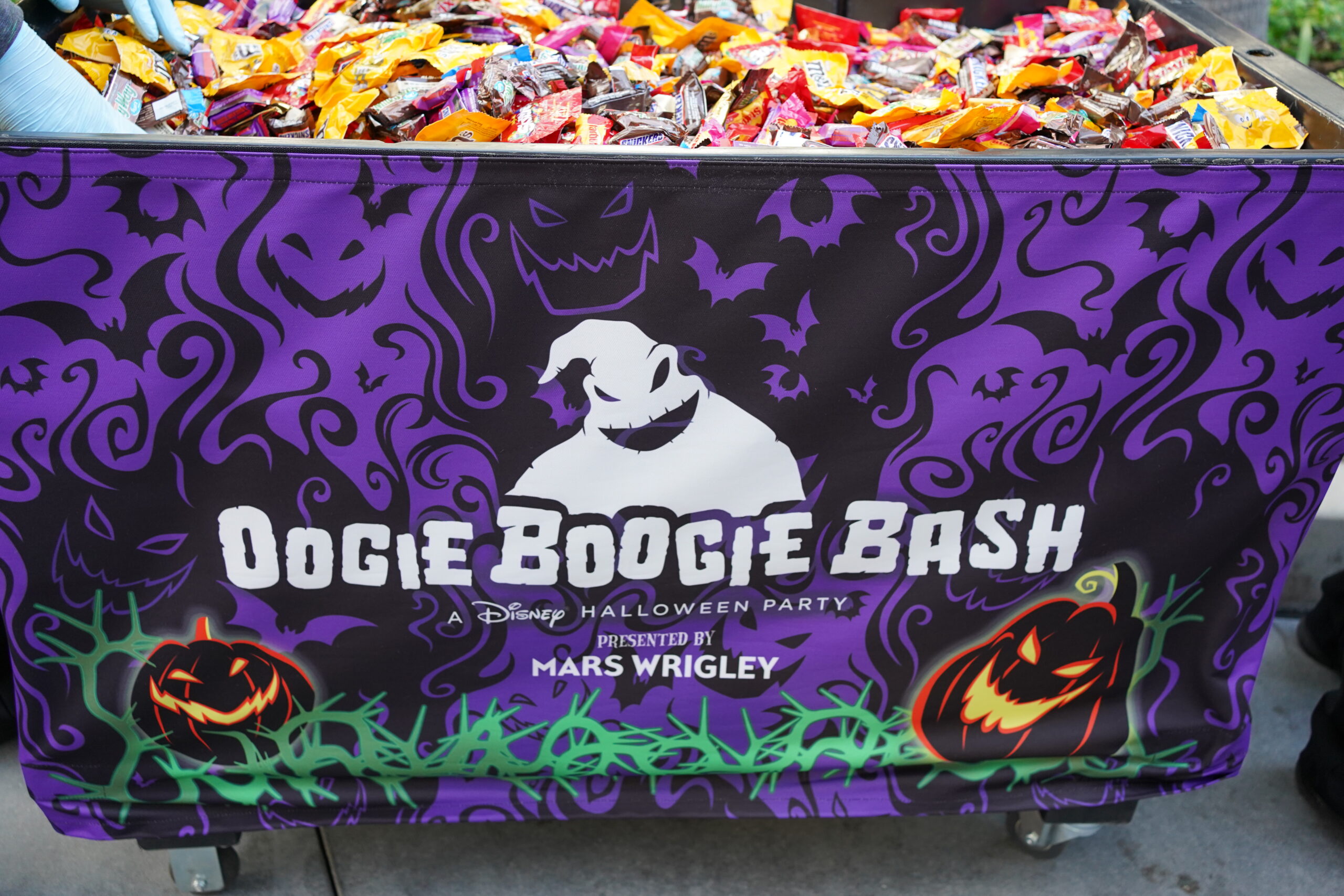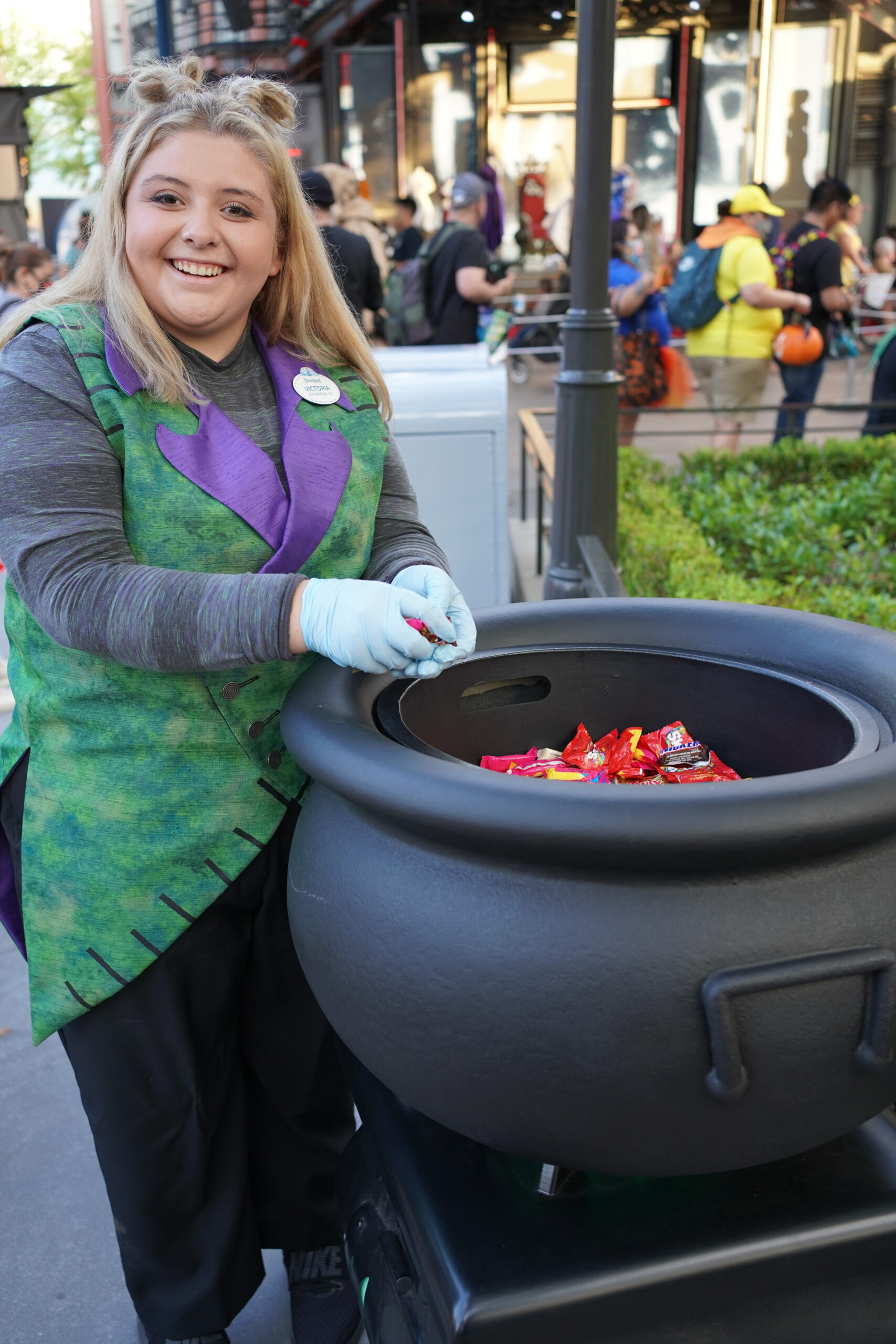 If you are looking for a good meal before your excursion throughout the park, make sure you snag some reservations at the Wine Country Trattoria where you can request to have the Oogie Boogie Dining Package for $55 per adult or $40 for children. If you are familiar with the World of Color Dining Experience, this is very similar to a three-course dinner which also includes a specific reserved area for the Frightfully Fun Parade (More on that below).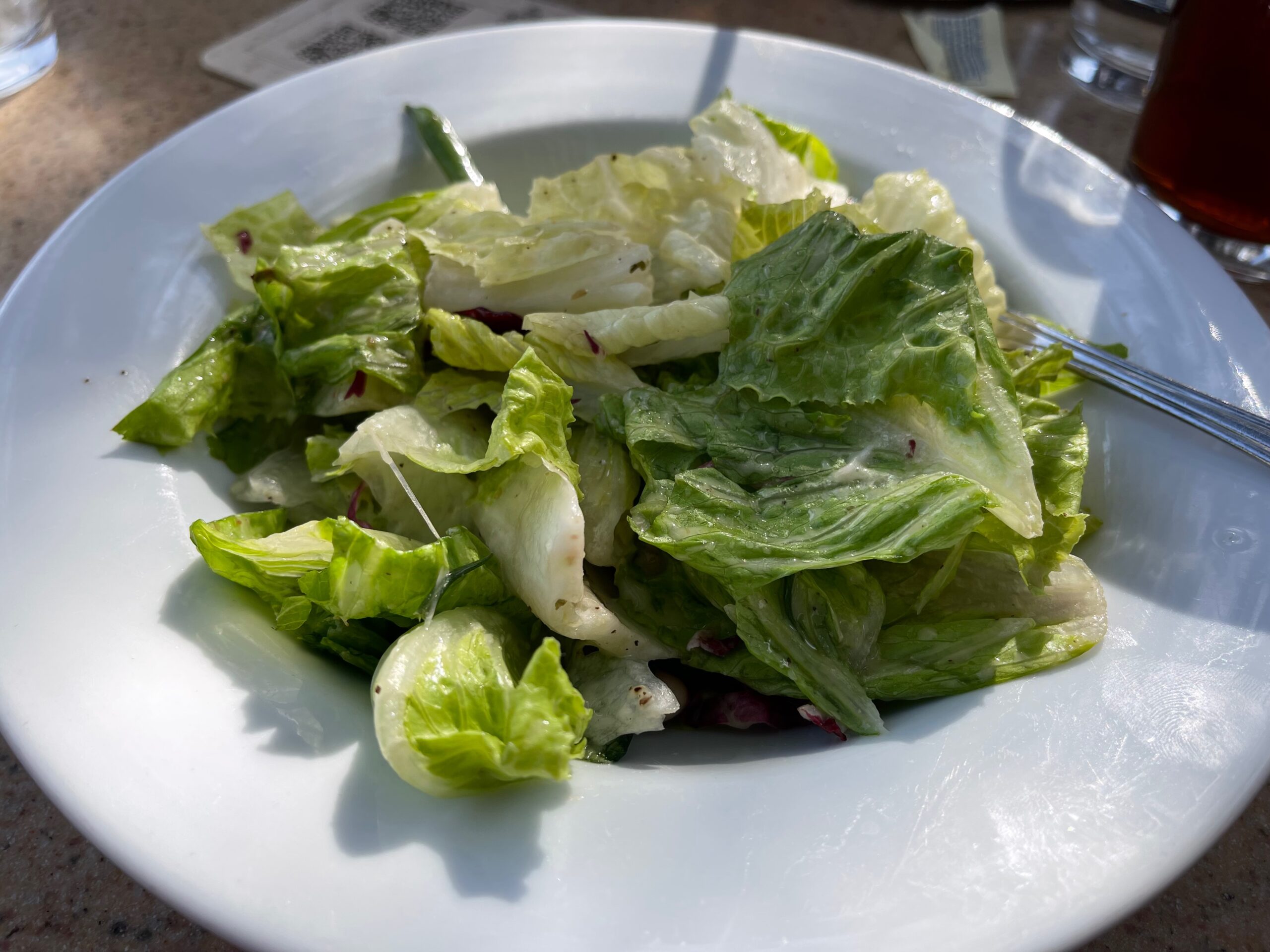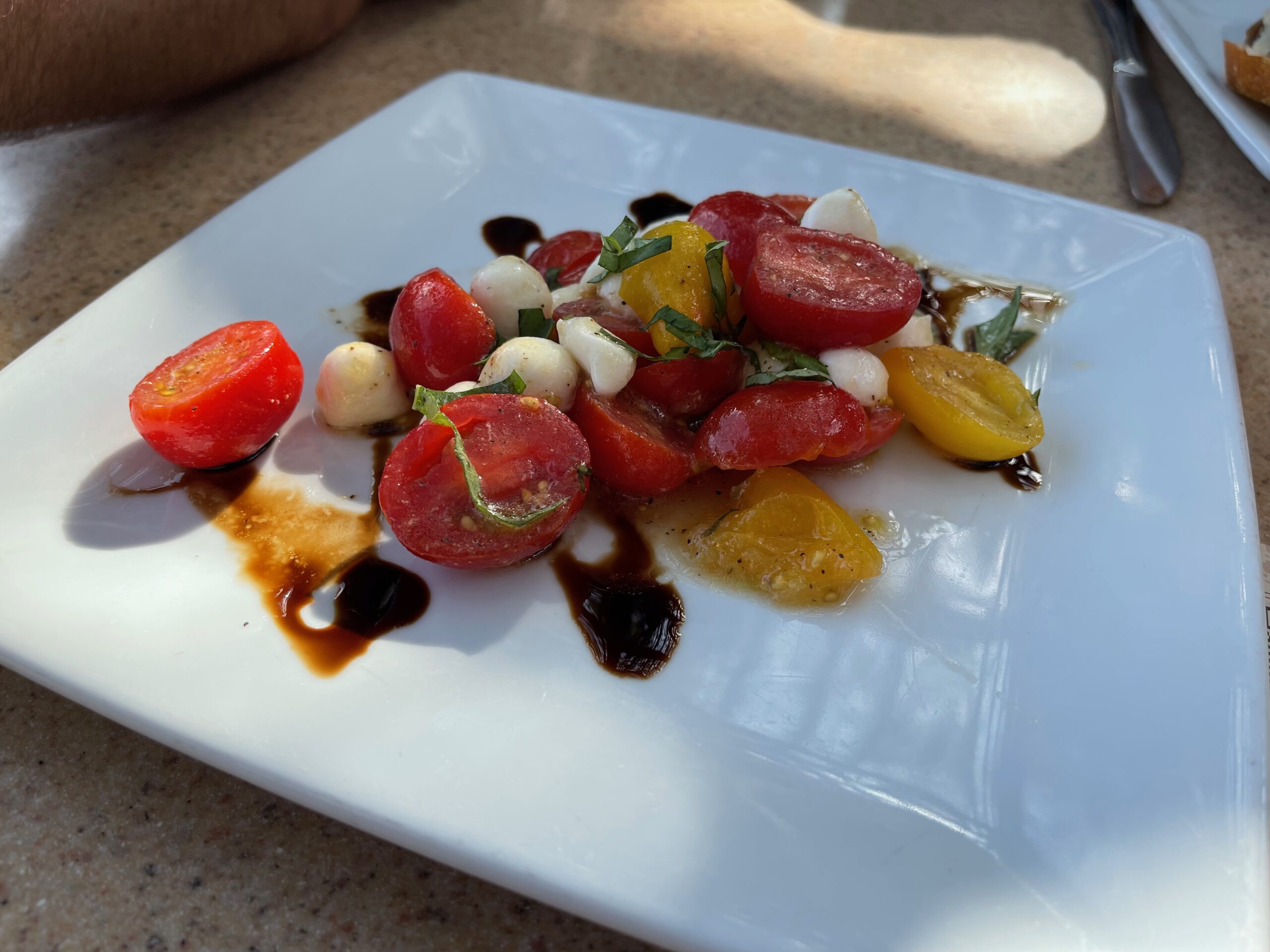 Our group had several options from the menu which included our starters – Salad or Italian Wedding Soup. You could also upgrade your starter for $4 more and get the classic Caprese Salad or Rustic Bruschetta.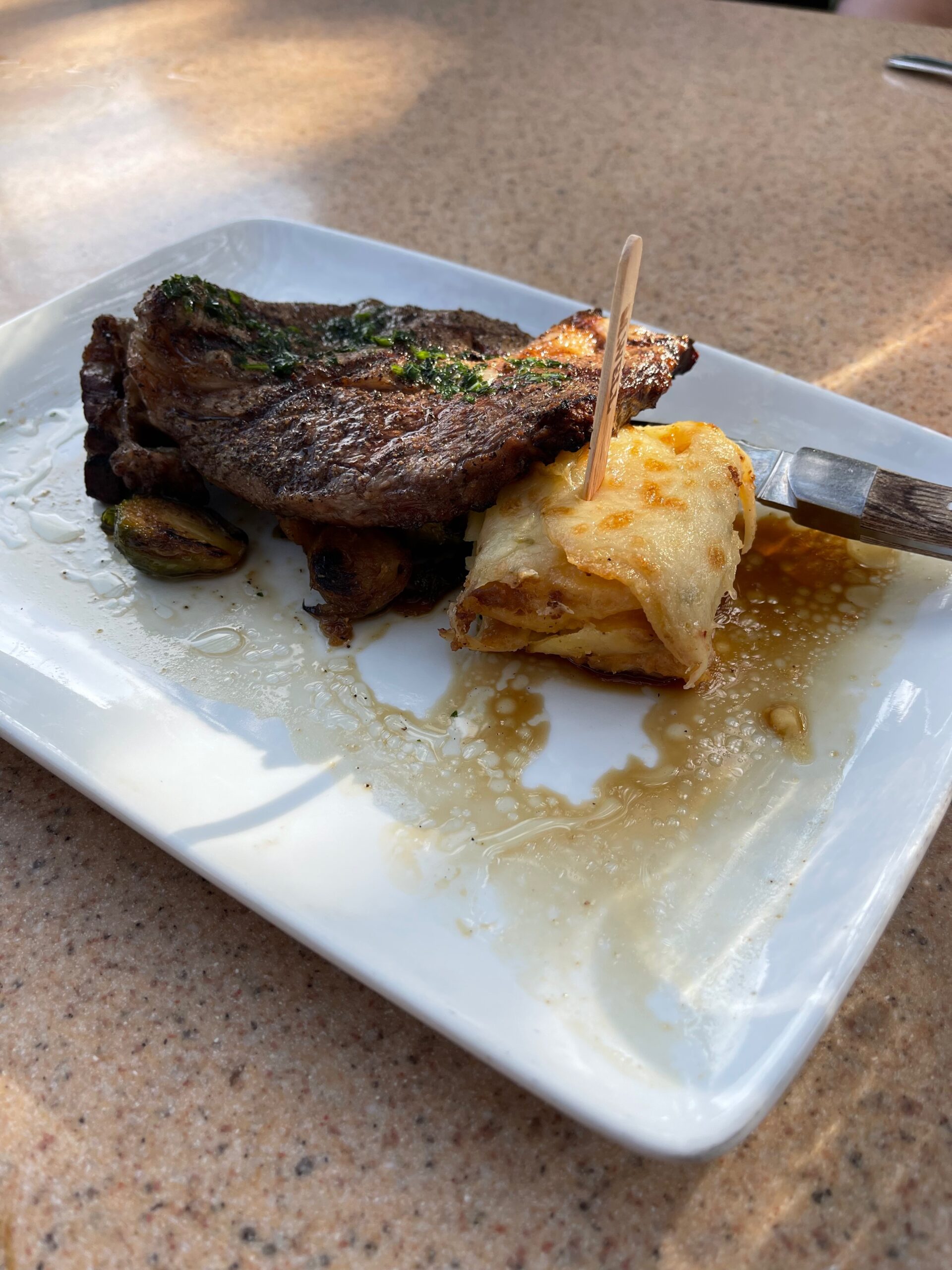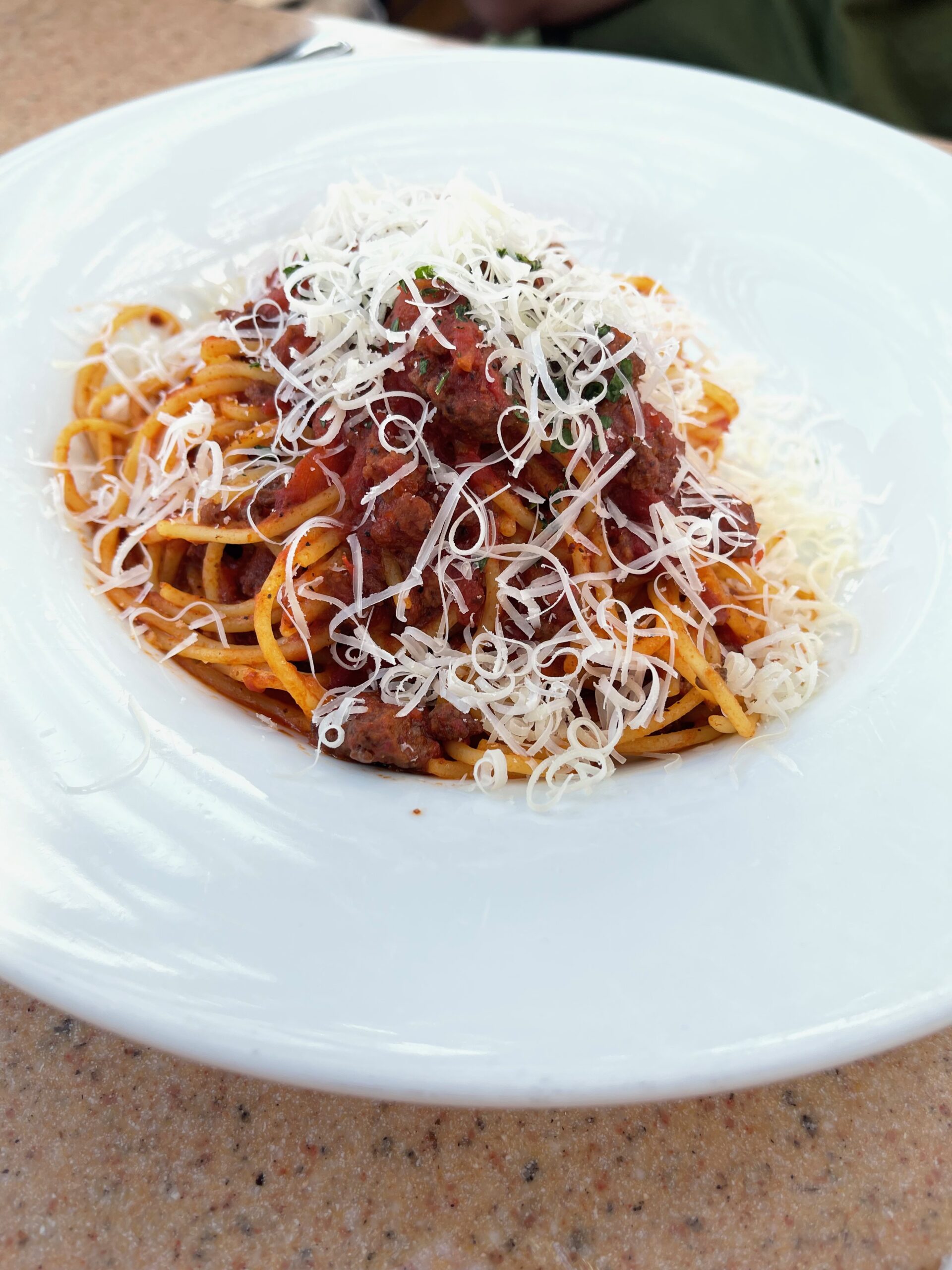 For our main course, we had the Roasted Vegetable Lasagna, Chicken Parmesan, and Ribeye Steak (for a $10 upcharge). The dessert was an apple-flavored cauldron which was a nice and refreshingly light ending to our meal.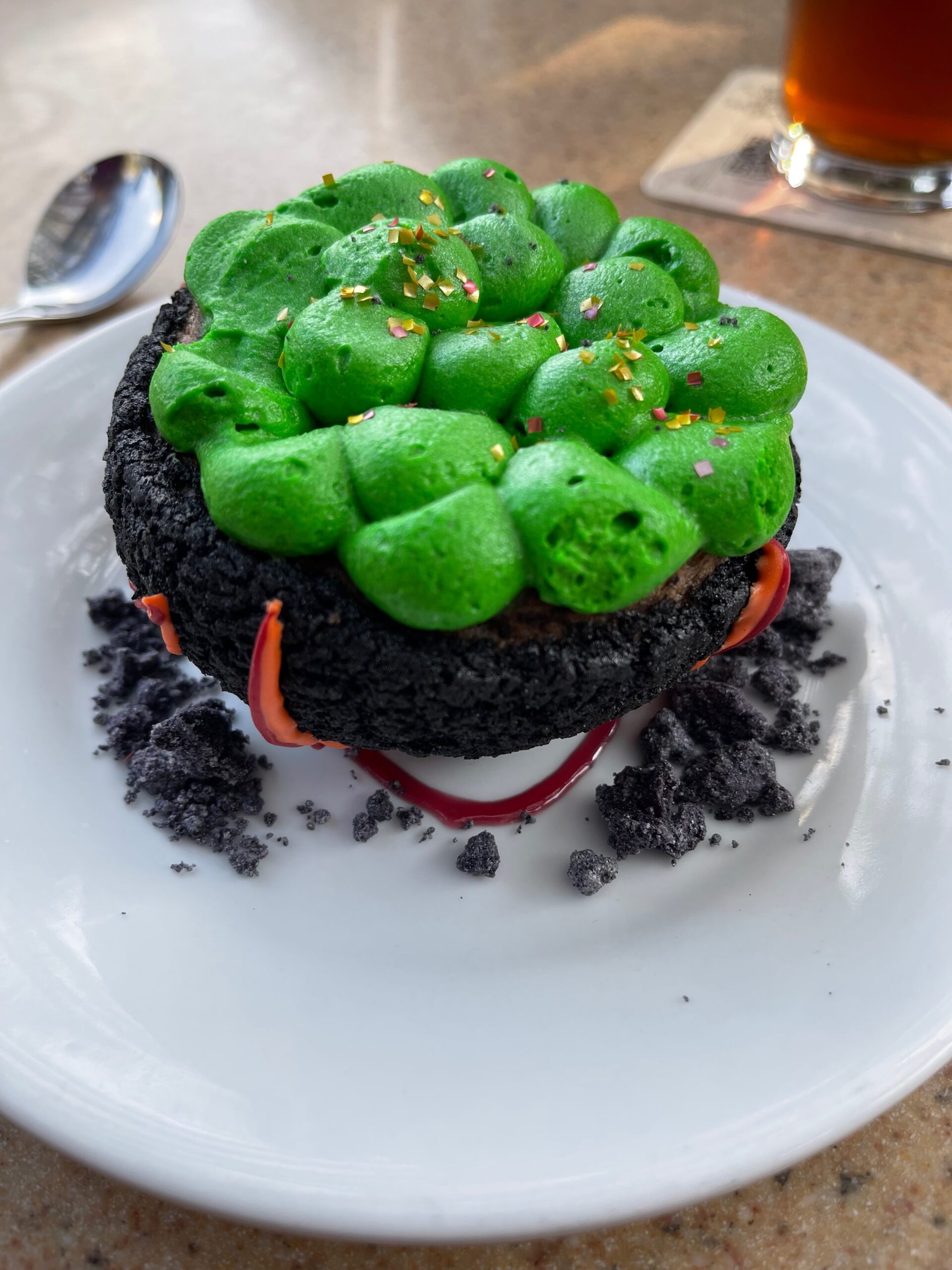 Allow plenty of time for this meal as our service took about an hour for the full meal – but we did not leave disappointed!
Once 6 pm rolls around an announcement is heard throughout the park and we as guests of Oogie Boogies are free to start the candy collecting process. You must have a valid wristband to attend which can be received at the main gate or at Blue Sky Cellar (the former Imagineering location which looks like it has not been touched in years).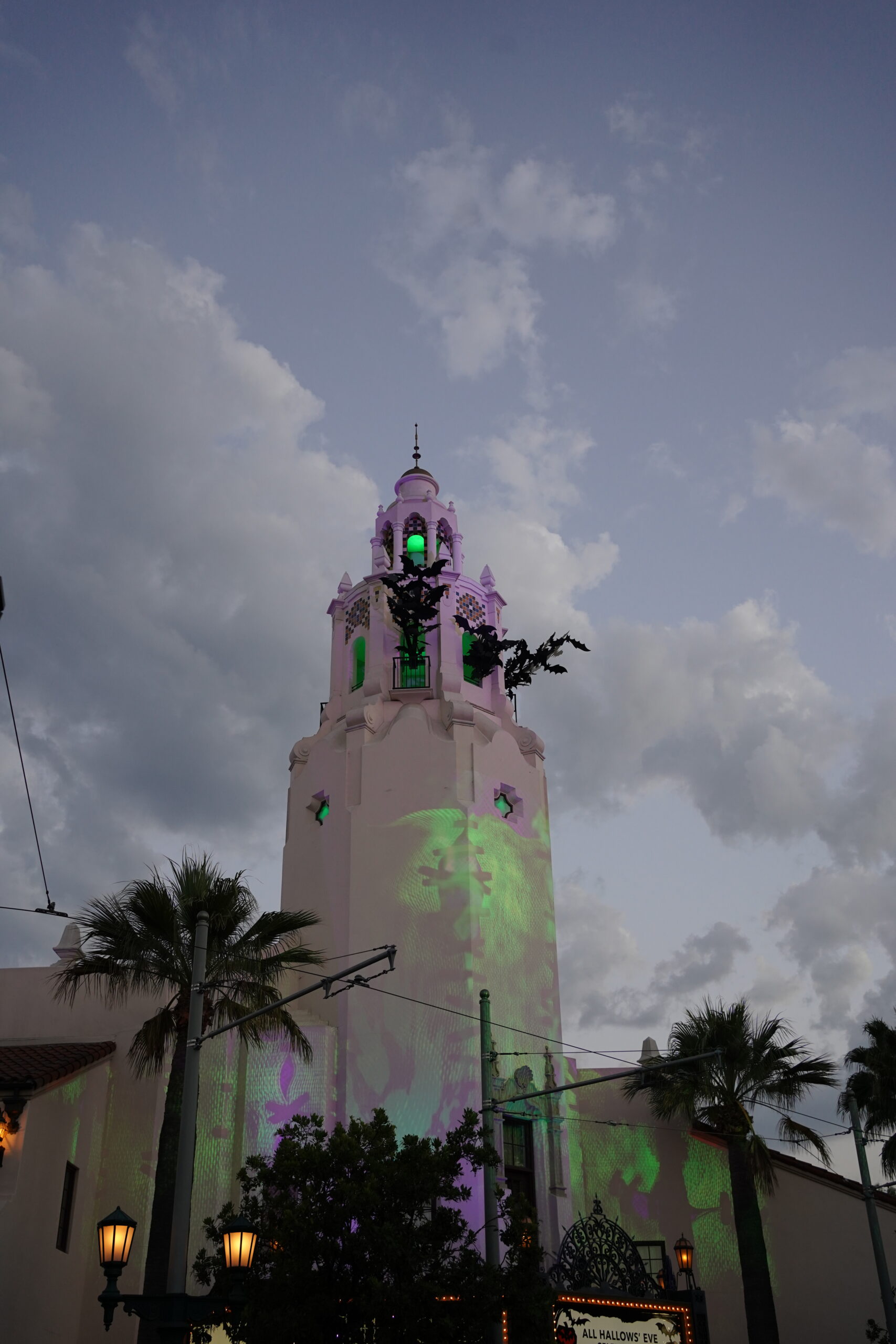 With your wristband, you will gain access to the Treat Trails around the park. We recommend working your way through all the trails from the front of the park to the back. Starting with the master of Scaremony himself – Oogie Boogie! Located inside the Animation Building, this was possibly the best-themed Treat Trail. Projections on the large "pages" above show off classic Oogie Boogie scenes including his giant Jackpot and gunslingers. Oogie himself is on a raised platform not seen by day so this transformation is quite fun. After leaving the Animation Building, we got in line for one of the 3 newest villains to join the festivities – Cruella!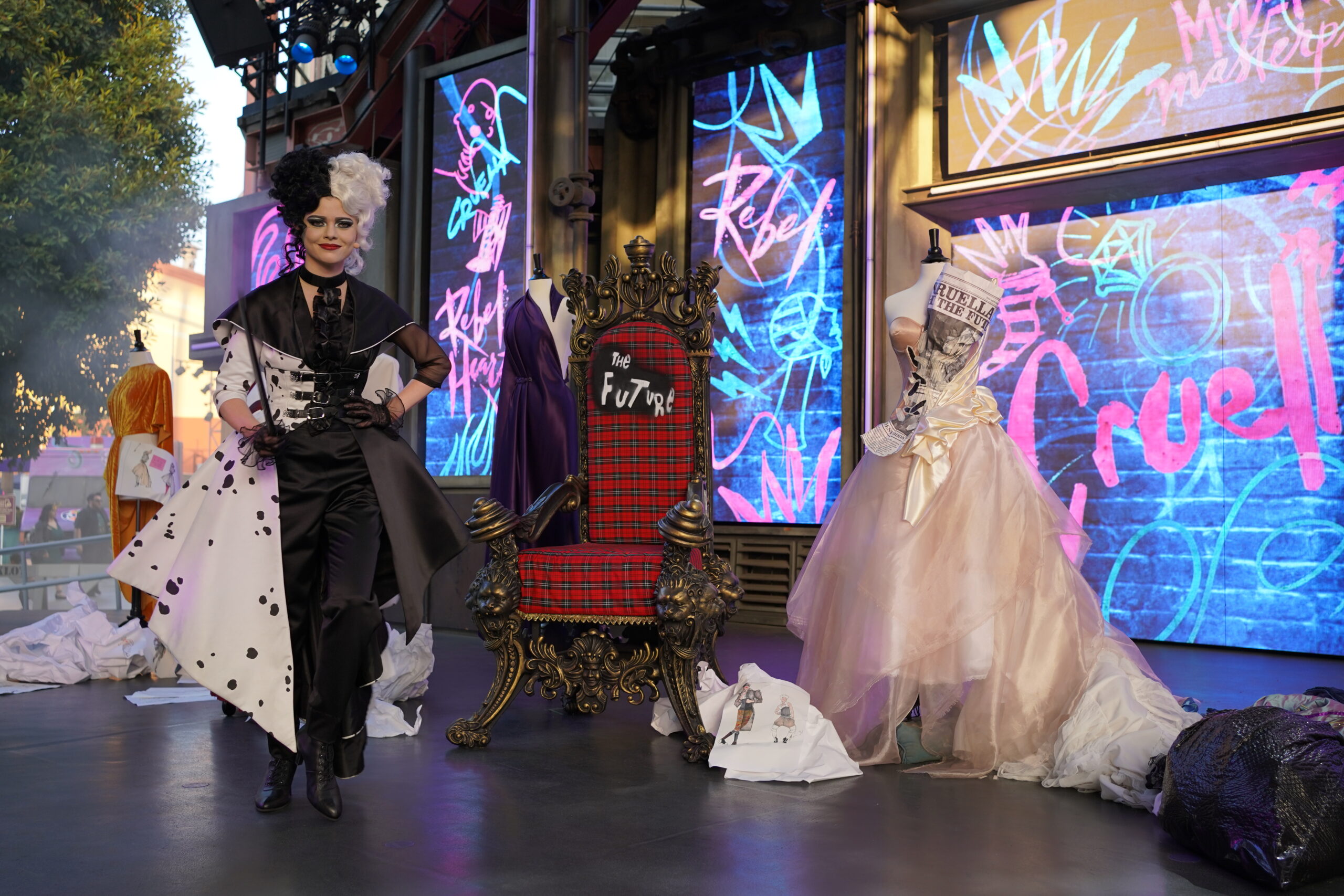 Located in the Hollywood Backlot area, Cruella from the Emma Stone live-action film can be seen showing off her latest collection and commenting with guests on their outfits and appearances. It was so much fun to watch this live actor utilize the entire stage while also keeping a very personal feel.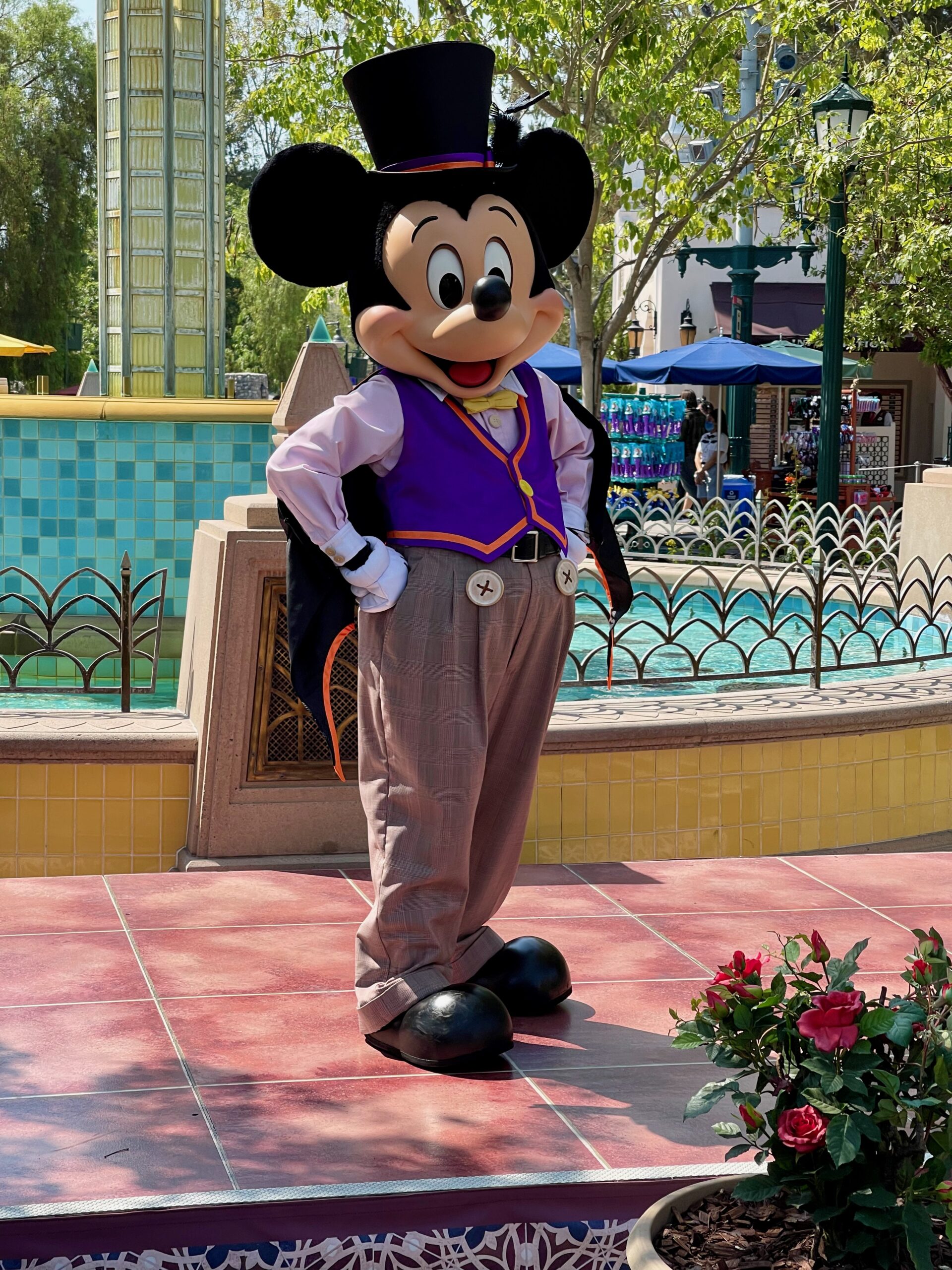 The soundtrack and lighting in this area just enhanced the overall experience while getting handfuls of candy and other non-candy items including rice crispy treats. This line was a long one but moved quickly as each guest began to fill their bags with the treats. Be advised Cruella does take breaks and may not always be on stage when you pass by so timing here needs to be factored in!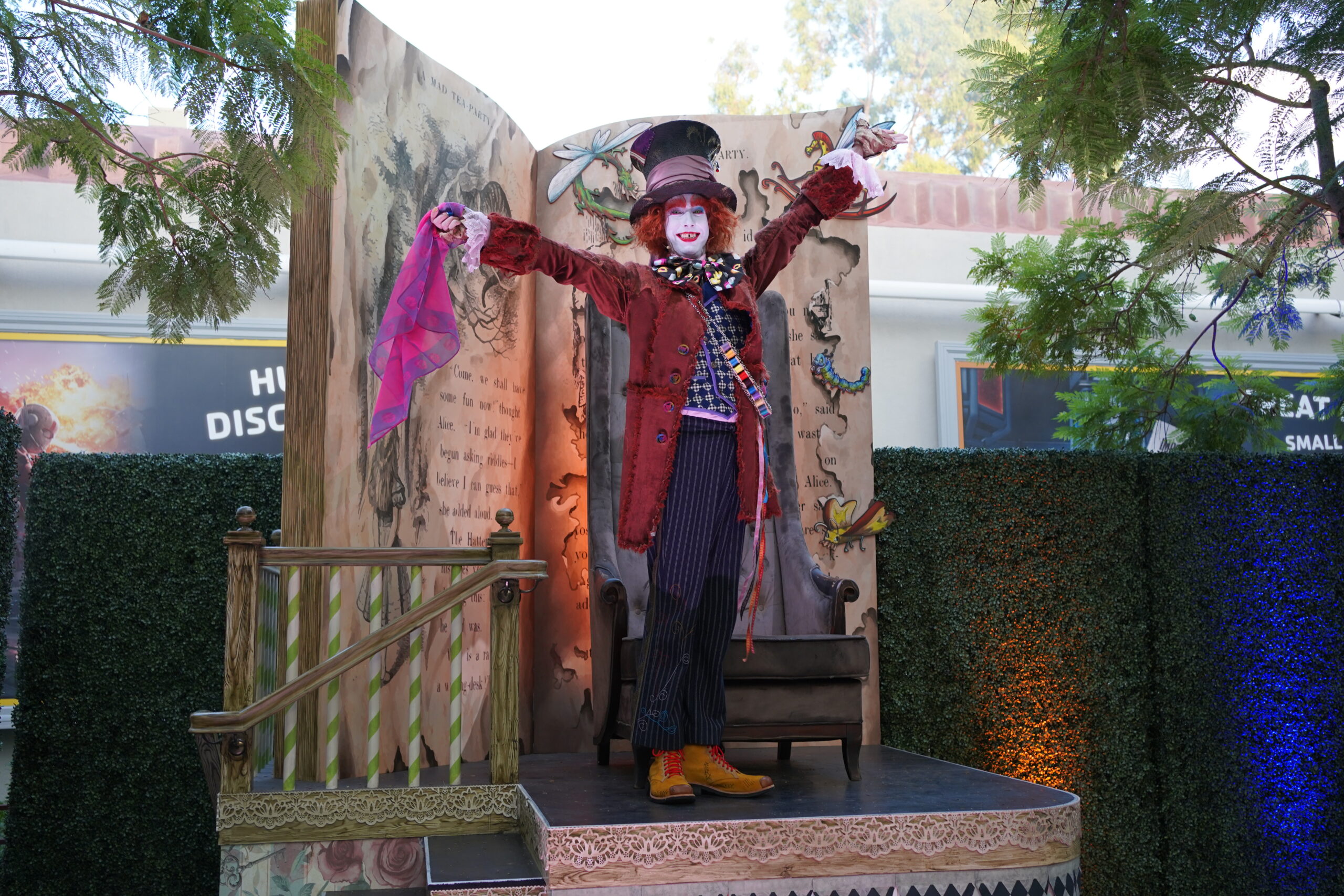 After passing through Hollywoodland, your next Trail is within the outdoor queue of the Hyperion Theater. Here you will find the Tim Burton Mad Hatter. While this was not our favorite interaction, the Mad Hatter did have some great poses as you passed. There seemed to also be more non-candy treats at this location than others including applesauce and temporary tattoos from Freeform's 31 Nights of Halloween.
We passed through this line in a breeze and headed to our next new character over in Avengers Campus. While there are no other decorations for Halloween in Avengers Campus, taking over the Ancient Sanctum is Agatha Harkness from WandaVision. Another long line but well worth the wait as Agatha is just as sassy as you would expect while interacting.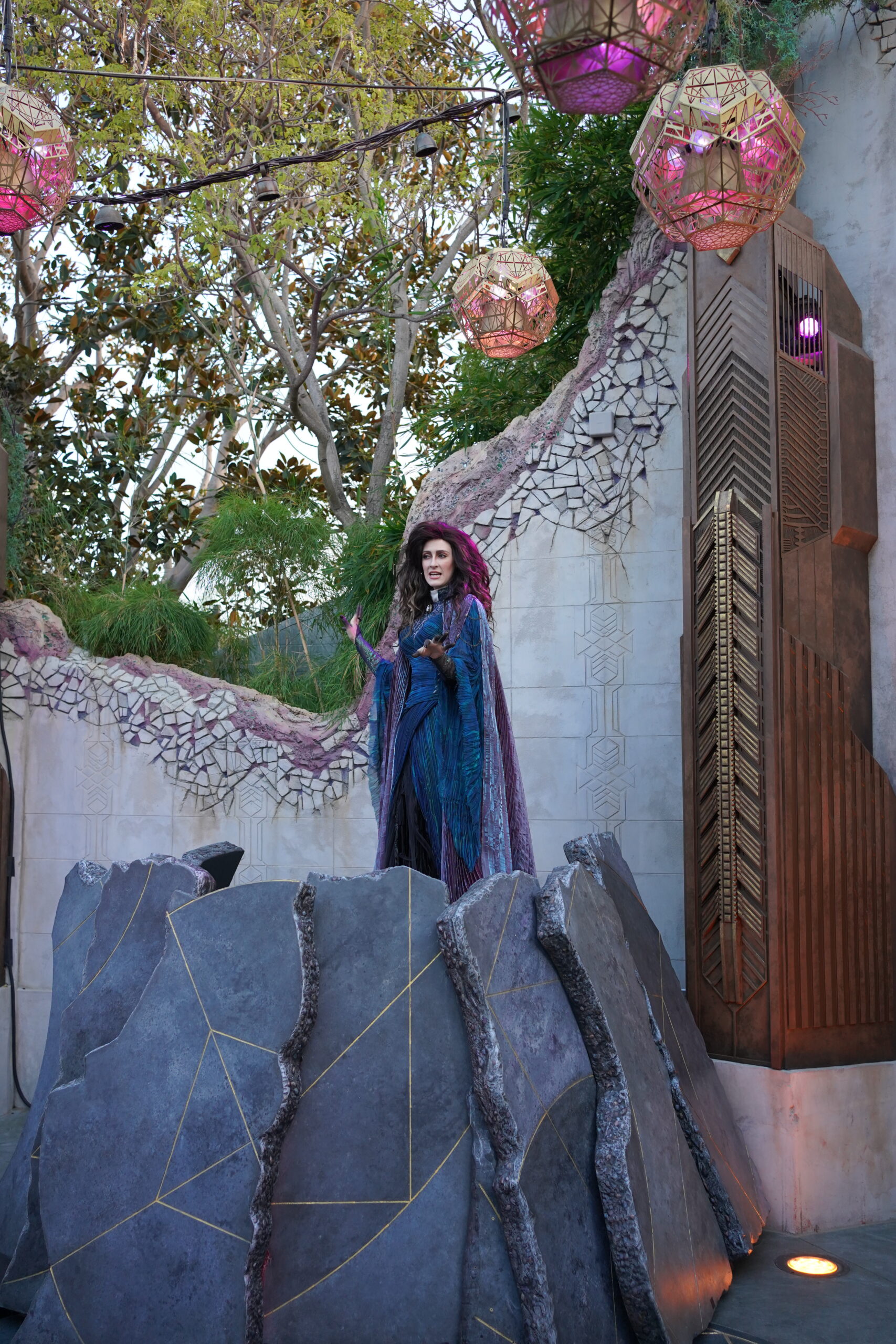 Over in the Bountiful Gardens, you will find the next trail featuring Dr. Facilier. This was another long line but it moved with ease. Note that this is the only trail that will close off for the parades each night so make sure you either hit this early or between the two parades. Behind Soarin' over the World is where you will find the mistress of evil – Maleficent. This trail leaves a lot to be desired but the interactions are some of the best with Maleficent knowing she is the bad witch she is.
The most hidden trail is the Grizzly Bear Rapids trail featuring the Evil Queen. We also found this was the best-themed treats with Apple Slices and Applesauce along with the candy offerings. We also loved the Evil Queens interactions as you walked by.
Due to this trail not being as popular, the Cast Members will give out a bit more candy than other trails. At this point, your bag provided should be practically full. If you do fill up a bag, you can always head back to the entrance and get another bag to fill up. Pros will know to bring their own bags for maximum efficiency.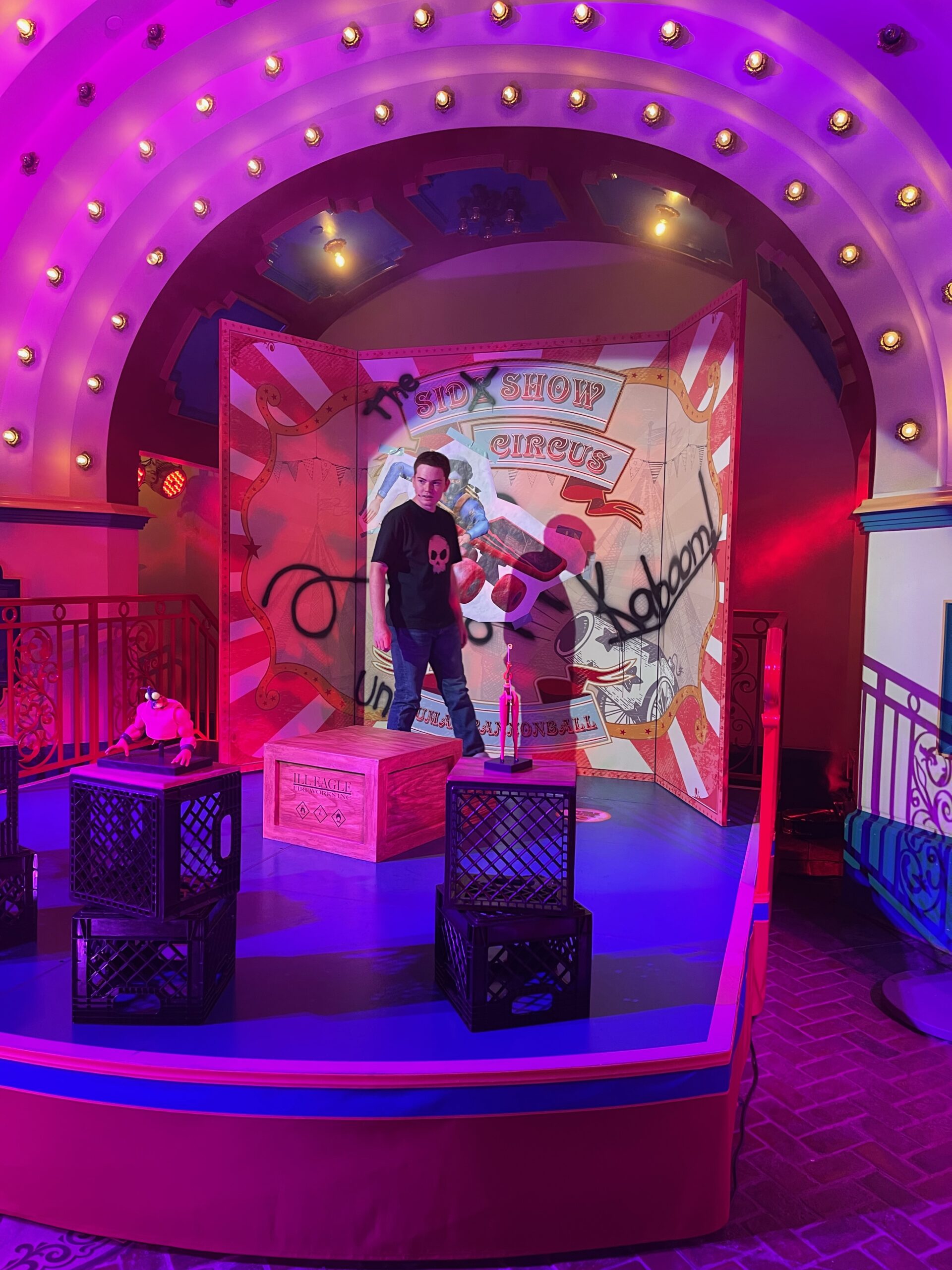 The last trail – and one of the new face characters is Sid from the original Toy Story. Located in the Pixar Promenade on Pixar Pier, Sid is the angsty child we all know and love to hate. Sid has a circus feel to his area as it is the Sid Show!
We could have stayed and watched his interactions for the entire night as he had so many good one-liners and would even take questions from the crowd. We even asked him where his rocket was and of course, he said he was saving it for the big finale!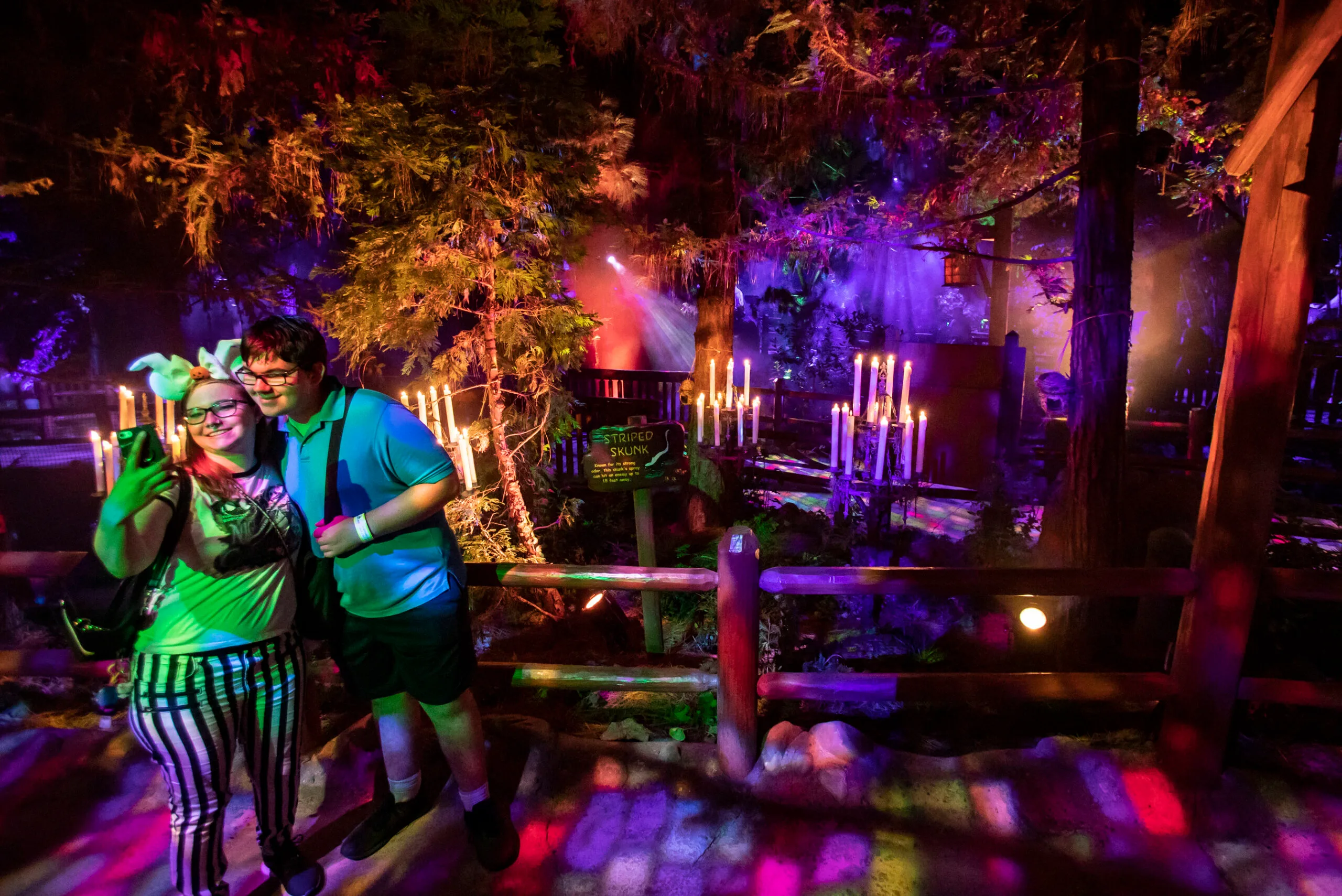 Returning this year is the Villains Grove which takes over the Redwood Creek Challenge Trail. This area is popular and if you do not know what you are walking into, it can be a disappointment for some. There is no candy trail or characters to meet here but you will find a visually stunning experience of light and projection throughout. It is stunning at night and while the line can get up to an hour-long, some may find this to be underwhelming for the wait. If you have other things you want to do, we recommend hitting this as the last thing to do at night!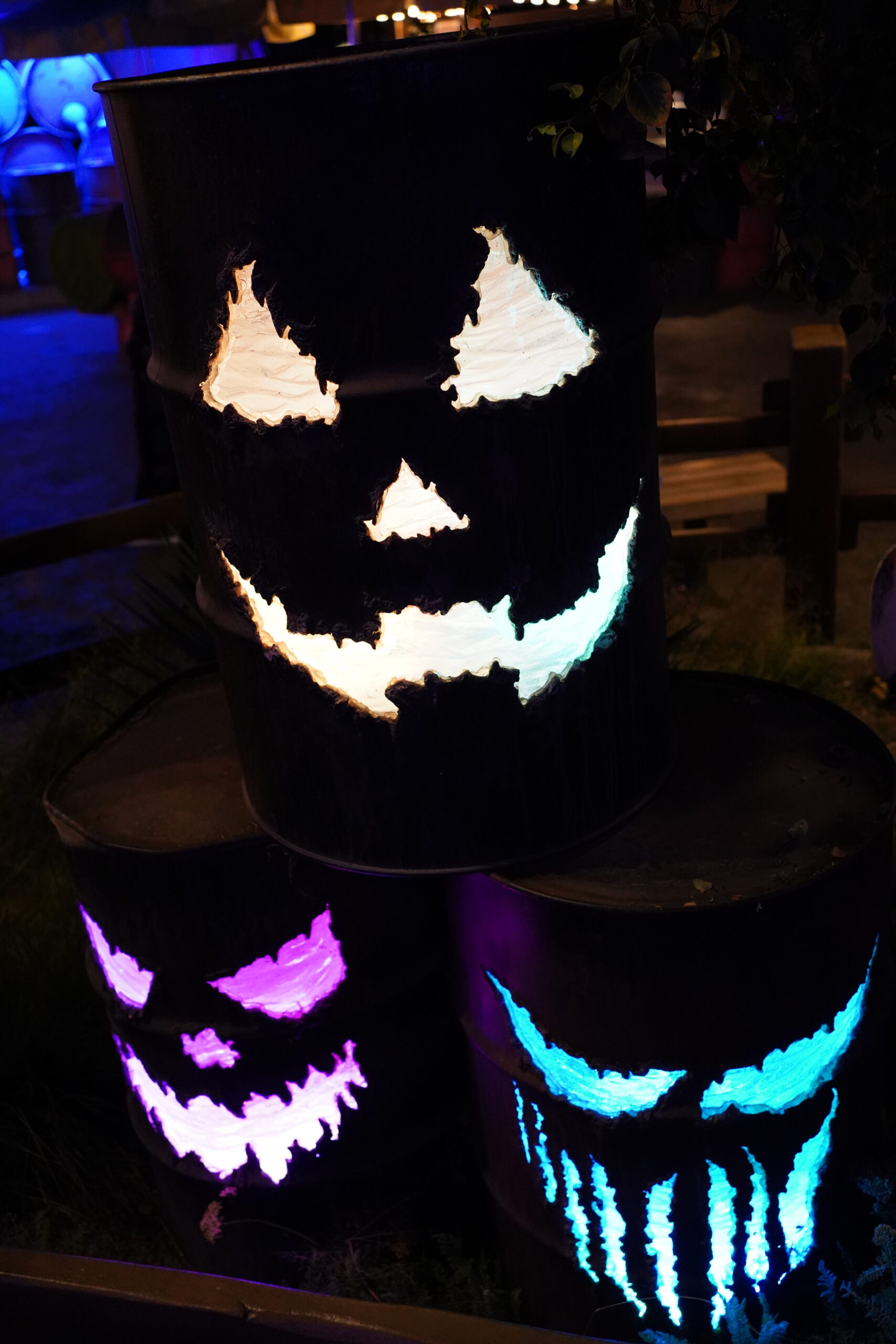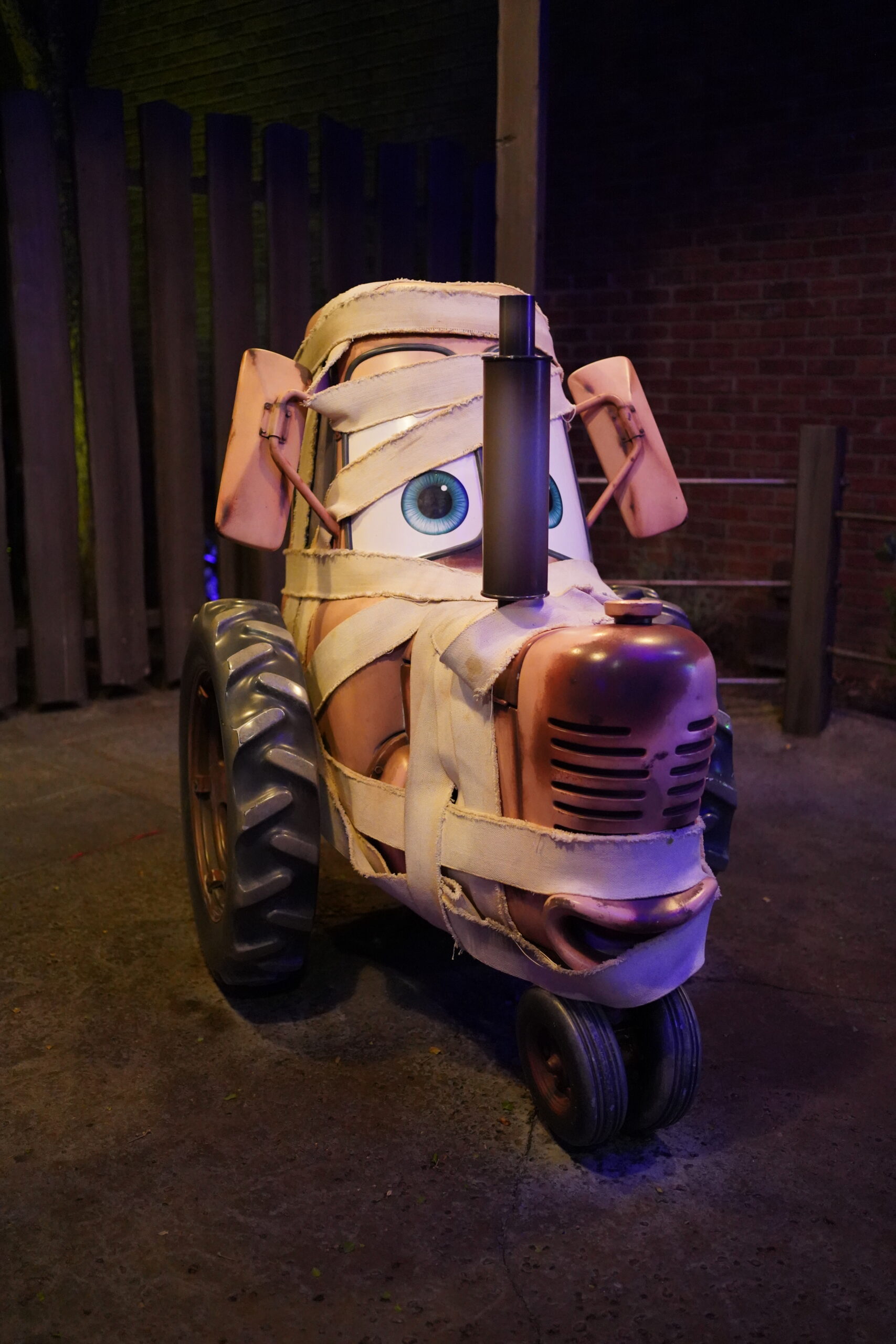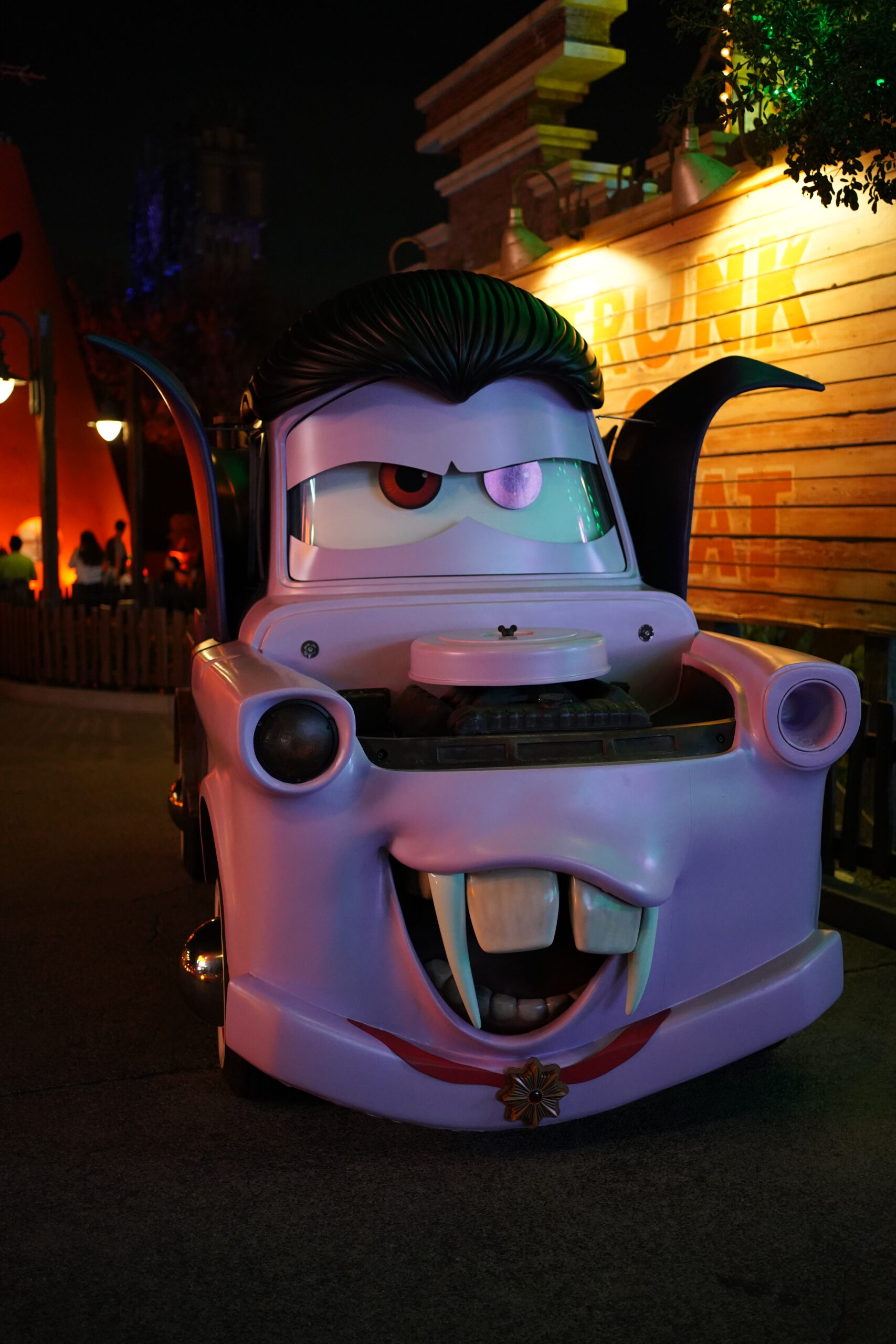 There is so much entertainment in the park it's almost too much for only one night. From rare characters out by Grizzly Bear Rapids/San Francisco Street, the Villainous Duos on Buena Vista Street, Carsland Characters, and the Paradise Pier (World of Color Viewing) Area featuring more of the classic characters, you will find something fun for everyone.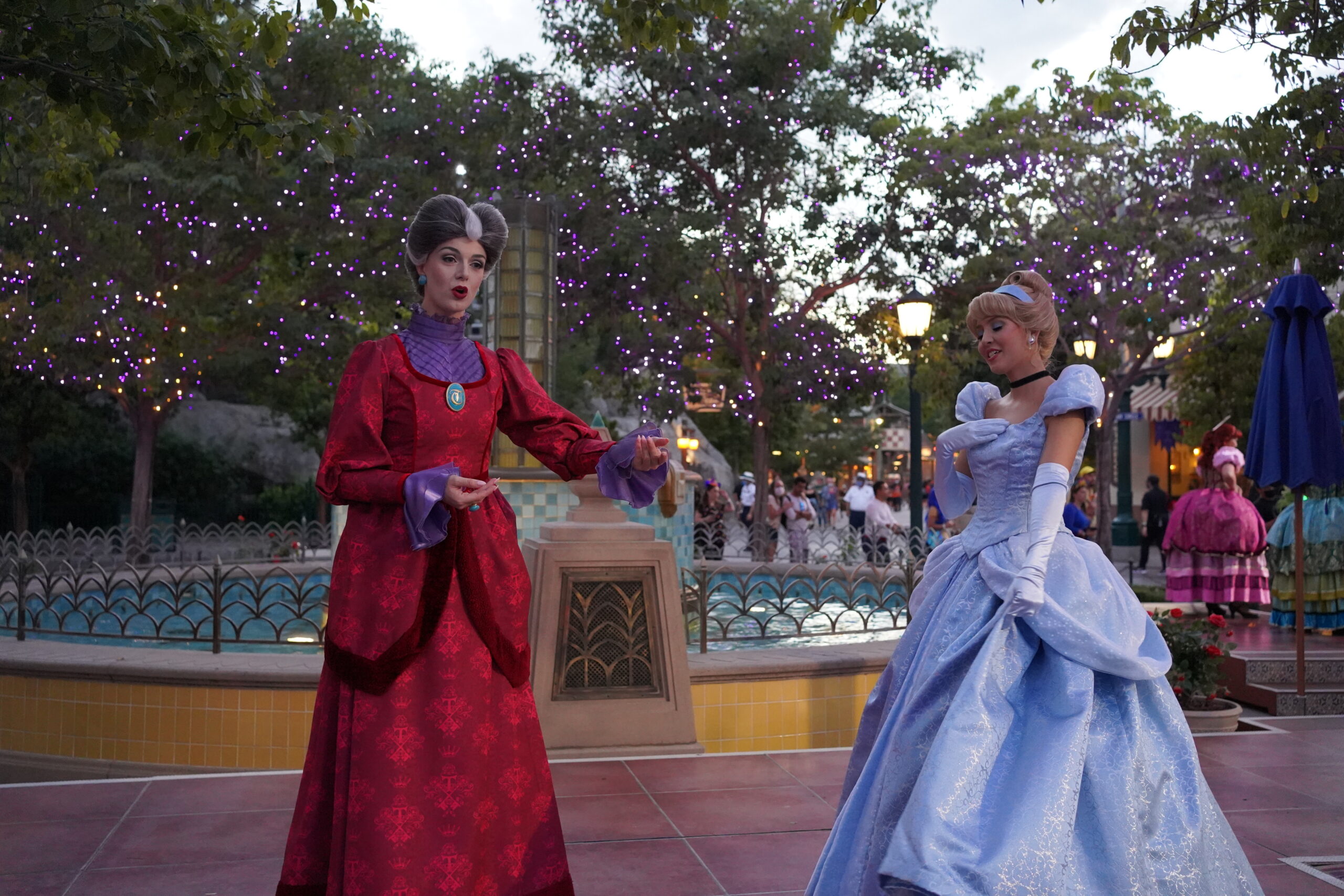 The highlight of the event though is the Frightfully Fun Halloween Parade! This is the first full parade back at Disney Park and we were so excited to see it again even with some minor changes. The parade happens at 7:45 pm and 10 pm with the Headless Horseman and Ichabod Crane providing a pre-parade appearance. The parade is just as fun as we remember and packs a lot of villains! Check it out below!
Well, that wraps up another fun-filled event at Disney California Adventure. While the Oogie Boogie Bash is currently sold out, make sure you check back as some dates may open up in the future.