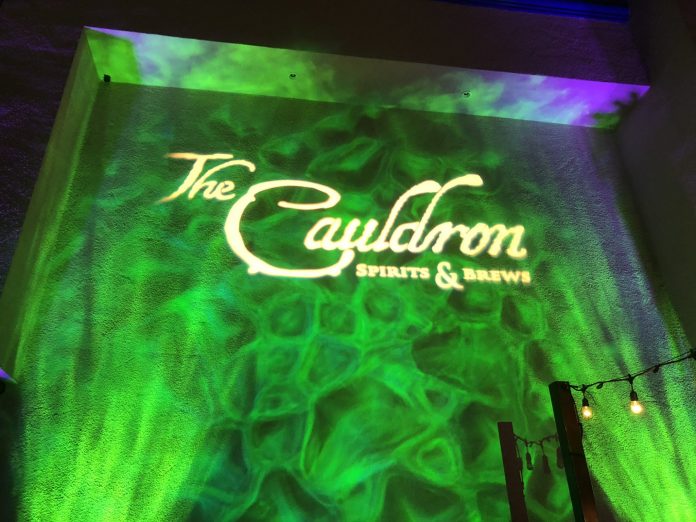 This post contains affiliate links and our team will be compensated if you make a purchase after clicking on the links.

Searching for a lounge to relax after an evening of flying on your broomstick? Well, you no longer have to search for dead man's toe or eye of newt to conjure up a spellbinding sanctuary of relaxation and libations. Simply transport yourself to The Cauldron – Spirits and Brews located directly across the street from Knott's Berry Farm theme park in Buena Park, CA. This haven of witch decor is every Halloween lover's dream come to fruition. A dark foreboding atmosphere entangled with flickering candlelights, mystical bookshelves, glaring crows, mysterious knick knacks, and of course, the bubbling cauldron in a misty fireplace.
The screaming walls are adorned with an art gallery of curious paintings and even original artwork by the proprietor herself, Lara Hanneman. Lara was previously the Director of Entertainment for the Knott's Berry Farm and currently the Principal Creative Designer for Think Better Design. So you know you're in good hands. A lot of heart and attention to detail have gone into this cozy retreat.
For a more private setting, you can request to sneak behind the secret bookcase for a more intimate setting. The food offerings are a delight. Some dishes are even served in mini-cauldrons! No need to worry about the Pale Man coming after you. Be it before screaming your lungs out before Halloween Haunt or reminiscing after an escape game, this is a perfect getaway from the real world. Don't forget to take with you a keepsake of your stay with a photo booth you can magically share on social media.
So if you or anyone is engaged with the creaky and the spooky, this cozy retreat offers wall-to-wall creeps!