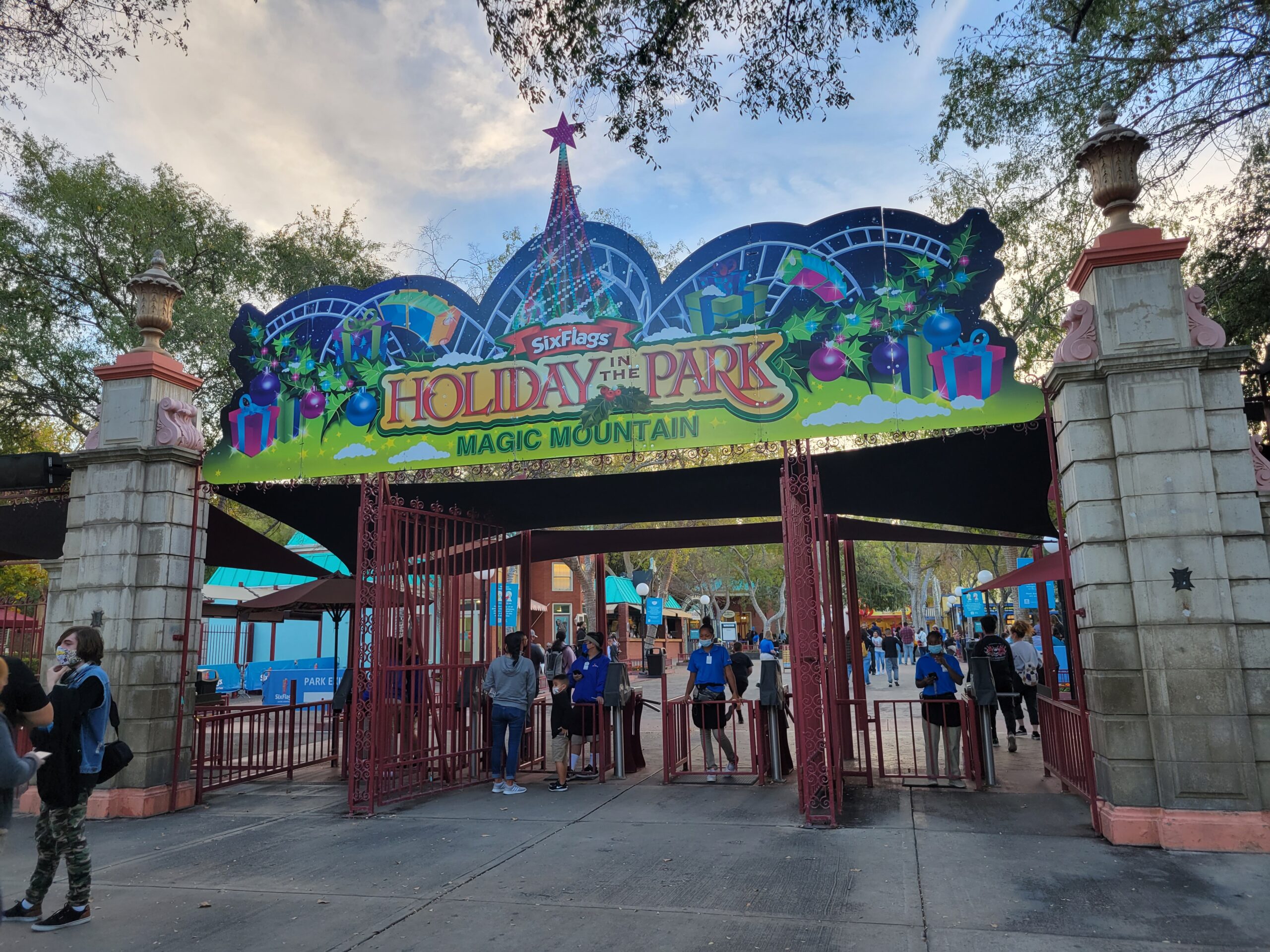 This post contains affiliate links and our team will be compensated if you make a purchase after clicking on the links.

Holiday in the Park returns to Six Flags Magic Mountain with lighting displays, light entertainment, limited shopping, and select food options. If you've been to this event before, you can expect just about the same offerings from years before. Winter Wonder Lands have returned with Holiday Square, Snowy Nights, Santa's Village, Polar Point, Peppermint Path, Gleampunk District, and Merry Lane.
Keep in mind that Holiday in the Park is advertised as beginning at 5 pm nightly, the seasonal food and drink is actually available throughout the day at their respective locations.
So foodies should have plenty of time to indulge before nightfall. In addition, Santa's Village opens at 1 pm through December 24 to visit Mr. and Mrs. Claus for meet and greets photos and coloring for the little ones.
The only significantly new area to the roster of Winder Wonder Lands is "HollyRock!" to coincide with the January 2020 opening of the park's newest ride, the dueling roller coaster West Coast Racers. Bringing along with it a 1950's rockabilly holiday featuring a canopy of lights, classic cars, jolly jugglers, Six Flags Bus, fire pit with hot rod decor, Christmas trees, stilt walkers, character interactions, and tunes from an oversized jukebox.
Merry Lane sits front and center in the plaza that connects Riddler's Revenge and Justice League: Battle for Metropolis. This area mostly features canopies of oversized ornament balls of light, stilt walkers, and an illuminated holiday Wishing Oaktree.
Gleampunk District focuses its theme inspired by a single ride. Much like HollyRock! is to West Coast Racers, this district keeps its daytime steampunk theme that coincides with Twisted Colossus. Featuring a sleigh photo-op, icy blue lights, mechanical decor, stilt walkers, and a cyclist.
Polar Point tucks itself in the garden walking path between the Grand Carousel and X2. A blue hue of floodlights engulfs the snowy statues of polar bears and penguins.
Peppermint Path sprinkles colors of red and white in the overhanging tree branches. A blanket of snow leaves behind more snow sculptures of animal critters such as a leopard and owl. Enchanted characters greets you on your way to Mrs. Claus' cabin for sweet and savory treats. A fire pit crackles nearby waiting to warm your marshmallow for a gooey s'more.
The entertainment is not just limited to stilt walkers and roaming characters. Snow Nights set up a tinsel tall stage by the Full Throttle roller coaster ready to rock the night away with a spinning DJ, wrapping dancers, and a live band.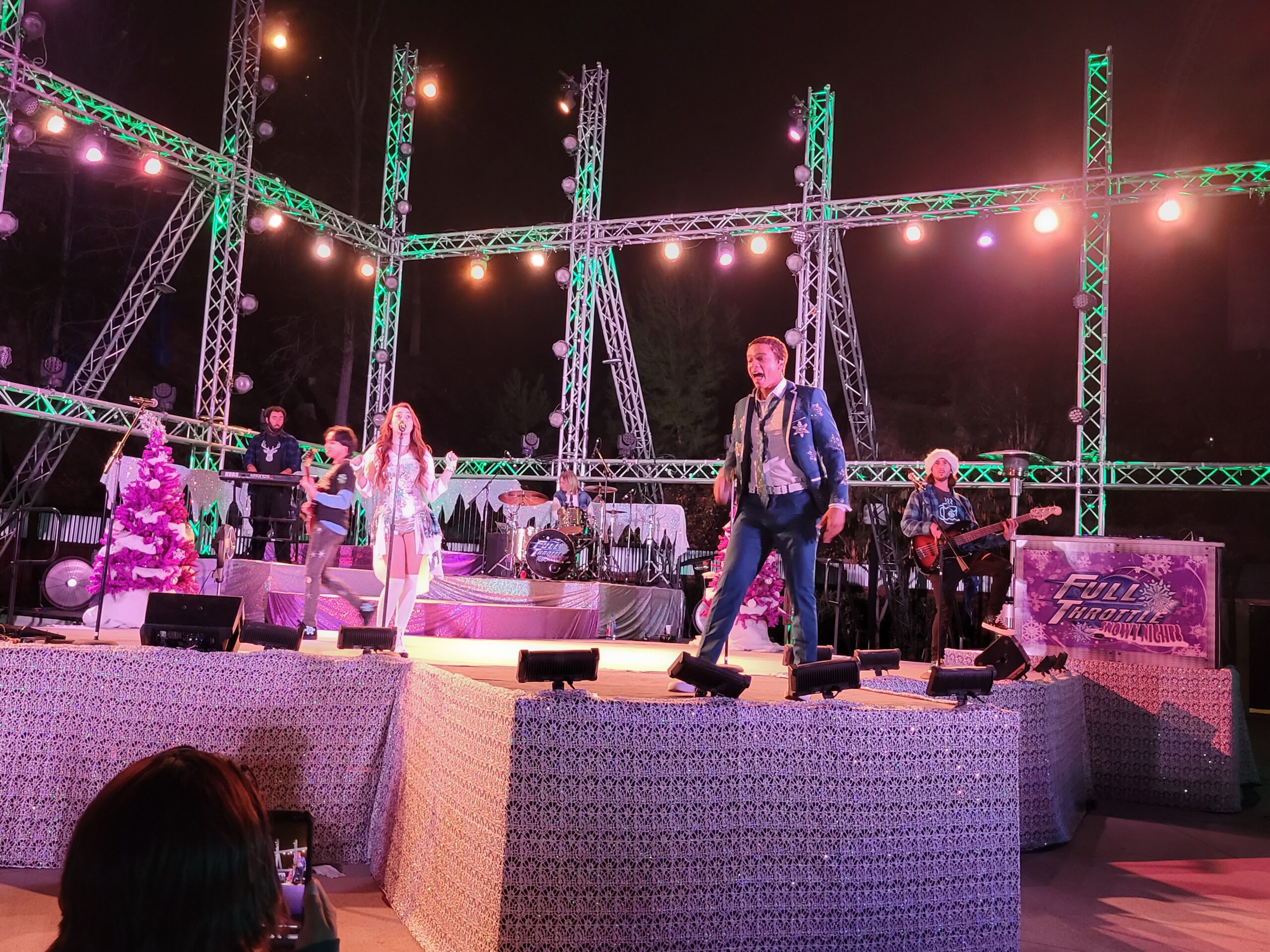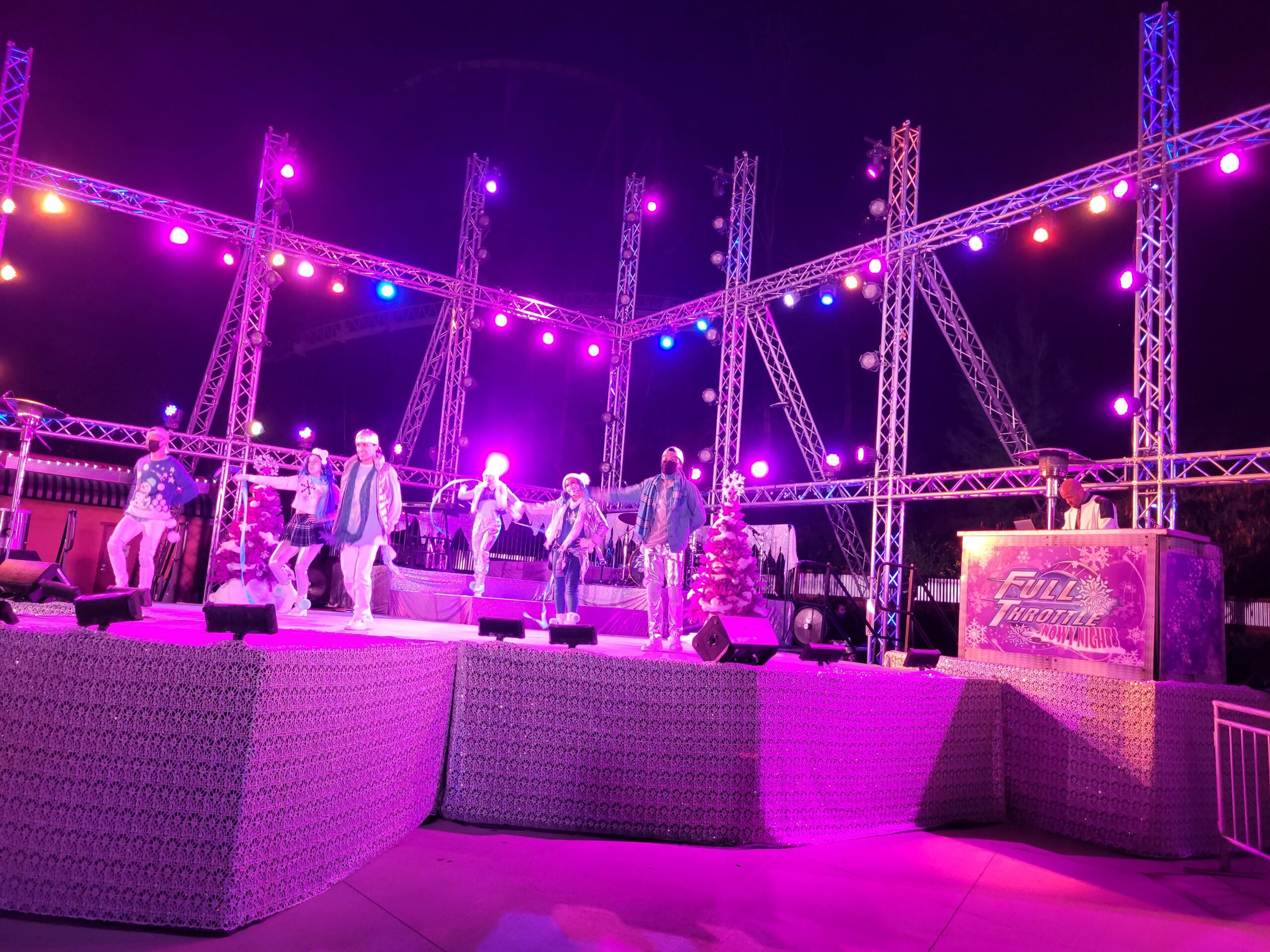 The evening ends through a kaleidoscope of lights at the park's main entrance and exit called Holiday Square. Even toy soldiers march along the wide-open path.
Holiday in the Park at Six Flags Magic Mountain is not a must-do event. But it's perfect for those that already have a season pass, made previous plans to visit the park during the season, and for families with small children. The seasonal event offers something a little more for your day and provides additional value to extend your evening stay.
Luckily the seasonal food offerings are served all day so you don't have to wait until 5 pm when the festive lights finally do turn on. Especially knowing many of the food locations close early before park closing. So if you already enjoy the thrills of big roller coasters and love to celebrate the holidays with loved ones with similar tastes, this is the place for you.
For more info click here: Holiday in the Park – Six Flags Magic Mountain