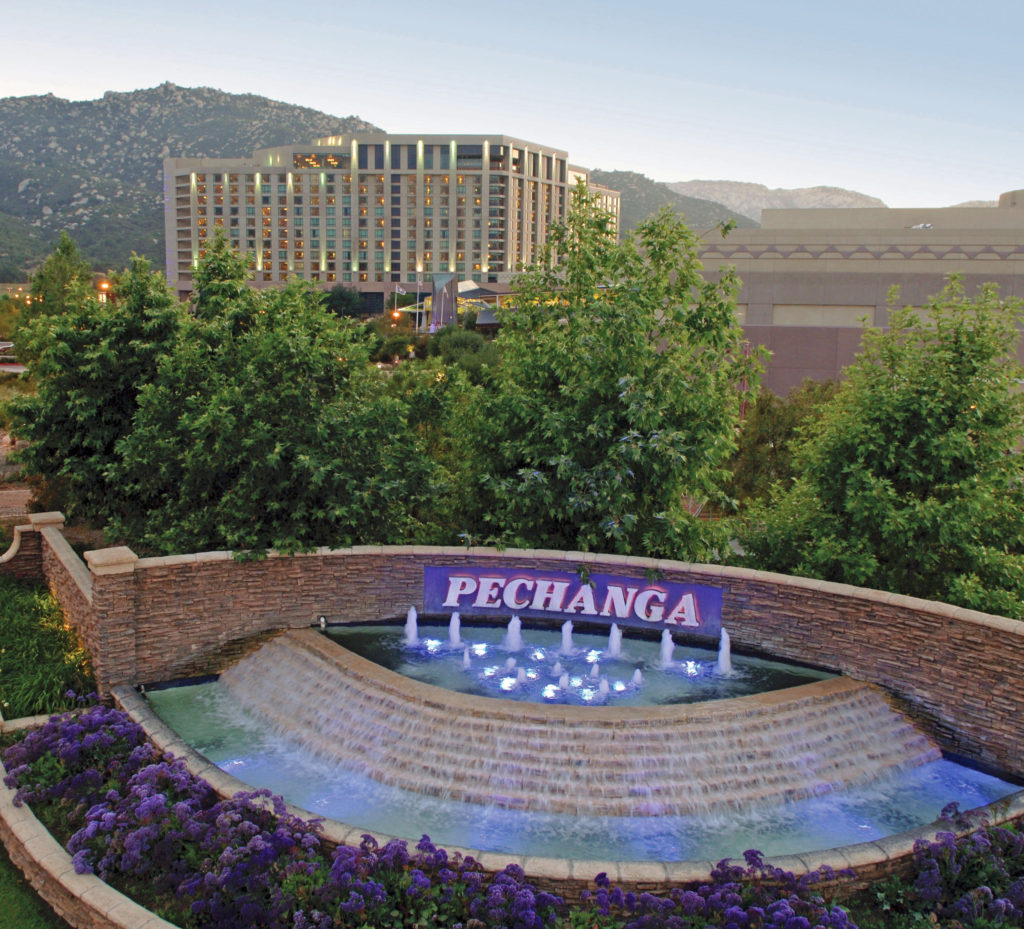 This post contains affiliate links and our team will be compensated if you make a purchase after clicking on the links.

The moment I walked into the sparkling lobby of Pechanga Resort and Casino in Temecula, I shifted gears and put myself in total relaxation mode. I had escaped the heat of LA and was ready for a day and night of luxurious dining, pampering and a little gambling.
My getaway to Pechanga began recently when a friend and I checked into gorgeous 9th floor suite overlooking the property's pool and nearby rolling hills. The room was highlighted by a large master bedroom with king bed, huge TV and large windows; and a living room area with a sofa, another TV and breathtaking views of the Temecula Valley through floor-to-ceiling windows.
The suites at Pechanga are plush and sweet! 
The Four-Diamond suite also boasted a dining area with table and chairs, sink, mini-fridge and yet another television; custom made Italian furniture throughout; and two bathrooms – the main one featuring a soaking tub and separate glass shower.
When not lounging in robes inside the air-conditioned suite, we were exploring the rest of the resort. The hotel offers 517 rooms including 84 suites with free WiFi and no resort fees. There is an oversized sundeck with private cabanas, swimming pool and spa, and a poolside bar with food; and two high end retail shops, and an exclusive Swarovski crystal outlet.
Near the pool is Spa Pechanga, where I experienced a rejuvenating 60-minute rub down I won't soon forget. The spa offers guests a range of massages and facial treatments, body wraps, exfoliation, couples massage, steam saunas, as well as a full-service hair and nail salon. Next to the spa is a state-of-the-art fitness center.
Pechanga offers a full service spa and a relaxing pool area with great views
And then there is the largest casino floor in California, which totals 188,000 sq-ft and features 3,800 slot machines, 154 table games, a non-smoking poker room with tables, and an ultra-modern, 700-seat bingo facility.
Before gambling and taking a spa treatment, I needed energy and that meant sampling some of Pechanga's impressive array of 11 different, eclectic dining options. I began my culinary journey at Bamboo, where expert chefs created a Pan-Asian fusion of authentic dishes, prepared in the national style of Korea, Vietnam and China amid a fast-paced noodle bar featuring native drinks.
Our Bamboo lunch began with delicious Imperial Rolls, a mixture of shrimp, pork and vegetables wrapped in rice paper and deep fried. I followed this with Canh Chua Cá, a succulent sweet and sour fish fillet soup with bean sprout, tomato, ginger, bamboo shoots and tons of flavor. My friend enjoyed Bò Lúc Lắc, with marinated chunks of tender loin served on crisp Romaine lettuce.
The food at Pechanga is where I found my jackpot
After lunch we relaxed with Bloody Mary's by the pool, with a spectacular view of the mountains behind us. I then took a nap and hit the fitness center before dinner.
For supper we strolled into Paisano's Italian restaurant for a memorable dining experience of new meets old style Italian cooking, paired with the "best wines from California, Oregon, and Washington." Here we began with tasty Calamari Fritti, fried baby squid served with tomato marmalade, pesto aioli and sweet peppers and California wine. For the main course I had Cioppino mixed seafood and shellfish stew in lobster broth and ciabatta bread. My friend devoured New York Steak sliced over garlic spinach, roasted potatoes, green peppercorn balsamic sauce.
After dinner, we hit the slot machines and caught a live band at The Cabaret Lounge. In the morning, we opened the curtains in our suite and watched hot air balloons rise above Temecula Valley's picturesque wine country. For breakfast we took a shuttle across the Pechanga property to Journey's End, the resort's loge-like restaurant overlooking the golf course, a wooden bridge spanning an old stream, and the surrounding Temecula Valley.
Last year, the Pechanga Tribe broke ground on a $285 million resort expansion, adding onto its current resort amenities. This includes a new, 568-room and suite hotel wing, a 2-story luxury spa, 5-acre pool complex, 2 new restaurants, 68,000 sq-ft of additional meeting and event space, and a new, 5-level parking garage. The expansion is expected to complete at the end of 2017.
Pechanga Resort and Casino is located at 45000 Pechanga Parkway, Temecula, CA 92592. For more information and reservations, call 888-PECHANGA or visit: www.pechanga.com