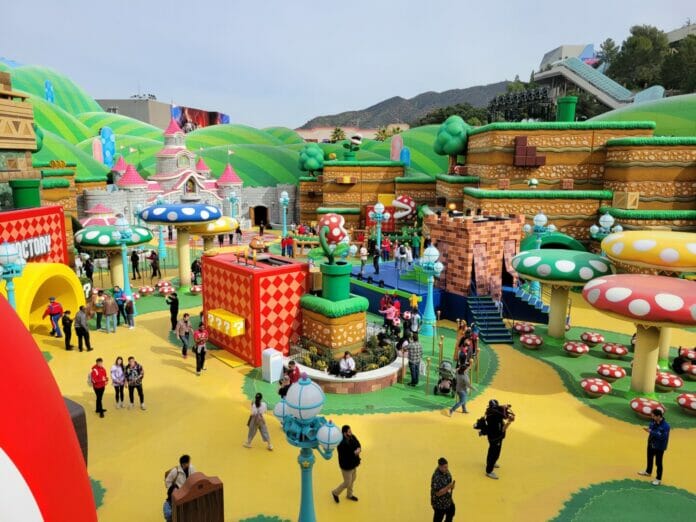 This post contains affiliate links and our team will be compensated if you make a purchase after clicking on the links.

The wait is over and it's finally time to jump in and slide into the world of the Mushroom Kingdom in Universal Studios Hollywood's newest and most interactive land with Super Nintendo World. Being able to move through a physical space that could have only been imagined at home is now brought to glorious life. The players are living, breathing, and actively participating in a land that is designed for exploration and discovery. Not only walking through unknown corridors and character encounters, but the game play also increases in difficulty inviting you to return again and again to raise your score, complete missions, and improve on gameplay function and strategy, just as you would in a real video game.
Super Nintendo World Overview Photo Gallery
I was hesitant of the prospects of yet more digital projections in new rides at Universal theme parks. But the ride design for Mario Kart: Bowser's Challenge eased my concerns with the projections actually enhancing the experience rather than taking away. The ride itself is not a fast roller coaster. The slow-moving and spinning dark ride is first and foremost an interactive experience. Utilizing state-of-the art augment reality technology rendered in real-time is an amazing feat when combined with physical set design while wearing video-display goggles upon each forehead.
The adventure can be over-stimulating at first, but with each passing turn, the player learns more and soon enough gain expert status. The queue begins light-hearted enough traversing underground caverns and fields of happiness. But standing at the entrance of Bowser's Castle become even more impressive once inside. The first portion of the castle is set in Bowser's study with books, throne, blueprints, models, and desk all geared toward building and challenging Mario and his friends to a race.
The next room takes you inside a factory constructing and supplying weapons to be used in the big race. Pay close attention to instructions on how to win against Team Bowser. Turn your steering wheel into the flashing red arrows. Aim by turning your head at the target. Use your turtle shells at Team Bowser players to gain points. Loose points should you shoot at Team Mario players. The ride experience is truly a mixed media platform of the latest in technological aspects wrapped into a thrilling experience unlike any other interactive rides to this level of fun and play. A sure-fire winner you'll want to ride over again. The Power-Up Bands will only increase the value of the repeatable ride.
Mario Kart: Bowser's Challenge Photo Gallery
Toadstool Cafe serves as the land's only quick-serve food option. Toad is in the kitchen preparing delicious food options designed to power up your taste buds and energize you for adventures that await you in the rest of the Mushroom Kingdom. The range of starters, salads, entrees, desserts, and beverages compliment the Nintendo world with creatively themed menu items. Most selections will be dripping with fun thematic elements such as picks with hats, spiraling flag poles, power up images on edible bits, and so much more. Salads appear in the image of piranha plants, slices of star fruit, and green polka-dotted croutons in the shape of Yoshi eggs.
The Super Star Lemon Squash is a lemon soda filled with bursting fruity boba flavors and topped with star-shaped mango jellies. Cheesy garlic knots with marinara dipping sauce is just the tip of the flavorful tasting. The Super Mushroom Soup is a creamy tour de force of mushroom displayed in a fun mushroom-shaped bowl and parmesan crackers. Try pairing the soup with other items on your plate such as the truffle fries or piece of chicken. The spaghetti and meatballs deliver a spicy kick to the mushroom and parmesan covered Italian dish. The four hour braised short rib special proved popular on a bed of goat cheese polenta surrounded by red wine reduction and spots of crème fraîche.
The Mario Burger is a classic bacon cheeseburger with mushrooms and paired with truffle fries. The Luigi Burger is a grilled chicken breast with swiss cheese and green bell pepper ring. The burger and truffle is served with a herby basil pesto. Another entree menu is expected to arrive after Super Nintendo World's debut. A kids meal is also offered with corn on the cob and a field of broccoli. The gold coin is a chocolate cookie dessert. Speaking of desserts, there are three varieties of sweet treats to choose from.
The tiramisu is encased in five sugar cookies printed with question mark blocks, a spread of raspberry sauce, and topped with a white chocolate power-up image. The Mt. Beanpole Cake simulates a layered landscape of strawberry, chocolate, and vanilla topped with matcha cream. Princess Peach Cake is a grandiose for lovers of frosting on to of a funfetti cupcake highlighted with a fruity jam center.
Everything is visually and tastefully pleasant sending waves of energy coursing through player's mouth; in particular the Luigi burger, mushroom soup, and Mt. Beanpole cake. There is also a popcorn and food snack stand themed to Nintendo located just outside the land between the Jurassic World bar and entrance to Revenge of the Mummy. The strawberry cream soda was a pleasant cold treat on a warm day.
Toadstool Cafe Photo Gallery
I was initially weary about spending $40 on the Power Up Band that can only be used in newest land of the Universal theme park. But there's surprisingly a lot you can do with this next generation slap band bracelet. I find myself more enticed to purchase a Power Up Band more than a Wizarding World wand.
First you'll have to connect the band to the Universal Studios Hollywood app on your smartphone. From there, register a player name, choose an avatar, check your personal status, team rank, sticker collection. Now you're ready to play by punching the bottom of question mark blocks and interact with select games throughout the Mushroom Kingdom. Make sure to scan your band on the hub of your Mario Kart steering wheel in order to link and record your game status.
Power Up Bands can be purchased at Super Nintendo World stores in the theme park, Universal Citywalk, and the 1-UP Factory store inside the land which also happens to be the exit of Mario Kart: Boswer's Challenge. The stores are stacked with a plethora of plush, pins, ketchains, posters, clothes, figurines, signages, popcorn buckets, toys and more.
Power Up Store Photo Gallery
As an individual who moderately familiar with the Nintendo universe, I am left stunned with how much the land felt like being your own avatar roaming around in free-play mode ready to be immersed inside a video game. So much big and small details for the average theme-park goer and nostalgia for the frequent gamer. Super Nintendo World is now open for play, fun, and pure joy at Universal Studios Hollywood theme park.