This post contains affiliate links and our team will be compensated if you make a purchase after clicking on the links.

The Book of Mormon is an absolute triumph. Brought to us by South Park creators Matt Stone and Trey Parker, and Robert Lopez of Avenue Q, Frozen, and Coco fame; this show is amazingly risqué yet heartwarming.
We follow the journey of Elder Price as he goes on his mission which he worked toward for 19 years. As you may guess, it doesn't quite pan out the way he was hoping. Lampooning and sampling many of Broadway's biggest hits along the way, you will gain a very different understanding of the Mormon religion than you may have had before. Elder Price has ideas of where he hopes to go on his mission, but when he is partnered up with Elder Cunningham–the least successful Elder in their training center–and sent to Uganda, life will never be the same! Are the villagers in Uganda ready to embrace the Heavenly Father? Will Elder Price and Elder Cunningham survive while an armed General lurks in the shadows? Will you be able to stop laughing long enough to take a sip of your intermission drink? Guess you'll want to find out.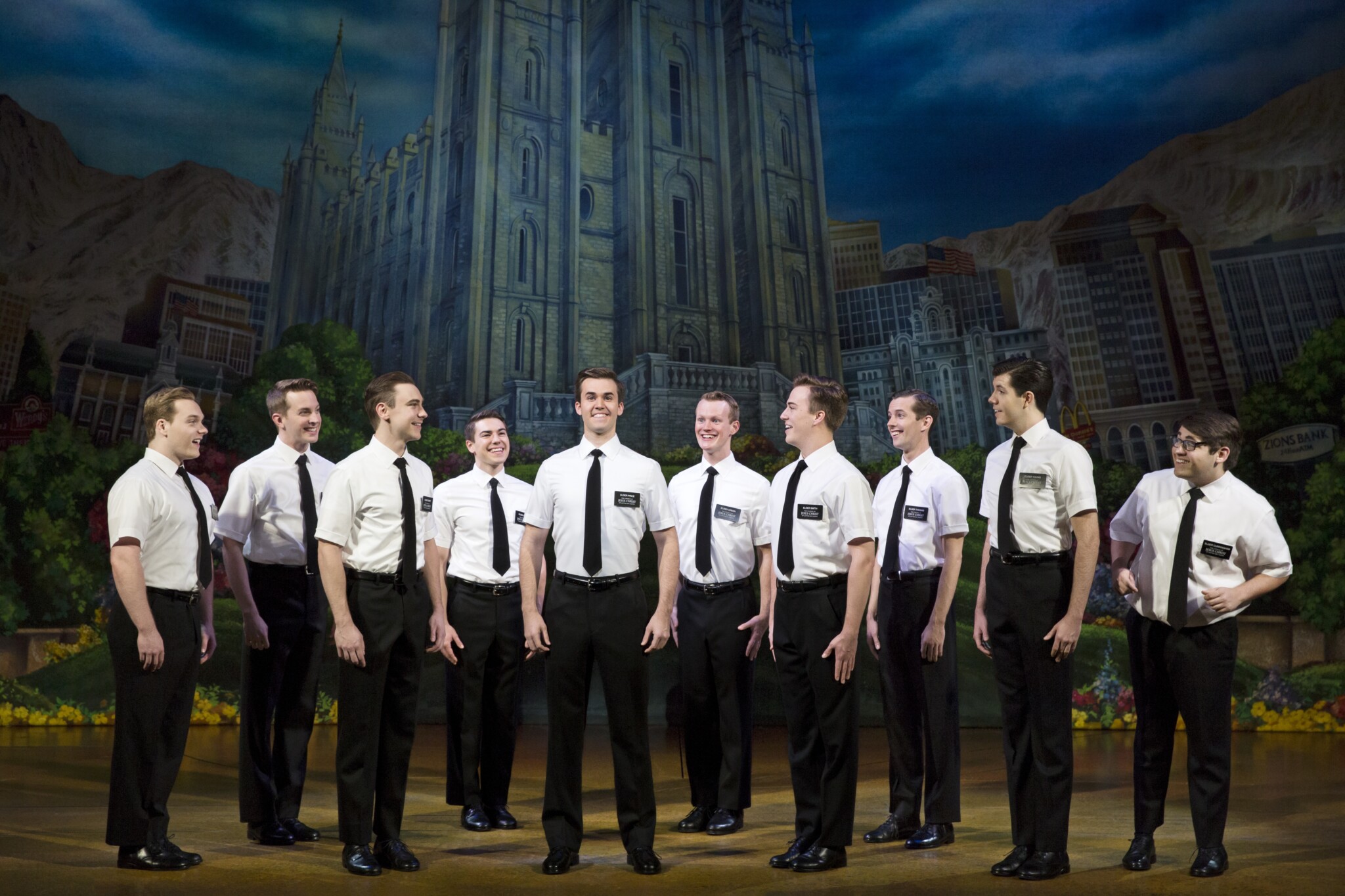 Directed by Casey Nicholas and Trey Parker himself, the show was perfectly timed in blocking and line delivery to keep you laughing. Jesus sounds like he just walked directly out of South Park and onto the stage. If you are a fan of South Park, nothing in this show should alarm you very much. Kevin Clay is a strong Elder Price, his vocals were sharp and youthful with just the right amount of irony. Conner Peirson is the stand out as Elder Cunningham, between his high-pitched dialogue, endearing vocal intonation, and portrayal of adolescent discomfort, Peirson builds an annoying yet sweet Elder Cunningham that you begin rooting for very early on. Kayla Pecchioni delivers a very innocent and heartwarming portrayal of Nabulungi, with warm vocals that exude wide-eyed optimism. The show utilizes a pretty small cast with some actors playing multiple roles throughout the show; however this is expertly done and does not distract at all from the story. The ensemble vocals are great, seamlessly moving from a Mormon Tabernacle Choir-esque sound to the vocals of African traditional music.
The stage itself is quite a wonder. There are minimal set changes throughout the show, but the use of a few small props and lighting can change the exact scene from a Mormon Training Center to an Airport, or from Africa to Hell. Read everything you can, even the signs are pretty comical. It provides for some great things to see if this is your 2nd time seeing the show and you know where the story is going. I had a few laughs related directly to prop and costume usage having nothing to do with dialogue at all, which was fun. The music is a huge part of the show, with sound effects being utilized several times, you will quickly forget that there are only 6 people in the orchestra, and the conductor is also playing the keyboard!
Overall, if you haven't seen The Book Of Mormon, you have to. It's one of those shows that will transcend its initial popularity and join the ranks of long-running hits like Cats and RENT. If you have young kids, are easily offended, or extremely religious, this show may be a tough one for you to sit through, as there is a lot of profanity and explicit content. Consider the show rated 'R'. For anyone who enjoys South Park, or enjoyed Avenue Q, this show is a MUST and you will want to see it again and again.
THE BOOK OF MORMON runs until April 1, 2018 in Segerstrom Hall. Get your tickets now at SCFTA.org or call the box office at (714) 556-2787.