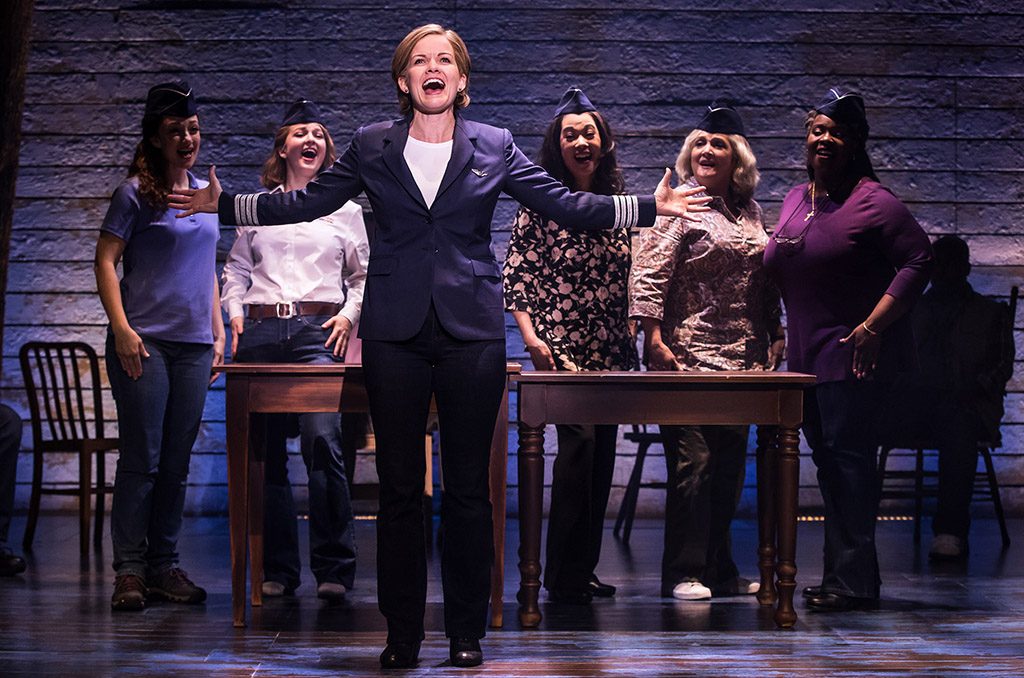 This post contains affiliate links and our team will be compensated if you make a purchase after clicking on the links.

There is an islander in all of us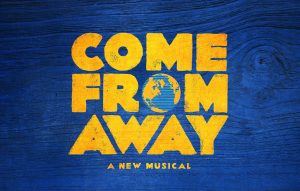 The much talked about and critically acclaimed Best Musical of a number of productions, including a Tony Award for Best Direction of a Musical, has landed at Segerstrom Center for the Arts in Costa Mesa. I think it will come at no surprise that I highly recommend you  make your way to see this incredibly important story before it's cleared for take off. Puns aside and despite popular belief, this is not a 9/11 story. Sure it takes places on the subsequent hours after that tragic morning, but COME FROM AWAY focuses the true stories of what transpired when 38 planes were routed mid-flight to a small town by the name of Gander, Newfoundland. That's in Canada by the way…
A musical by Irene Sankoff and David Hein, COME FROM AWAY follows an otherwise untold story of some 7,000 travelers that ultimately had their lives diverted and stranded within the charming most eastern province of Canada. When the American airspace is grounded, the planes in flight had nowhere else to go. With nearly no word of what had happened, with only several cell phones available that pre-dated the invention of smart phones, and being kept in the dark on the tarmac for over 24 hours, these passengers were trapped. You can imagine the toll this would take on them. The shear panic alone of not knowing what's happened at home or even not knowing if your loved ones are okay can create mass hysteria. Fortunately, these people from afar are welcomed by the remarkable generosity of the Newfoundlanders.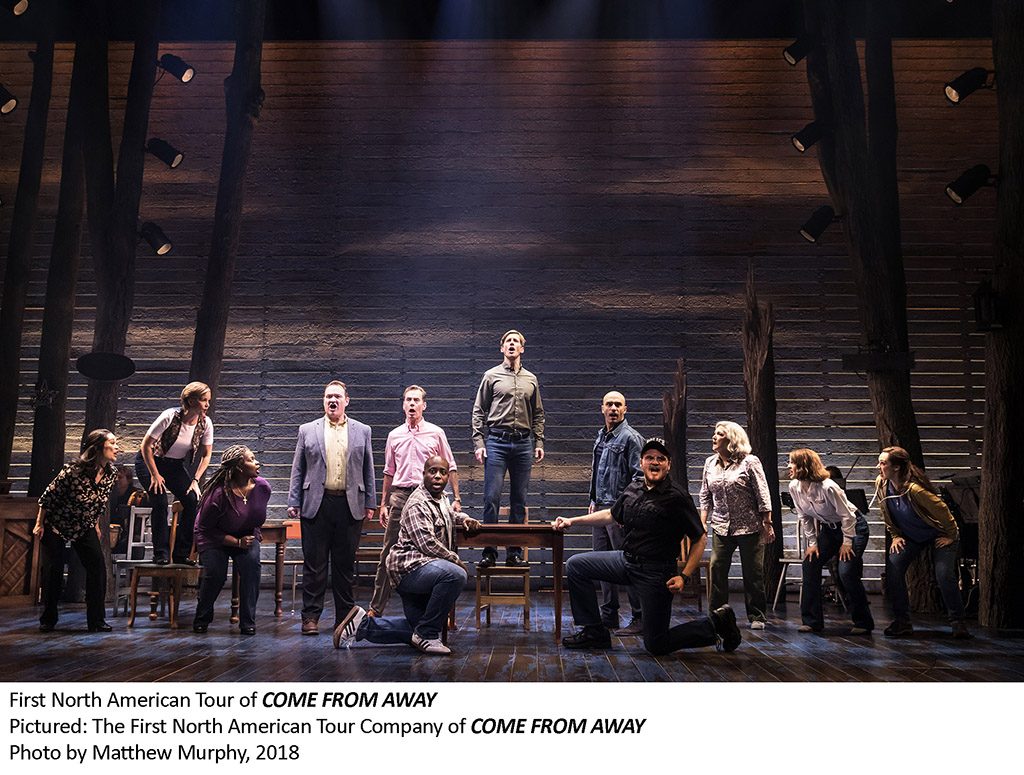 The audience is quickly introduced to the overwhelmingly friendly citizens of the small town of Gander. The entire town and island come together to bring shelter and the necessities of life to these fearful travelers who practically have no idea where they are. The displaced are lost, not just physically, but also in their souls. Their home is under attack and they are stuck in what appears to be an entirely different world. But leave it to the Newfoundlanders to easily gain their trust with hospitality and friendliness that is second to none. While they await to return home, the stranded find something special in their temporary home teaching them the importance of human kindness no matter the situation.
COME FROM AWAY features a true ensemble cast with everyone playing multiple roles where one actor can switch between from a richly-cultured Newfoundlander to a frightened airline passenger, to a number of things in between. The character changes usually occur within the same scene too. It's not just a few that do this, but the entire cast. The show is truly deserving of its Best Direction awards.
The cast shines to the point where I feel guilty not listing them all, but I'll shy away from going into an abundance of detail of each character and the actor playing them. However, there is no way I can get through this without raving about BECKY GULSVIG. Playing the first ever female airline captain, GULSVIG not only shows off Beverly Bass's courage, bravery, and commitment to her plane but also displays her versatility in the role by playing several other characters (along with the whole cast). The most exhilarating moment, however, is her ballad, "Me and the Sky". One of the shows strongest songs, it's at this moment when I realized how much this show engages you in the story.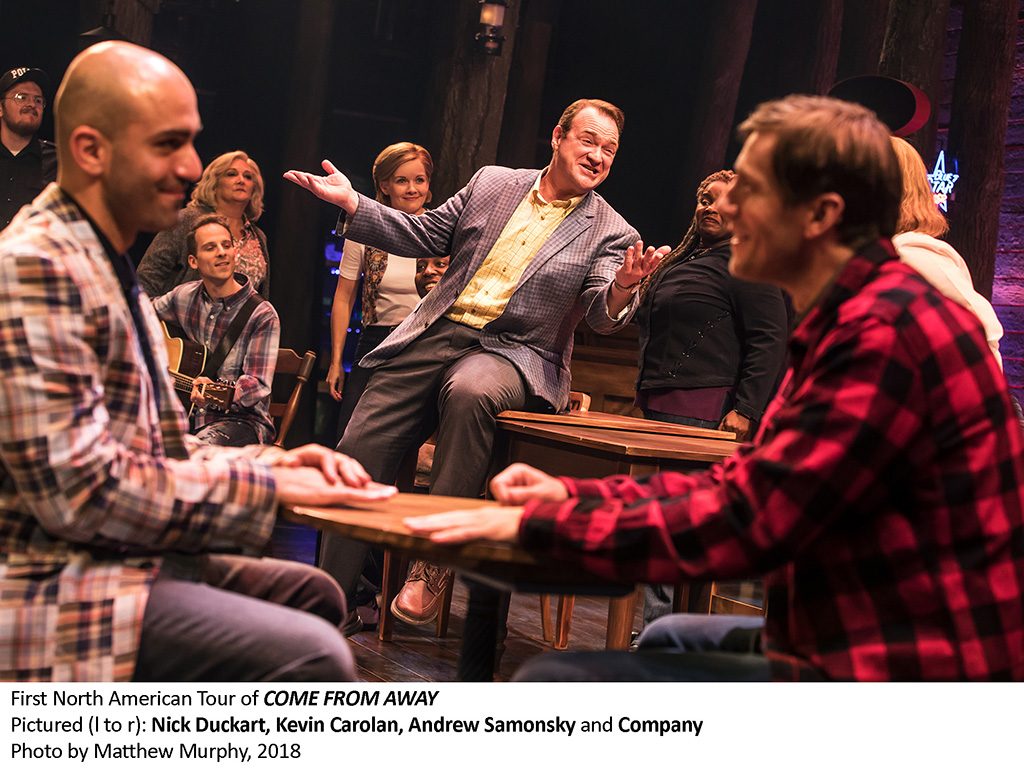 The story never has a lull. There is no intermission and it helps the audience remain engaged through a production that doesn't focus on show-y numbers or big choreographed dance numbers.
The musical plays more as a play opposed to a musical. I mean, it's definitely a musical, but it still has long spoken word segments with other momentum-building sections that do feature song after song. While COME FROM AWAY has some traditional musical styles, it also stays refreshing with an authentically Newfoundland flair that resembles more or less Scottish/Irish melodies. Compared next to other musicals, this show is lighter on the musical numbers in a way that doesn't detract, but rather entices the audience in wanting it to keep on coming.
With a minimalistic stage and one static backdrop that changes with lighting to present different settings, the set design allows for the story to play center stage at all times. It's a story-heavy, not a confusing story, but a character-heavy show where a prop-light production allows for the actors onstage to be the only thing that matters. It's a serious topic that features many comedic relief moments helping the show feel lighter, but also helps the serious tonal points have more weight when they occur. Keeping it robust and energetic is an onstage band that is clearly into the music and even gets their spotlight after the show.
COME FROM AWAY teaches us the power of humanity and how it can take hold of us. The towns humanitarian outlook helps the travelers overcome tragedy and loss even when something goes missing from inside of them. We must continue to love one another, helping one another by working together, understanding one another, and understanding we are one… one community who can thrive off one another.
Come From Away is performing at the Center February 5 – 17, 2019.
Tickets start at $39 and are on sale now at SCFTA.org, by calling (714) 556- 2787 and at the Box Office at 600 Town Center Drive in Costa Mesa.
[amazon_link asins='B06XCL551G' template='ProductCarousel' store='socalthrill01-20′ marketplace='US' link_id='53bd0662-e931-42ae-b0a6-476767a3365d']