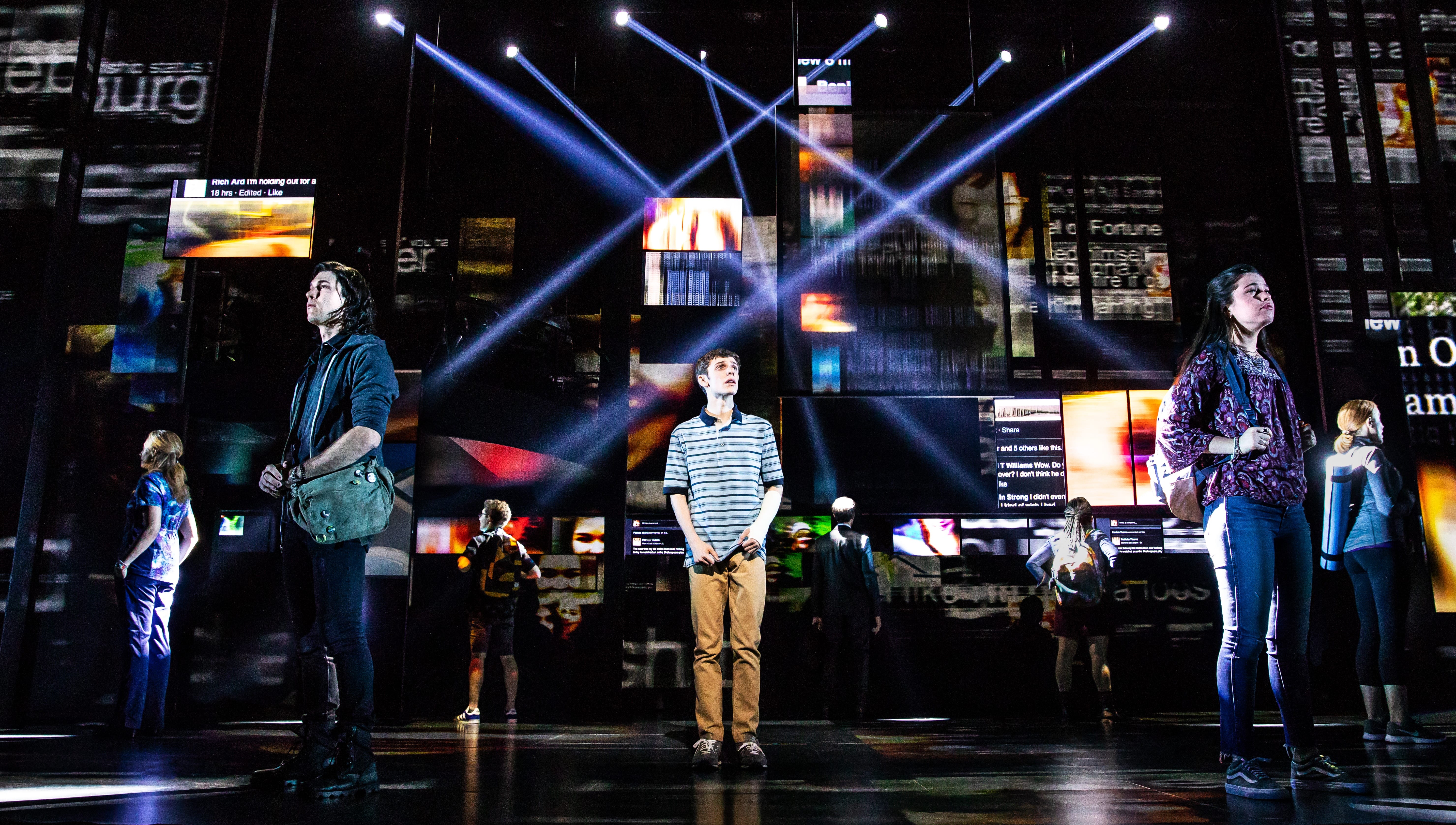 This post contains affiliate links and our team will be compensated if you make a purchase after clicking on the links.

Warning: This review contains some spoilers, if you like to go into the theater blind, just trust that you can't miss this one.
I chose to go into Dear Evan Hansen having almost no idea what this show was about. I confess I'd never seen 
Segerstrom Center for the Arts
 so busy, so I was already very excited before I even found a parking space. Dear Evan Hansen is an amazingly original story that perfectly captures the adolescent experience, the ever-evolving world of Social Media, and touches on the tough subjects of mental illness and suicide. Evan Hansen is an entering High School senior, who is taking medication for anxiety and is seeing a therapist who encourages him to write daily letters to himself that will assure him why every day will be a good day. His mom interrupts him trying to pen his first letter to himself on his laptop, but he assures her he will finish it at school. He broke his arm over the summer, so his mom suggests he break the ice with his classmates by asking them to sign his cast. Sharpie in hand, Evan sets off to his very overwhelming first day back at school.  Evan encounters a few familiar students; the overbearing and overachieving Alana Beck, his "family friend" Jared Kleinman, Infamous outcast Connor Murphy, and Evan's crush, Connor's sister Zoe Murphy. Connor is also secretly struggling with being at school, and he and Jared have an altercation that Evan witnesses, leading Connor to push Evan to the ground before storming off. Zoe, who witnessed the fight, runs to Evan's side to apologize on behalf of her brother. Evan panics while trying to speak to Zoe for the first time, as his hands begin sweating and he starts to stutter. He encounters Connor again a little while later, who unexpectedly offers to sign his cast writing CONNOR in large capital letters, stating that this way they can both pretend to have friends. Evan retreats to the computer lab to finish his letter, which includes a sentence about his love interest, Zoe. Connor finds the letter in the printer and takes it, accusing Evan of mocking him, as the letter was addressed "Dear Evan Hansen." The next day, Evan is called to the school administration office because Connor took his own life, and it was assumed that Evan's letter which they found on his person, was his suicide note. Not wanting to cause more suffering and confusion for Connor and Zoe's parents, Evan found himself spiraling into a web of lies with the help of Jared that made it seem as though he and Connor were best friends. As a result, Evan, Alana, and Jared create "The Connor Project," a website about Connor and suicide prevention that is designed to ensure that Connor is never forgotten. As Evan's web of lies begins to unravel, he needs to decide who he is inherent, even if it means hurting the people he cares about the most.
Ben Levi Ross (Evan Hansen) was just phenomenal, his vocal performance, as well as interpretation of being an awkward teenager really landed. Evan has a lot of self-doubt and awkward stutters, as well as nuances that make you laugh, alluding to observations he's made about himself at an earlier time in the show. We laughed through his performance of "If I Could Tell Her" and cried through "You Will Be Found." Ross did an amazing job of making you feel for the character.
Jared Goldsmith (Jared Kleinman) had fantastic comedic timing, down to body language and tone of voice. As crass as his character can be, Goldsmith did a great job with keeping his tone lighthearted. You knew the moment he arrived on stage, something hilarious would happen. He did a great job breaking up the seriousness of the rest of the show.
A surprise stands out for me was Jessica Phillips (Heidi Hansen) and her portrayal of Evan's mom. She had a great presence throughout the show, but I was completely moved to tears by her performance of "So Big/So Small." The heart-wrenching vocals and physical performance were just breathtaking.
The set itself was fascinating; simple black bars with projected social media feeds on them mirroring Facebook and Instagram flanked the characters in almost every scene. Occasionally, the projections would shift to letters being read, or video chats being had. Physical set props consisted mainly of two beds, a dining room table, and a sofa. It was amazing how many places they could portray with minimal set usage. The band was on stage with the cast, on the
2nd
floor of the set which was not accessed by characters at any point. Music Director/Conductor/Keyboardist Austin Cook was very passionate about the performance, head-banging along with songs on occasion. He had his own round of applause long after the Cast left the stage.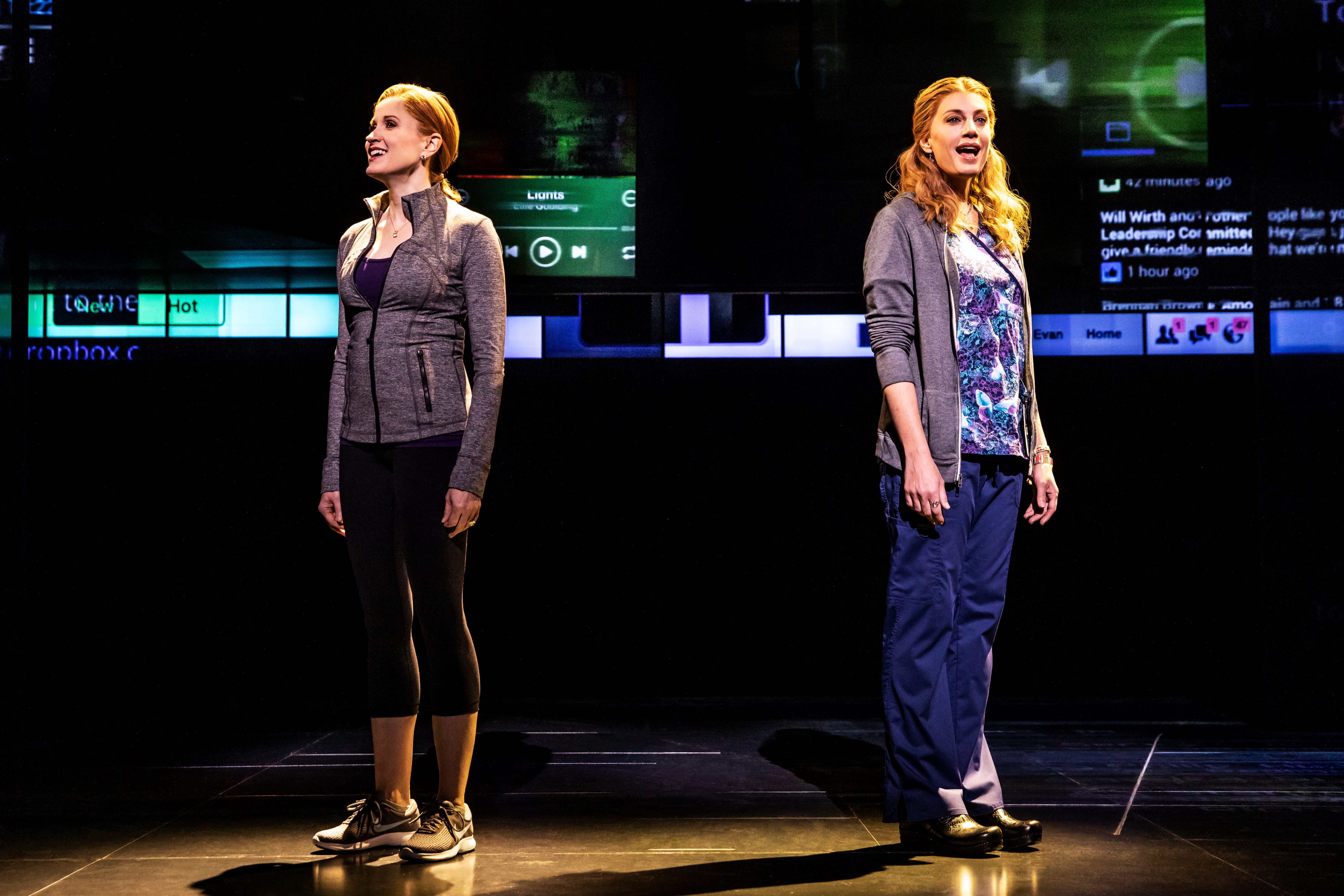 Overall, this musical is a treasure and is up there with the greats. It reminds us all of what it was like being young, that we are never alone, and never to judge a book by its cover. Social media is a fickle thing, and it can really change how people interact with one another. It really brought together an audience of strangers too; with women wiping their tears together in the restroom, discussing the performance over intermission, people hugging in the lobby, and humming the songs together as they left. This musical is important, as it really demonstrates the human response to situations, and reminds us all, that #youarenotalone.
Dear Evan Hansen is performing at the Center January 1 – 13, 2019. Tickets start at $35.75 and are on sale now at SCFTA.org, by calling (714) 556- 2787 and at the Box Office at 600 Town Center Drive in Costa Mesa.