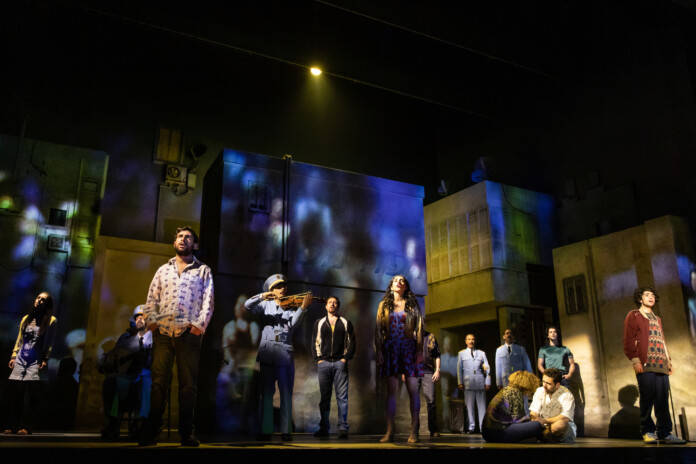 This post contains affiliate links and our team will be compensated if you make a purchase after clicking on the links.

The Band's Visit is a funny and poignant new musical visiting Segerstrom Center for the Arts. Unlike anything I have ever experienced, The Band's Visit is an emotional story of a moment in time. The Alexandria Ceremonial Police Orchestra was invited to play at the Arab Cultural Center in the city of Petah Tikva in Israel, but thanks to a misunderstanding due to a language barrier between one of the Egyptian musicians and an Israeli bus station employee, they end up in similar-sounding Bet Hatikva.
Though these places have similar sounding names, they couldn't be more different, and the band finds themselves in a small desert town, devoid of an Arab Cultural Center, or almost any culture at all. The band, led by Tewfiq (Sasson Gabay) are unable to catch another bus until morning and find themselves at the mercy of local hospitality.
Dina (Janet Decal), Itzik (Nick Sacks, in this performance), and Papi (Coby Getzug) invite the band members to stay with them in their homes until they could catch the morning bus—but this decision would make a substantial emotional impact on all of them, as the locals may have needed the band members' perspective even more than the band members needed accommodations.
The combination of a rotating stage and musical transitions played by on-stage band members made for a dynamic staging and captivating imagery. My eyes were drawn all over the stage despite the simple (yet effective) set pieces and minimal cast. I was blessed to see Sasson Gabay reprise his role as Tewfiq from his award-winning performance in the 2007 film The Band's Visit. Janet Dacal is an absolute treasure as Dina; with insane comedic timing and warm vocals, she was truly a standout that led me to YouTube when I got home just to hear her sing "Omar Sharif" again.
Her comedic efforts in "Welcome to Nowhere" did not go unnoticed, as she shined in her hilarity through vocal inflections and facial expressions. Coby Getzug's performance as Papi in "Papi Hears the Ocean" was so funny and charming. The other primary standout for me was Joshua Grosso's performance as the Telephone Guy. I was moved to my core by his vocals in "Answer Me".
The music in this show is like nothing else out of Broadway. Musicians on stage play beautiful Middle Eastern inspired melodies and backing music that transport you out of your theater and into their Israeli desert town. Conductors Adrian Ries and Kelly Thomas were fantastic at keeping the pacing with the musicians on stage. Musically, Clarinet player Brian Krock, Oud player Kane Mathis, and Violinist Yoni Avi Battat were top of their class—their solos, breathtaking.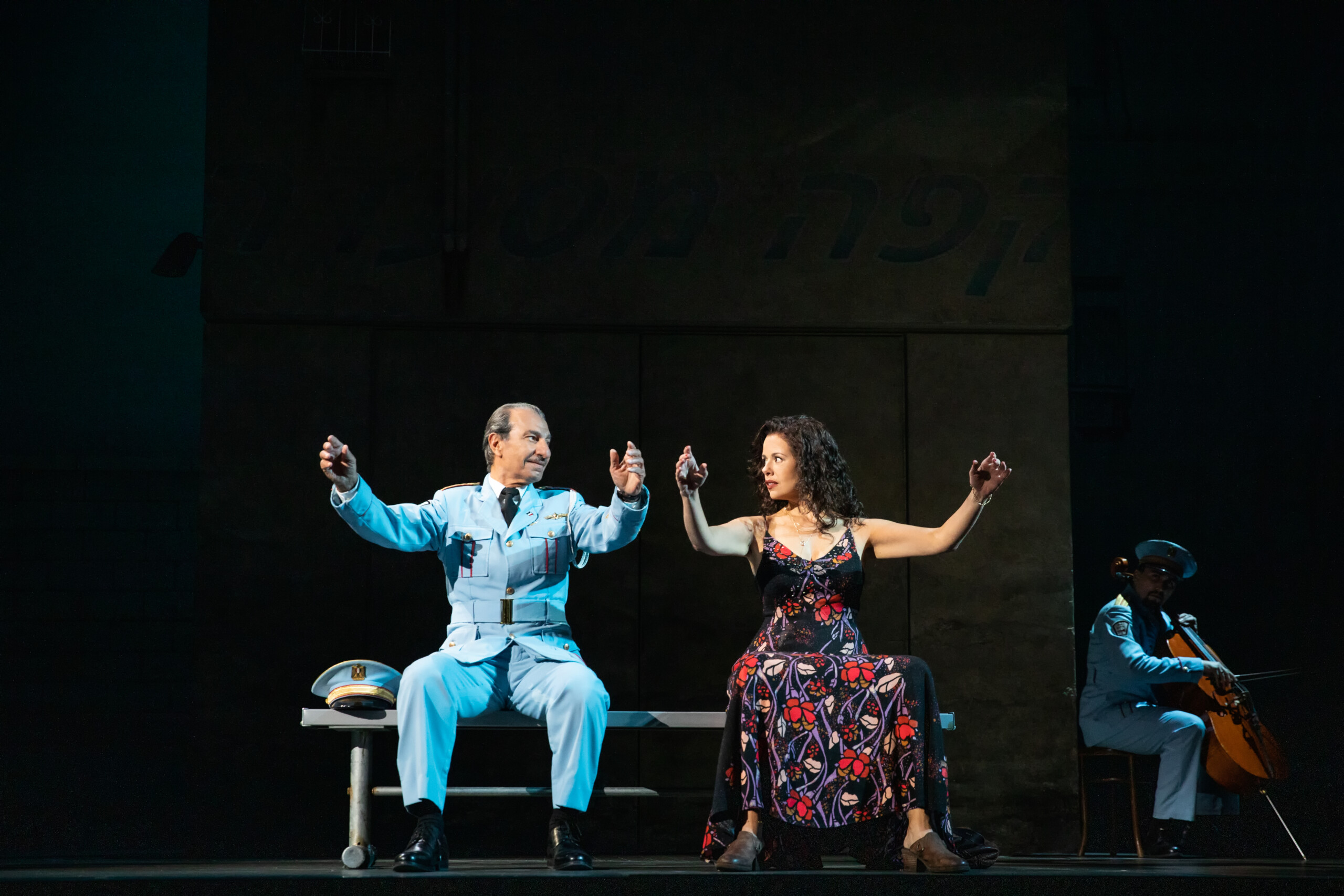 The set pieces were minimal and simple, yet extremely effective in quickly converting locations without much, if any, downtime. Who could imagine that a payphone could be such an emotionally moving set piece?
The show opens with the line: "Once not long ago, a group of musicians came to Israel from Egypt. You probably didn't hear about it. It wasn't very important." To the contrary, this one incident became very important to the little town of Bet Hatikva, as the band members brought new and fresh perspective to a town described by its own residents as "bland" "beige" and "bleh". This show may also pull at your heartstrings in such a way that you will find the experience personally unforgettable and important. I know I did.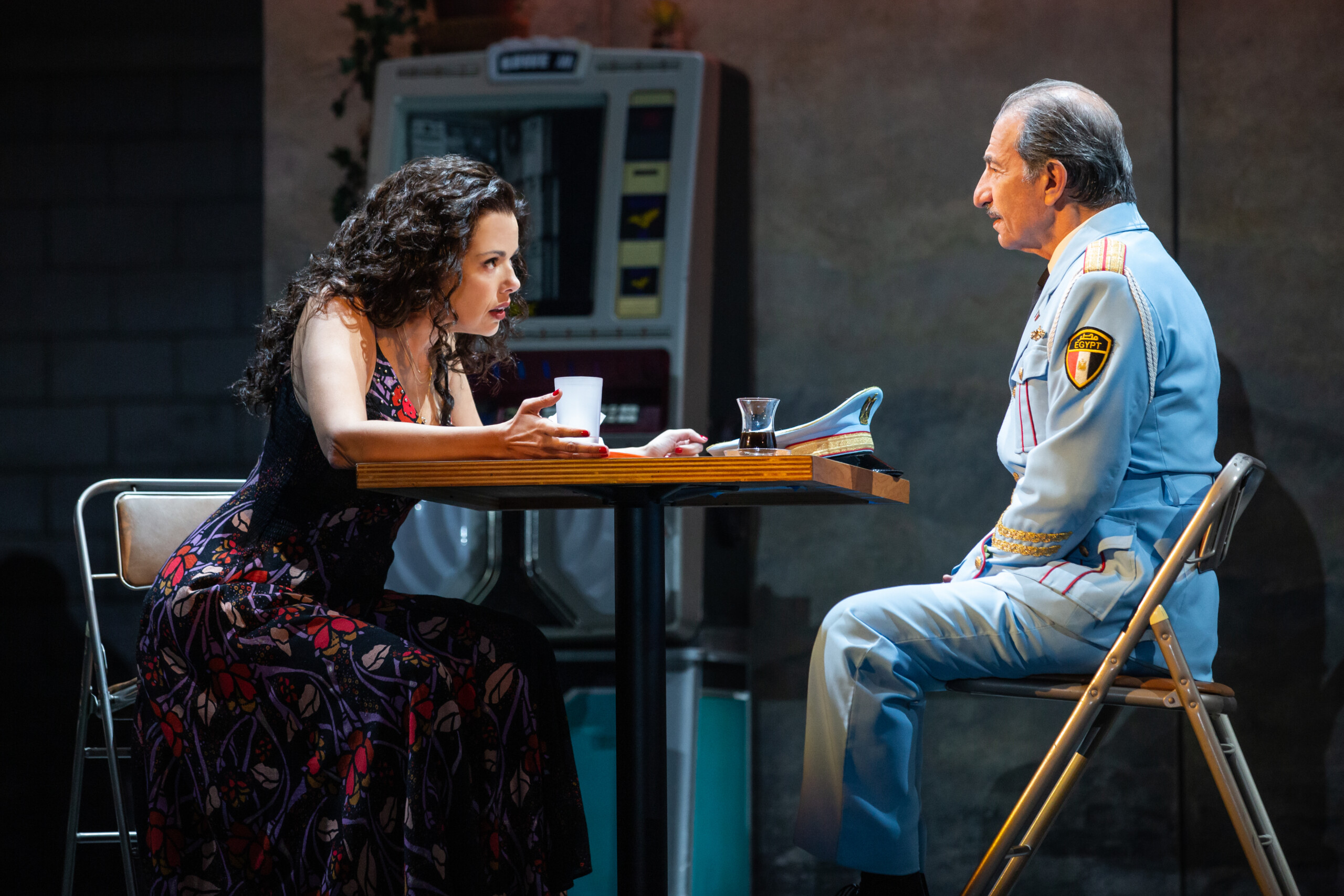 Hopefully you will opt to visit Bet Hatikva yourself and see why The Band's Visit won 10 Tony Awards in 2018. This is not a show to miss if you can pay a visit yourself.

The Band's Visit is playing until April 3, 2022.
Ticket are now available here.