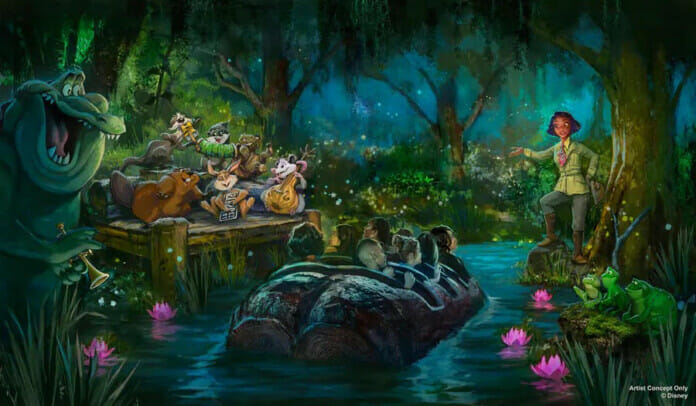 This post contains affiliate links and our team will be compensated if you make a purchase after clicking on the links.

We are going down the bayou and learning some of the newest details for Disney Parks' upcoming attraction, Tiana's Bayou Adventure, which will feature familiar characters and elements from the hit animated film, Princess and the Frog, as well as bring fans their first look at new characters that are being created exclusively for this new imagined experience.
Courtesy of the Disney Parks Blog, a new scene has debuted, giving guests the chance to explore the exciting and music filled world of Mardi Gras season, with Princess Tiana and her jazz-loving friend, Louis preparing for a one-of-a-kind celebration for the people of New Orleans.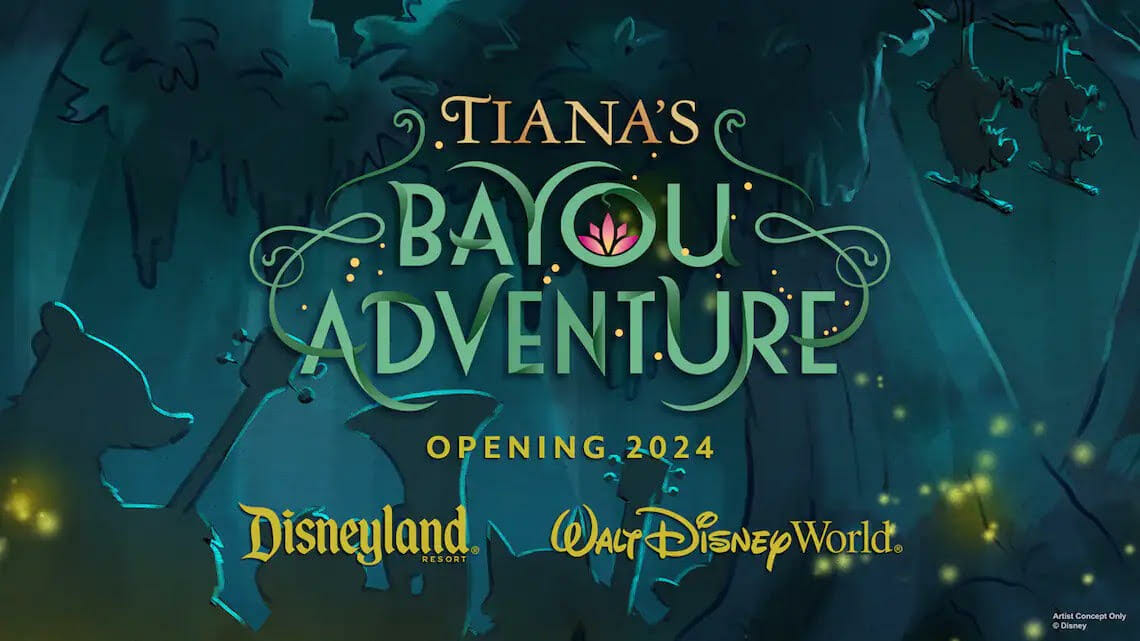 The new scene will act as the first drop for the attraction, where guests will encounter these new characters, alongside fan favorites. Here´s an excerpt of some of the exciting things that guests will soon get to experience directly from Carmen Smith, Senior Vice President of Creative Development-Product/Content and Inclusive Strategies.
As you can see here, fireflies will light up the night and invite you deeper into the bayou … almost like they're waving you forward. What you can't tell from this rendering – so you'll just have to trust me on this one – is that beautiful zydeco music will fill the air. Zydeco is a special blend of rhythm and blues that was born in Louisiana, and when you hear it, you'll feel like you've truly stepped into Tiana's world.
Here you'll find Louis, who explains where this amazing music is coming from. Tiana made some new friends out here – a band full of adorable critters, including an otter, a rabbit, a racoon, a beaver, a turtle and others. The band members sing and play instruments made of natural materials they found in the bayou. It feels like they may have a bigger role to play in this story … but we'll just have to wait and see on that one.
Like so many musical genres, zydeco brings together the sounds and styles of many cultures. We wanted that spirit reflected in this scene (and throughout the attraction) so that all our guests feel welcome to join in the celebration. It's emblematic of what we're always striving for with our attractions – bringing people of different backgrounds together through timeless Disney stories. This new musical adventure provides us with a song sheet to write that concept into reality.
For anyone visiting the Disneyland or Walt Disney World Resorts, please note that Splash Mountain will be closing to help bring this attraction to life, and as the Parks Blog has revealed, Disney World has announced that Splash Mountain in Magic Kingdom Park will close on January 23rd, 2023. Additional information about Splash Mountain at the Disneyland Resort will be shared at a later date.