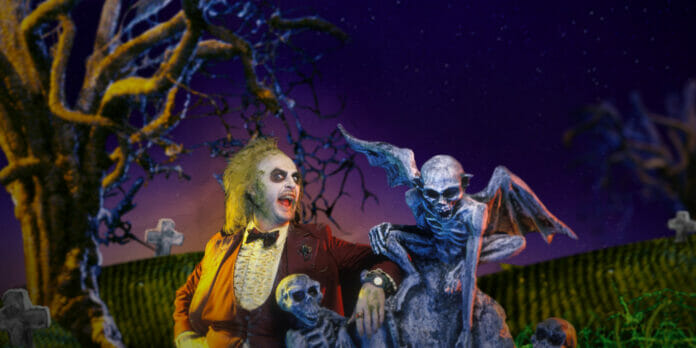 This post contains affiliate links and our team will be compensated if you make a purchase after clicking on the links.

Beetlejuice Beetlejuice Beetlejuice! Those are the words making their way across social media, as the internet's buzzing with news of the infamous characters' return to the big screen. The "Beetlejuice 2″ official date has been announced By Warner Bros. and will arrive in theaters on Sept. 6, 2024. It opens on the same day as Marvel's "Blade," unless that date gets moved due to the writers' strike.
The films will open 35 years after the first film's release! The project will feature the return of Micheal Keaton as Beetlejuice as well as the return of Winona Ryder as Lydia Deetz. Playing her daughter in this sequel will be newcomer Jenna Ortega from the Netflix hit "Wednesday."
Returning as director is Tim Burton, who helmed the first film and will continue to define his own style of filmmaking which has become legendary in its own right in the industry. Screenwriter turned actor Justin Theroux who has increasingly shown he can do both just as well has also been announced for the project. With such a cast of creatives and a celebrated Director Returning to Such familiar territory, it would seem we are all in for a treat when Beetlejuice 2 comes to theaters.
With Keaton returning to the big screen to this iconic character the studio feels confident in his comeback.
Fans have been asking for a sequel to the original movie and now they will get it. Time will only tell if Keaton can still pack them in, and if he'll be ready when the crowds say his characters name three times, "Beetlejuice Beetlejuice Beetlejuice."
The first "Beetlejuice" grossed $74.7 million and inspired a Tony-nominated stage musical.