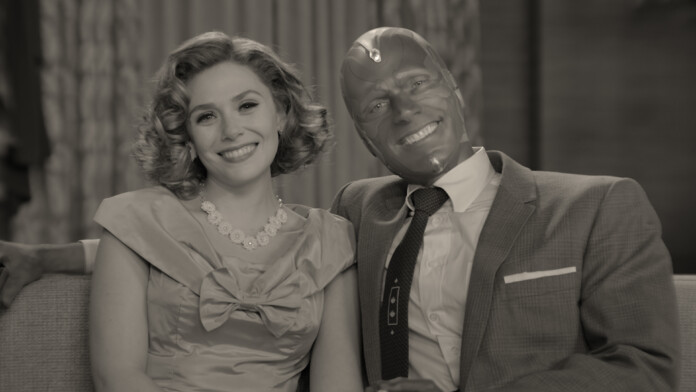 This post contains affiliate links and our team will be compensated if you make a purchase after clicking on the links.

Marvel Studios presents "WandaVision," a blend of classic television and the Marvel Cinematic Universe in which Wanda Maximoff and Vision—two super-powered beings living idealized suburban lives—begin to suspect that everything is not as it seems. "'WandaVision' will be the very first Marvel Studios series on Disney+," says Kevin Feige, president, Marvel Studios, and chief creative officer, Marvel. "Wanda and Vision are two of our most powerful and complex heroes, and this series is a perfect expansion point for MCU storytelling."
The series not only marks the first Marvel Studios' Disney+ series, but it is also its first journey into the world of sitcoms—with an MCU twist. "It's a mash-up of classic sitcoms and large-scale Marvel action," says Matt Shakman, who directs all nine episodes. "I think it's really lovely that the first streaming show from Marvel Studios—producer of huge blockbuster films—is really a love letter to the history of television."
According to head writer Jac Schaeffer, "WandaVision" is funny, mysterious, and action-packed. "It picks up shortly after 'Avengers: Endgame,'" she says. "Marvel fans have never seen Wanda and Vision in this way before. Their storyline has been so romantic and tragic—fans have really latched onto it. But really, it's been precious little screen time, and it's all been very fraught. In this show, we get to see them in a domestic light, and it gets to breathe. It's really beautiful.
"In the first episode we meet Wanda and Vision after they've just been married," continues Shaeffer. "They're driving into this new town with 'just married' on the back of their cute little car. It's the 1950s, black and white, they're absolutely adorable. They're madly in love, and there is not a hint of the Avengers or the larger MCU. We see them going about their day, making breakfast. She's a witch, he's synthezoid. She can dry dishes in the air. He can change density and walk through things."
Says Shakman, "Wanda and Vision are just starting their married life together in this new town, and they're meeting their neighbors. Vision's starting to work at his new job while Wanda navigates life at home. They're concerned about hiding their powers from their new friends and neighbors, and when they're pushed for more information about where they came from, they're stumped. That's when we start to realize that things are not quite what they seem."
With nine episodes, the series was created much like a motion picture would be—but more extensive, allowing the first-of-its-kind exploration of the relationship between Wanda and Vision. Says co-executive producer Mary Livanos, "Elizabeth Olsen and Paul Bettany have the opportunity to flex different muscles over the course of this series that usually an actor wouldn't get to do within the scope of a single project."
About WandaVision
During a recent virtual press conference, we heard from the cast and filmmakers on how they brought this new series to television. The Cast Elizabeth Olsen (Wanda), Paul Bettany (Vision), Teyonah Parris (Monica), Kathryn Hahn (Agnes), was joined by Jac Schaeffer (Writer / Exec Producer), Matt Shakman (Director / Exec Producer), and Kevin Feige (Producer).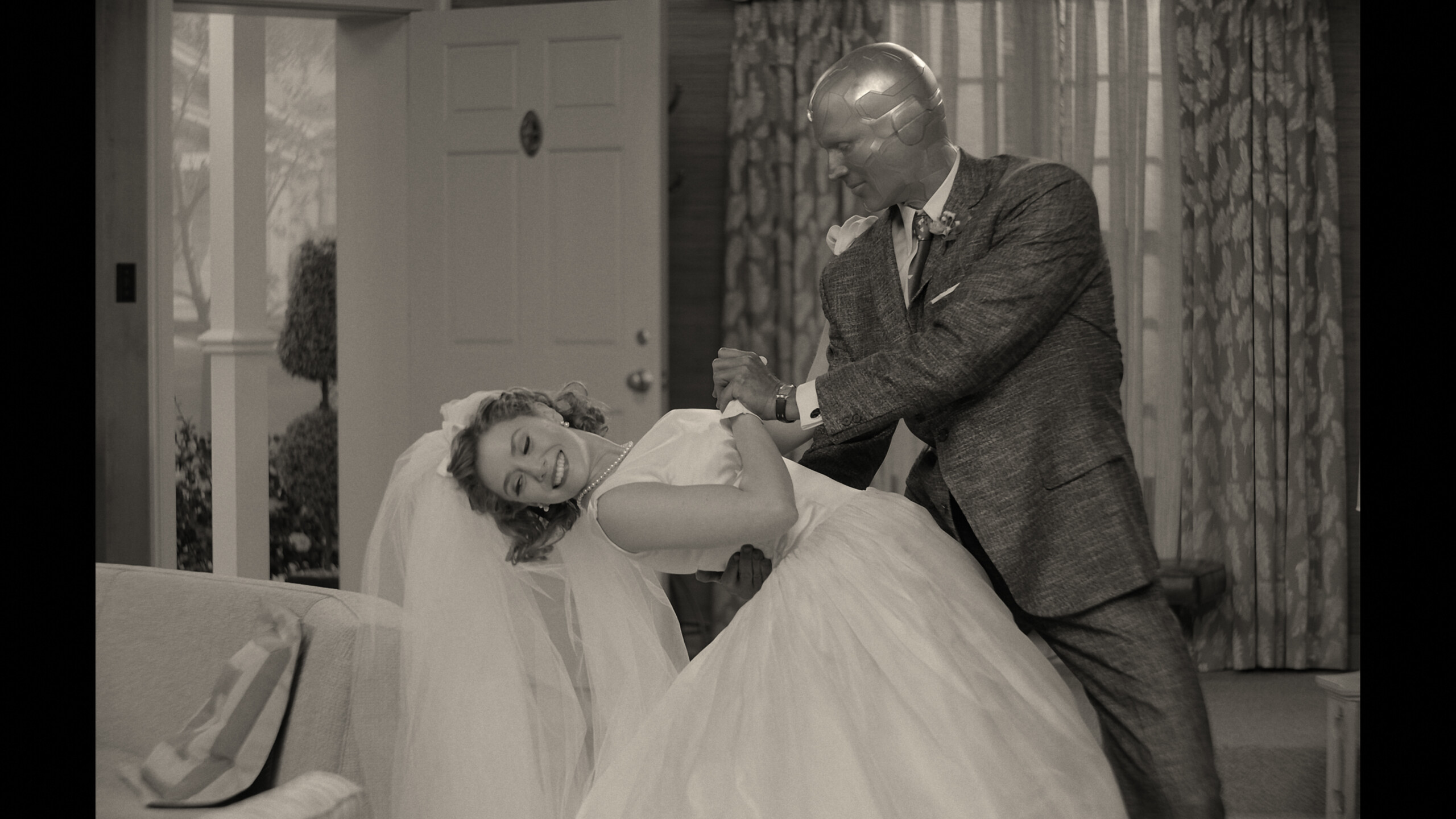 The First Episode was shot in front of a live studio audience, here is how Elizabeth Olsen reacted. 
"It was the first thing we shot. It was so nerve-wracking and, there was a lot of adrenaline. There were a lot of quick changes and, and totally, confused my brain mentioned Olsen. "The idea of not playing to an audience but feeding off an audience and having a camera, I was really grateful when we added the fourth wall for our second episode."
"It was like an amalgamation of, Mary Tyler Moore and Elizabeth Montgomery, and I think I accidentally threw in some Lucy in the 70s just because there was so much physical comedy."
Matt Shakman explained how classic sitcoms inspired his direction.
"Well, we wanted to be as authentic as possible. That was one of the biggest goals, and so production design, cinematography, costuming, everything was about going on this deep dive and with the actors we all wanted to do the same thing, so we watched just a ton of old television episodes, talked about how comedy changes, you know because it really does."
"The approach to comedy in the 50s, 60s, 70s is really different. And doing it in front of a live studio audience, which is this weird quasi theater-TV, this thing is real it really adds to it."
"I Love Lucy and Dick Van Dyke. You can feel the energy of that sort of theatrical performance working with the audience. And then when you get into the 60s shows like Bewitched or I Dream of Jeannie, it is the fourth wall, and all of a sudden it's much more like doing a movie these days, and that laugh track is all canned and brought in. It changes the energy, the approach, the style, everything. We also worked with a fabulous dialect coach, to talk-you know, to work on how the people would sound in that era, how they would move. We just did everything we could to make it as authentic as possible."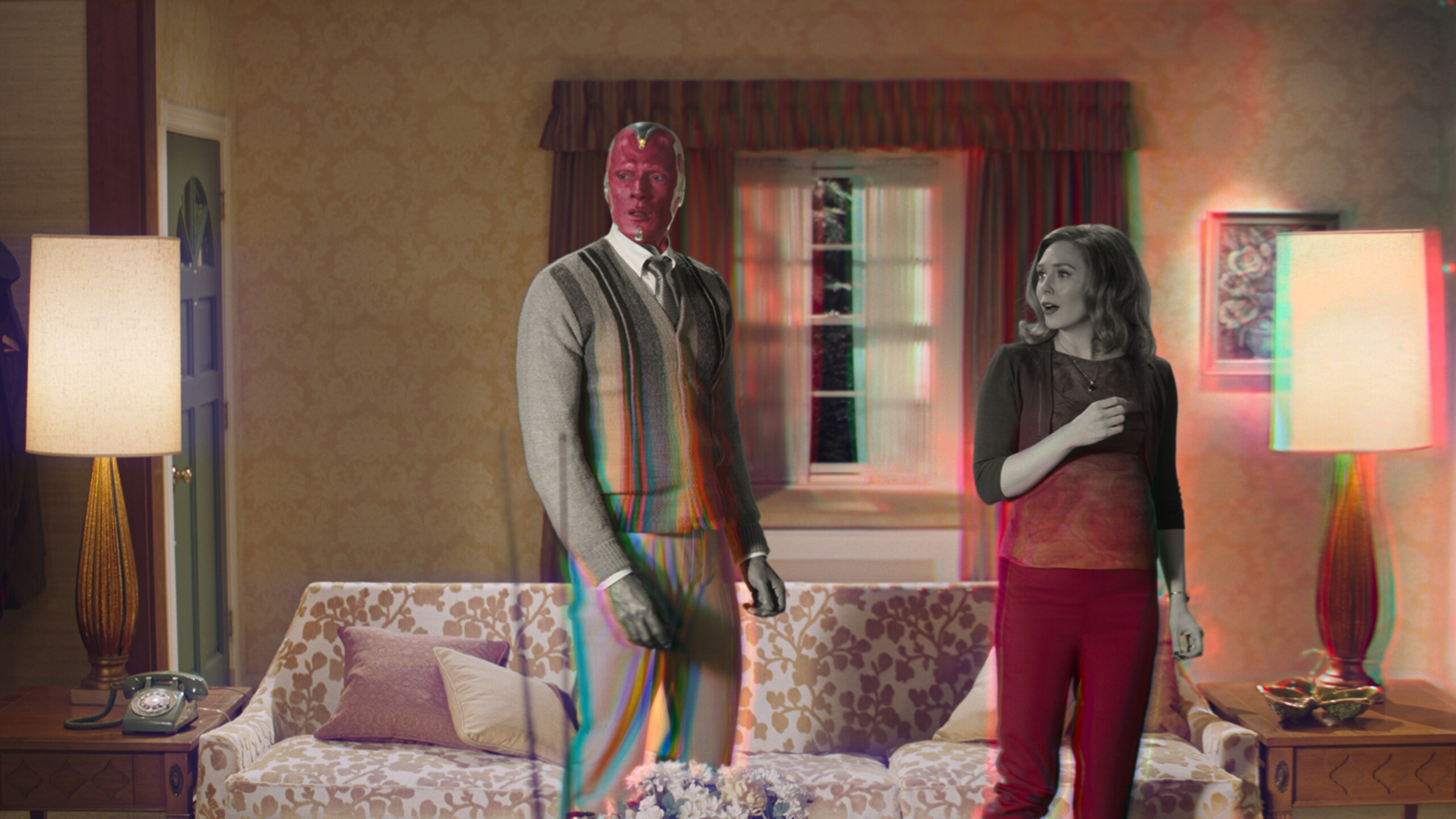 Paul Bettany talks about his character Vision.
"I was worried about that initially. I was like, "Wow, this is-feels so different," as I read the script and how do I keep him the same? And then I realized he's always been becoming something else, you know. He's Jarvis, he's part Ultron, he's part Tony Stark, and he's omnipotent but he's also this sort of naive ingenue."
"Then I realized, well, I'll just throw a little bit of Dick Van Dyke in there and a little bit of Hugh Laurie and maybe a little smidges, you know. So, as long as he remains, what I think Vision is is just decent and honorable and-and exists for Wanda, and then you're safe."
Teyonah Parris explains who Monica is and more about her character.
"We met Monica in Captain Marvel as a little girl and basically in WandaVision we pick up with who she is now as a grown woman, and through the course of the show, we find out what she's been up to, what's happened for her, between that gap in the years and who she's grown and involved or-or not. And we just follow her along."
"We will get to see more of Monica as she joins Carol Danvers in Captain Marvel and Miss Marvel in Captain Marvel 2."
Writer Jac Schaeffer explains Wanda's and Vision's journey and what we can expect.
"Wanda and Vision are really as a couple a fan favorite because their love story has been so very tragic but also really kind of warm and intimate, and we've seen them in this really beautiful kind of stolen moments in the MCU.  It's actually been a small amount of screen time but very powerful and very soulful, and-but what we have with WandaVision which is really I think a treat for all is we're sort of opening up the stage and space for them and they're in this as a domestic sphere."
"We get to see them doing dishes and in the kitchen and being cute and-and, just all the sort of like homebody stuff that you would never get to see a-a superhero participate in.  So we really go from these enormous sorts of dramatic moments, and kind of frat moments in the MCU and then in WandaVision, it's a lot of cute until it's not."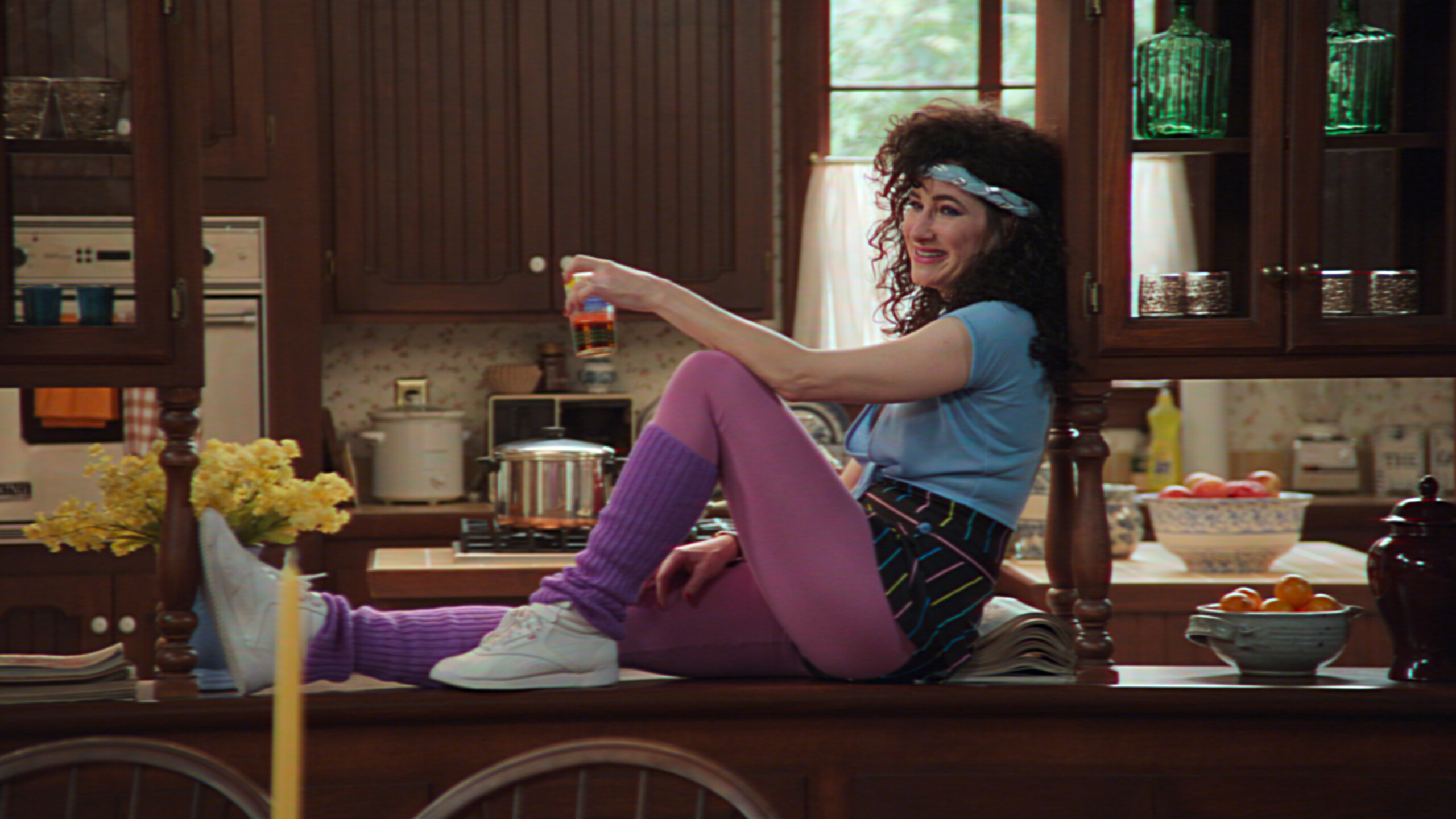 Kevin Feige lets us know about this first sitcom in the MCU and what we can expect for the future. 
"This was our test run. Marvel of course has had a lot of, good successful TV in the past."
"This was Marvel Studios' first foray and directly with the cast and amazing characters that we'd seen in movies, coming onto television.  And the idea of-always was, yes, to do something that could not be done, as a feature. That plays with the format and plays with the-with the medium.  And there were a lot of meetings before people actually sort of understood what we were trying to go for, and, and we're only sitting here because Jac and Matt did.  And, we're able to turn a whacky idea into a spectacular show."
"We've got lots of other things we've announced that that is coming out, but, as it all comes together, I'm actually very happy and it worked out perfectly that this is the debut on Disney Plus for the MCU."
WandaVision will stream exclusively on Disney+ beginning Friday, January 15, 2021.